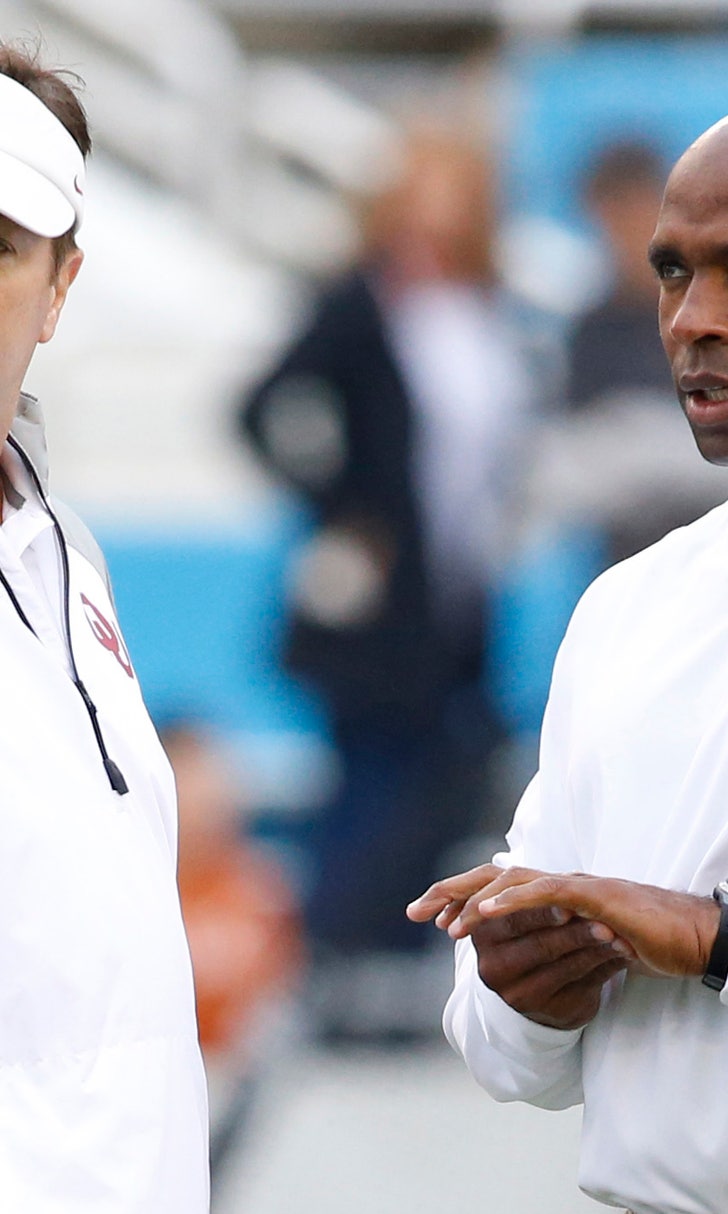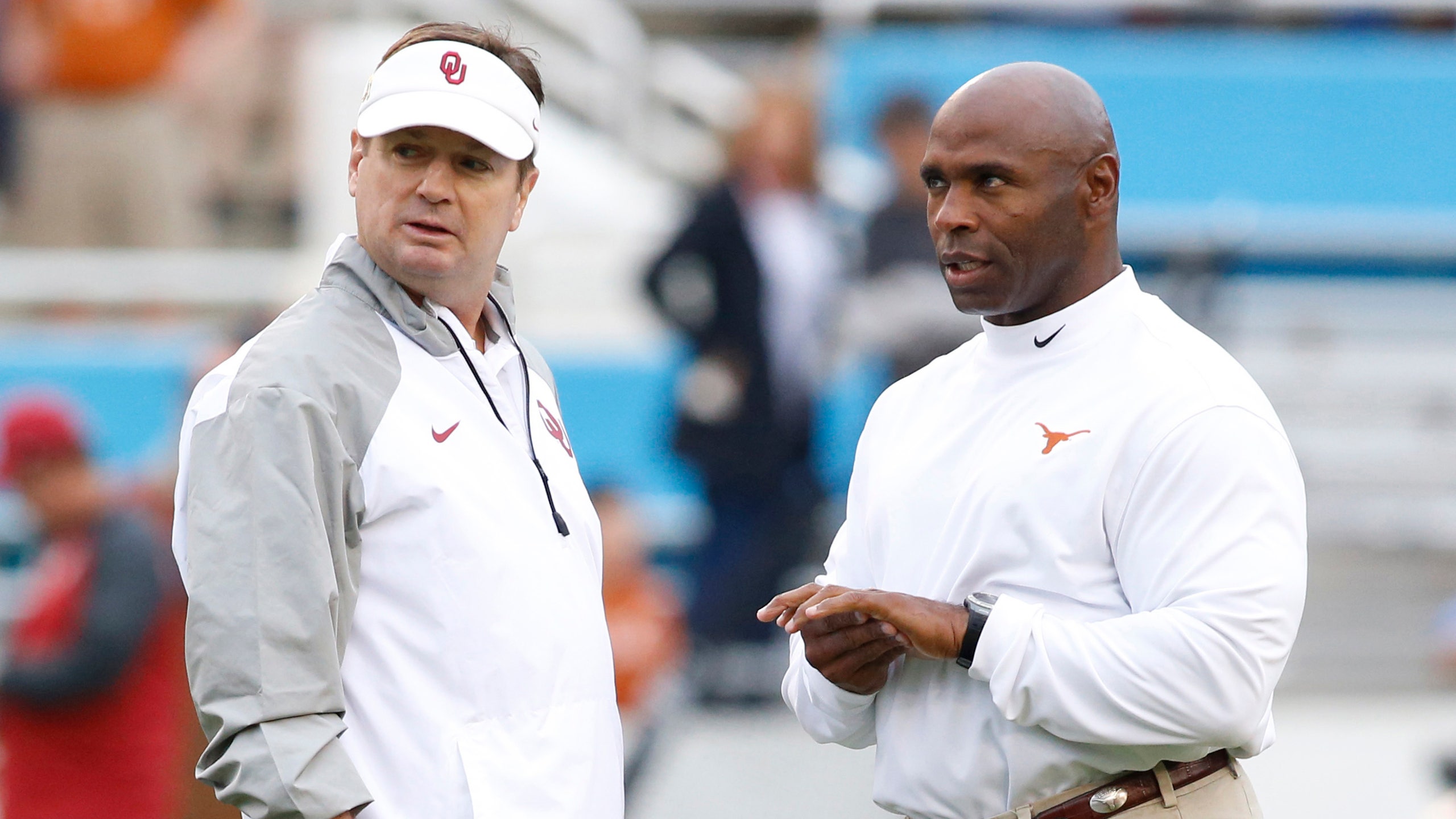 Fair and football and 25 predictions for Saturday's Cotton Bowl
BY foxsports • October 9, 2015
DALLAS -- Everything is set up for an Oklahoma win.
The Sooner offense looks good, the defense seems to have figured things out after last week's win over West Virginia and the team is unbeaten and ranked No. 10 in the country.
Even the weather is supposed to be great at the Cotton Bowl Saturday morning in Dallas.
Meanwhile this season has been part comedy, part tragedy for Texas. A punter dropped the ball against Oklahoma State and the Longhorns lost, a field goal kicker missed an extra point against Ca and the Longhorns lost, and now in addition to worrying about special teams, offense and defense, the Longhorn players apparently need to make sure they are on the right cellphone plan. One tweeted at halftime, a few more went back and forth on social media during the week. Angry face emojis for everyone. 
Everything but Charlie Strong's mock turtleneck seems to be unraveling at Texas. 
But at the Cotton Bowl where things like fried beer and bacon-wrapped everything look great, sometimes things aren't really as good as they seem and you don't know what exactly you're getting into.
Stay away from the second corny-dog. It'll be the best decision you'll make because 1. Saturday in the Cotton Bowl will do enough to upset your stomach. That's what happens when 1-4 Texas plays an Oklahoma team with nothing to gain. 
Here are 24 more predictions about the annual Red River Showdown in Dallas. 
Texas has been so bad, so ridiculously inept 3. there's just no way that will continue. It can't. Law of averages or something, right? OU is favored to win by more than two touchdowns, but If you're watching on TV, the first time Texas gets a first down, 4. you'll hear all about how Texas is "fired-up," "geared-up," and has, "nothing to lose." 
Listen, this game is supposed to be a mismatch, so whatever it takes to get everyone interested will happen. Even if it means overeager announcers getting way too worked when 5. Texas scores the first points of the game. 6. after an Oklahoma turnover. 7. Things will get weird. 8. There will be two or more turnovers in the first 15 minutes. 9. And three or more touchdowns. 
You'll hear about how ...
9. Texas has played one of the toughest schedules in the nation, having faced four ranked teams.
10. How coach Charlie Strong is just 7-11 at Texas but "if anyone can turn this program around, it's Strong," and how 11. Bevo couldn't make the trip, due to sickness, but the Longhorns are going out there and trying to win one for the big guy.
Who knows, maybe Strong will survive. Maybe Texas will play its best game of the season. Maybe quarterback Jerrod Heard will make like Vince Young. 
12. Heard will be equal parts dazzling and dumfounding Saturday. 13. He'll throw for a touchdown in the first quarter and 14. Heard will be responsible for a turnover in the first 8 minutes, too. 15. But he won't be better than OU's Baker Mayfield.
Mayfield and the Sooners won't have to play well to beat Texas Saturday. Running back Samaje Perine won't have to run like a Heisman candidate to get past the Longhorns, either. 16. But Perine will. He'll have more than 100 yards. 
We all know this isn't the OU-Texas we grew up with. Heck, this isn't even OU-Texas of the early 2000s. But that doesn't mean Saturday won't be entertaining. The problem is most of the fun will be at the fair and not between the lines.
Reportedly, Texas isn't going to fill its end of the Cotton Bowl making the usual 50-50 crowd skewed toward crimson. OU has never played a home game in Dallas, but 17. Saturday will be as close as the Sooners get. 
Yet, there's still hope for Texas. The Sooners came in a heavy favorite last year and nearly lost. Two seasons ago, OU came in a double-digit favorite as well. Texas won.
If the Sooners are trying to figure out a way to get fired up for this game, they'll have to invent something. And that's not great for a team that hasn't really established its running game, has receivers who are undeveloped, aside from Sterling Shepard and has a defense which has been good in two games and been exposed in another.
What should we expect?
18. Texas will keep it close. 19. Until halftime. 
20. The Sooners will get 600 yards of offense against a Texas defense which is allowing an average of 507 yards per game which will be enough to pacify the majority of Oklahoma fans. 22. But Texas gets its yards too – more than 400. 
23. This will feel a lot like the win over Tulsa. Satisfactory, but not satisfying.  
24. Take the 17 points. 25. The Sooners win, 41-27.
Last week: 9-16
Overall: 56-45
Follow Andrew Gilman on Twitter: @andrewgilmanOK
---
---