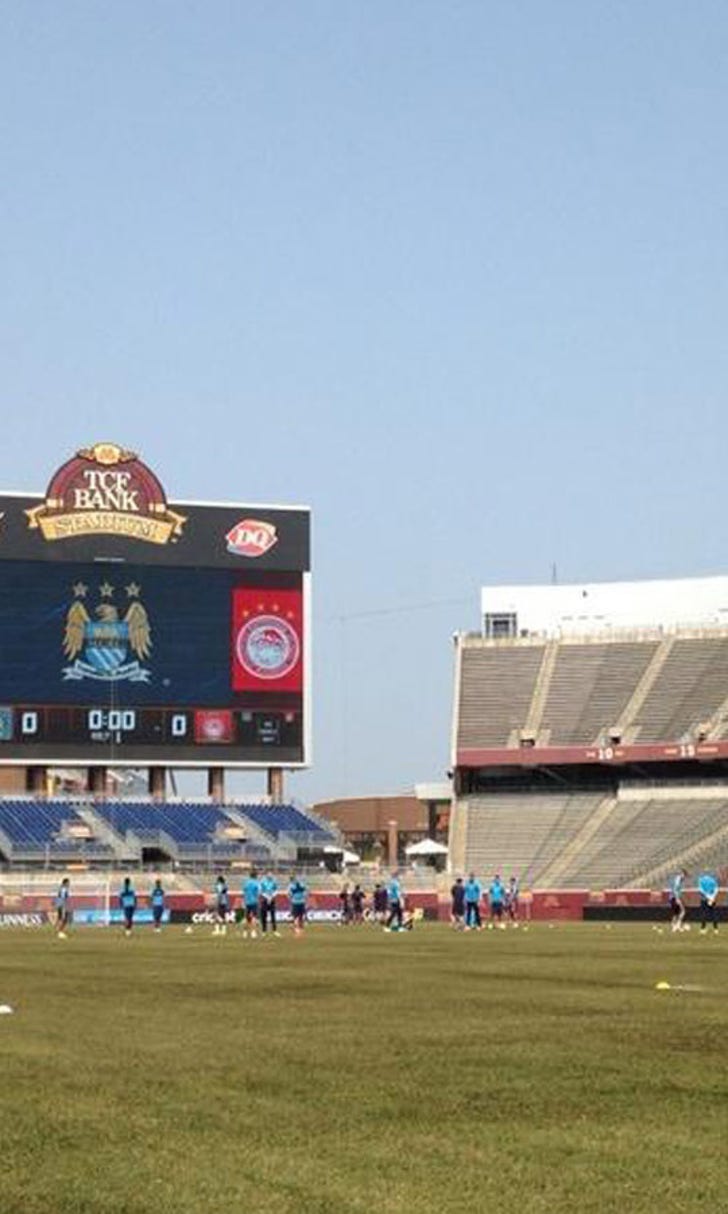 Euro-club showdown a litmus test for Twin Cities soccer support
BY foxsports • August 1, 2014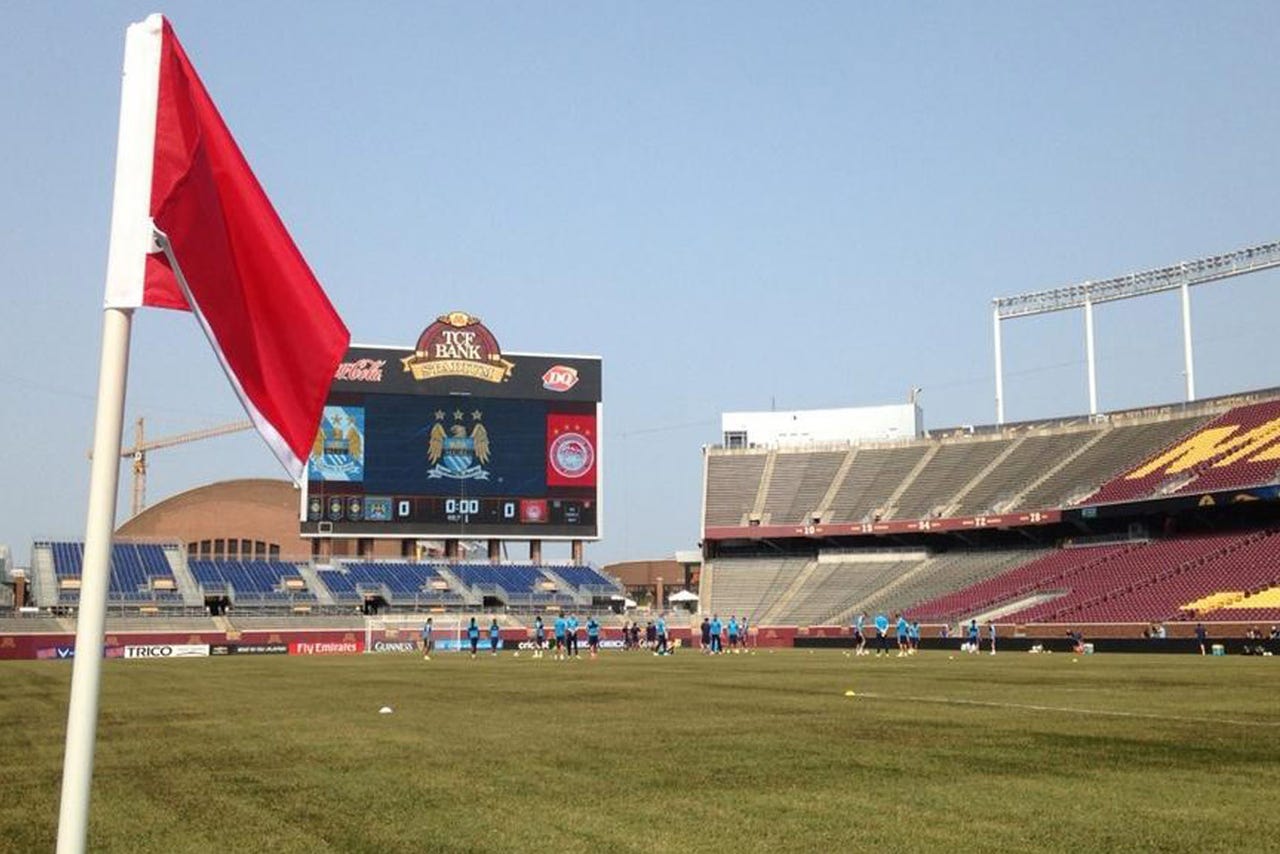 MINNEAPOLIS -- Manchester City goalkeeper Joe Hart spent the final moments of the team's training session Friday at TCF Bank Stadium taking crosses from the corner and attempting to power them into the net.
(That's right, the net. As in soccer net. Football goalposts haven't been erected at the Gopher Hole just yet.)
Some hits found their mark. Most of them sailed wide. After all, Hart gets paid the equivalent of $7 million a year to keep soccer balls on the field side of the goal line.
But this is the preseason, and a little extracurricular activity can be cathartic for a grind Hart's teammate James Milner says "isn't really a time any player likes," according to the team's website.
For the athletes that step onto the pitch -- for one day, that's what the Gophers' (and Vikings') home field can be called -- on Saturday, this is an exhibition in preparation for their English Premier League title defense. For the sport's health in Minnesota, though, it's something much greater.
Eight 2014 FIFA World Cup participants are expected to play in Manchester City's 2 p.m. clash against Greek League powerhouse Olympiacos. As of Thursday, more than 31,000 tickets had been sold to the Guinness International Champions Cup round-robin finale. Officials from the Vikings, an event co-sponsor, expect at least 33,000-34,000 occupied seats Saturday afternoon.
"It's a tempered one, but it's a big step, because I think it combines everything else that's been going on," said Minnesota United FC manager Manny Lagos, whose North American Soccer League side will take on Ottawa Fury FC in a regular-season contest following the European match. "I think this is part of the fabric of the excitement that's going on in this market, and then you obviously add in the interesting future, it looks like, for Minnesota soccer."
Diehards, some of whom regularly attend United matches in Blaine, Minn., will come to see stars from faraway lands like Hart and midfielders David Silva and Yaya Toure. Casual fans will tap their mild reservoir of soccer interest and knowledge imbued by the World Cup earlier this summer.
In either case, it'll provide an adequate barometer of Twin Cities soccer interest, as both the Vikings and United jockey for position in the Major League Soccer arms race.
But it's not the job of Manchester City manager Manuel Pellegrini or Olympiacos head man Michel to entertain.
It's to get ready for their respective slates while avoiding significant injury.
"That's the most difficult thing of preseason," said Pellegrini, whose group opens the regular season Aug. 17 against Newcastle. "I think what we need to do is to try to give similar amount of minutes to each player -- try to avoid any injuries playing them 90 minutes the whole match.
"In the same way, I think it's important that every player have the means to try to give their best."
So 2014 World Cup alums Hart (England), Milner (England), Silva (Spain), Toure (Ivory Coast) and forward Edin Dzeko (Bosnia and Herzegovina) are expected to receive minutes Saturday for Manchester City, the 2012 and 2014 Premier League champs who've only recently become a world-renowned juggernaut, thanks to their United Arab Emirates ownership that's willing to fork over hundreds of millions to build a competitive roster. Spectators can also plan to see Greek nationals and Olympiacos mainstays Jose Holebas, Kostas Manolas and Andreas Samaris in action.
The storied Greek club, which calls the city of Piraeus home, lays claim to 41 Greek League titles and 26 Greek Cups.
Both teams come in with 1-1 records in the International Champions Cup -- which also features European luminary franchises Manchester United, Real Madrid, AC Milan, AS Roma and Inter Milan squaring off in stadiums around the United States -- after losing to Liverpool FC. Manchester City's 5-1 victory over Milan could prove beneficial in the event of a goal-differential tiebreaker, but that'd require a Liverpool slipup in Saturday's clash with Milan at Bank of America Stadium in Charlotte, N.C.
Some of the World Cup's biggest names won't be on hand Saturday in Minneapolis.
Because their countries reached the international soccer extravaganza's knockout round, Argentine defenders Martin Demichelis and Pablo Zabaleta and striker Sergio Aguero, Brazilian midfielder Fernandinho, French defender Bacary Sagna and Belgian back Vincent Kompany have yet to join Manchester City as they recuperate from nearly a month of bouncing around Brazil. They'll begin training with their professional side Monday.
(If Kompany's name sounds familiar, it's because he captained the Belgium team that knocked out the United States in the round of 16.)
Greece made the bracket portion of the World Cup, too, and lost to Costa Rica on penalty kicks. But Olympiacos' World-Cup trio returned sooner than Premier League rules allow and are listed on the team's roster for Saturday.
Not having his full arsenal available Saturday is probably fine with Pellegrini. The grizzled, 60-year-old Chilean spoke harshly of the temporary grass installed at TCF Bank Stadium this week.
As Manchester City practiced for about an hour-and-a-half Friday, the surface was a mix of green, brown and even a little yellow. Grooves between square patches of sod were easily visible all over the field. Crews immediately began watering it afterward ahead of Olympiacos' Friday evening training session.
"I think it's more than a problem," Pellegrini said. "I think this pitch is not in normal condition to play a football game. I think it's high-risk for the players to have an injury, for an ankle, for a knee.
"We didn't expect to have this kind of pitch here."
Olympiacos moved its schedule Friday evening practice from TCF Bank Stadium to the University of Minnesota women's soccer team facility at Elizabeth Lyle Robbie Stadium in Saint Paul.
That's Strike 1 against a city with some business leaders -- including Vikings owner Zygi Wilf -- hoping to cash in on the sport's growing popularity. But if fans show up in the expected droves and make this American football stadium resemble a European one, the movement could catch more momentum.
"I speak for the club as a native Minnesotan," said Lagos, who was born in St. Paul and played for the now-defunct Minnesota Thunder and the U.S. National Team in the 1992 Olympics, in addition to a nine-year MLS tenure. "It's a special day for soccer."
Follow Phil Ervin on Twitter
---