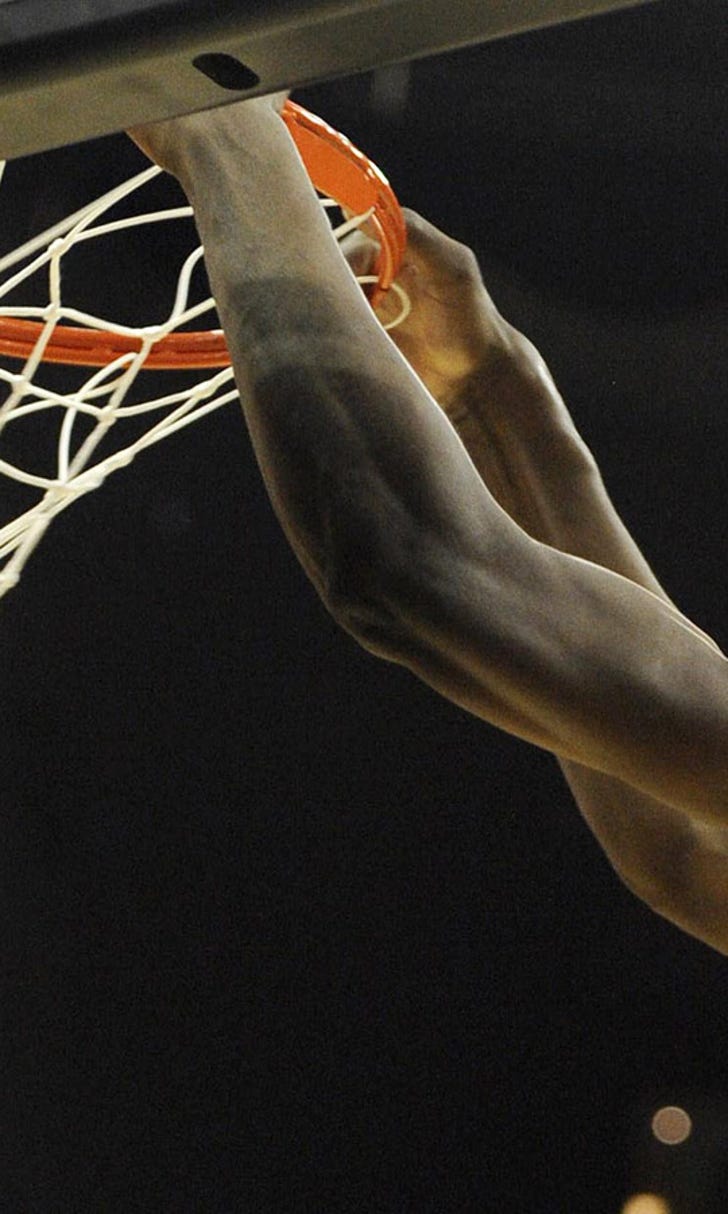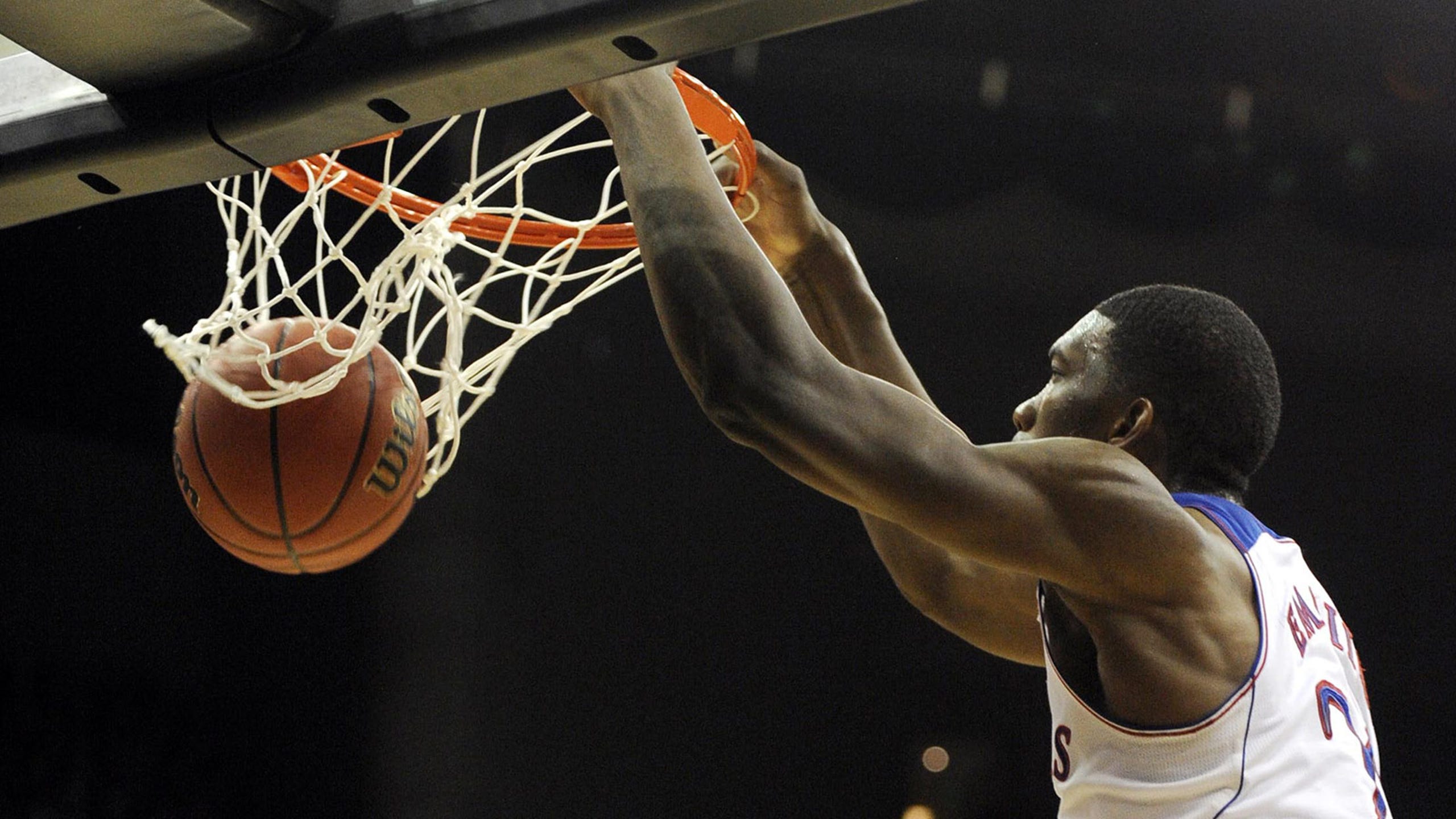 Enjoy Embiid while you've got him, KU fans, because that game is pure money
BY foxsports • December 14, 2013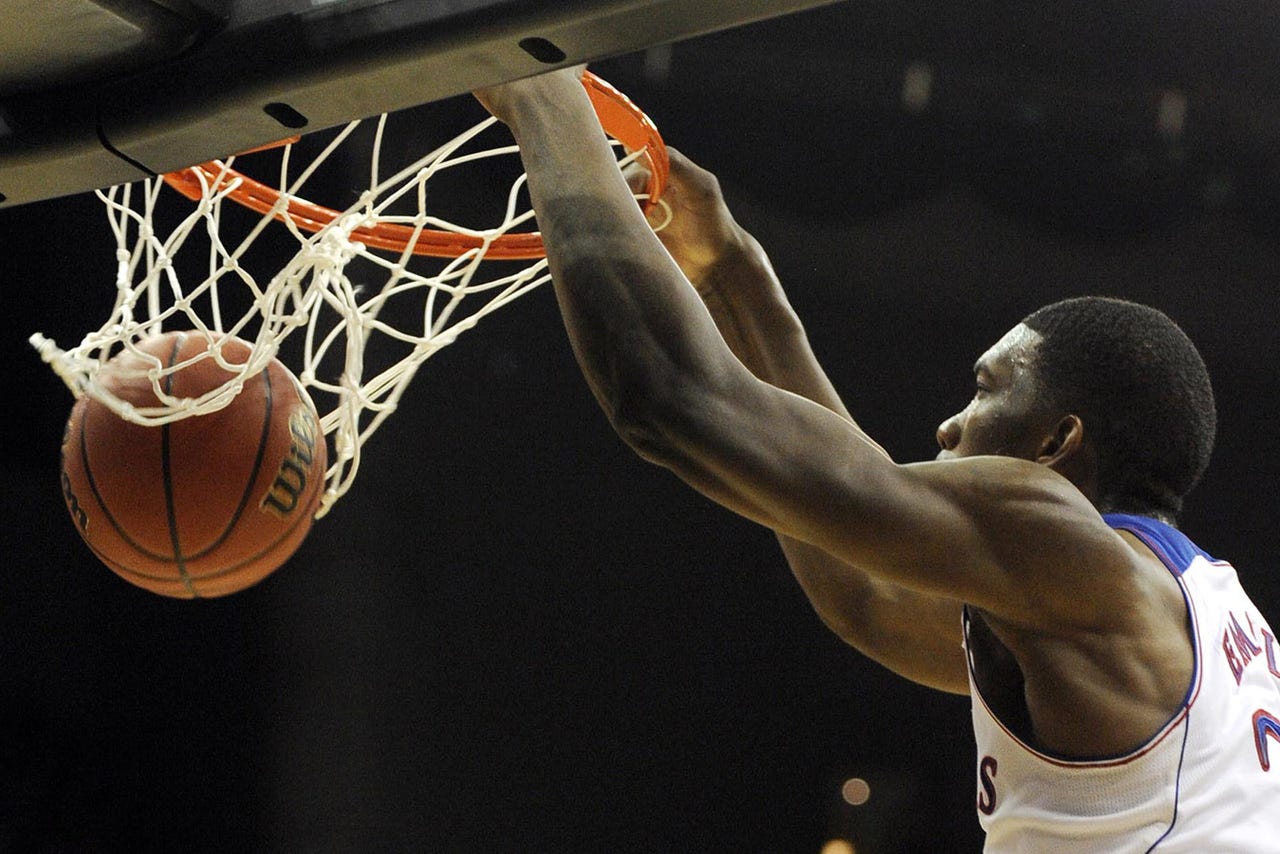 Pick your moneymaker. Go on. Pick it.
Was it the step-back, baseline jumper?
The slam off the alley-oop that brought rain?
The reverse layup?
Wait. Whoa, whoa, whoa. Was that a Dream Shake you just pulled out of your bag of tricks, Joel Embiid? Right there, on national television?
"I see him do it every day in practice," freshman guard Wayne Selden said of the Jayhawks' center. "And I like (that) he brought it to the game."
Every day? Really?
"All the time," Kansas coach Bill Self said after his men overwhelmed New Mexico, 80-63, Saturday night at Sprint Center.
"Well, I mean, people haven't seen in a game what (Embiid) can do. We've seen glimpses, but we haven't seen an offensive repertoire, where he can score over both shoulders and both hands and step out and shoot ... that was nice to see."
Nice? For about five minutes and change to start the second half, Embiid -- the 7-footer with dancer's feet -- was the best player in the area code, an area code that included Andrew Wiggins and Perry Ellis at the time.
From the beginning of the second period until the 14:11 mark, Embiid went all Baby Olajuwon on the free world: nine points, three blocks, two steals, reverse layups, jumpers, dunks, dream shakes.
"We knew we had to come and be ready to play in the second half to play better in (terms of) intensity," the native of Cameroon said after setting new personal KU highs in points (18), free-throw makes (eight), free-throw attempts (10) and steals (three). "That's why we had a little run and then we put the game away."
At the 11:57 mark of the second half, Embiid had outscored New Mexico's entire team, 9-8. The lithe freshman even stood his ground against 495 pounds of Lobo upperclassmen, helping to get junior 7-foot center Alex Kirk (five points, five boards) into foul trouble early while also banging around with brawny Aussie forward Cameron Bairstow (24 points, six rebounds).
"I think he was really aggressive," Bairstow would say of Embiid. "And you've got to give him credit. He made a couple of real good moves."
Yeah. A couple. You could say that.
Living the dream. Living the shake.
A favorite of yours?
Embiid laughed at that one.
"Yeah, definitely," he said.
Then, for kicks, Embiid offered up another little shimmy, right there on the interview stage.
"(We) get the ball into him, and it opens everything up," said Ellis, who pieced together a fairly strong evening himself with 21 points and nine boards. "He did a great job down there; we've just got to keep continuing to get him the ball."
Saturday night underscored a number of points for the Baby Jays, not the least of which was the idea that this team is so much better, on both ends of the floor, when Embiid is in the lineup, unburdened by his foul count.
Especially on the defensive side. Fun fact: It was just the third time in 10 games Embiid finished a contest with fewer than four PFs on his ledger.
It's hard to change a game from the comfort of a folding chair.
"You know, he needs to play 30 minutes a game," Self continued. "He's got to."
On a team with Wiggins, the No. 1 prep recruit in America last spring, at one wing and Ellis, one of the nation's best post scorers, in the paint, it's easy to forget that Embiid might have more upside -- literal and figurative -- than either of his more celebrated teammates. The son of a handball player, basketball wasn't Embiid's natural game or his passion -- that would be soccer, on both counts -- but his footwork and natural agility have made for a remarkably quick translation.
But this is a learning process, a growth process, being played out on one of America's biggest basketball stages under the auspices of Self, one of the world's best basketball teachers. Although this is just Embiid's third full year of playing organized basketball, the big lug is projected by NBADraft.net to go No. 3 in next year's NBA Draft; DraftExpress.com tapped him this week to go off the board at No. 4.
"We need to play (Embiid) all the time," Self said, then offered up a devilish grin. "But the more he plays, the less time he's going to spend in Lawrence."
In other words, enjoy him while you've got him. Because with each passing week, Embiid shakes that moneymaker a little louder.
You can follow Sean Keeler on Twitter @seankeeler or email him at seanmkeeler@gmail.com.
---