Toni Duggan
Toni Duggan
England's Bassett: I'd prefer no one knew my name after own-goal
Published
Jul. 3, 2015 5:59 p.m. ET

Laura Bassett said she wishes that nobody knew her name at all following England's crushing Women's World Cup loss to Japan earlier this week.
Bassett had been playing the best football of her life when the worst imaginable bad luck struck the bedrock of England's defense. The 31-year-old England centerback will be widely remembered not for the many crucial goal-saving challenges and interceptions she produced, but for her own-goal in stoppage time that sealed the fate of the Lionesses in the dramatic semifinal clash with Japan.
In her first public interview since England's 2-1 loss, Bassett said she felt overwhelmed with the amount of support she's received and opened up about her emotions. 
"If I'm honest, I would prefer for no one to know Laura Bassett's name," Bassett said in an interview with Newsbeat's Tina Daheley. "I'd prefer everyone to know Mark Sampson and Steph Houghton for lifting that trophy. I wouldn't want anyone to know my name, but in the circumstances that they do — I'm just so thankful that the country is really supporting me and the Lionesses, and our journey.
"The togetherness we've created and team spirit hasn't just happened overnight. It's been a long journey for all of us. It's been overwhelming. I'd change (the ending) in a heartbeat if I could."
Bassett stuck out a leg as Japan mounted a stoppage-time raid on England's penalty area. The ball might have gone anywhere. Yet rather than run safe, or for the relative safety of a corner, it struck the underside of the crossbar and bounced a foot over the line, condemning Sampson's side to a 2-1 defeat. Teammates immediately absolved Bassett of any blame, rallying to her side on the pitch and later in the dressing room.
"Laura Bassett epitomizes what our team is about: She's honest, she's humble, she's hard-working," said Sampson, the England manager. "There's not one manager in the world who wouldn't want a Laura Bassett in their group. Laura Bassett as a person and footballer is a person anyone would be privileged to have as part of their life. She is a role model to every player in our team. Off the field she is the epitome of a good person.
"Any value you associate with a good person, Laura Bassett has in abundance. If she was your sister, your daughter, your best friend, you'd be a very lucky person to have Laura Bassett in your life."
A vicious Wikipedia edit of Bassett's profile, labeling her "the greatest failure in English women's soccer history", went against the public sympathy that immediately poured out, with #ProudOfBassett trending on Twitter. Teammate Toni Duggan told Bassett on Twitter to "keep your head up my friend you are truly amazing", labeling her "OUR ROCK."
And Sampson added in England's post-match press conference: "Laura Bassett without any shadow of a doubt will go home as a hero.
"She's epitomized all the values England football fans want to see in that white jersey when you've got Three Lions on your chest: pride, passion, never say die, and play for the team. It was a horrible moment for Laura but you can see the regard in which the team hold Laura and all their teammates by their reaction.
"There's not much you can say and what we did say will stay private, but most importantly this team can't be afraid to cry. They gave everything and when you give emotionally the amount that this team gave in this tournament, when there's the huge disappointment like there was, there's going to be that moment when you just let loose."
Information from FOXSoccer.com's newswire contributed to this report.  
---
---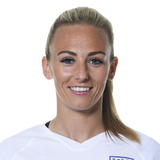 Get more from Toni Duggan
Follow your favorites to get information about games, news and more
---