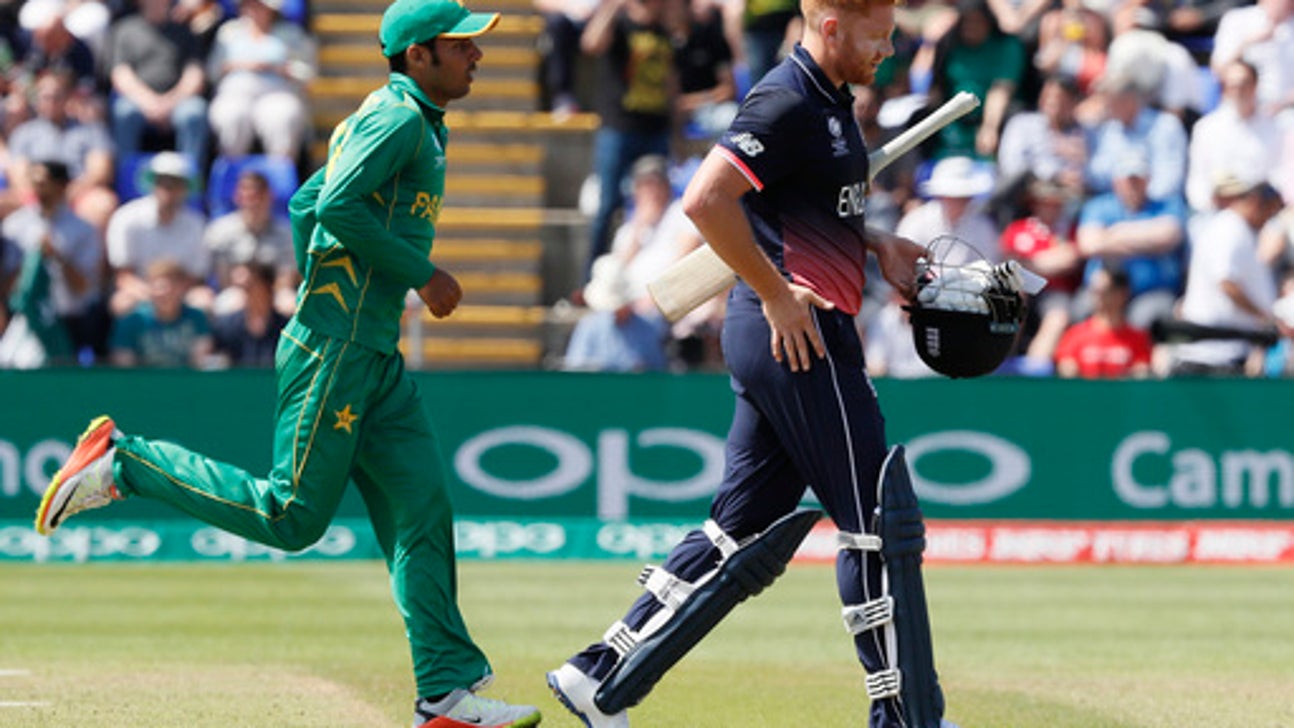 England crashes out of CT in latest disappointment
Updated
Mar. 4, 2020 3:29 p.m. ET

CARDIFF, Wales (AP) Even with its best team in a generation, England won't be ending its trophy drought in global 50-over competitions this year.
Favorite to beat Pakistan in the Champions Trophy semifinal on Wednesday, England went down to an embarrassing eight-wicket defeat at Sophia Gardens.
''Every partnership we had started behind the rate, which put us under the pump a little bit, and none of our batsmen seemed to get away,'' England captain Eoin Morgan said. ''It's a big frustration because I think we've played some great cricket in this tournament so far, and we weren't anywhere close to it today.''
Morgan, who called it a ''pretty dull'' game, denied his team may have been over-confident with England widely touted to be on course for ending its record of five defeats in five 50-over finals, including runners-up in the 2004 and 2013 Champions Trophy.
''We played against some really good sides recently, and we've managed to beat them. Certainly that hasn't gone to our heads at all,'' Morgan said.
England endured a shock elimination in the group stage of the 2015 Cricket World Cup and, looking ahead to the 2019 edition in England, Morgan said the experience of this Champions Trophy wouldn't change the attacking stance of his team.
''You know, one of the huge contributing factors towards topping our table and playing very good cricket in the group stages is that we've stayed true to what we believe in and what's worked for us the last couple of years, and I think that's the continued formula for the future.
''I think it will have to evolve in whatever manner the game does over the next two years in the lead-in to the World Cup, but certainly I think we're moving in the right direction.''
England didn't get much right on Wednesday, except perhaps recalling Jonny Bairstow.
Bairstow justified the switch by scoring 43, almost as much as the dropped Jason Roy managed in eight innings this summer.
Bairstow's 57-ball knock was all the more impressive since it marked the first time he has opened for England - and he took the strike.
He needed some luck to survive, however. That included an extremely close leg-before-wicket appeal by Pakistan in the first over from left-arm quick Junaid Khan.
More good fortune was to come for the 27-year-old Bairstow.
On 27, he was dropped by Azhar Ali, leaping at short midwicket off Rumman Raes.
On 42, Bairstow was dropped after falling victim to a field change by Pakistan captain Sarfraz Ahmed, who brought in a slip for Shadab Khan. Bairstow immediately nicked the ball to Babar Azam at slip but he couldn't hold it and nor could nearby Hasan Ali.
Bairstow's luck ran out in the 17th over with a misjudged pull shot to Mohammad Hafeez at deep square leg off Hasan.
---
AP Sports Writer Steve Douglas contributed to this report.
---