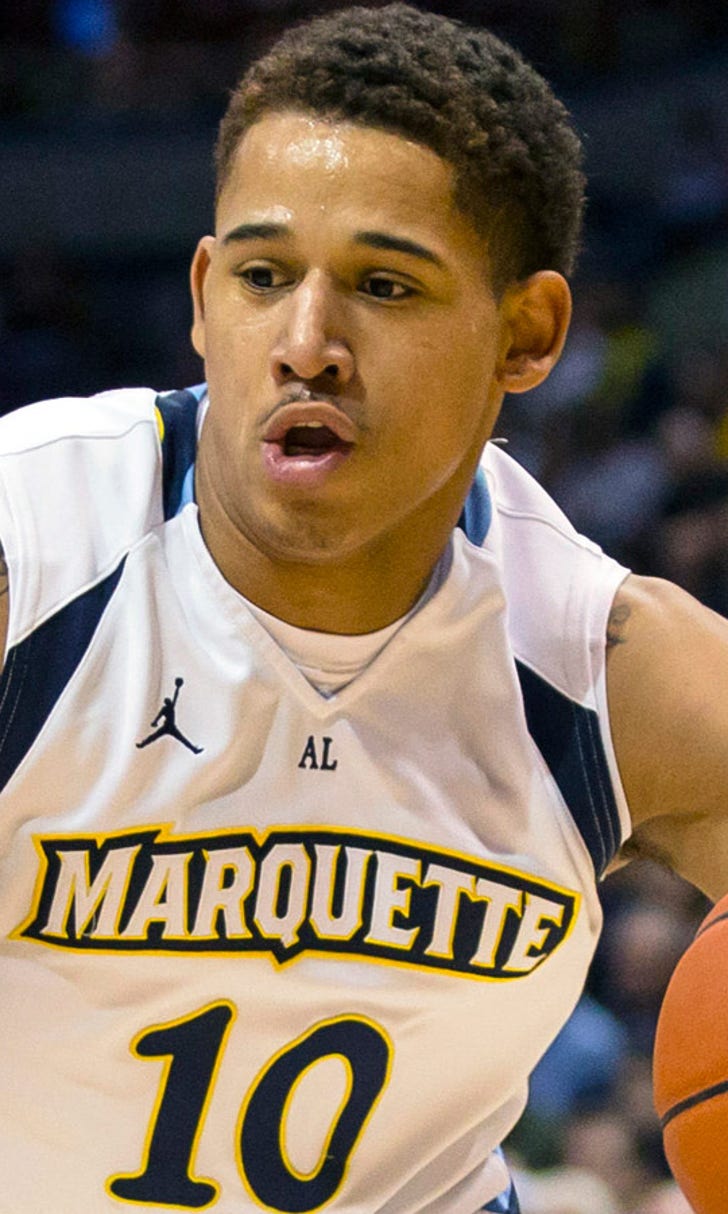 Energetic Juan Anderson wants to be Marquette's 'glue guy'
BY foxsports • December 23, 2013
MILWAUKEE -- In the era of one-and-done's, inflated egos and a record number of transfers, it's rare to see a college basketball player embrace a role other than being a go-to scorer, floor general or a guy fed inside.
The maturation process of Juan Anderson, one which almost led him away from Marquette this past summer, has brought him to the realization of what he can do to best help the Golden Eagles.
"I like to be the glue guy," Anderson said. "I want to be the guy who helps the team with whatever it needs, whether it's defending the best player, getting 10 rebounds, whatever it is.
"My goal is to do the little things and be the ultimate glue guy. I want people to look at me and say, 'He's a great teammate, he's a glue guy.'"
Anderson will never light up the scoreboard, but he's stuffed the stat sheet of late. He's averaging 7.7 points, 5.3 rebounds and 2.2 steals over Marquette's last six games, including putting together arguably the best games of his career.
The junior matched his career high with 11 points, grabbed four rebounds with five assists and five steals on Dec. 14 against IUPUI. Anderson followed that performance by scoring 10 points with six rebounds, three assists and six steals three days later against Ball State.
"He's getting better, he's getting better, he's getting better," Marquette coach Buzz Williams said. "We need him to play with great energy, we need him to be that ultimate glue guy, we need him to be a stat stuffer. But we need his energy to not lead to silliness.
"He's becoming not only a guy we rely on from an energy standpoint, he's becoming a guy we need to rely on. Glue guy means you are not dumb. Glue guy means you take the next right step."
Williams is still looking for consistency from Anderson. Against IUPUI, Anderson had 11 points, three rebounds, three assists and four steals in the first half and didn't score and had just one rebound, two assists and a steal after halftime.
He went into the break with eight points, six rebounds, three assists and five steals against Ball State, but scored just two points with one steal in the final 20 minutes.
Anderson's energy is contagious and fun to watch. It's easy to see why Marquette is a much better team when he's using his all-out effort in a positive way, but Williams wants to see some of the aggressive mistakes eliminated.
"I think he's starting to play with more intelligence," junior point guard Derrick Wilson, who calls Anderson his best friend on the team, said. "He's a high-energy guy. Sometimes I have to slow him down because he has so much energy.
"He's older now and starting to realize how to do all the right things on and off the court. He works out every night, watches film, he's working and it shows."
Like Wilson, Williams feels Anderson is starting to eliminate what he calls "silly" mistakes because of the confidence he is gaining through his work. A video played at the BMO Harris Bradley Center prior to the IUPUI game featuring Anderson's thoughts on a variety of random subjects.
Who would Anderson most like to get into a 3-point shooting contest with? None other than former Marquette star and NBA sharpshooter Steve Novak. While nobody will confuse Anderson's 3-point prowess with Novak's, he's worked hard to make himself a bit of a threat from beyond the arc.
Since the video ran, Anderson has hit four of his eight 3-point attempts. A threat from deep is all Marquette needs him to be.
"I think I made shots because I've been in the gym a lot more lately," Anderson said. "It allows me to build confidence in my shot. I just let it go without any hesitation."
There was a point during the summer when Anderson was set to leave Marquette and explore transfer options to be closer to his family in Oakland, Calif. Anderson has never gotten into much detail as to why he decided to return to the Golden Eagles, but Williams and his teammates welcomed him back with open arms.
Anderson was a starter in name only for 31 games last season, averaging just 2.7 points and 2.9 rebounds in 13 minutes per game. He probably could have found a school where he would have played a bigger role, but returned to uncertain playing time.
A knee injury to Steve Taylor Jr. has put Anderson back in the starting lineup, and he's stuck there for nine straight games.
Not the most talented player on the roster, Anderson is certainly one of the most important. The Golden Eagles are going to have to earn their way back to the NCAA tournament through hustle, toughness and togetherness, and Anderson epitomizes that style of play.  
"When God made him, I don't think he put super, super juice in him," Williams said. "I think he put super juice in his heart.
"I think he's a really good kid who understands the value of work. He was raised by a single parent who has literally sacrificed everything in her life to give her children a chance. He understands how hard you have to work to have a chance."
Follow Andrew Gruman on Twitter
---