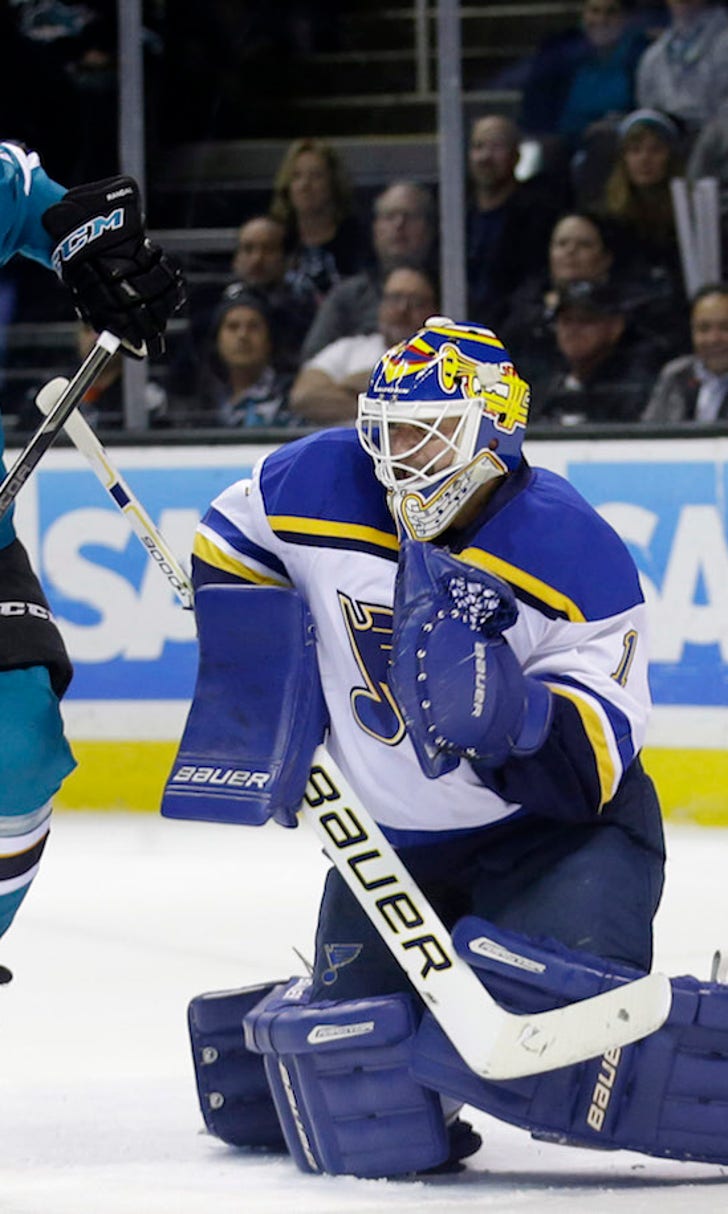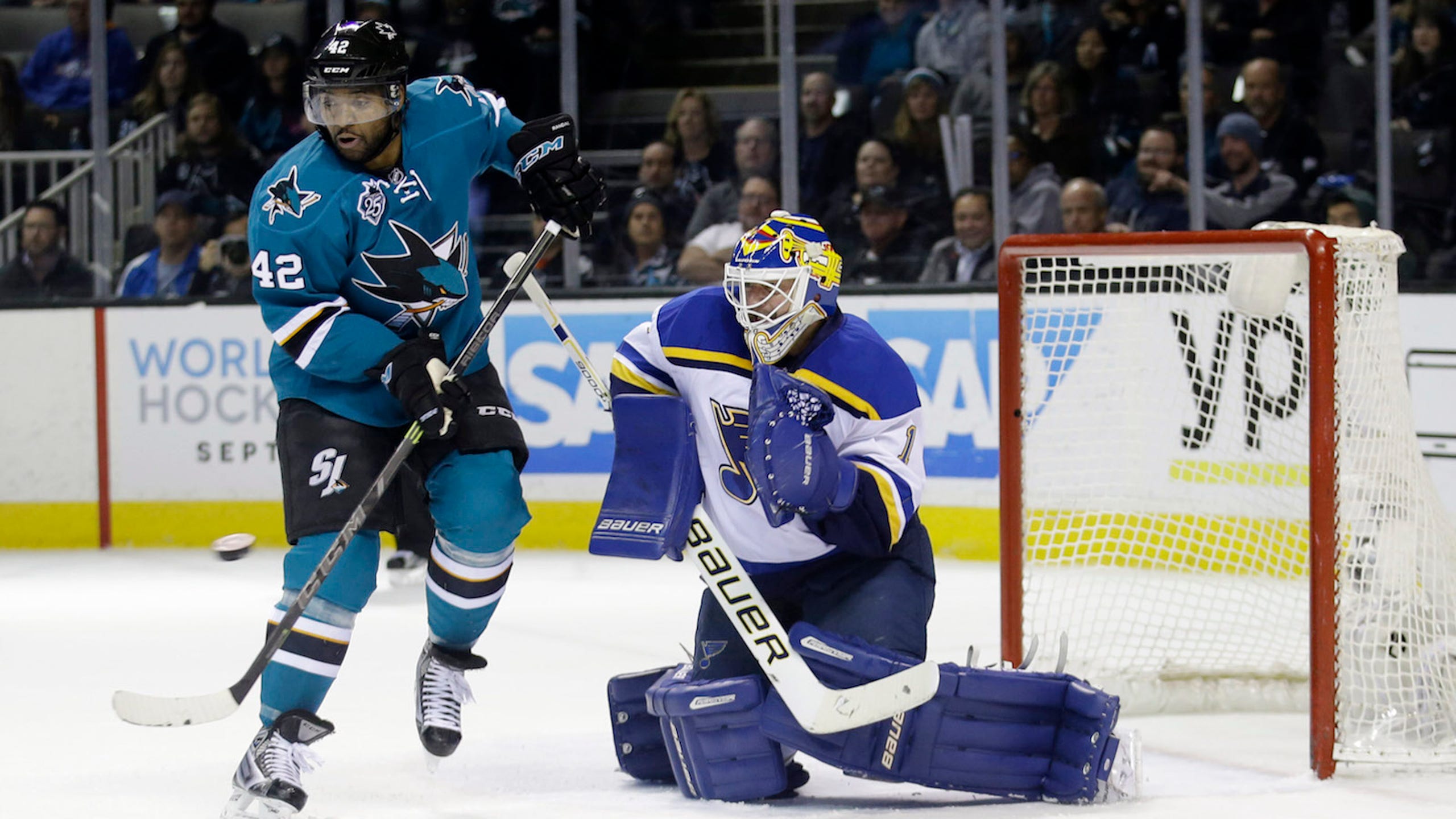 Elliott grabs second straight shutout in Blues' 1-0 win over Sharks
BY foxsports • March 23, 2016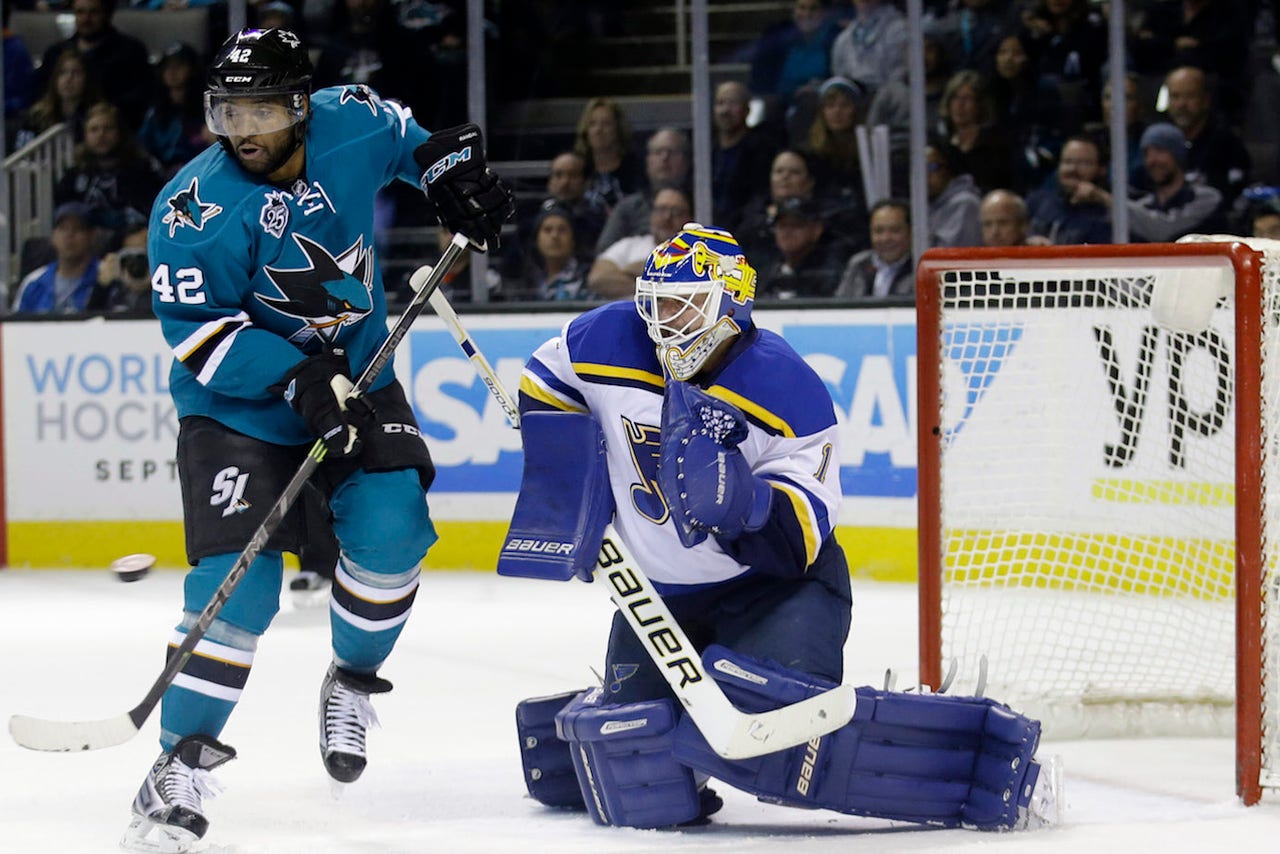 SAN JOSE, Calif. -- For a team that has given up more than its share of goals when the opponent has pulled the goalie, protecting a one-goal lead during a 6-on-3 advantage figured to be a tall task.
Brian Elliott and the St. Louis defense rose to the occasion.
Elliott made 37 saves in his second straight shutout since returning from an injury and the Blues withstood some tense moments late after taking a pair of penalties to beat the San Jose Sharks 1-0 on Tuesday night.
"We kind of just took away everything, and when they did have something they let me see it," Elliott said. "It was huge. That's a big kill for our team, and especially at this time of year."
Watch the Blues Live pregame and postgame shows before and after every St. Louis Blues game on FOX Sports Midwest.
Robby Fabbri scored the lone goal midway through the third period to help the Blues finish the road trip with a 3-2 record to remain two points behind Central Division-leading Dallas. St. Louis is four points ahead of third-place Chicago.
Elliott has stopped all 56 shots he has faced against Vancouver and San Jose after missing nearly four weeks with a knee injury suffered in a loss to the Sharks last month.
Martin Jones made 23 saves but the Sharks failed to convert on a late two-man advantage and missed an opportunity to clinch a playoff berth. More important, San Jose failed to gain ground in the Pacific Division after Los Angeles and Anaheim lost earlier in the night. The Sharks remain one point behind the second-place Ducks and five behind the Kings.
"It's disappointing," captain Joe Pavelski said. "It's a missed opportunity. There aren't a lot of games left to make up points. You have to make a chance like that count."
The game was a tightly played defensive contest before St. Louis finally broke through midway through the third period. Troy Brouwer flipped the puck out of his defensive zone into neutral ice and Fabbri gained possession. He skated into the offensive zone on a 2-on-1 with Paul Stastny.
When Justin Braun played the pass, Fabbri settled the puck in the faceoff circle and beat Jones with a high shot to the short side for his 17th goal of the season.
"Originally, I thought the D was coming at me so I was going to pass it across to Stastny there," Fabbri said. "But the D backed off and I had a little bit of time. I waited out the D-man to give myself a shot and put it in."
But things got tense late when Carl Gunnarsson shot the puck over the glass for a delay of game with 2:45 remaining. David Backes then was called for a high-stick with 1:23 left, giving San Jose 38 seconds of a 6-on-3 advantage with Jones pulled.
"You don't coach for 6-on-3," Blues coach Ken Hitchcock said. "We didn't even know what to say. They had so many one-timers. Guys were locked and loaded. They just couldn't get them the puck. We really got in the lanes well. We really took their seam plays away."
The Blues, who have allowed 10 goals this season when the opposing goalie has been pulled, prevented any prime chances and held on for the win.
"We had that extra guy, it looked like a shot or two that deflected off his glove," Pavelski said. "It's a good chance to create a good shot. A really good one. We didn't get as many of those as we could have."
The game had good pace early with the Blues spending lots of time in the San Jose zone. But the Sharks took over the play late in the first and carried it over into the second period, holding St. Louis without a shot on goal for more than 9 minutes.
NOTES: The Sharks had not allowed a goal for 132:23 before Fabbri scored. ... The road team won all three games this season between the teams. San Jose won twice in St. Louis in February.
---
---