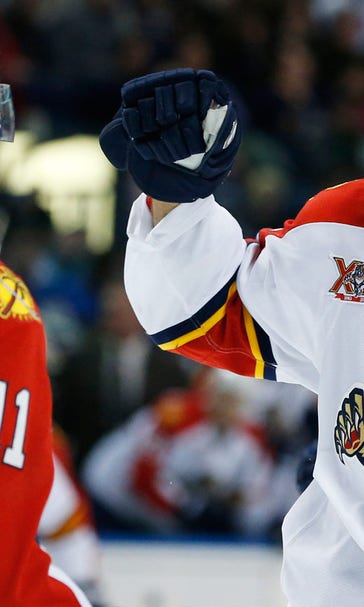 Ed Jovanovski sparks Panthers to 4-3 win over Sabres
January 21, 2014

BUFFALO, N.Y. (AP) -- Florida Panthers captain Ed Jovanovski finally has something to show for all the pain he went through in overcoming a string of injuries that kept him sidelined for much of the past two years.
Playing only his ninth game of the season since recovering from hip surgery, the veteran defenseman scored the go-ahead goal and added an assist in sparking a 4-3 win over the Buffalo Sabres on Tuesday night.
The goal came in Jovanovski's 1,100th career game and was his first since April 5, 2012. So forgive him if he had difficulty recalling the last time he scored.
"Oh, has it been that long?" the 37-year-old said. "I'm getting a little up there. But I think for me, having the opportunity to be in the dressing room and going out there and doing something that I love, that's a privilege."
He even got a fortunate bounce in putting the Panthers ahead 3-2 with 1:04 left in the first period. Jovanovski's shot from the top of the left circle deflected in off the stick of Sabres defenseman Mike Weber.
With Jovanovski providing the offense, another member of the Panthers' old guard did his part to ensure the lead stood up.
Veteran goalie Tim Thomas stopped 32 shots, including 15 in the final period to improve to 7-3-2 in his past 12.
"Yeah, it was a little bit of chaos there for a while," the 39-year-old Thomas said. "But it must have been entertaining for the fans. And I can laugh at it because we came out on top."
The Panthers (20-23-7) improved to 4-2-1 in their past seven, and secured wins on consecutive nights. Florida was coming off a 5-1 win at Pittsburgh that snapped the Penguins' franchise-record home winning streak at 13.
Sean Bergenheim, Jesse Winchester and Nick Bjugstad also scored for Florida, which improved to 4-0-1 in its past five trips to Buffalo. Tom Gilbert set up two goals in helping the Panthers overcome a pair of one-goal first-period deficits.
Drew Stafford scored twice and Steve Ott also scored for the Sabres (13-28-7), who dropped to 0-2-2 in their past four.
Ott's goal 8:36 into the third period cut the Panthers' lead to 4-3, but the Sabres failed to capitalize on three power-play chances over the final 7:13. That included a 4-minute power-play after Panthers forward Brad Boyes was issued a double-minor penalty for high-sticking Sabres defenseman Henrik Tallinder.
"Obviously, it wasn't good enough tonight," Sabres coach Ted Nolan said. "We had a great opportunity for almost a minute and a half. We just didn't get shots through."
Ryan Miller had a bit of an off night as well in finishing with 18 saves.
Though the first three goals he allowed all came on deflected shots, he gave up a soft one in allowing Bjugstad to put the Panthers up 4-2 with 3:48 left in the second period. Driving up the left wing, Bjugstad snapped a shot that beat Miller high on the short side.
"It wasn't one of my better games," said Miller, who had allowed eight goals in his past four (2-0-2). "I've got to get myself into a little better spot where I'm in better position."
Thomas, by comparison, was solid.
He was particularly sharp on back-to-back chances the Sabres had early in the third period to preserve a 4-2 Panthers lead.
First, Thomas got his glove out to get a piece of Stafford's shot from the left circle on a 2-on-1 break 90 seconds into the frame. Some 40 seconds later, Thomas got his glove up to foil Cody Hodgson, who was in alone, to preserve the two-goal edge.
Thomas had no chance on either of the three goals he allowed.
Both of Stafford's goals came from the slot. And Ott scored during a scramble in front and after Thomas stopped Stafford's attempt to jam the puck in at the right post.
Panthers rookie center Aleksander Barkov did not return after sustaining a lower-body injury late in the first period. Without going into detail, coach Peter Horachek said Barkov was kept out as a precaution and likely could have returned.
Horachek didn't expect the injury to be long term.
NOTES: Sabres D Tallinder returned after missing eight games with an upper-body injury. ... Both teams entered the night having identical 9-9-7 records this season in games decided by one goal. ... Stafford's opening goal came on the man advantage, ending the Panthers' streak of 29 consecutive power-plays without a goal. The streak is tied for fifth on the team list, and seven short of matching the record set Feb. 16-29, 2004, according to STATS.
---