Early tournament exit brings abrupt end for ASU women's five seniors
BY foxsports • March 23, 2016
TEMPE, Ariz. -- Sunday's season-ending loss to the Tennessee Volunteers in the second round of the NCAA Women's Basketball Tournament also brought an earlier-than-expected end to the Sun Devil basketball careers of seniors Katie Hempen, Arnecia Hawkins, Peace Amukamara, Elisha Davis and Eliza Normen. Davis spent a few extra minutes on the Wells Fargo Arena court after Sunday night's loss.
"At that moment I realized that I can't put my head down and run up the tunnel and not shake hands and not show gratitude to everybody that stuck with me at my lowest freshmen year to my lows throughout each year and when I had lows senior year," Davis said. "They've been with me at my lowest or when I do under perform or when I didn't do my best so I just kind of wanted to suck it all up and show them thank you."
After the game ended Davis shook hands with the Volunteers and then remained on the floor to savor her last time in a Sun Devil uniform.
"I kind of wanted to live in that moment, because after that I won't get that," Davis added, who had 18 points and hit a long three-pointer at the halftime buzzer to tie the game. "That moment when everybody's there to watch us and support us, I won't get that back."
Coach Charli Turner Thorne credited Davis and the rest of her fellow seniors for the effort they put forth throughout their ASU careers that culminated in the highest NCAA Tournament seed in Sun Devil history.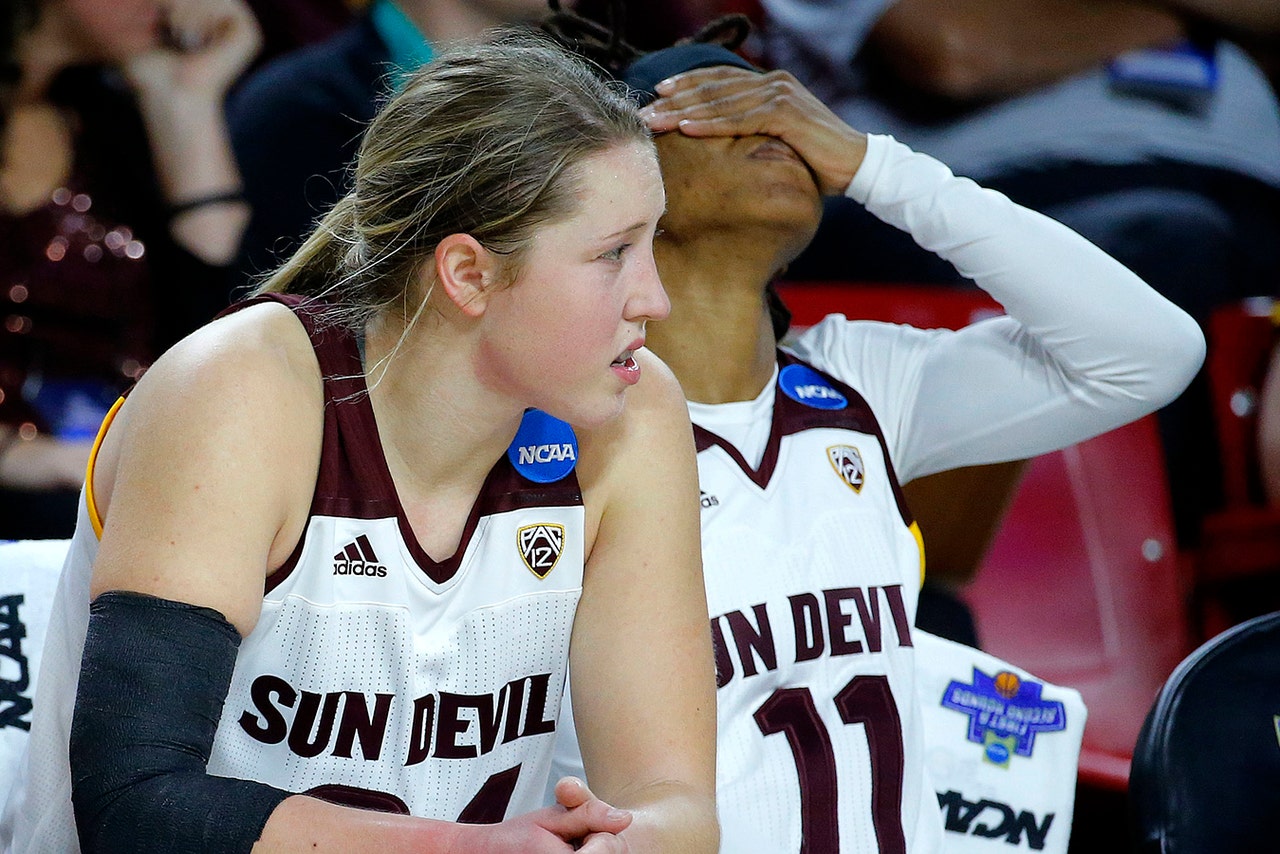 Arizona State guard Peace Amukamara (11) and forward Kelsey Moos watch the final seconds their second-round loss to Tennessee in the NCAA women's tournament on Sunday.
"This season has been three years in the making," Turner Throne said. "These guys just worked and worked and got better every year and better every year and just really, really earned this season and this championship they got in the Pac-12."
Turner Thorne got choked up during the postgame press conference when talking about Normen, who had to take a medical redshirt in 2011-12 after suffering a quad injury in a game against UC Riverside.
"I mean that kid is so tough. ... A lesser kid would have quit," Turner Thorne said. "But she is a great leader."
As for Hempen, Tennessee head coach Holly Warlick said her team's focal point coming into Sunday night's game was to not let her get into a rhythm. In ASU's first-round game against New Mexico State, Hempen went 6-for-6 from behind the three-point line.
The Volunteers made sure that did not happen again, limiting Hempen to only three points.
"When she hit her first three I got a little nervous," Warlick said. "We wanted somebody else to beat us besides her, but hey give credit, the guards stepped up and hit some big three's when they needed too."
The Sun Devils struggled with rebounds and scoring points in the paint on Sunday night. The Volunteers outscored the Sun Devils by 15 points inside and outrebounded them 36-30. But junior center Quinn Dornstauder said size wasn't the problem.
"We have been undersized all year," said Dornstauder of an ASU team whose tallest player is 6-foot-3. "You could say size affected us there, but you could also say that we didn't do our jobs getting the rebounds and stuff."
---