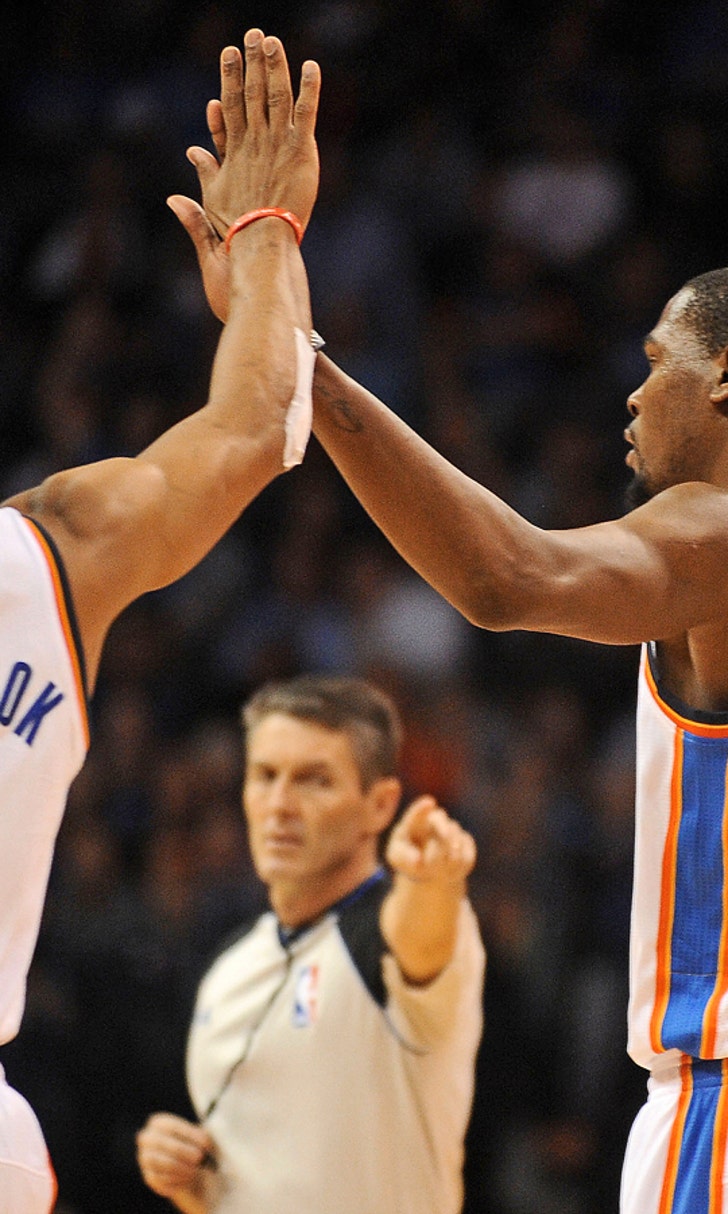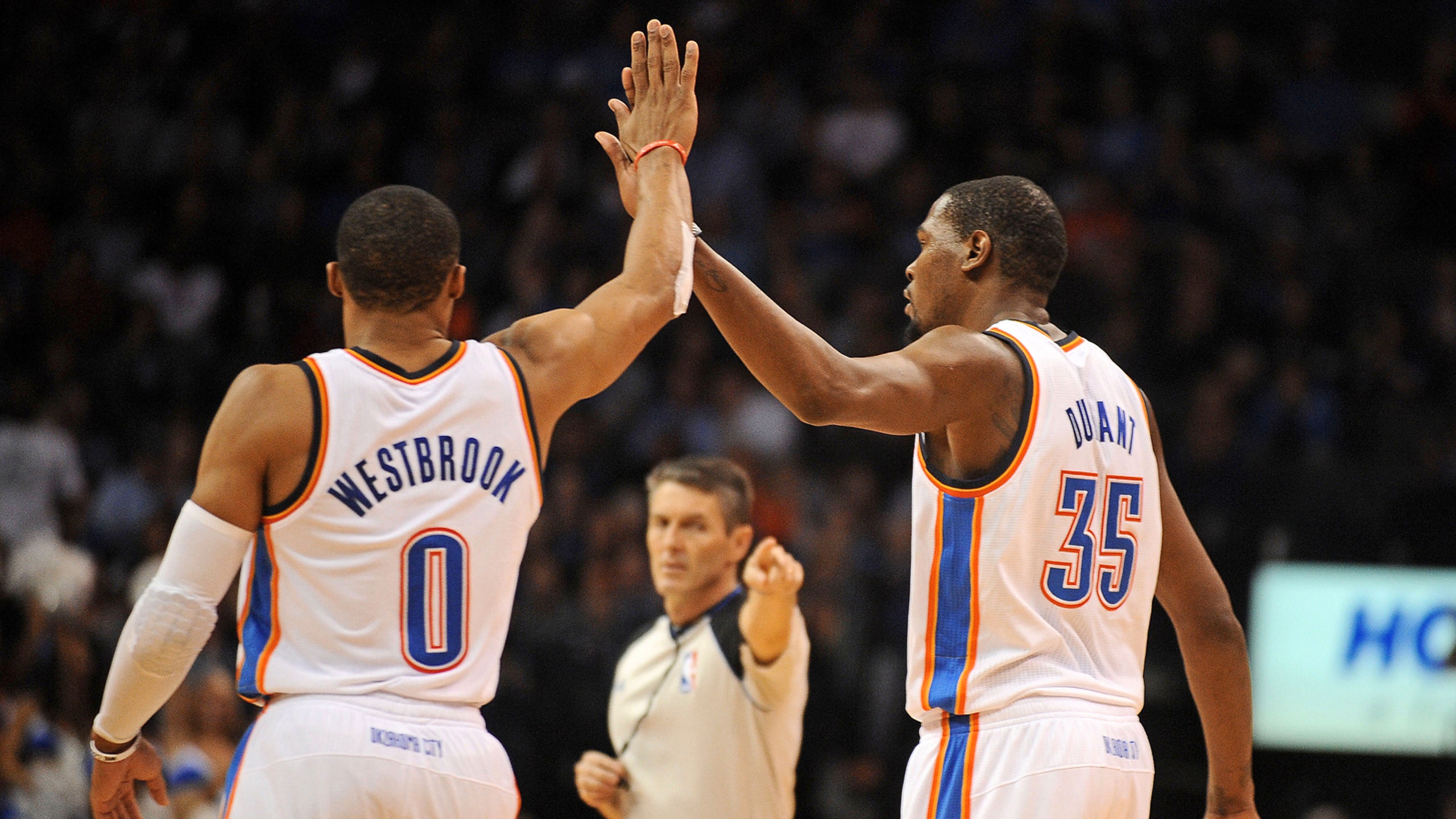 Durant 'jumped the gun' on Westbrook's return
BY foxsports • February 19, 2014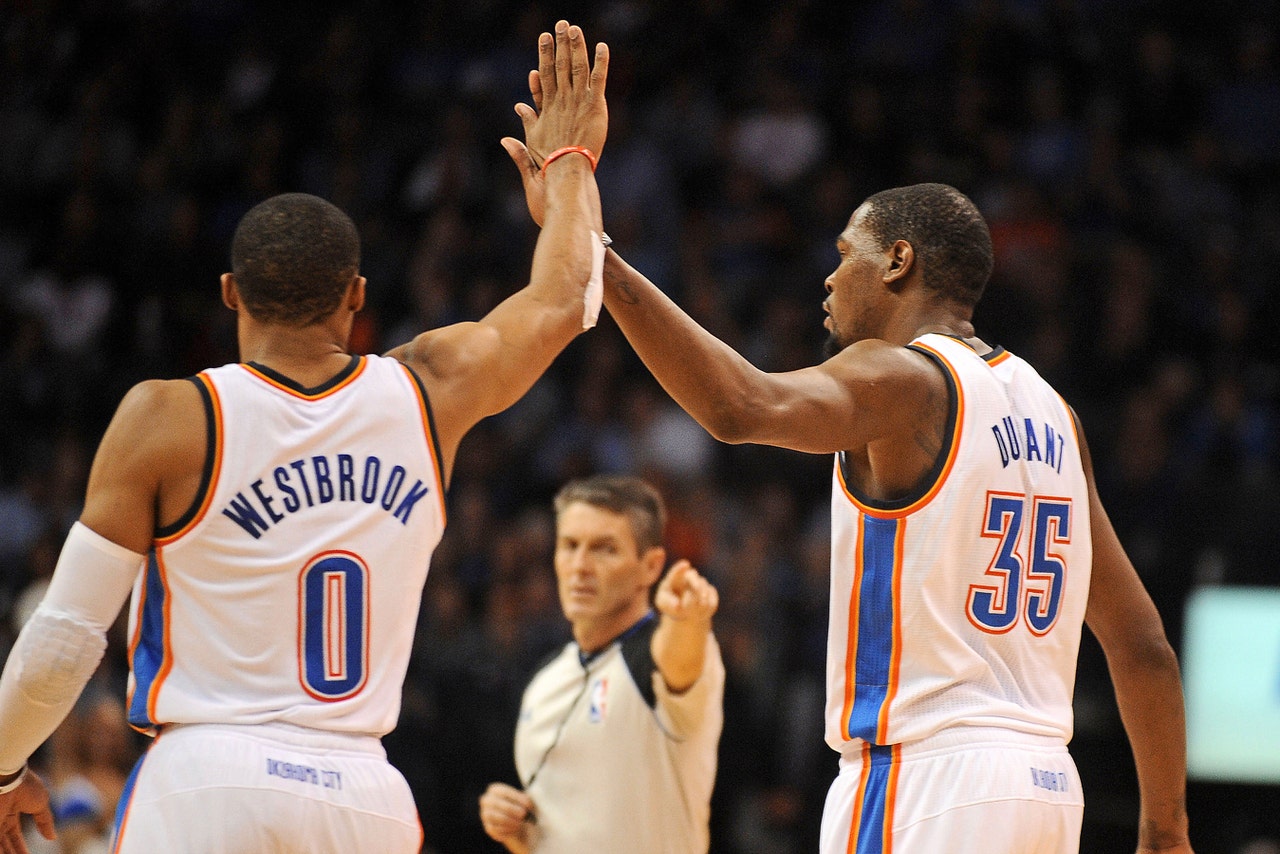 OKLAHOMA CITY -- Russell Westbrook will start Thursday night against the Miami Heat.

He'll start, because the Thunder didn't say he wouldn't. Make sense?

Westbrook, who has been out since Christmas and then had knee surgery two days later, wasn't available to visit with the media Wednesday after practice, but coach Scott Brooks didn't rule him out of Thursday's game against the Heat.

"We'll see how he feels tomorrow," Brooks said. "That's it. There's really nothing else to report."

But by not reporting anything, like Brooks said, his message was clear: Westbrook is ready to go, because if he wasn't, Brooks would have certainly said so.

According to Brooks, Westbrook completed his first full practice since the Dec. 27 surgery, his third on his knee since last year's playoff, and Brooks said Westbrook looked good at practice.

Meanwhile, Kevin Durant, who told Bill Simmons of Grantland.com that Westbrook would be playing on Thursday, backed off his original statement, but didn't go as far as saying Westbrook wouldn't play.

"I jumped the gun on that one," Durant said. "That's up to the staff and Russell. It's my fault if I gave information that's not true."

Thursday is the Thunder's first game since the All-Star break and a game the team has been pointing to for awhile, not just because it's the Heat, but because team officials originally suggested Westbrook would return after the break. The team has been quick to control the message on Westbrook, saying he would't be back until after the break but also not giving a specific timetable.

But the question of just how soon after the break was answered in non-answers Wednesday.

"He went through one practice," Brooks said of Westbrook. "Nothing other than that to really say. We'll see how he feels tomorrow. That's it."

If it's coming down to how Westbrook "feels," you have to think he's healthy. Meanwhile, if he completed a practice and Brooks didn't say there were any limitations at practice, further suggests he's healthy.

Leaving the door open for Westbrook to return, like Brooks did, seems like a strange thing to do if in fact Westbrook wasn't due to come back. Brooks wouldn't answer if he felt comfortable putting Westbrook back into the lineup after just a single practice and also wouldn't say if Westbrook would have any restrictions or limitations on minutes played. However, the completion of a full practice is a benchmark Westbrook had not crossed, according to the team, until now,

"If you want me to make up things, I will," Brooks said. "He practiced. I thought he was really good. We'll see how he feels tomorrow. We went pretty hard and did a lot of things in transition and a lot of defensive drills. He was able to participate in all of the practice."

Expect Westbrook to play tomorrow and expect him to start in place of Reggie Jackson. Brooks didn't say that, but he did say Kendrick Perkins, who started the Feb, 2 game at Miami, but didn't play after the first five minutes, as the Thunder decided to go with a smaller lineup, will start.


Follow Andrew Gilman on Twitter: @andrewgilmanOK
---