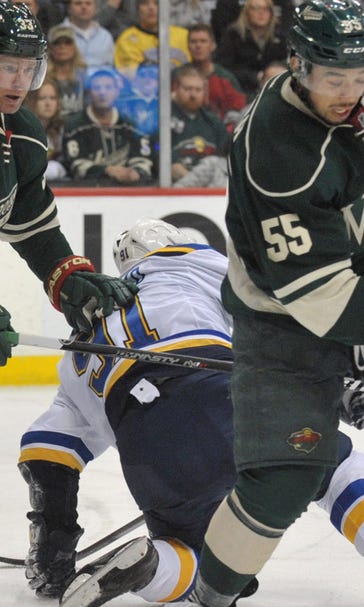 Dumba prepares for first playoffs with mentorship from Leopold
April 15, 2015

ST. PAUL, Minn. -- As a 23-year-old, Jordan Leopold was making his Stanley Cup playoffs debut with the Calgary Flames in 2004, and he was being watched closely by Matt Dumba, a 9-year-old growing up in Caglary who was captivated by the Flames' playoff run.
Now 20, Dumba is set to make his NHL playoff debut with Leopold, 34, at his side. The two defensemen whose hockey roots are surprisingly linked will be defensive partners when the Minnesota Wild open the playoffs Thursday at St. Louis.
Perhaps its natural Dumba and Leopold would strike a friendship following Leopold's mid-season trade from the Columbus Blue Jackets. Dumba looked up to Leopold long before they shared the same dressing room. Leopold has been watching Dumba, as well, since Leopold grew up in Minnesota and Dumba was a first-round draft pick by the hometown Wild in 2012.
"I think its respect for each other," Leopold said of the connection. "He's a tremendously gifted athlete. He's a good guy. He's got a good head on his shoulders and the sky's the limit. It's just a matter of dialing it in right now and doing things the way we need to do (them) as a team, and of course he's going to be a big part of that."
Together, Dumba and Leopold will try to help each other achieve their goals.
Dumba has counted on Leopold's guidance since the trade deadline on March 2. Leopold, in his ninth trip to the Stanley Cup playoffs, will be trying to get back to the finals after the Flames lost to Tampa Bay in seven games in 2004.
"He's just prepped me for it," Dumba said of Leopold helping him get ready for Thursday. "Just little things on the ice, making hard plays, knowing what to expect, knowing what to expect from St. Louis, just little things like that. So I think I'm prepared for that. I just got to go out and do the work."
The mentorship started almost immediately and the friendship soon followed. The night before leaving for St. Louis, Dumba had dinner at the Leopolds' home.
"He's played well," Leopold said of Dumba. "He's done good things. Sometimes less is more with him and we talk about those things. We talk about mistakes, we talk about things we do well. We talk about things on and off the ice. My son's been involved with a lot of it. It's been nice. He's a good guy to influence on and hopefully it all pays off here in the end."
Dumba befriended Leopold's son, Kyle. While Kyle was on spring break from school, he was around the Minnesota Wild locker room every day. Then it was discovered there was an even 14-year difference between the three. Dumba, the youngest player on the Wild, is closer in age by months to Kyle than Jordan.
"I thought that was crazy just thinking about it," Dumba said. "We all seem to be really good buddies. It's funny. We have a lot of fun, for sure."
Kyle will even send notes or pictures along to Dumba.
"They're enjoying it," Jordan said of the connection. "I'm enjoying it. It's a good relationship. It's healthy. It's something that bonds us as we move forward. The bond tightens and strengthens and I'm always right there for him to guide him, whatever it may be."
Leopold's mentorship will include helping the young Dumba channel his enthusiasm as he heads to his first playoff game.
In his first full season with the Wild, Dumba has made a big impact with eight goals and eight assists. He's also learned to settle into Minnesota's system while still playing an aggressive style.
"What I would like for him is to start the playoffs (and) play at the same gear," head coach Mike Yeo said of Dumba. "This was kind of the message to him that last week of the season. I felt like there were a couple games where he was starting to go back to some of the things he was doing earlier in the year where he was trying to win the game for us and make the greatest play every time he was touching the puck.
"I thought the last couple games he really settled in and did a better job of that. Obviously you want to have an impact, you want to make a difference, but you have to let the game unfold so to speak a little bit, too."
Yeo knows the emotion and intensity will only pick up for Dumba in the playoffs. Dumba said in the past he's been able to focus his energy in a positive manner. In 20 playoff games in junior hockey, Dumba had four goals and two assists to go with 38 penalty minutes.
But this will be Dumba's first playoffs in the NHL. The kid who watched while growing up in Calgary is now a part of the big stage next to his defensive partner and mentor.
"He'll be fine," Leopold said. "Been working with him a little bit. It's an exciting time for all of us, even him. To play cool under pressure is a big thing and he's going to be excited. He's going to be jacked up. This is a great opportunity for him, for all of us. He's definitely capable of being in this position and he'll do just fine. It's just a matter of all of us coming together and having the chemistry and doing things right at the right time."
Follow Brian Hall on Twitter
---