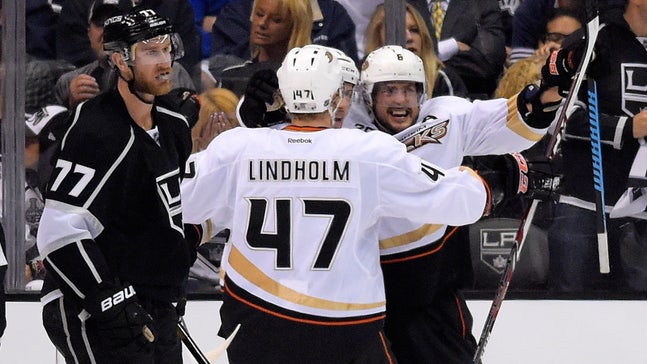 Ducks hold off Kings in Game 3 to get back in the series
Updated
Mar. 5, 2020 12:02 a.m. ET

LOS ANGELES -- For a brief moment, the Ducks have some respite.
Anaheim defenseman Ben Lovejoy's third-period goal allowed the Ducks to sigh a collective breath of relief. Holding a slim lead in a period where nearly everything went wrong, the goal gave the Ducks just enough insurance for a 3-2 win against the Kings, Thursday night at Staples Center in Game 3 of the Western Conference semifinals.
The Kings, up 2-1 in the Freeway Faceoff series, will host the Ducks again in Game 4 Saturday night.
"It was the first pump of my life," Lovejoy said. "We were up 2-0 against Dallas and they were able to come in and beat us pretty handily in the third game. It plants a seed of doubt and that was our goal tonight."
The seed is planted but some remaining doubt surrounds the Ducks still, as well.
In the third period, Anaheim lost top-line left winger Matt Beleskey, who has already missed games in the postseason with an undisclosed upper-body injury, when he took a vicious hit by Kings captain Dustin Brown on the boards and left the game. Later in the third, goaltender Frederik Andersen was injured and would also leave the game.
Both are listed as day to day.
Andersen started in goal over Jonas Hiller, who has been notoriously bad at the Staples Center with an 0-5-2 career record. Andersen had one of his strongest games of the postseason before getting injured with 9:58 left in the game, allowing one goal on 23 shots against.
"I looked at the records of both guys at Staples Center," Boudreau said. "It was like a baseball manager, went with the guy that was comfortable here. And Hiller got the (win)."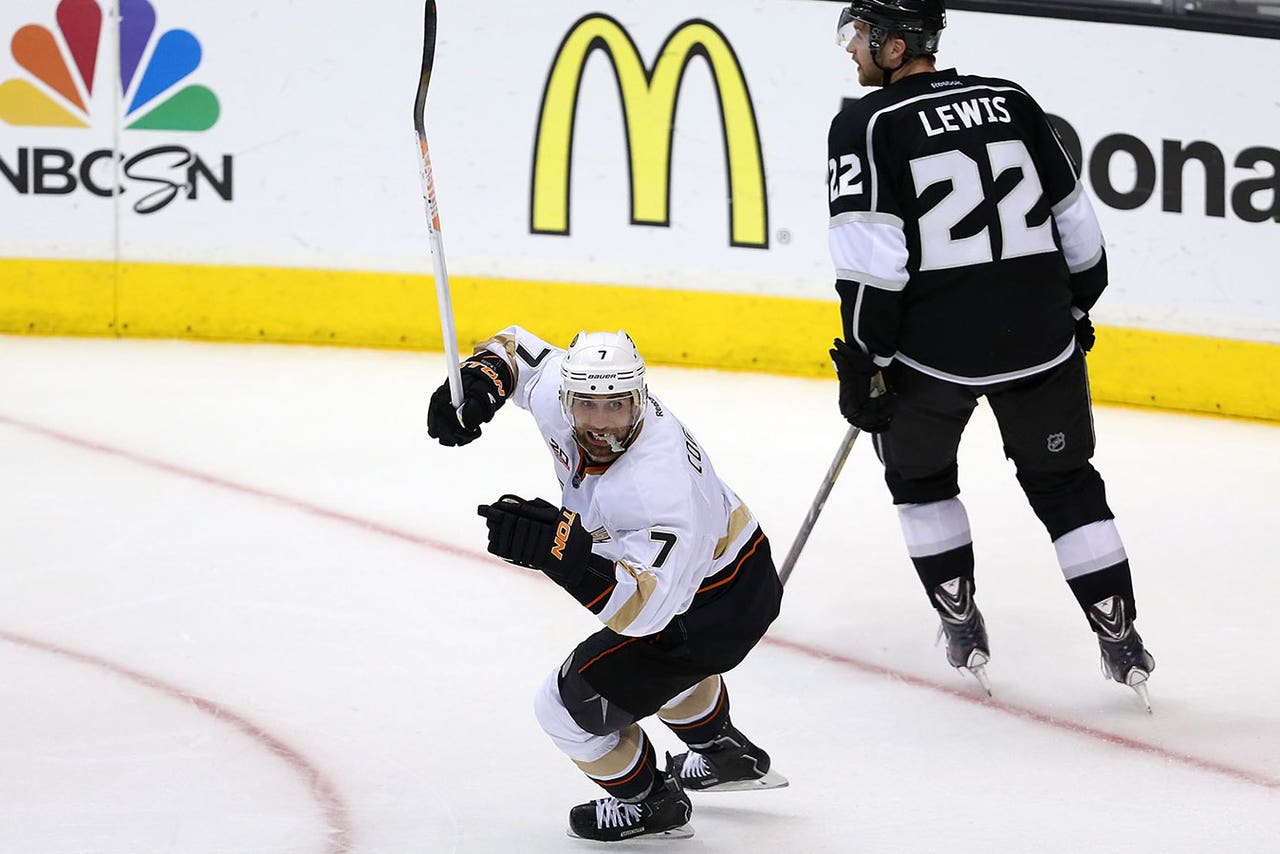 Ducks strike back at Kings in LA, road team now 3-0 in series
Hiller had been expecting to start.
"I actually didn't find out until this morning," he said. "That's the coach's decision and you have to accept it."
He faced eight shots and allowed a late goal - a flukey shot from midair, ironically batted in with a baseball swing by the Kings' center Mike Richards.
"It can't much worse to kind of sit on the bench for 50 minutes and then suddenly you're in a 2-1 game," Hiller said. "I found a way to focus. In one second you're almost in a different world from being on the bench watching the game, so you have to focus and stop the puck. It worked out and we were able to get a win."
The two things the Kings wanted to avoid was giving up an early lead and turnovers in the neutral zone. The Ducks scored twice on the power play, with Corey Perry scoring just over four minutes into the game and then later, with the game tied 1-1, when Hampus Lindholm sent a turnover down to Nick Bonino. A beautiful feed was finished off by Teemu Selanne at the net for a Ducks lead they would not relinquish.
"We want to go out and play with the lead every time we go out there," said Kings' Jeff Carter said. "The last two goals, they were turnovers that ended up in our net. We have to clean that up."
"The Ducks played harder than us tonight," said Richards. They executed better. They were a desperate team and they showed up. We know what it's like to be in that position and if the other team is more desperate than we are, they are probably going to have more success."
Slava Voynov had a chance with just over 10 minutes left to play, only moments before Andersen was injured. With the Kings' line desperately trying to score the equalizer, Voynov caught Andersen out of the net and had a wide open look but sent the puck just wide.
A sellout Staples Center crowd was a moot point, much like the two sellouts in Anaheim. Home ice hasn't been a factor and if the first three games are any indication, the series may come down the to the final minutes of play.
If you're expecting a blowout, don't hold your breath. These two teams aren't holding theirs.
"I don't know if you're going to see that," Selanne said. "Obviously it is two teams, very similar teams. System-wise it is very close. They are going to be tight games that can go either way. We try to do little things better than them and hopefully that will be enough."
---