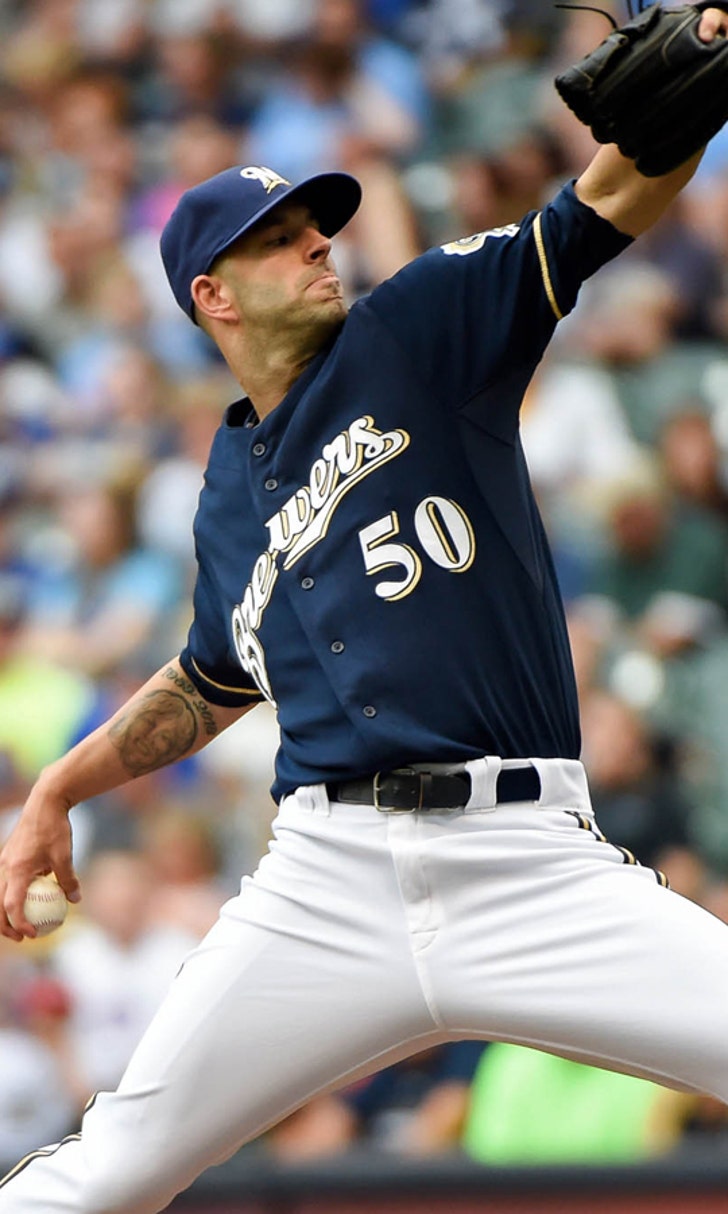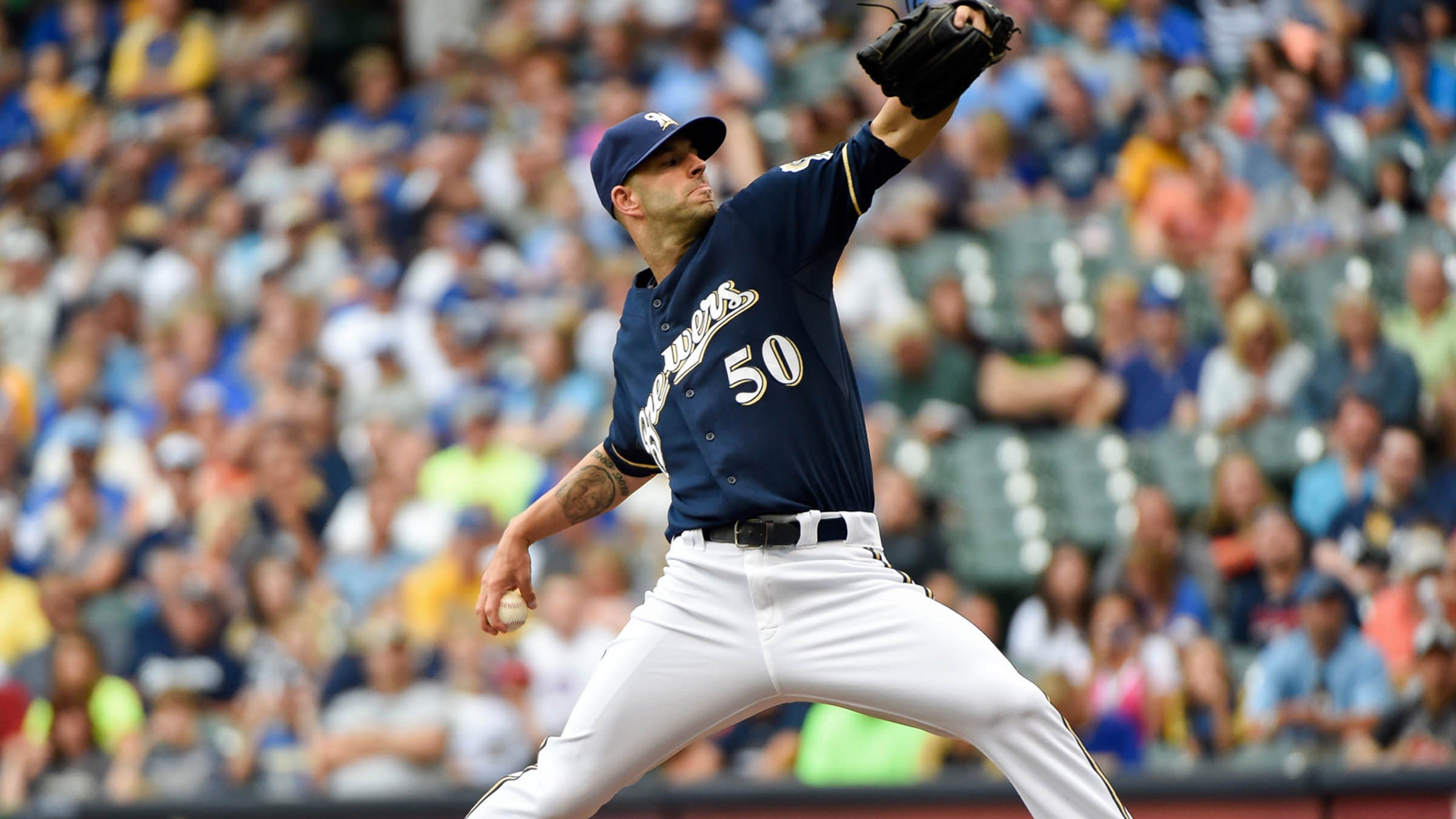 'Dream' start for Fiers ends with standing ovation from Brewers fans
BY foxsports • August 9, 2014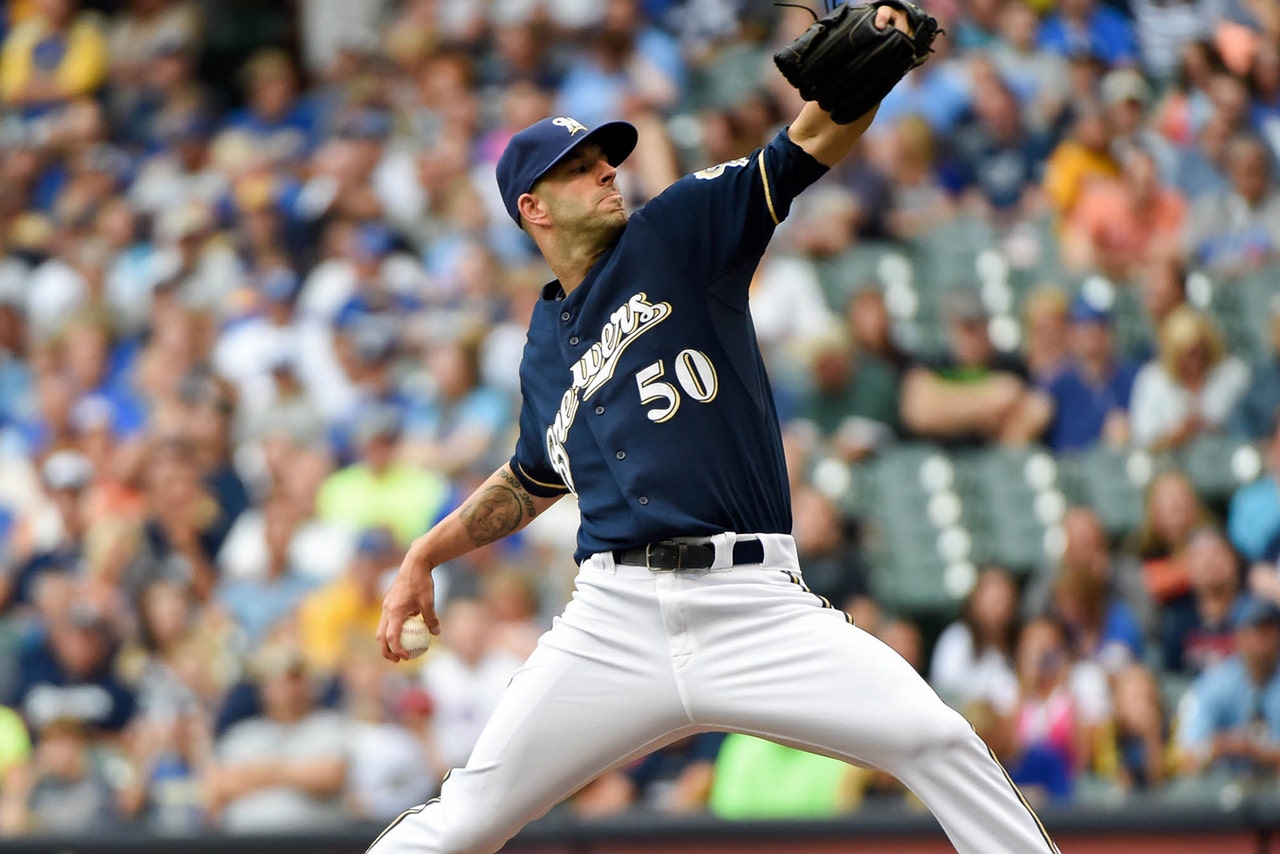 MILWAUKEE -- When Mike Fiers left the mound following his last big-league start, it was fair to question whether he would ever make an impact for the Milwaukee Brewers again.
Afterwards calling it a "gutless" performance, Fiers allowed seven runs in just 1 2/3 innings in a loss to Philadelphia on June 2 of last season. He was sent to Triple-A shortly thereafter and had his season ended on June 16 when a comebacker broke his right forearm.
Fiers, thanks to a resurgence in Triple-A, was given a chance to start Saturday against the National League-leading Los Angeles Dodgers, filling in for the injured Matt Garza.
This time when he walked off the mound it was to a standing ovation from the 40,553 at Miller Park, as Fiers allowed just one run in eight dominant innings to lead the Brewers to a 4-1 victory Saturday over the Dodgers.
After what was a nightmare 2013 both on and off the field, this outing meant an awful lot to the right-hander. It also was important to the Brewers, as they gained a game in the division on Pittsburgh and St. Louis and clinched a series win over the Dodgers.
"It's unbelievable," Fiers said. "I said, before 'it feels like a dream.' It's what you dream of as a kid, especially those situations -- close game, eighth inning trying to get to the best closer in the league and it was awesome."
Staked to an early 2-0 lead on a Khris Davis two-run home run, Fiers retired the first eight batters he faced Saturday before issuing a two-out walk to counterpart Zack Greinke in the third. The only blemish on his line was a solo home run allowed to Adrian Gonzalez in the fourth inning.
The Dodgers could only muster two singles off Fiers after the Gonzalez home run and both were erased on the bases. Dee Gordon was caught stealing by Jonathan Lucroy after a two-out single in the sixth and Carl Crawford followed Matt Kemp's single in the seventh by hitting into a double play.
On his 101st pitch of the night, Fiers struck out pinch-hitter Justin Turner for his fifth strikeout. By then, the Brewers had extended their lead to 4-1 against Greinke.
"His fastball was outstanding today," Brewers manager Ron Roenicke said. "He threw the ball like he threw against the Dodgers the first time he came up two years ago. Tremendous fastball. Location was really good. He mixed in his little cutter then threw enough curveballs and change ups to keep them off balance. It was outstanding."
Fiers' performance Saturday was reminiscent of his first major-league start when he held Los Angeles to one run on five hits in seven innings at Dodger Stadium in 2012. While he admitted to having flashbacks to that outing, Fiers says this opportunity is different than his other cracks at the big leagues.
"Coming up, playoff race, against one of the best teams in the league," Fiers said. "I'm just trying to earn my spot up here and show them I can still pitch up here and being a starter, last time I was in the bullpen. They needed, they used a lot of guys last night, so I think they needed a lot of innings. I tried to give 'em as many innings as I could, and I gave them eight."
The last calendar year was challenging for Fiers, as he not only struggled to a 7.25 ERA on the mound and suffered a season-ending injury, but also his mother died in August.
Fiers was an afterthought heading into spring training because of the strength of Milwaukee's bullpen, but he put himself in position to be called up by going 8-5 with a 2.55 ERA in 17 starts in Triple-A.
"It's night and day," Fiers said of the difference between 2013 and 2014. "It was definitely a tough year, a lot on my mind, a lot happening. You know, just big turnaround. I'm just glad, you now, I broke my arm, and it was a little bit to get back, a lot of down, just a couple hurdles to get over again, and here I am again. Just trying to show them I can still pitch.
"The game is going to humble you man, you've got to stay as calm as possible and just try to give all you can, and hopefully good things will come out of it."
Greinke, who was with the Brewers for a portion of Fiers' dominant stretch with Milwaukee in 2012, was not surprised to see his former teammate pitch well.
"I don't know if he had a tough year last year, but I looked at his minor-league numbers this year, and they're amazing," Greinke said. "I was asking some guys in their organization why he isn't up here. I think the main reason is the pitching staff has been so good.
"He's tough. He knows what he's doing. He's tricky. We compare him to the (Josh) Collmenter guy from Arizona a little bit who you don't think is going to be amazing, but when you face him, it's really pretty tough."
The performance of Fiers on Saturday displayed the starting-pitching depth the Brewers have in their organization. Milwaukee was able to plug a top prospect in Jimmy Nelson into the mix when Marco Estrada struggled and could turn to Fiers after Garza landed on the disabled list with an oblique strain.
How long Fiers stays in Milwaukee's rotation is dependent on when Garza is able to return, but the Brewers survived one missed turn against the top team record-wise in the National League.
"That's why they called me up here," Fiers said of filling in for Garza. "They had confidence in me and they needed somebody to go deep and give us a chance. I'm glad they gave me the opportunity, and just trying to make the most of it."
Follow Andrew Gruman on Twitter
---