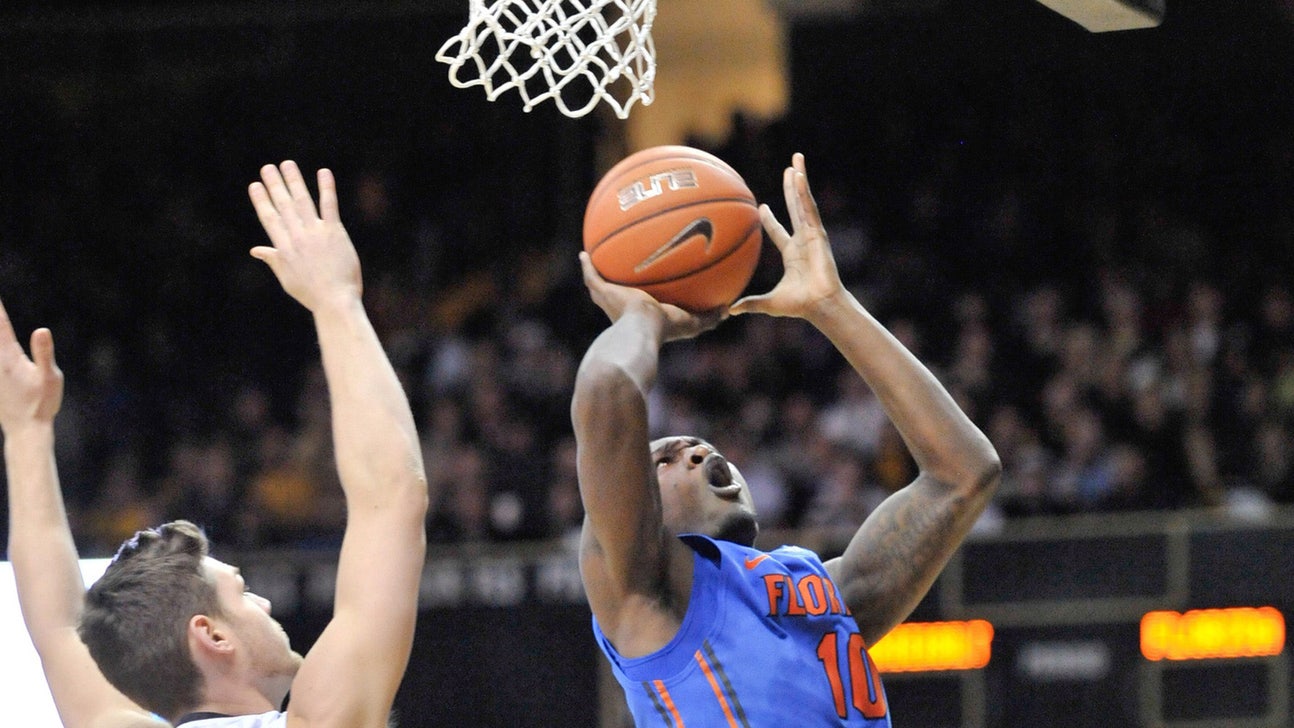 Dorian Finney-Smith breaks out of slump as No. 1 Florida escapes at Vandy
Published
Feb. 26, 2014 10:39 a.m. ET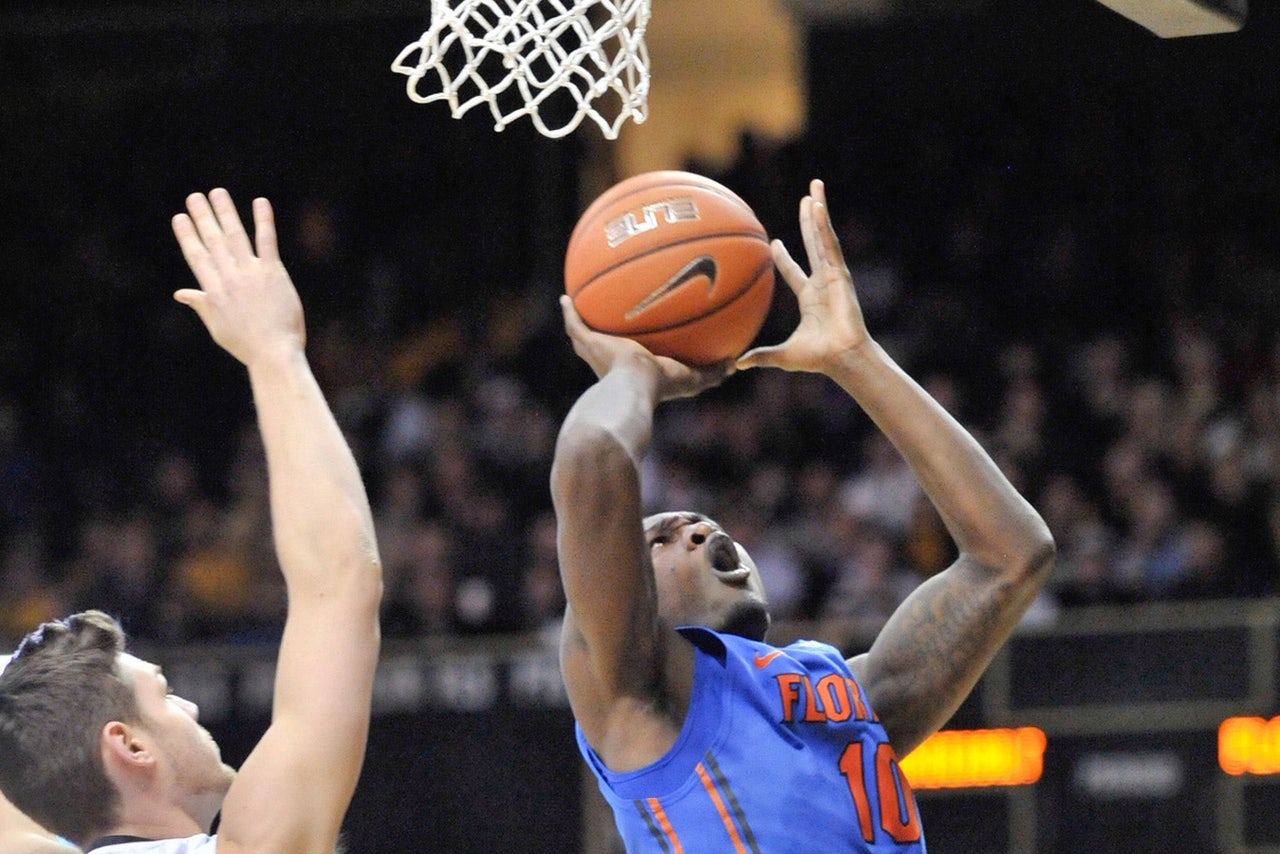 NASHVILLE, Tenn. -- As if a rampage through the Southeastern Conference hadn't brought out the best in Florida's opponents to date, the newly minted No. 1-ranked Gators got a taste Tuesday night of things to come.

Better strap in for the ride, folks.
Even tighter than before.

Dorian Finney-Smith, a brick-chucking disaster from the 3-point line over the previous seven games, tallied game-highs of 19 points and nine rebounds, netting his third 3-pointer of the game with 30.6 seconds to go and helping seal a 57-54 victory over Vanderbilt and its upset-thirsty crowd of 11,132 at old Memorial Gym.

Finney-Smith was terrific, somehow wiping 1-for-23 masonry of the past month from his mind to go 6-for-11 from the floor and 3-for-6 from the arc, including that confident late-game, must-have launch after Vandy had rallied from 12 down to cut the UF lead to two points in the final minute.

''I never lost confidence in myself because my teammates and coaches never lost confidence in me,'' Finney-Smith said. ''I appreciate that.''

The feeling was awfully mutual afterward.

''That was a big shot, a clutch shot,'' said senior point guard Scottie Wilbekin, who fed Finney-Smith on the play. ''He needed it. We needed it."

The outcome extended UF's school record for consecutive victories to 20, but more importantly clinched the Gators (26-2, 15-0) at least a share of a third Southeastern Conference title in four seasons. Florida needs only to win one of its final three league games to claim the crown all to itself.

''We don't want to share it,'' senior center Patric Young said after scoring 12 points and clearing seven rebounds. ''We want it outright.''

Don't expect anything to come easy. Not after a third straight win decided by five points or less, and the 13th in 15 games this season decided by less than double-digits.

The Gators, for now, may sit on top of the basketball world, but they're hardly world-beaters.

Just winners.

''Our margin for error is not very big. I mean, I love our team, love our kids, but we're not an overly talented team, we're just not,'' UF coach Billy Donovan said. ''Sometimes, when you see a team with a high ranking, you think dominance and blowing people out. That's not who we are or what we are.''

What UF was against the Commodores (15-12, 7-8) was a team that had a 45-33 lead with less than 13 minutes to go that quickly was barraged by 3-point shots. The long ball had not been a Vandy strength this season. The Commodores came in 32.2 percent for the season, which ranked 12th in the league.

But that didn't stop 7-foot backup freshman center Luke Kornet, a 19-percent 3-point shooter coming in, from making two that were sandwiched around another by guard Rod Odom (12 points while playing the entire 40 minutes) over a two-minute span to pull the Commodores to 48-44 inside nine minutes and bring the crowd to its feet.

Memorial Gym, remember, had housed the 2007 upset of then No. 1-ranked Florida on that great team's way to a second straight NCAA title. That was the last time UF ascended to top of the polls.
Vandy was banking on more of its so-called "Memorial Magic" this time, too.

''It was a game we thought we could win,'' Commodores coach Kevin Stallings said after his team hit nearly 49 percent from the floor for the game and eight of 18 long shots (44.4 percent). ''It was a game we thought was close to where we needed it to be.''

Much closer than the Gators would have liked.

Good thing Finney-Smith squeezed an old-fashion 3-point play in between Kornet's bombs to give UF some breathing room. Heck, backup guard DeVon Walker's trey pushed the Gators' lead back to eight, 53-45, and quieted things down. Momentarily.

That was when guard Kyle Fuller led a 7-1 run, ended by a pair of free throws with exactly one minute showing on the clock, to make the score 54-52. The crowd was back on its feet.

In UF's halfcourt, the Gators hoped to work for something down low, but the ball ended up in Finney-Smith's hands. He was wide open and did not even think about it. He just cocked and launched with the shot clock at seven seconds.

Bang.

''It's been hard,'' Finney-Smith said of his struggles. ''But I didn't hesitate.''

Said Stallings: ''The guy had been really struggling -- and he made one.''

The game wasn't over. Vandy got a quick layup from Fuller 12 seconds later, then fouled Wilbekin for a one-and-one situation with 10 seconds left. Wilbekin, who had made 82.7 percent from the line the last six games, missed the front end. Vanderbilt rebounded.

Stallings called a timeout with 6.6 seconds left and his team down by three. He wanted to get the ball in the hands of Odom, a 40.5 shooter from distance. Wilbekin, though, denied entry to Odom and it was Fuller who got the inbounds, worked free and actually rose up for a decent look at the basket.

It bounced off the back of the rim.
No. 1 had lived to see another day. This time.
Donovan was asked about the pressure that accompanies being the top-ranked dog; the kind of pressure his team experienced Tuesday, the kind it can expect Saturday at home against LSU, and however long the run at the top lasts.

''I think more gets made of it in terms of the team that's ranked No. 1,'' he said. ''There's not enough credit or emphasis placed on the opponent getting totally jacked up to play.''

The Commodores were jacked up.
As for the Gators?

''It didn't feel any different,'' Wilbekin said of the collective bull's-eye on his team's back. ''But they were definitely juiced up to play No. 1 ... just like we would have been.''

And just like the rest of them will be.
---