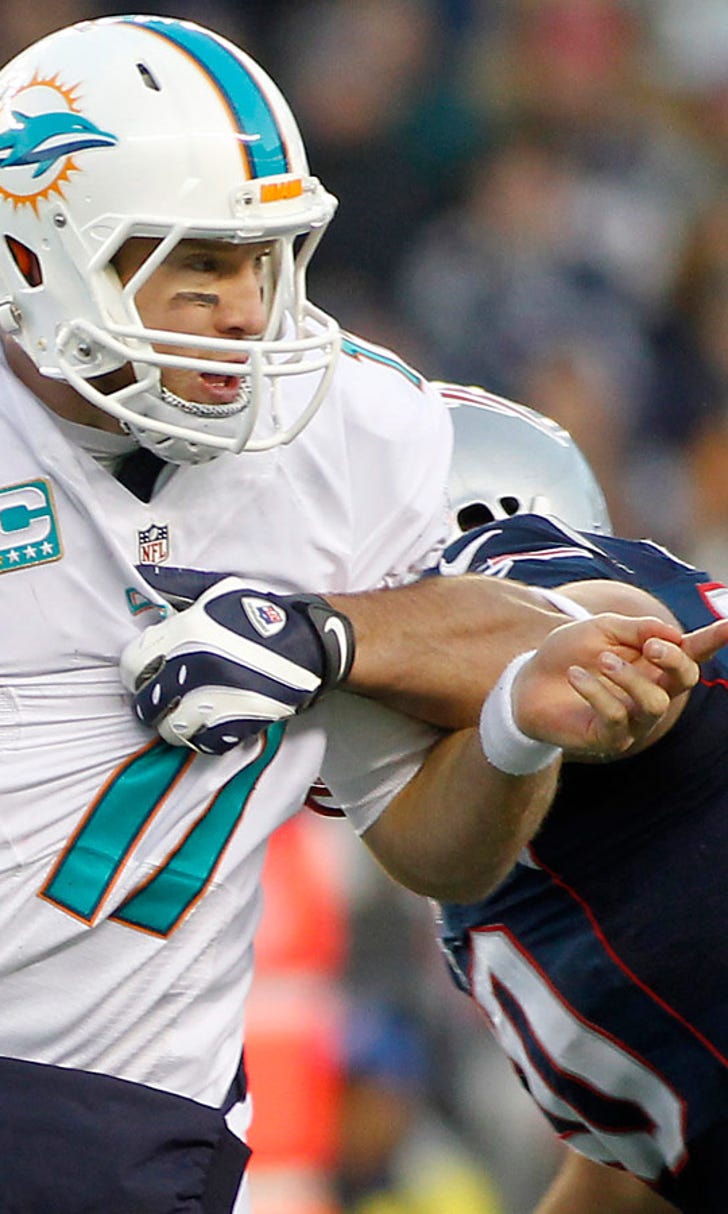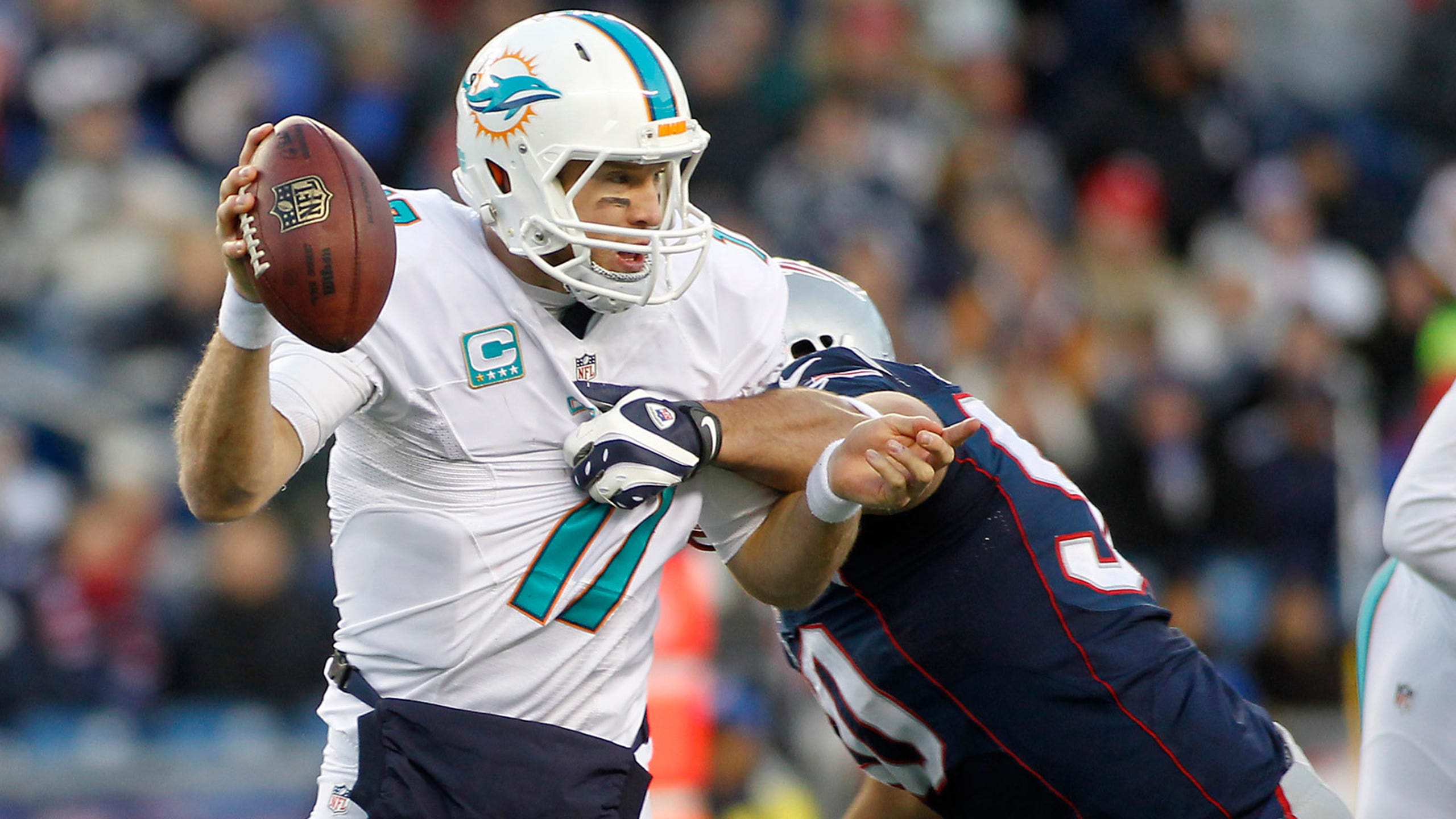 Dolphins observations: Late-season swoon all too familiar for Miami
BY foxsports • December 14, 2014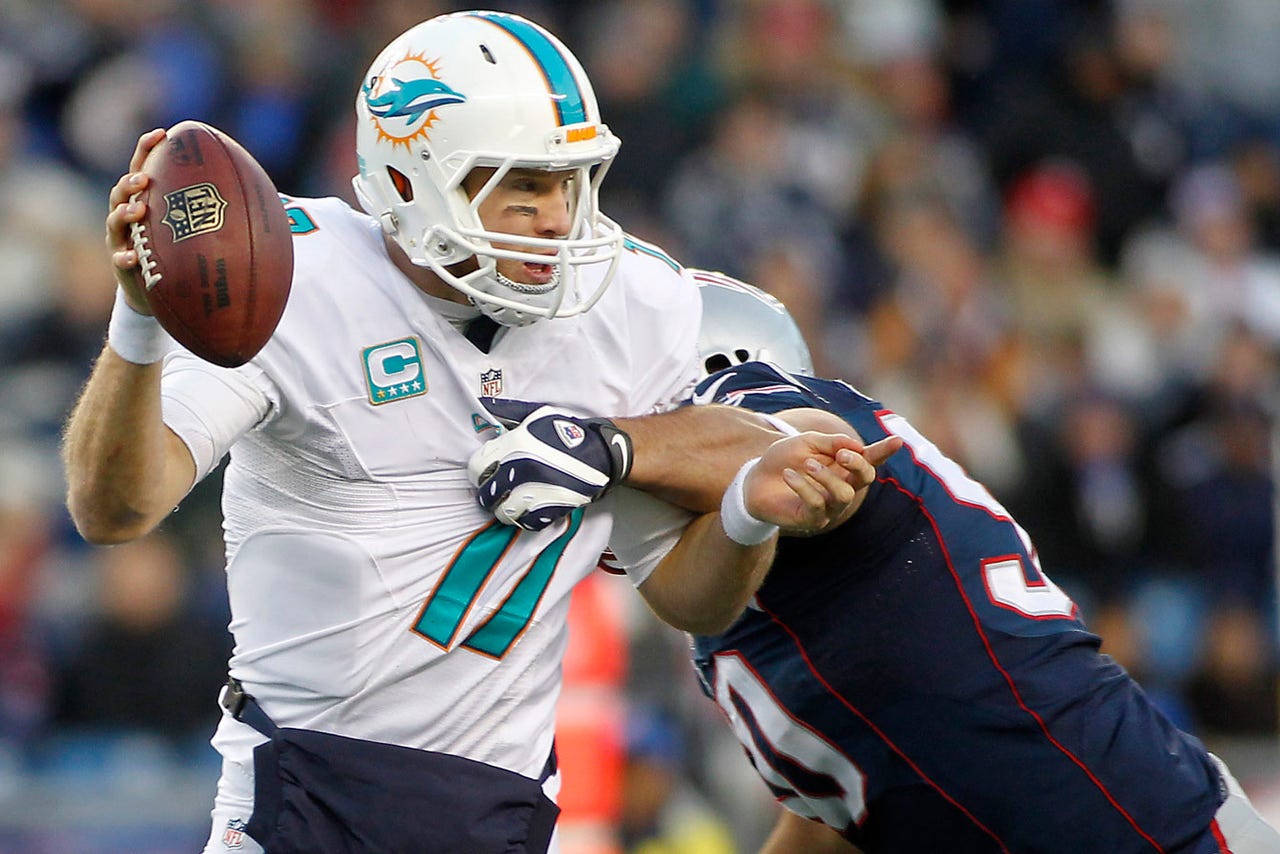 The Miami Dolphins find themselves in yet another December collapse after a 41-13 blowout loss to the New England Patriots on Sunday likely signaled the end of their once promising 2014 campaign.
New England (11-3) captured its sixth-consecutive AFC East title, and Miami (7-7) is left needing a lot of help to make the postseason.
Thanks to a sensational one-handed touchdown catch from Mike Wallace, the Dolphins trailed just 14-13 at halftime, but New England outscored the Dolphins 24-0 in the third quarter to put the game out of reach and crank up the heat on head coach Joe Philbin's already sweltering hot seat in Miami.
Once in control of their own playoff destiny, the Dolphins have lost three of their past four games, sit behind six teams in the wild-card race, and will likely be more focused on next season in the coming days rather than their final two games against the Vikings and Jets.
Here are five takeaways from Miami's loss New England ...
1. Turnovers doom Miami.
After spotting New England an early seven-point lead off a blocked field goal that Patriots defensive back Kyle Arrington returned 62 yards for a touchdown on the first drive of the game, Miami's turnover woes only get worse from there.
Dolphins quarterback Ryan Tannehill, who had only thrown nine interceptions entering Sunday's game, was picked off twice by New England, and the Patriots capitalized each time.
Attempting to connect with wide receiver Brandon Gibson on third down at 8:56 of the second quarter, an overthrown ball by Tannehill was picked off by Patriots safety Duron Harmon, who returned it 62 yards to Miami's 8-yard line. New England scored three plays later on a 3-yard run by Shane Vereen.
Later, trailing 24-13 in the third quarter, Tannehill was picked off by Patriots safety Patrick Chung on a pass intended for running back Lamar Miller. New England scored on the very next play on a 27-yard touchdown reception from tight end Rob Gronkowski.
2. The return of the deep ball.
After relying on short and intermediate passes for the majority of the season, Dolphins offensive coordinator Bill Lazor opened up the playbook to showcase the big guns Sunday.
Entering the day having completed just 8 of 35 passes that were thrown for at least 20 yards or more this season, Tannehill completed four passes of 20 yards or more against New England.
And although it had little effect on the final outcome of the game, seeing Tannehill successfully throwing deep bodes well for next season.
Tannehill finished the game with 346 yards on 29 of 47 passing with one touchdown and two interceptions.
3. Wallace finally gets his big play.
In the week leading up to their make-or-break matchup in New England, Dolphins wide receiver Mike Wallace spoke openly about his dissatisfaction with the lack of big plays both he and the offense had produced.
On Sunday, Wallace got his wish, even if the end result wasn't to his liking.
Pulling in five catches for 104 yards on the afternoon, including a spectacular one-handed touchdown grab to bring the Dolphins within one point heading into halftime, Wallace not only got his highlight-reel play, but also his first 100-yard receiving game of the season.
Before Sunday, Wallace had gone 15 games without a 100-yard receiving game, which was tied for the longest stretch of his career.
Additionally, Wallace's eight touchdown receptions this season are the most by a Dolphins wide receiver since Chris Chambers had 11 in 2005.
4. Brady takes advantage of backup linebackers.
Playing without both starting inside linebacker Koa Misi (hamstring and knee injuries) and starting weakside linebacker Jelani Jenkins (foot), the Dolphins were unable to stop Patriots quarterback Tom Brady from carving up the middle of the field.
Throwing for 287 yards and two touchdowns, Brady had little trouble finding wide receiver Julian Edelman and Gronkowski wide open for consistent gains to keep drives alive.
With no reason to test the Dolphins formidable secondary downfield, Brady connected with Edelman and Gronkowski for a combined 184 yards and two touchdowns.
5. Run defense shows signs of life.
After allowing 661 combined rushing yards in their past three games, the Dolphins run defense finally showed signs of life in New England.
Holding the Patriots to 108 rushing yards on the afternoon -- a good amount of which was accumulated as New England killed the clock in the fourth quarter -- Miami's run defense had its best game since holding the Buffalo Bills to 54 yards on the ground in Week 11.
Patriots running back LeGarrette Blount, who averaged 4.4 yards a carry entering Sunday, was held to 17 yards on eight carries.
Better late than never?
Up Next: Miami hosts Minnesota on Sunday
You can follow Jameson Olive on Twitter @JamesonCoop or email him at JamesonOlive@gmail.com.
---