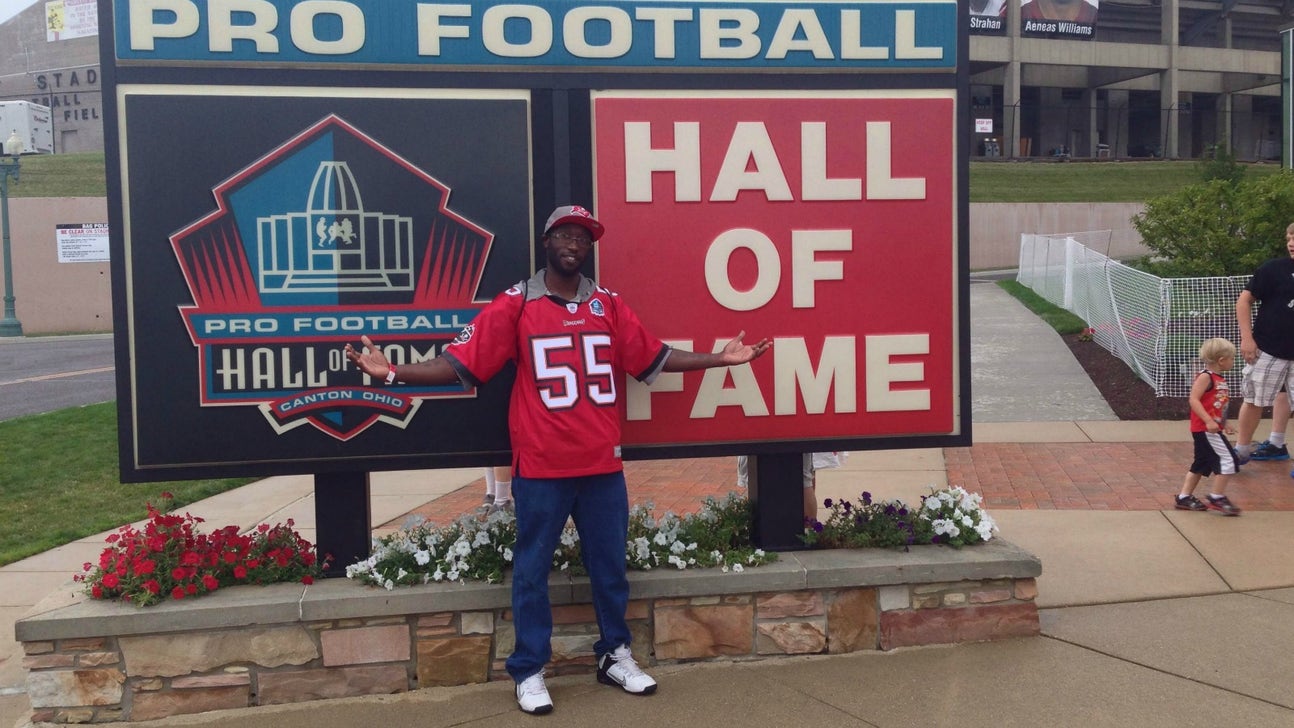 Derrick Brooks offers true help through Brooks Bunch program
Published
Aug. 2, 2014 2:30 p.m. ET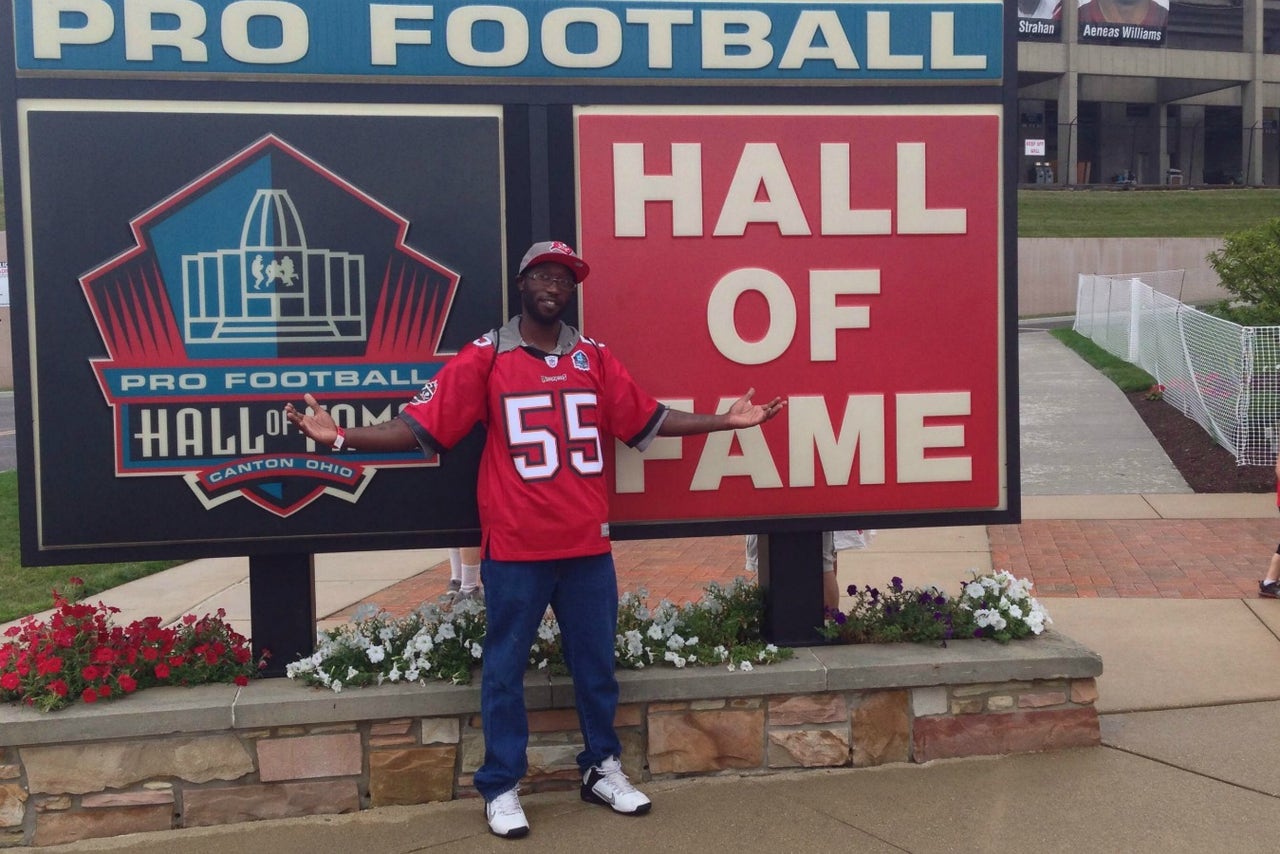 TAMPA, Fla. -- A.J. Ponds would be different without Derrick Brooks' influence, so he wants to support the famed Tampa Bay Buccaneers linebacker in a proud moment. A Hall of Fame resume should only be part of Brooks' memory.
Ponds, 28, was shy and lacked confidence when he joined the Brooks Bunch program in 1999. He first heard about the group through his involvement in a Tampa-area Boys & Girls Club, and despite early reservations, he joined at the suggestion of his mother, Sharlotte.
What followed was marked growth of a reserved 13-year-old to a young man who considers himself part of the Brooks Bunch for life. To Ponds, Brooks is an educator at heart, a title that extends beyond the fame the Bucs legend earned on the field from 1995 to 2008. The teacher transcends the game that made him admired.
Saturday, Brooks will step onto a stage in Canton and deliver a speech as a member of the Pro Football Hall of Fame's Class of 2014. Ponds plans to be at Fawcett Stadium, sitting in the stands among the general public during the induction ceremony on a mild northeast Ohio night. Perhaps Brooks will see him among the bustle as the NFL's most-decorated names prepare to welcome another within their fraternity. Perhaps not.
What matters, though, is the thought. Ponds wants the Brooks Bunch to have a presence at their mentor's big day.
"I wanted to be there for him," Ponds said.
The Brooks Bunch program is a perfect way to capture the philanthropic heart Brooks has shared with the Tampa Bay region and beyond. Founded in the third year of his NFL career, an uncommon question sparked Brooks' desire to help kids from low-income backgrounds dream larger.
One day, Brooks visited a Boys & Girls Club in the Tampa area. A young girl approached him.
"How do you get to the different cities and back to Tampa when you are playing games out of town?" she asked.
Brooks explained the Bucs traveled via a chartered airplane.
"What is an airplane?" she said.
Brooks was stunned. But instead of shrugging off the scene, he used it as inspiration to create opportunity for kids to extend their lives beyond the Tampa Bay region. First, there was a day trip via airplane to Ft. Lauderdale. Later, there were excursions to Atlanta, Washington D.C., the western United States and visits to South Africa in 2000 and 2005. On the surface, these trips had various goals: summer travel, college visits, a chance to see where Nelson Mandela walked at Robben Island.
But at heart, there was something deeper to these journeys: They provided hope and offered purpose.
"Yes, I think of them every day, because I'm proud of every story," Brooks said of the Brooks Bunch. "The bigger picture is I'm extremely humble to say that I changed the life of one child. Obviously, when you talk to these kids, every one of them has a story."
*****
Ponds has a story. When he first saw Brooks as part of the program, Ponds didn't recognize the imposing figure. Ponds observed the scars on Brooks' face, and he assumed the budding NFL star was someone fresh out of prison.
One day, while learning about African culture before the South Africa trip in 2000, Brooks asked Ponds about his opinion on the topic. Ponds shrugged his shoulders and didn't offer much.
Brooks, in time, gave Ponds this valuable lesson: No one will ever know who you are unless you tell them about it. Then, Ponds was tall and skinny with thick dreadlocks, and he knew some associated the image with trouble.
Through the Brooks Bunch program, he learned to express his thoughts to explain his full self.
"He saw something in me that I didn't think anyone could," said Ponds, who graduated from Webber International University with a degree in business management and is now an assistant at a collision center in Tampa.
"When I was younger, I was shy and quiet. I could speak in front of people, but I didn't really have the confidence."
Kristin Lundy has a story, too. In 2003, her mother, Iselyn, searched for something consecutive for Lundy to do. Lundy, then a junior in high school, didn't know much about the Brooks Bunch before joining, but she heard she would learn college-prep skills.
Throughout the year, different lessons were taught: Resume writing, financial advice, thoughts on the power of positive attitude and avoiding peer pressure. Lundy, at the end of the teaching period, presented a portfolio and gave an oral interview to members of the Brooks Bunch board.
The reward: A college tour that included trips to Chicago, New York City and Tallahassee.
"A lot of us did go on and go to college, and I'm not sure that's something that would have been on any of our lists had we not been in Brooks Bunch," said Lundy, 28, who attended Florida for her undergraduate work and is now a registered nurse in St. Louis. "To see that, 'You know what? I can do better. ... So if I put my hard work to work throughout my life and apply it there, where else can it take me?' "
Brooks has answered that question for many through Brooks Bunch, which members say they belong to for life. The greatest thing about his induction Saturday isn't the chance to recall his storied football career, though that's certainly warranted.
Rather, it provides a chance to honor Brooks' complete contribution to the Tampa Bay region and beyond. Brooks Bunch helped students with semester stipends, laptops and printers, and Brooks remains an e-mail or phone call away to many. He attended seven educational trips with the group over the years, and he was known to make careful notes in the students' journals when they were on the road recording observations. More than 65 program members have graduated from college, and more than 100 are enrolled in undergraduate work. His fingerprints are everywhere.  
"For me," Ponds said, "he's a true educator."
He's a true inspiration, too.
It's hard to quantify a mentor's impact. When discussing Brooks, it's difficult to capture the full man because he has so much depth. He was a cornerstone of the Bucs' rise from irrelevance to Super Bowl champions after the 2002 season, but this far removed from his playing career, it seems more appropriate to honor a different kind of stat.
As in the number of lives enhanced through the Brooks Bunch. As in the number of dreams born through his charter high school, Brooks-DeBartolo Collegiate High School. As in the number of opportunities created through other initiatives via his foundation, Derrick Brooks Charities, Inc.  
"The general theme of our foundation is we change the life, and are still trying to change the life, of one child," Brooks said. "Whether it's one or 1,000 -- as long as it's not zero -- that's what I'm most proud of. And I thank God that playing the game of football provided that stage for me to stand on to help change our community."
That's why Ponds plans to attend Brooks' induction ceremony Saturday, to represent all the lives touched through the Brooks Bunch. A mentor's love is everlasting. The care never fades away.
"I say it was instilled in him as a kid, from his mom and dad, the importance of education," Ponds said. "When he's with us, he really preached that as well."
"As long as I do what I want to do," Lundy said, "he's there to help us reach our dreams."
True help: Using a platform for a greater good in order to give young lives reason to dream.
True help: Continuing that relationship through the years, with an unsolicited phone call to offer fatherly advice during life's hard times.
True help: Showing that a Hall-of-Fame-worthy career should be a beginning, not an end, in a mission to improve the world.
"He laid a foundation that told you how to go about it the right way," Ponds said.
With a solid foundation, building toward the sky is forever possible.  
You can follow Andrew Astleford on Twitter @aastleford or email him at aastleford@gmail.com.
---