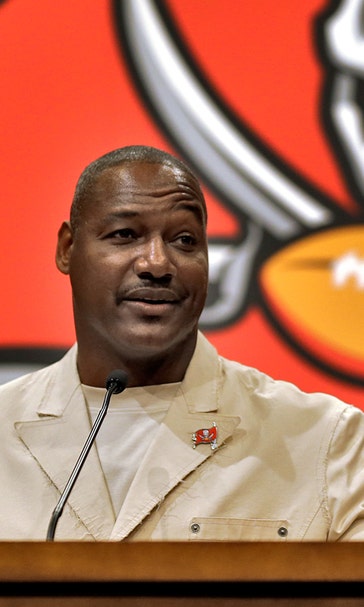 Derrick Brooks begins HOF victory lap with Bucs Ring of Honor announcement
BY foxsports • May 6, 2014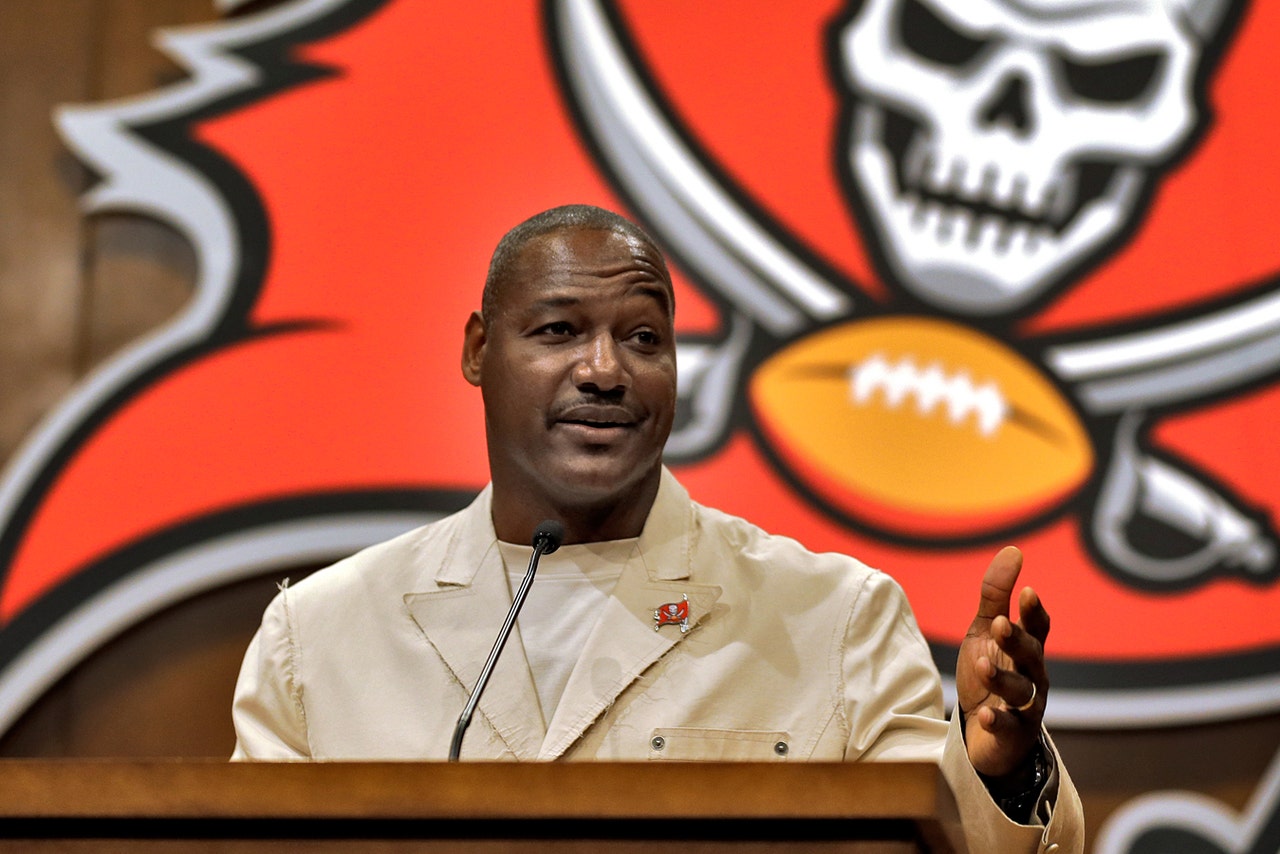 TAMPA, Fla. -- Derrick Brooks wants to be recalled as a servant leader. It's a fitting term, though it may seem like a contradiction. Too often, leadership is associated with loud displays of bravado at the center of a huddle or "Me, me, me" acts before television cameras. That was never Brooks' way.
That's why all this seems so right.
The former Tampa Bay Buccaneers linebacker was his usual classy self in a Ring of Honor announcement Tuesday at One Buc Place. He thanked everyone from the Glazers to the support staff that serves as a franchise's glue.
On Sept. 14, the Bucs will add Brooks as the Ring of Honor's sixth member and retire his No. 55 at Raymond James Stadium during a Week 2 game against the St. Louis Rams. The announcement Tuesday represents the start of a victory lap that will include his enshrinement into the Pro Football Hall of Fame in August.
Right man, right time.
"I just want to be a servant leader," Brooks said, trying to place his legacy into words. "That's kind of how I live my life."
It's impossible to tell Brooks' life story without revealing both sides of him. He's a former football player and a modern-day philanthropic heavyweight, each angle of his personality leaving an undeniable legacy.
On the field, he was a former 28th overall pick from Florida State in 1995 who rose to become arguably the best player Tampa Bay has ever seen until his final season in 2008. He was an 11-time Pro Bowl player, a five-time First-Team All-Pro, a symbol of stability who started 221 of 224 career games and earned a franchise-best 2,198 tackles.
He became a force.
Off the field, he has touched hundreds of young lives through his Derrick Brooks Charities Inc., and the founding of Brooks-DeBartolo Collegiate High School in Tampa.
He grew into a giver.
"He's just a great, great human being," Hardy Nickerson, a Bucs linebacker from 1993 to 1999, told FOXSportsFlorida.com. "You could see that. If you add his athletic ability and the things he could do on the field, he's just a Hall of Fame guy."
Similar things will be said between now and August. It's impossible to have a discussion about Brooks without mentioning the two sides to his impact. It's also impossible to do so without hearing stories that make his personality come alive.
Listen to Tony Dungy, who coached the Bucs from 1996 to 2001. It was December 1997. The Bucs prepared to play the Detroit Lions in an NFC wild-card game at Houlihan's Stadium, Tampa Bay's first playoff game since January 1983. Lions running back Barry Sanders had ripped the Bucs for 215 yards and two touchdowns on 24 carries in Detroit's 27-9 victory in Week 7. Dungy felt nerves about facing the terror again.
That is, until Brooks approached him.
"Don't worry, Coach," Dungy recalled Brooks saying in the buildup to the playoff game. "We've got this one. We'll be OK."
Brooks was right. The Bucs held Sanders to 65 yards on 18 carries in a 20-10 victory.
"He was so confident in what we were going to do," Dungy said Tuesday. "All those guys were, but I remember him telling me, 'Don't worry, we're going to be fine.' "
Then there was the time Brooks told Dungy he wanted to take kids to South Africa as part of his Brooks Bunch program. The group was founded in 1997 as a way for Brooks to work with the region's Boys & Girls Club to motivate children through classroom work and travel. Brooks made two trips to South Africa with the group, in 2000 and 2005.
"He wanted to give them an experience and teach them about their history and their life, and he was committed to do it," Dungy said.
Right man, right time.
So much about this year feels like the last. Brooks' path has followed the one enjoyed by Warren Sapp, a fellow first-round pick from 1995: The Pro Football Hall of Fame election, the Bucs' Ring of Honor announcement, the months of preparation toward that speech on a humid summer night in northeast Ohio.
Still, there are differences. Sapp was sparkling on the field but a spark of controversy off it. Some greeted his Hall of Fame announcement with caution, his boisterous personality a turnoff to his critics throughout the Tampa Bay region and elsewhere.
Brooks, meanwhile, is the ice to Sapp's flame. He's a fitting ambassador for the Bucs, a football statesman whom the franchise would be wise to keep at its forefront in future years with a new era underway with coach Lovie Smith.
Men like Brooks never should be tucked away and left to history.
"For those who actually looked at me as a leader, I hope I didn't disappoint you," Brooks said. "I tried to do it the right way, show up, day-in and day-out and really let my performance send a message. I always said, and I'll say it before you guys, I'm the guy who's going to grab the shovel and start digging. I'm not going to ask anyone else to dig."
Right man, right time.
Forever.
"He wasn't the vocal leader," Bucs co-chairman Bryan Glazer said. "He was the quieter leader. He led by example."
Brooks was a leader. But his greatest legacy will be his role as a servant, selfless and aware. He managed to combine both in bold and beautiful ways.
The start of his victory lap is a worthy tribute to him.
You can follow Andrew Astleford on Twitter @aastleford or email him at aastleford@gmail.com.
---