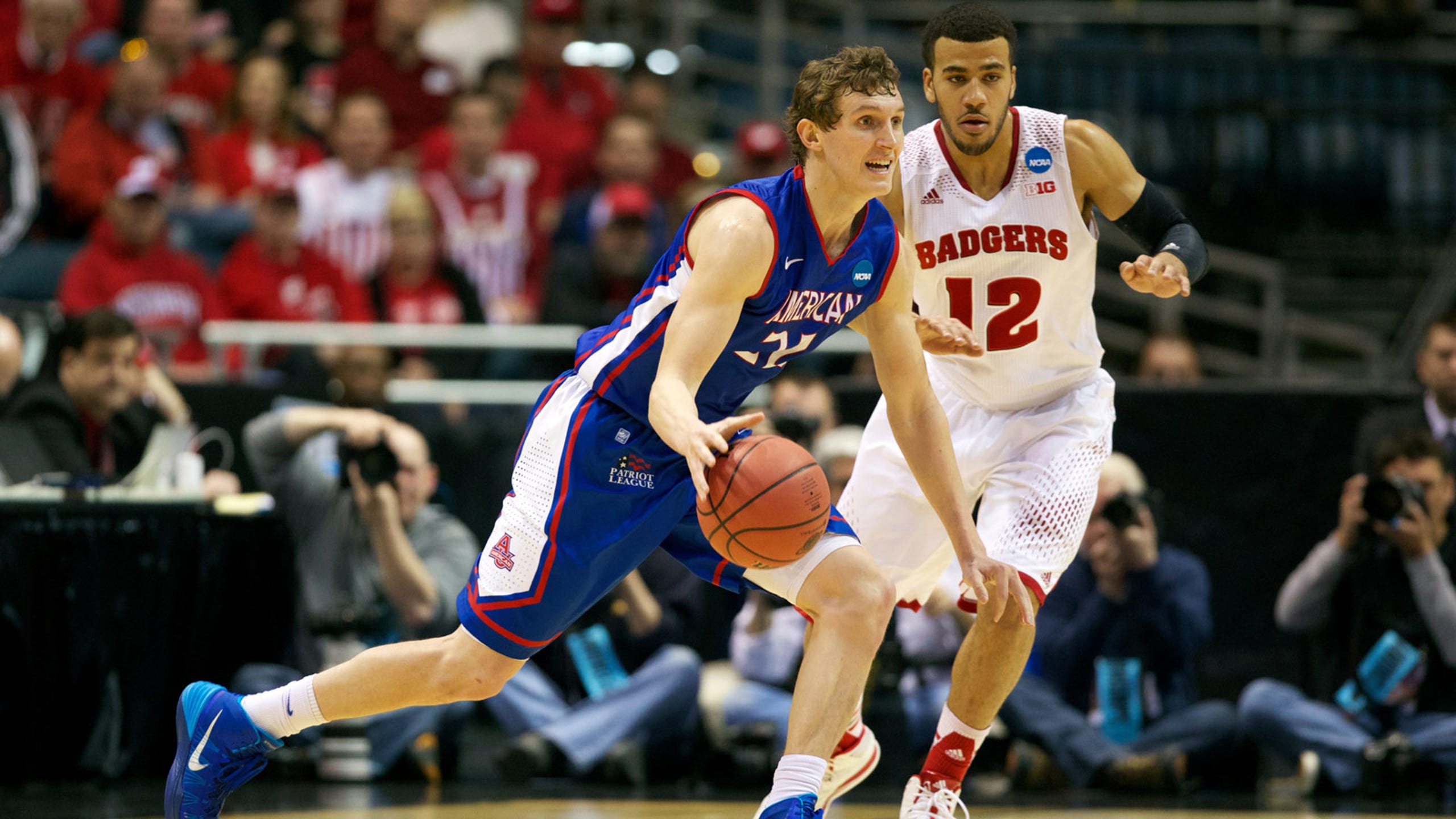 Department of defense: Wisconsin puts clamps down on American
BY foxsports • March 20, 2014
MILWAUKEE -- Bo Ryan made it a point to stop American coach Mike Brennan in the hallway to let him know how impressed he was with the way the Eagles ran the Princeton offense.
The Wisconsin coach admitted to seeing American beating his team off backdoor cuts and Eagles center Tony Wroblicky scoring inside when he tried to sleep the past few nights. For just over 11 minutes Thursday, Ryan's nightmares were being realized.
American scored 19 points in the first 11 minutes, 12 seconds to send the red-clad crowd at the BMO Harris Bradley Center into early panic mode. But the Badgers settled in defensively and held the Eagles to just 16 points the rest of the way.
After so much has been said about this Wisconsin team's defense, the Badgers completed a defensive mastery of the Princeton offense in a 75-35 victory over American in the Round of 64.
"You have to be proud of that," Wisconsin forward Sam Dekker said. "We haven't had a well-rounded defensive game like that in a while. I thought we took away some of the stuff they like to do and whenever we have five guys working together on the court on the defensive end, it makes things work much better."
Wisconsin dove quickly into its preparation for the Princeton offense, a difficult system to pick up in such a short amount of time. Reserve forward Zach Bohannon, who has experience running the offense from playing at Air Force, spent 20 to 30 minutes after the NCAA tournament selection show teaching the scout team what he knew.
A couple of the players made it a point even to go as far as saying their scout team ran the Princeton offense just as well, if not better, than American.
"Whenever you have people so unselfish, working for the good of the team, it makes you better," Dekker said. "We had some players who knew the Princeton well and tried to rub off knowledge on other people. It made us much better."
Afterward, Gasser said there wasn't anything the Eagles ran that the Badgers weren't prepared for.
"Our preparation was huge," Wisconsin guard Josh Gasser said. "We worked really hard the past couple of days on that Princeton offense. Our scout team did a great job of learning it in only two or three days.
"We were running a lot of possessions against it and I think it really helped us. We were well prepared going into the game and it showed."
American did get what it wanted offensively in the first 10 minutes, as John Schoof hit a pair of 3-pointers and Wroblicky scored four points in a 12-0 run to put the Eagles up, 17-10, with 9:47 to play in the first half.
"I think that was just us getting adjusted to the offense," Wisconsin forward Nigel Hayes said. "The scout team did a great job doing all they can do not being familiar with it. After they went on a run and we recognized what they were trying to do, we buckled down on defense."
Did they ever. The Badgers allowed just five points in the final 9:17 of the first half and scored 28 of the first 32 points in the second half to take control. By the time Thursday's game was all said and done, it was hard to remember the stretch where American took it to Wisconsin.
It was a 50-9 run for the Badgers, going from down seven to up 34.
"That doesn't usually happen, but our guys, if you told them it was (50-9), I don't think they would (know)," Ryan said. "They just took care of each possession and that's what you have to do, whether you're down or whether you're up."
The Eagles hit their first field-goal attempt of the second half and didn't hit their second until Wisconsin was up 69-31 with 5:19 left. American finished 3-for-19 (15.8 percent) in the second half and shot 29.7 percent for the game.
"We just couldn't score today," Brennan said. "Couldn't figure out a way to get clean looks and get and make open shots. They're a tough team to play, obviously, offensively and defensively."
While Wisconsin is certainly going to face more talented teams along the way, the Badgers took a lot of pride in making a statement defensively in a year they've heard quite a bit of criticism for how they aren't the typical Bo Ryan team on that end of the court.
"We got away from that a little bit," Hayes said. "I think now is a better time than ever to get back to it."
Making history: Wisconsin's 40-point rout of American is the largest margin of victory in its 44 NCAA tournament games. The previous record was a 24-point win over Montana in 2012.
It was the Eagles' third trip to the NCAA tournament in school history, as American lost 72-57 to Tennessee as a No. 15 seed in 2008 and 80-67 to Villanova as a No. 14 seed in 2009.
The Badgers improved to 86-3 under Ryan when holding their opponent under 50 points. American's 35 points were a season low.
Follow Andrew Gruman on Twitter
---