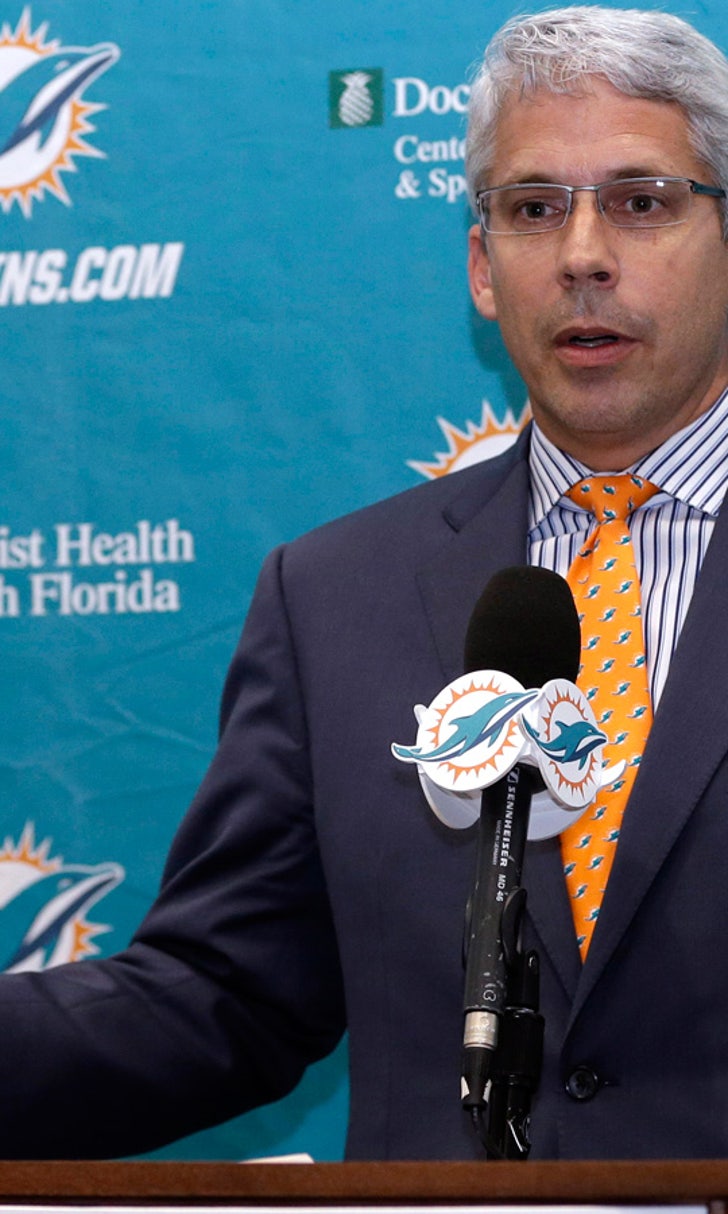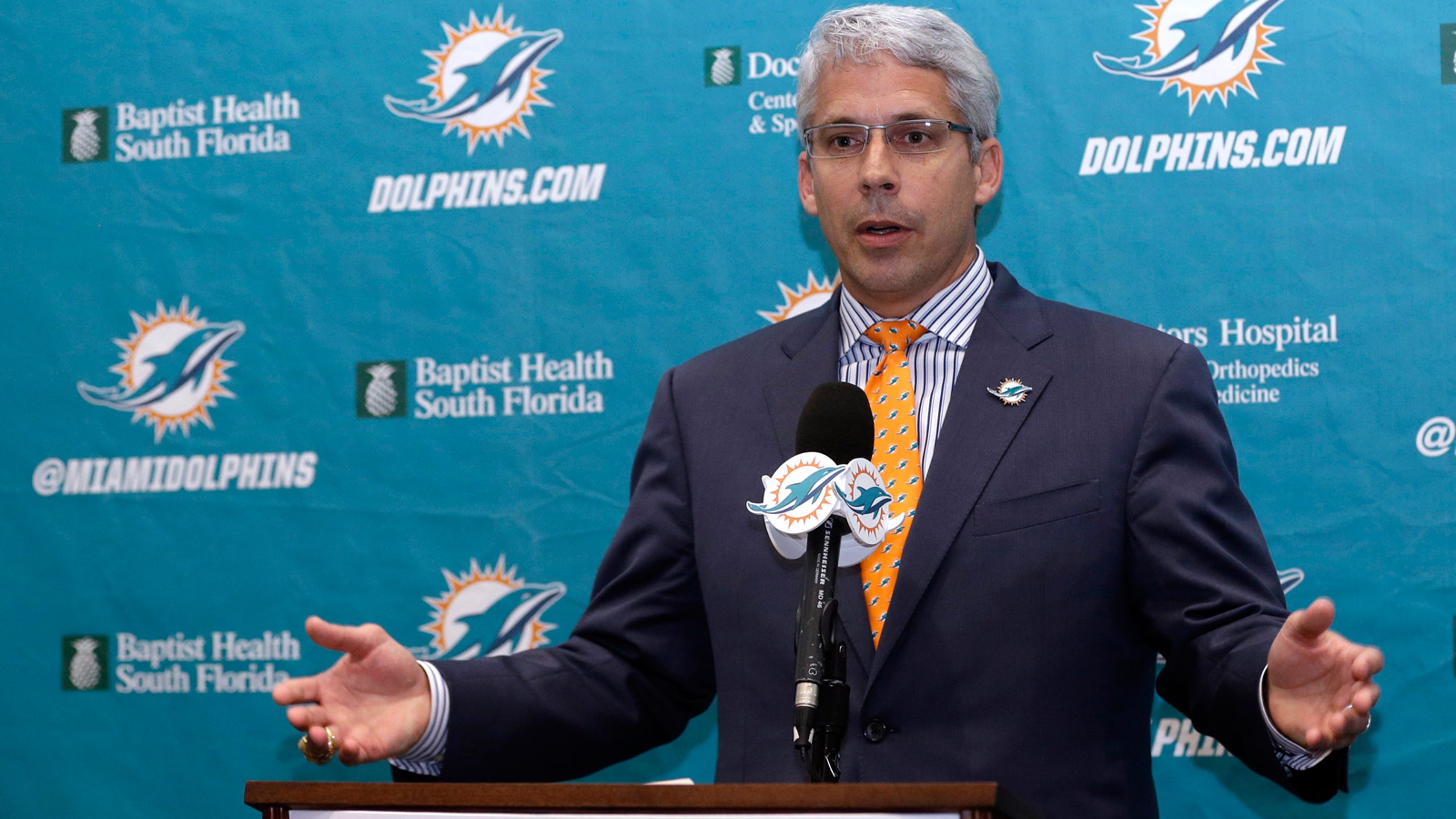 Dennis Hickey tasked with finding harmony, playoffs as Dolphins GM
BY foxsports • January 28, 2014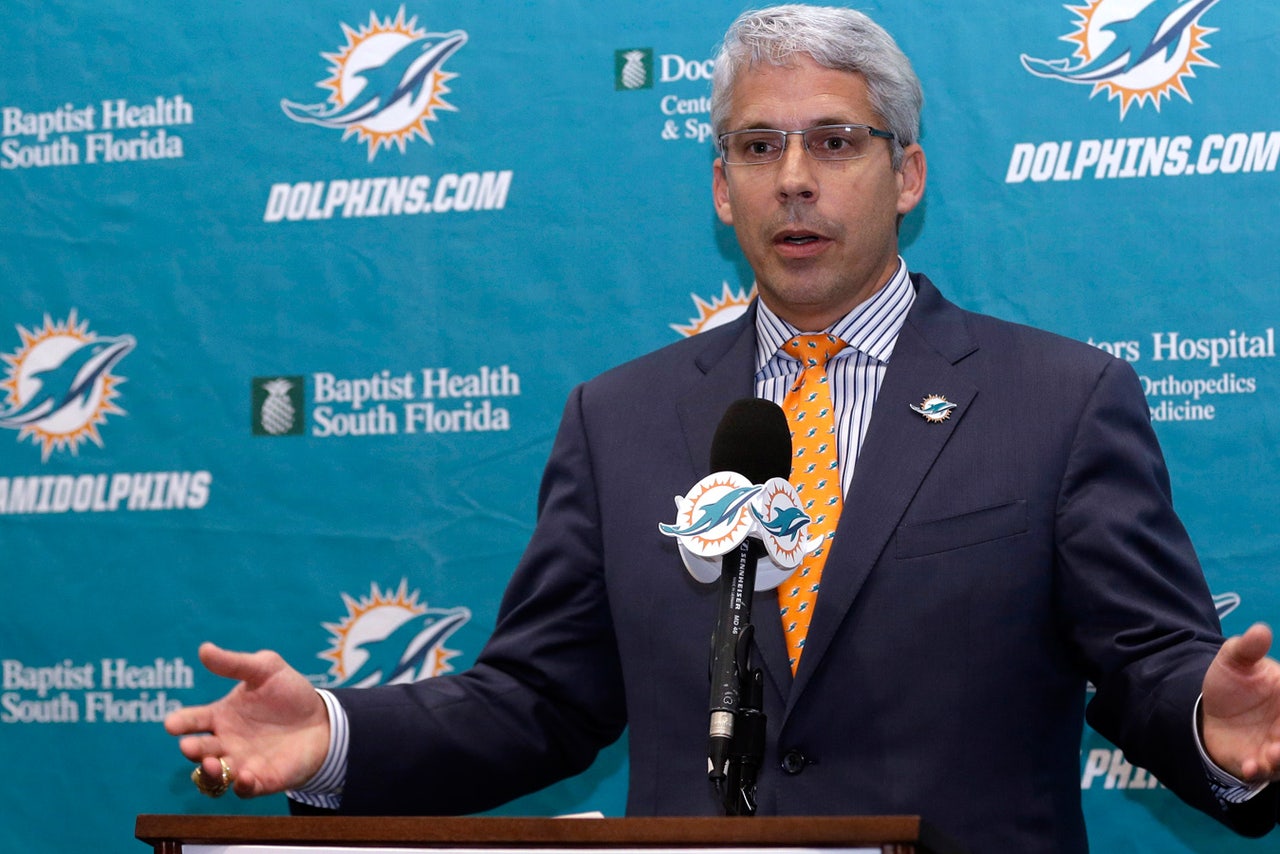 DAVIE, Fla. -- The Miami Dolphins officially handed control of their roster to new general manager Dennis Hickey on Tuesday afternoon, with owner Stephen Ross stressing the importance of harmony within an organization.
Head coach Joe Philbin, vice president of football administration Dawn Aponte and president/chief executive officer Tom Garfinkel all sat in the team meeting room's front row for Ross' announcement and Hickey's acceptance before taking part in a group photo.
Then Philbin and Aponte exited stage left.
Hey, nobody said "harmony" meant you had to stay and dodge the media's verbal arrows tossed in your direction.
That's because Philbin's job and Aponte's role were hot topics during a three-week search to find a replacement for former general manager Jeff Ireland, who parted ways with the Dolphins on Jan. 7.
Hickey, 43, comes to Miami after 18 years in various roles with the Tampa Bay Buccaneers. He was the Bucs' director of pro personnel the past three seasons.
His job now will be to acquire players who can help end the Dolphins' five-year playoff drought.
Aponte, whose expertise is numbers crunching and the salary cap, will report to Hickey. Philbin's job remains in Ross' hands. Why?
"Because I own the team," Ross said.
In between the time Ireland departed and Hickey arrived, the Dolphins organizational operation was called everything from unconventional to dysfunctional. Ireland, Aponte and Philbin all basically reported to Ross.
Two general manager candidates (Tennessee Titans vice president of personnel Lake Dawson and New England Patriots director of player personnel Nick Caserio) reportedly turned down the job. Another (Cleveland Browns assistant general manager Ray Farmer) refused a second interview.
The team's management structure and Philbin's status as coach apparently were sticking points for some of the candidates.
"I've been pretty clear on the structure," Ross said. "It is not an unusual structure. The GM reports to me. The coach reports to me."
Wearing an orange Dolphins tie, blue-striped shirt and blue suit, the gray-haired bespectacled Hickey said the management structure actually appealed to him.
"The structure was completely clear, laid out, and that was a draw to me," Hickey said.
When asked about the public perception of his team, Ross uttered what's becoming an overused phrase: "An organization is perceived by your won-and-loss record. You are what your record says you are."
That might be true during the season, but an organization is much more than the team's record.
The owner said he picked the brains of former "successful" general managers when he began "one of the toughest jobs I've had."
"You have to find somebody who can be joined at the hip with your head coach," Ross said. "Somebody who puts the team and the organization first and be totally compatible with the head coach and let the head coach be the representative of the team to the public."
Ross confirmed reports that the relationship between Ireland and Philbin had become strained during last season. One report said some critical in-game comments by Irleand were relayed to Philbin by Aponte.
As embarrassing as the Jonathan Martin-Richie Incognito bullying scandal was to the Dolphins, a rift between coach and general manager was more serious in terms of the team's long-term prospects.
"We needed to have harmony within the organization," Ross said. "We had to think as one organization, where everybody has respect for each another and operates with the same mindset at all times and all situations."
Hickey was joined at the press conference by his wife Stephanie, 14-year-old daughter Breanna and son Barrett, who was wearing an aqua Ryan Tannehill jersey.
Hickey said he was on the same page with Philbin in terms of wanting tough, smart players. He also said he took a "best player available" approach to the draft.
Ross believes the Dolphins management team will be a well-oiled machine going forward.
"I've always told Coach and I've told Dennis, if I tell you to draft a player, or play a player or call a play, you don't have to listen," Ross said.
"You rely on people who know what they're doing. You try to have the best people there and you don't micromanage them. If they're working together as a team, that's the best kind of chemistry you can have to have a winner."
You can follow Charlie McCarthy on Twitter @mccarthy_chas or email him at mac1763@bellsouth.net.
---