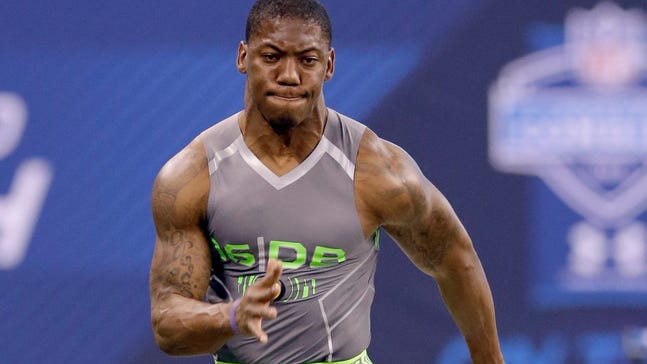 Dennard a No-Brainer for Bengals
Published
May. 9, 2014 1:37 a.m. EDT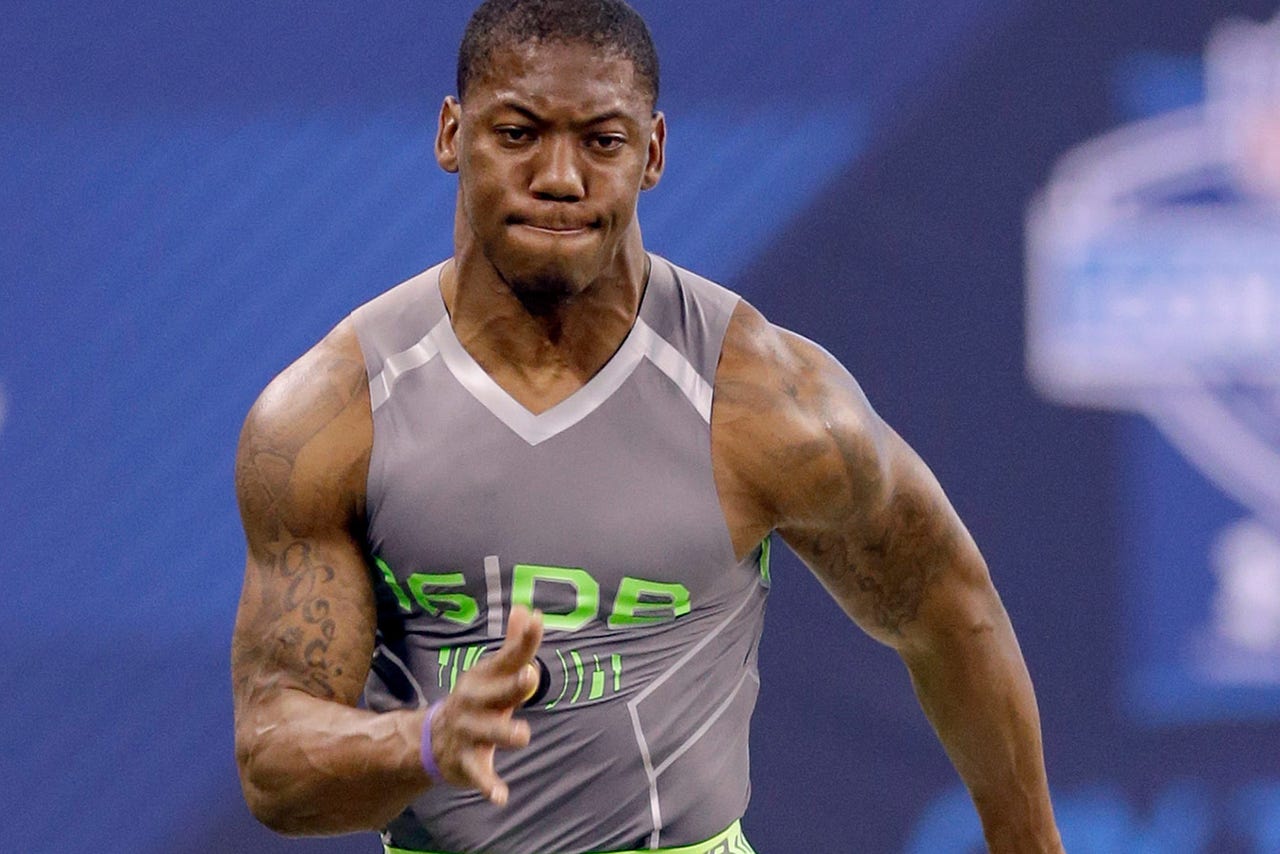 CINCINNATI -- Bengals defensive coordinator Paul Guenther and Vance Joseph, Guenther's new co-defensive backs coach, went to see Darqueze Dennard's pro day workout in March after the NFL combine. They had the same initial thought.
"That's Leon Hall," said Guenther.
"No doubt," said Joseph.
They had another similar thought: There wasn't going to be chance in Hades that the Michigan State cornerback would be around when the Bengals turn to pick in the first round of the NFL Draft came around at No. 24. Most mock drafts had Dennard going in the middle of the first round. While cornerback was high on the list of areas the Bengals were targeting in the first round, any thoughts of Dennard being there were more like wishful thinking.
The Bengals wish was granted Thursday night. Dennard was still on the board.
"He happened to fall to No. 24 to us," said Guenther. "It was a no-brainer at that point for us."
Dennard was the fifth defensive back and third cornerback selected in the first round.
Dennard becomes the sixth first round defensive back on the Bengals roster, joining Hall, Adam Jones, Terence Newman, Dre Kirkpatrick and safety Reggie Nelson. Kirkpatrick was taken at No. 17 overall two years ago but Hall and Nelson entered the league in 2007, Jones in 2005 and Newman in 2003.
Hall is attempting to a comeback from a second torn Achilles tendon in three seasons, but coming back has been a strong trait of his throughout his career whether it's from injury or being beaten on a play. Hall is listed at 5-feet-11, 195 pounds on the Cincinnati roster. Dennard is 5-11, 197. Hall has played a lot as the Bengals nickel back, a position that is usually viewed from the outside as a place for a team's third-best cornerback. That's not the case for the Bengals. The depth they have at the position allows them to play their best cover corner at the spot and eliminate many mismatches offenses attempt to create.
Michigan State asked Dennard to play on an island a lot of times, not giving him much help from safeties or linebackers.
It's the same style the Bengals ask of their defensive backs no matter where they line up on the field.
"He's a physical, press corner," said Joseph. "He's not an off, quick-twitch footwork player. He's an in your face press corner. If you beat me, I'm there again. It's Leon. He's Leon's personality. Skill set may be a little different in college but he's Leon's personality. He's all business."
According to the NFL Draft Report, a scouting service that began compiling in-depth statistical reports in 1968, Dennard allowed just 18 of the 118 passes targeted into his area to be completed for 104 yards. The 5.78 yards per reception average is the lowest by a starting defensive back since the BCS era began in 1998, and his 0.88 yards per attempt average is the lowest the scouting service has ever recorded.
Dennard had four interceptions and 10 pass deflections in his senior season as the Spartans won the Big Ten championship and Rose Bowl.
"My strength is being a shutdown corner. I can take a receiver out of the game," said Dennard. "I can press, I can blitz, play inside or outside. I'm very smart, have great ball skills -- I don't think I have any weaknesses, to be honest."
He didn't even mind being compared to a guy from the University of Michigan.
"I take that as a good thing," said Dennard with a chuckle. "I'm not going to hold it against him that he went to that school. He's a great player. He's very consistent. He has played in the league for a long time and he's done great at everything he's done. Getting that comparison is really good. I like it."
This is the first time since 2008 that the Bengals have not selected a player in the first round. Offensive guard Kevin Zeitler was taken 10 spots after Kirkpatrick in 2012 when the Bengals had two first-round choices.
Kirkpatrick has shown flashes of his first-round talent in two seasons but was hampered by injuries as a rookie, limiting him to just five games. He saw greater playing time last season, including starting three games, but he had inconsistent moments to go along picking off the first three passes of his career, one of which he returned for a 21-yard touchdown against Baltimore in the regular season finale.
Picking Dennard had nothing to do with Kirkpatrick, said Joseph.
"First of all, I believe in Dre. I watched Dre play some last year, I've been around Dre now for three months. I believe in Dre. It's not a signal to Dre at all. I think for our football team it's just the right pick. You've got Terence who's in his mid-30s, you've got Adam who is 30, you've got Leon who is getting up in age, too. For our football team this was the right pick."
Head coach Marvin Lewis said he wants to get younger in various position groups, not just the secondary.
"We went into the draft really feeling like we could get some new life and really improve our football team in a couple of areas with young players," said Lewis. "The secondary was one option, and we were able to get that on the head here with this pick."
Dennard will not be thrown into a starting role. The depth of the secondary won't allow for him to just be given a spot on the first team. Part of the reason Kirkpatrick has been a little slow in getting more playing time is that Hall, Newman and Jones have kept him on the sidelines.
"He's coming into a room that's a very talented room," said Lewis. "He's got to go in there and he's got to compete for playing time. All he does is make out football team better. We've got some guys who have played great football and they're not willing to give up their spots. He's going to have to come in here and work his tail off, and I think he can do that. I also thing he can contribute on special teams. He's a guy that really had a chance to enhance what we do on Sundays"
---