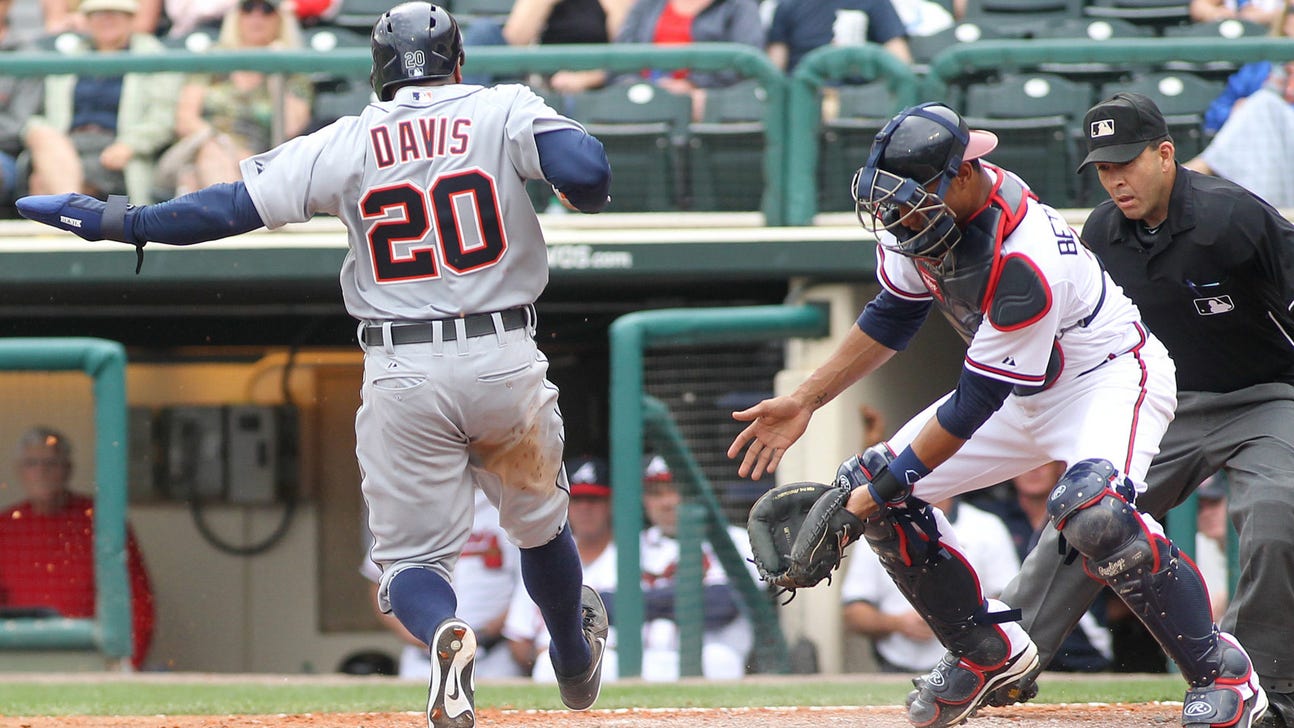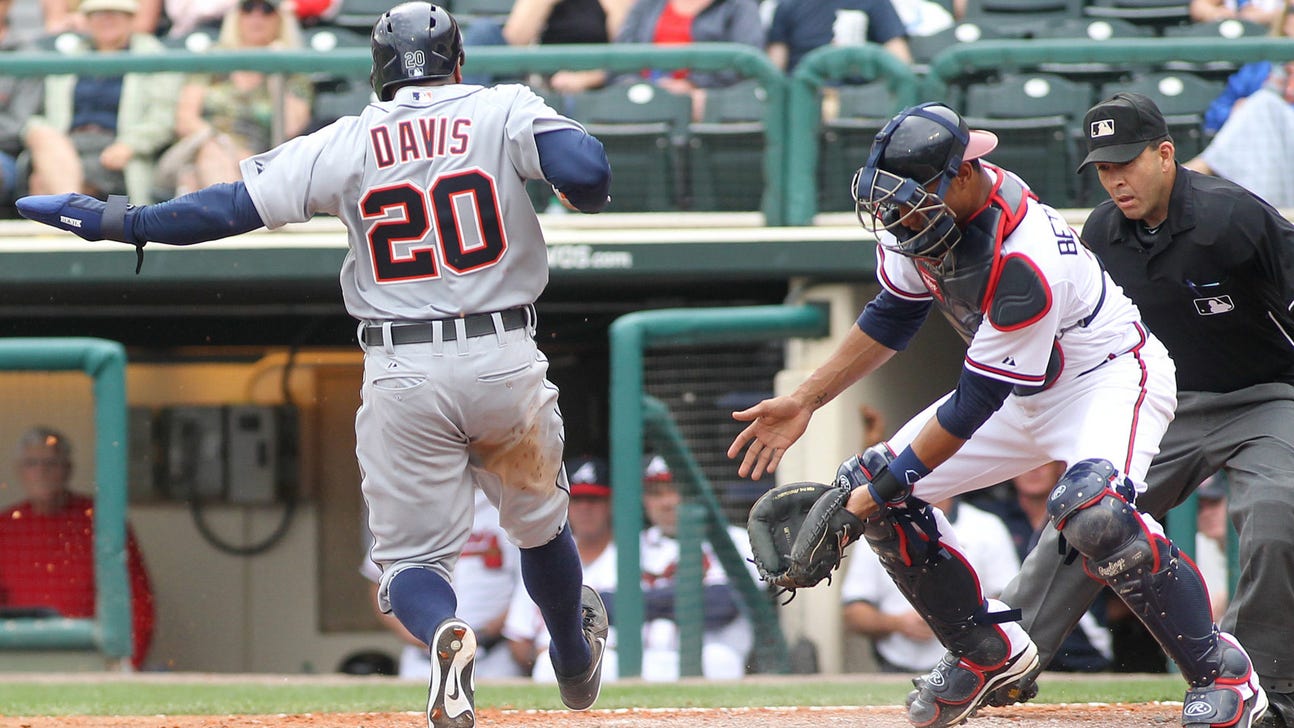 Davis' speed already on display for Tigers
Published
Feb. 27, 2014 11:46 a.m. ET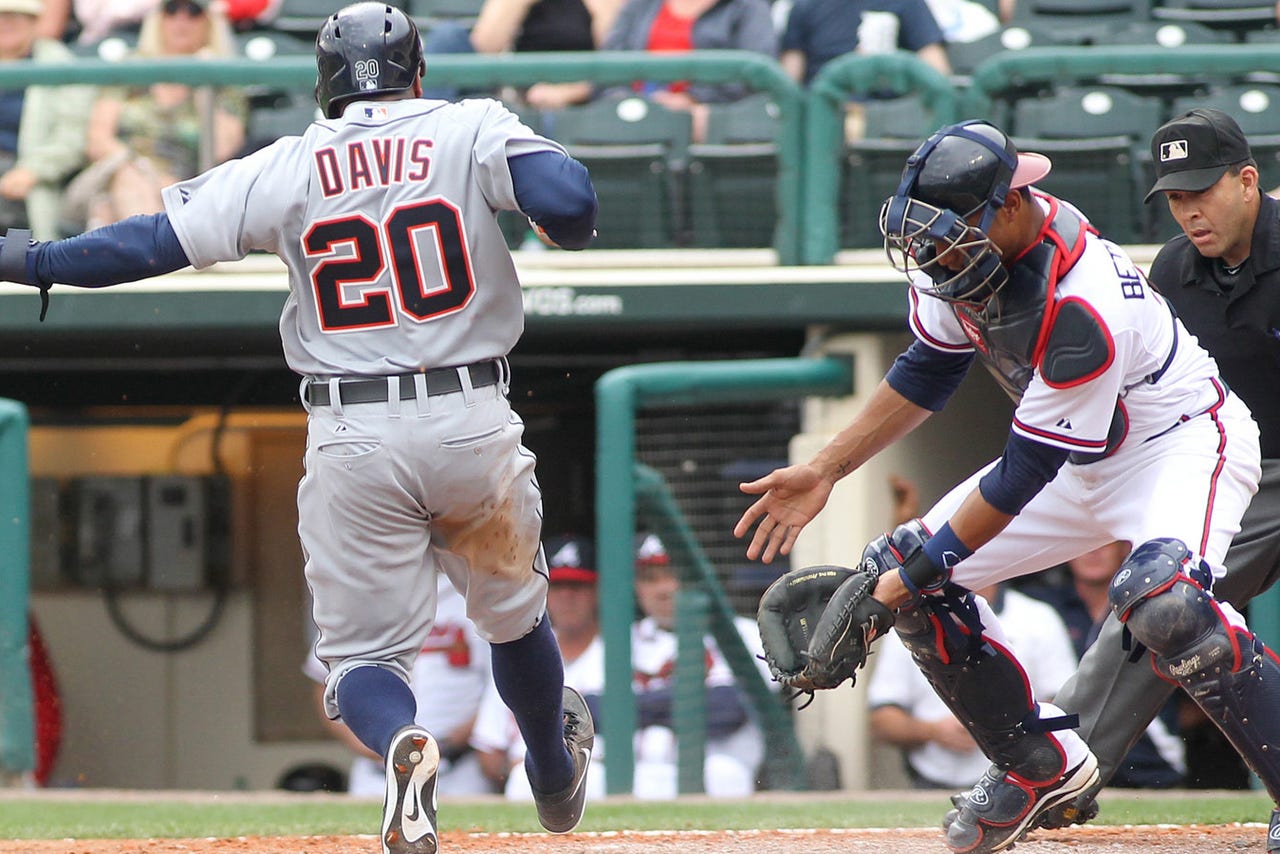 LAKELAND, Fla. -- Tigers manager Brad Ausmus knew Rajai Davis was fast. Then Ausmus got to experience it firsthand.
A few days ago, Davis was finishing up his workout with some sprints. Ausmus was walking by, so Davis invited his 44-year-old manager to join him.
"I ran with Rajai Davis for two sprints," Ausmus said. "When you play 40-and-over basketball, I'm relatively fast, but when you're playing against world-class baseball runners, I'm not that fast."
Davis, 33, is very fast. He stole 45 bases for the Toronto Blue Jays last season and 46 the season before that. In 2010, with Oakland, Davis had 50.
"The key to stolen bases is, you've got to be as fast as me, with a mind like mine, then you can steal bases like me," Davis said.
The entire Tigers team had 35 in 2013, 10 fewer than Davis, which ranked last among big-league teams. The world champion Boston Red Sox ranked fourth with 123.
Davis stole two bases in Wednesday's 6-5 victory over the Atlanta Braves and scored on a pop-up in foul territory that was fielded by the third baseman.
"That's what he brings to the table," Ausmus said. "He has the ability to steal bases, take the extra base, force the defense to try and make a play that would be an easy play on a different runner but not on Rajai Davis."
Ausmus has made it clear that it's not just on the fast players -- such as Davis, Austin Jackson, Ian Kinsler and Jose Iglesias -- to be good base runners.
"Having speed helps, but I think your approach is still the same -- you still want to run the bases in similar fashion," Ausmus said. "Players' abilities may dictate to what degree you can do it or to what degree it becomes successful.
"The speed of the player doesn't change the approach of the player in terms of base running. Base stealing, it changes a little bit."
But Davis brings even more to the field. He can also serve as a distraction for the pitcher.
"I definitely think, if they're throwing over to first, even one time, then obviously they're concerned about you," Davis said. "And it's tough to focus on two things and be very, very excellent at both at the same time.
"That's gonna take a little bit away from what he's gonna deliver to the plate. If I can do that and help our hitters, that's gonna help us."
Ausmus said it might be more of a distraction for younger catchers.
"I learned the more I played that if you get the hitter out at the plate, you shouldn't be too concerned about the runner," Ausmus said. "That was the priority.
"That being said, it clearly does have an effect on some pitchers and catchers, and often affects how a catcher determines pitch selection for a given hitter."
With big-time hitters Miguel Cabrera and Victor Martinez in the lineup, Davis hopes to beat his career high of 66 runs scored, which he did in 2010 with Oakland.
"I'm certainly excited about that," Davis said. "You know (Cabrera's) gonna drive in runs, even Victor Martinez behind him. They got guys who can drive in runs, and I'm looking forward to scoring a lot of runs, especially this year."
As a free agent, Davis had options but said he was happy when the Tigers called, even though he knows there's a good chance he'll platoon in left field with Andy Dirks.
"Here, we're expecting the World Series," Davis said. "We're expecting to win the World Series."
---