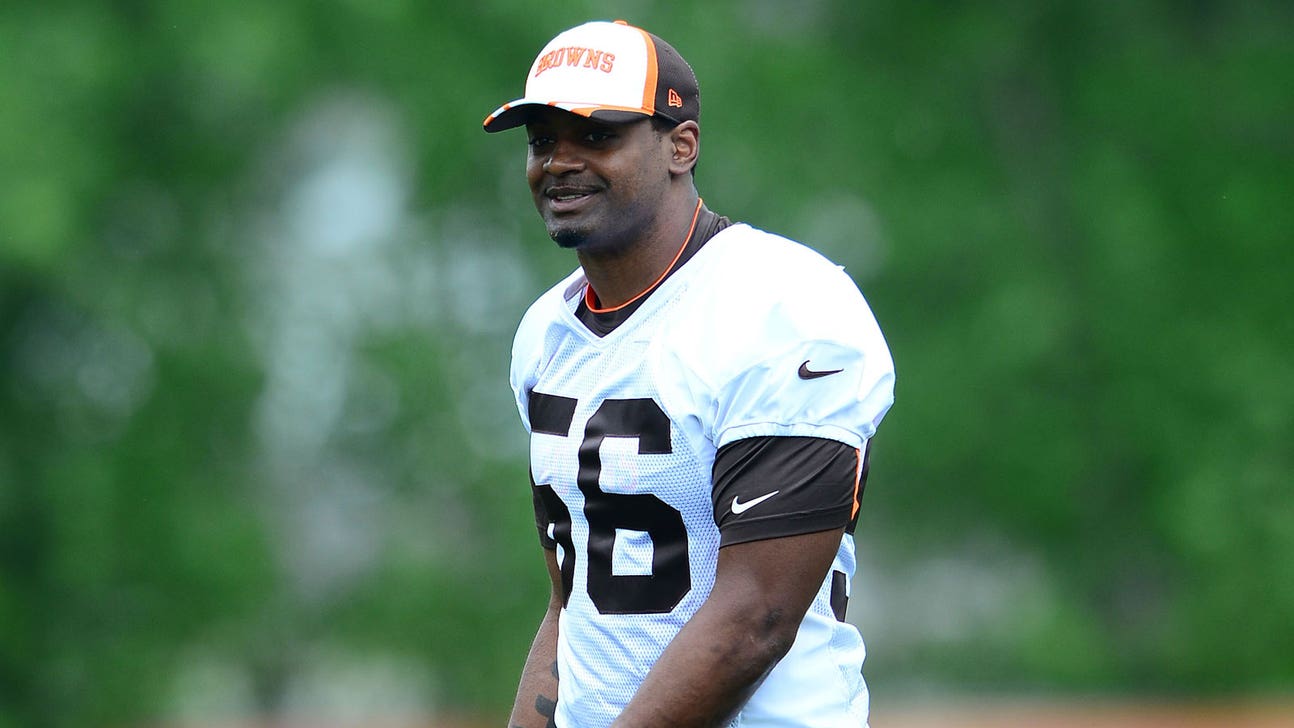 Dansby plans to pick up where he left off
Published
Aug. 5, 2014 2:27 p.m. ET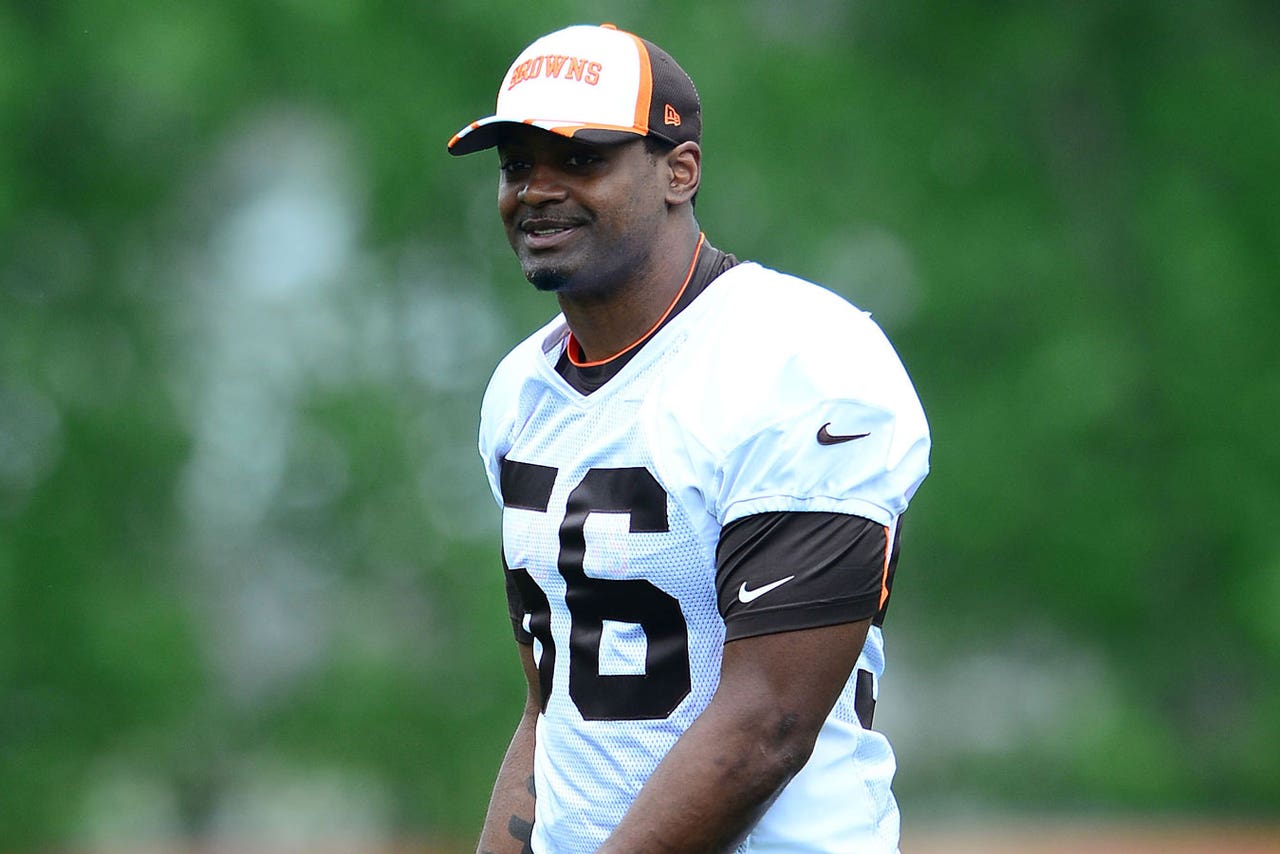 BEREA, Ohio -- When the Browns brought Karlos Dansby in as an unrestricted free agent signing, they envisioned him bringing a winning attitude to the team that has been in a perpetual losing funk for many years.
Dansby takes his job seriously.
"My job is to try to make the guys around me better," Dansby said after Tuesday's practice. "The only thing that has changed is my uniform. I feel at home. The D-line around me is awesome.
"The guys around me are playing fast and like I said, I'm just trying to do my part to make them better like I did in A.Z., (Arizona Cardinals) from 5-11 to 10-6-- the No. 1 run defense-- I think I did my part."
Dansby, 32, is coming off his best season in the NFL, despite playing 10 years. He had 135 tackles with 6.5 sacks. He also intercepted four passes, including two for touchdowns. In addition, he also forced and recovered a fumble.
The Browns top pass rusher last season in sacks was Jabaal Sheard, who had 5.5. Dansby anticipates being able to rush the passer, even though he's coming from the inside. He was asked if he thinks he'll be able to rush the defense in Mike Pettine's defense.
"I probably will if the opportunity comes," Dansby said. "If coach calls my number I have to be able to handle my responsibility and go out and execute."
Dansby (6-3, 251) thinks the Browns can have a dominant defense and he plans to do his part.
"(We want to) improve all the way around," Dansby said. "Making guys better. That's my role. That's what I was born to do--lead guys, lead me and that's what I'm going to do is step up and take care of my responsibility."
The Browns blew fourth quarter leads in 2013 on several occasions and Dansby is determined to not let that happen to the Browns this year.
"We definitely want to have more mental toughness," Dansby said. "The GM and coaching staff did a great job of putting guys together that can finish the job. "Attitudes are trying to be contagious. Everybody is trying to rub off on each other and be the best players we can possibly be as a team."
Dansby was asked what makes teams mentally tough.
"It's a mindset," he said. "It's got to be a mindset and, like I said, the attitude has to be contagious. You can talk about it all day, but you have to execute it on a daily basis. It can be contagious and that's what I'm trying to do right now is be that catalyst."
EXTRA POINTS
Mixing it Up: QB Brian Hoyer and QB Johnny Manziel each took reps with the first team in 11-on-11 team scrimmage. Pettine was asked if that was by design.
"All part of the plan," Pettine said with a smile.
Both quarterbacks had better days. Manziel completed a 30 yard pass to WR Miles Austin, but the pass was underthrown and Austin had to come back to make a sliding catch. Later, Manziel might have thrown his best pass of training camp that was about 60 yards in the air to a wide open WR Travis Benjamin, who couldn't hang on to the ball near the goal line.
Hoyer's best play was a quick slant to WR Josh Gordon who caught the ball in stride for a big gain.
Gipson Back: DB Tashaun Gipson (knee) was back at practice.
"He should get more work (Wednesday) - if things work well he should get more team work and be good to go on Saturday."
Also, DB Isaiah Trufant (knee) returned to practice, as well.
Cameron on Bike: TE Jordan Cameron (shoulder) and TE Jim Dray (undisclosed) were on the sideline with trainers during practice. Others not practicing were OL Reid Fragel (knee), LB Tank Carder (foot), and OL Randall Harris (knee). OL Nick McDonald remain on the Active/non-football injury list with a wrist injury.
Seven Straight: The Browns practiced in full pads for the seventh straight practice on Tuesday under Pettine. He said he intends to continue doing so through the second preseason game.
"We've talked about being in pads up through the second game," Pettine said. "We'll make the decision up until we go."
No News, Good News: Pettine said that if the Browns don't hear from the NFL regarding WR Josh Gordon, he will likely play in Saturday's game with the Lions.
"Assuming we don't hear anything, (Gordon) will be out there Saturday."
Pettine was asked if he knows anything further on Gordon's situation.
"I do not," he said. "It's been reported it will be a chunk of time. We don't have an exact day. As frustrating as it is for Josh, I think he's handled it well. He's working hard, finishing plays."
Gordon caught a slant from Hoyer and it resulted in a big gain in 11-on-11.
Depth Chart: The Browns released their first depth chart, but Pettine said not much stock should be placed in it.
"I had to do it (for first preseason game)," he said. "I think at a lot of positions we would have slashed guys. I would say it's very loose and it will be very fluid and likely there will be changes every week."
QB Brian Hoyer is listed as the starter with QB Johnny Manziel behind him.
Pettine was asked if he would've put a slash at quarterback.
"Maybe, I might of," he said. "No. We listed Brian as the starter."
With that said, Pettine was asked if it has been decided that Hoyer will start against the Lions. He said the meeting with the coaches to determine reps hasn't been set.
"We're going to set the reps but I can't answer anything definitive right now."
OL Joel Bitonio is the only rookie listed as a starter on the first depth chart at left guard. Buster Skrine is at right cornerback ahead of Justin Gilbert. WR Josh Gordon is listed as the starting wide receiver with Miles Austin at the other spot. MarQueis Gray is listed as the fullback.
On defense, Billy Winn is listed as the starter at RDE with Ahtyba Rubin at NT. Phil Taylor is listed at LDE behind Desmond Bryant. Jabaal Sheard is listed behind Paul Kruger at OLB with Barkevious Mingo the other OLB.
First Game: Despite it being the preseason, Pettine will coach his first NFL game against the Lions on Saturday. Pettine was asked if he's looking forward to the milestone for him.
"Absolutely," he said. "I'm excited. It will be a special day but to me it's more for the team."
Quick Hits: CB Leon McFadden intercepted a pass from QB Tyler Thigpen for a score in 11-on-11...CB Joe Haden intercepted Hoyer in 7-on-7...RB Isaiah Crowell broke a long run in team drills down the sideline.
Next Up: Training camp continues Wednesday and Thursday with practices from 9:30 a.m. to 12:10 p.m. and then the team prepares to play the Lions on Saturday night.
---