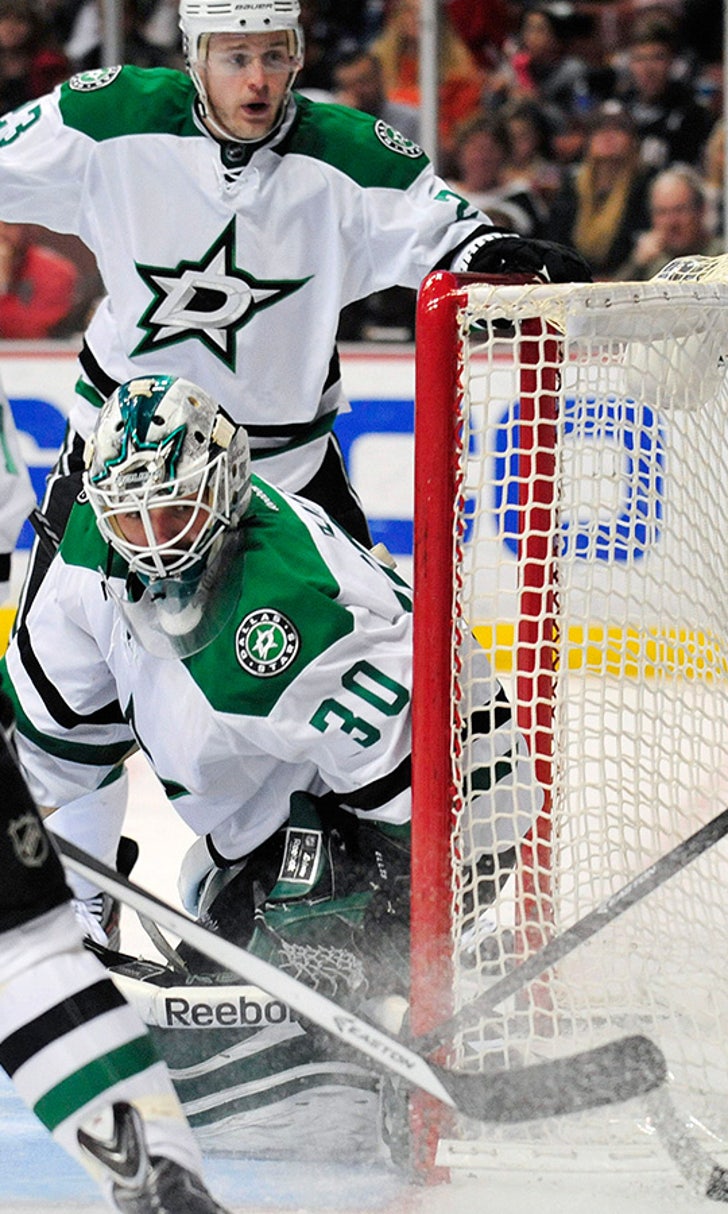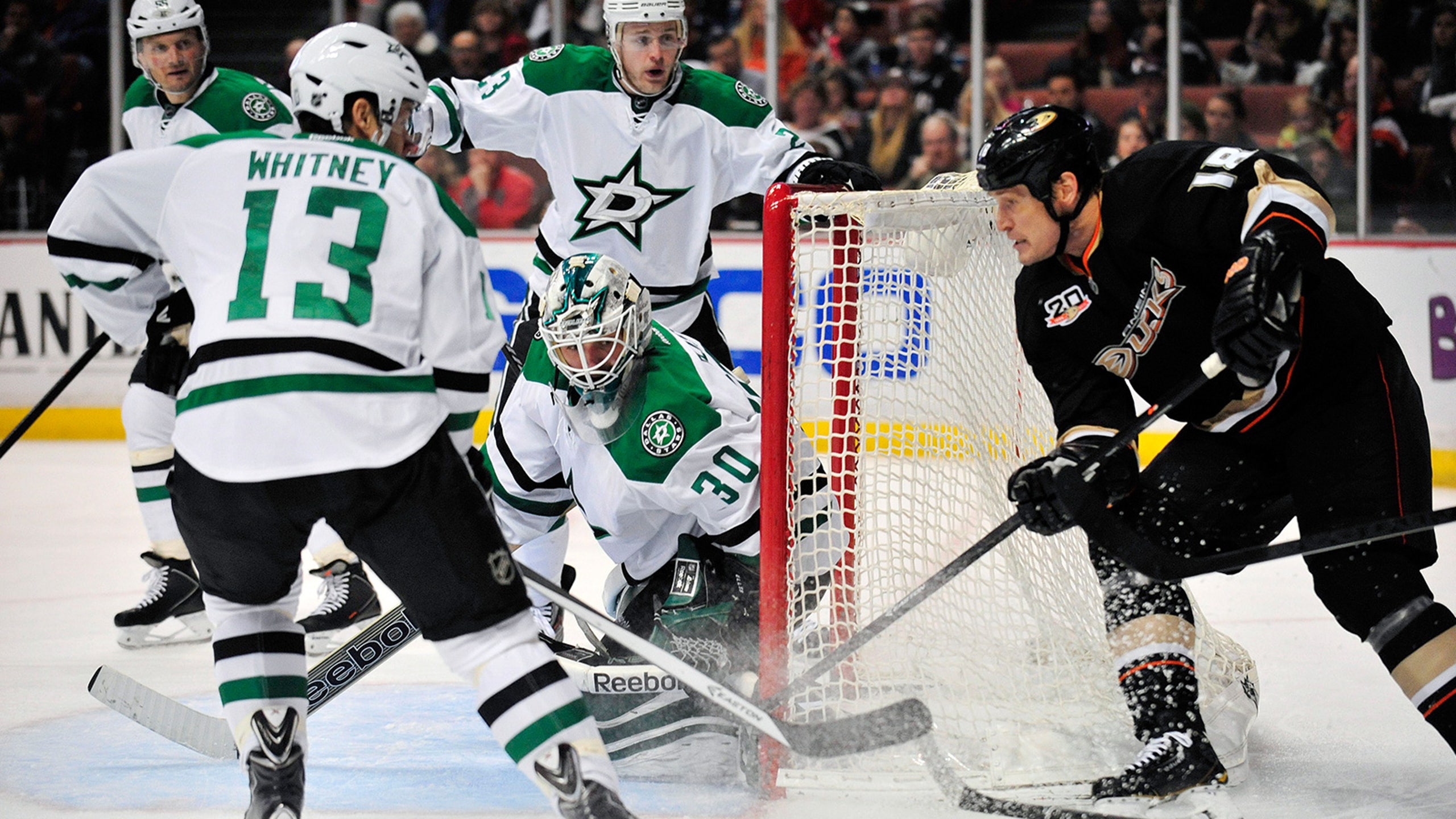 Dan Ellis, Stars shut out NHL-leading Ducks 2-0
BY foxsports • February 2, 2014
ANAHEIM, Calif. -- Dan Ellis learned a few things about the Anaheim Ducks' top scorers during 1 seasons as the team's backup goalie, and he put all that knowledge to work in a breakthrough victory for the Dallas Stars.
Ellis made 26 saves against his former team in his 14th career shutout, and Trevor Daley scored in the Stars' 2-0 victory over the Ducks on Saturday night.
Ellis played in 23 games as a backup in Anaheim from February 2011 to 2012, but did his best work while absorbing innumerable shots in practice from Ryan Getzlaf, Corey Perry and Teemu Selanne.
Ellis used that familiarity throughout his second victory over the Ducks this season, even denying Perry's point-blank chance in the final minute by getting an outstretched pad in front of an open net.
"I've practiced with them, and I understand some things they like to do," Ellis said with a smile.
Captain Jamie Benn added an empty-net goal with 28 seconds left for the Stars, who snapped a five-game road skid with one of their biggest wins of a mediocre season.
Ellis had sat out the Stars' previous nine games since Jan. 12, and he acknowledged a bit of game rust in his return. But Kari Lehtonen's veteran backup posted Dallas' third shutout victory in its last six games, and coach Lindy Ruff said Ellis probably will get more playing time in the final week before Lehtonen and Ruff head to the Olympics.
"He gave us a rock-solid game," Ruff said of Ellis. "We only had a couple of big breakdowns, and he was there for us."
After the game, Ellis met up in the hallway between the dressing rooms with Jonas Hiller, the Ducks' starter during Ellis' time with the club.
"I loved my time here," Ellis said. "It's still the best place I've ever played and lived in, but it was good to get these two points for us."
Hiller stopped 25 shots for the NHL-leading Ducks, who were shut out for the first time all season. Anaheim has lost three of five at Honda Center after opening the season 20-0-2 at home.
#NHLDucks Hiller on the loss: "When things aren't going your way, you might lose confidence. We need to get another streak going."

— Anaheim Ducks (@AnaheimDucks) February 2, 2014
At the start of a four-game stretch over eight days before the Olympic break, the grind of the regular season is finally hitting the Ducks after two spectacular months. Anaheim is 4-4 since Jan. 15, but still five points ahead of defending champion Chicago atop the overall standings.
"We didn't have any sustained pressure," Anaheim coach Bruce Boudreau said. "Against a team like Dallas, you have to win the board battles. If you don't win them, their speed is so good, it's going to be a real tough game for you."
The Ducks played without third-leading scorer Nick Bonino after the versatile center injured his wrist. Boudreau also scratched healthy offense-minded forwards Dustin Penner and Kyle Palmieri.
While Anaheim's roll has slowed, Dallas is looking to build momentum into the break during a three-game West Coast trip over the next five days. The Stars began the day in an 11th-place tie in the Western Conference.
#NHLDucks Cogliano: "We haven't been happy with our game, winning one and losing one. We need to shore that up before the break." #ANAvsDAL

— Anaheim Ducks (@AnaheimDucks) February 2, 2014
After a scoreless first period, Daley got his fourth goal of the season early in the second on the rebound of a shot by center Cody Eakin, who blew by Patrick Maroon to create the chance.
Only Hiller kept the score close with a handful of stellar plays in the final two periods, including a post-to-post toe save on Rich Peverley late in the second. Hiller has lost his last three home starts after his franchise-record 14-game winning streak ended last month.
"It seems like one game we play pretty good, then the next game it seems like we've lost everything again," Hiller said. "We don't have that consistency. You can't just always think you can come back in the third period to win a game."
Anaheim had several decent chances in the final minutes, but was shut out for the first time since last March 27.
The Ducks also lost defenseman Mark Fistric to a lower-body injury early in the game.
NOTES: Along with Bonino, the Ducks had three prominent healthy scratches who have combined for 90 points this season: Penner, Palmieri and D Bryan Allen. ... Just 41 seconds in, Eakin skated to the Stars dressing room with a bloody cut on his face after he got hit by the puck. He returned for the second period. ... Daley has three goals in his last 10 games after scoring just once in his first 31 this season.
---