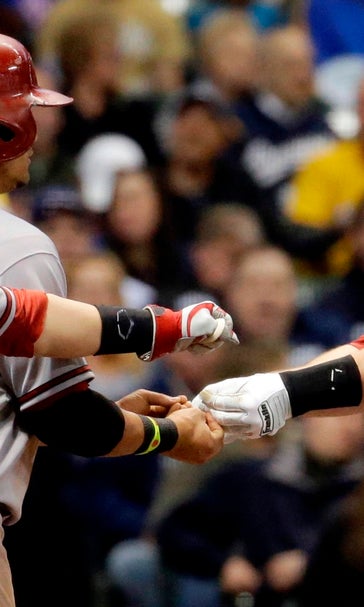 D-backs rally out of early hole
BY foxsports • May 6, 2014
MILWAUKEE -- Aaron Hill is comfortable at Miller Park.
A night after going 4 for 4 with a pair of RBI singles, Hill hit a two-run homer in the eighth inning Tuesday to rally the Arizona Diamondbacks past the Milwaukee Brewers 7-5.
"He's a really good hitter. I know he kills us," Brewers manager Ron Roenicke said. "We make mistakes to him, but he's patient. He fights off tough pitches and he doesn't miss mistakes. At least against us he doesn't."
Hill is batting .472 (17 for 36) with four home runs and 11 RBIs in eight career games at Miller Park.
Hill's home run Tuesday came after Miguel Montero had a tying single.
Evan Marshall (1-0) pitched 1 1-3 innings of scoreless relief in his major league debut for the victory.
"Evan Marshall was electric in his first big league appearance," Diamondbacks manager Kirk Gibson said. "He had a little cheering section out there. His parents and his wife were here. He came in and threw the ball like we were told he was throwing the ball down in Triple-A. It was much needed for us."
Addison Reed pitched a scoreless ninth inning to record his ninth save in 10 opportunities.
Paul Goldschmidt and Chris Owings also homered for Arizona, which has won five of its last seven games on the road.
Brandon Kintzler (1-1) gave up the three runs in the eighth.
"I feel terrible for letting the team down in that situation," Kintzler said.
Goldschmidt hit a two-run homer in the first inning off Milwaukee starter Marco Estrada. The Brewers scored for five runs in the bottom half off Josh Collmenter.
"The first inning was not well-played at all," Gibson said. "We gave up four unearned runs. But true to (Collmenter's) form, he hung in there. He's great at keeping his composure."
Collmenter gave up just four singles after the first. He departed in the sixth after consecutive two-out singles to Logan Schafer and pinch-hitter Rickie Weeks. Marshall came on to record the final out of the inning.
Collmenter gave up five runs -- one earned -- and eight hits in 5 2-3 innings. He struck out three and walked one.
"I just wanted to give the team a chance to win to try and keep us in it long enough," Collmenter said. "When you get a comeback win like this, it's huge for the club."
The Diamondbacks entered the eighth trailing by a run. But Goldschmidt hustled for a double and scored on Montero's single. Hill then hit a drive over the left-center field fence.
Goldschmidt's first-inning homer came immediately after Arizona challenged a call in which leadoff hitter Gerardo Parra, who had singled, was ruled out at first base on a pickoff. The call was overturned by review.
Lyle Overbay had an RBI single, Ownings' two-out throwing error allowed another run to score, Jean Segura followed with a run-scoring single and Schafer capped the big inning with a two-run double.
Both pitchers settled down after that. Estrada retired 11 of the next 12 batters following Goldschmidt's home run before issuing a walk to A.J. Pollock leading of the fifth. Pollack later scored on Collmenter's ground out, cutting the lead to 5-3.
Owings hit his first big league homer leading off the sixth.
"Obviously it feels good. It makes it even more special that we got a win out of it," Owings said.
Estrada yielded four runs and four hits over six innings. He struck out four and walked two.
The Brewers lost for the first time this season (19 games) when scoring four or more runs.
---