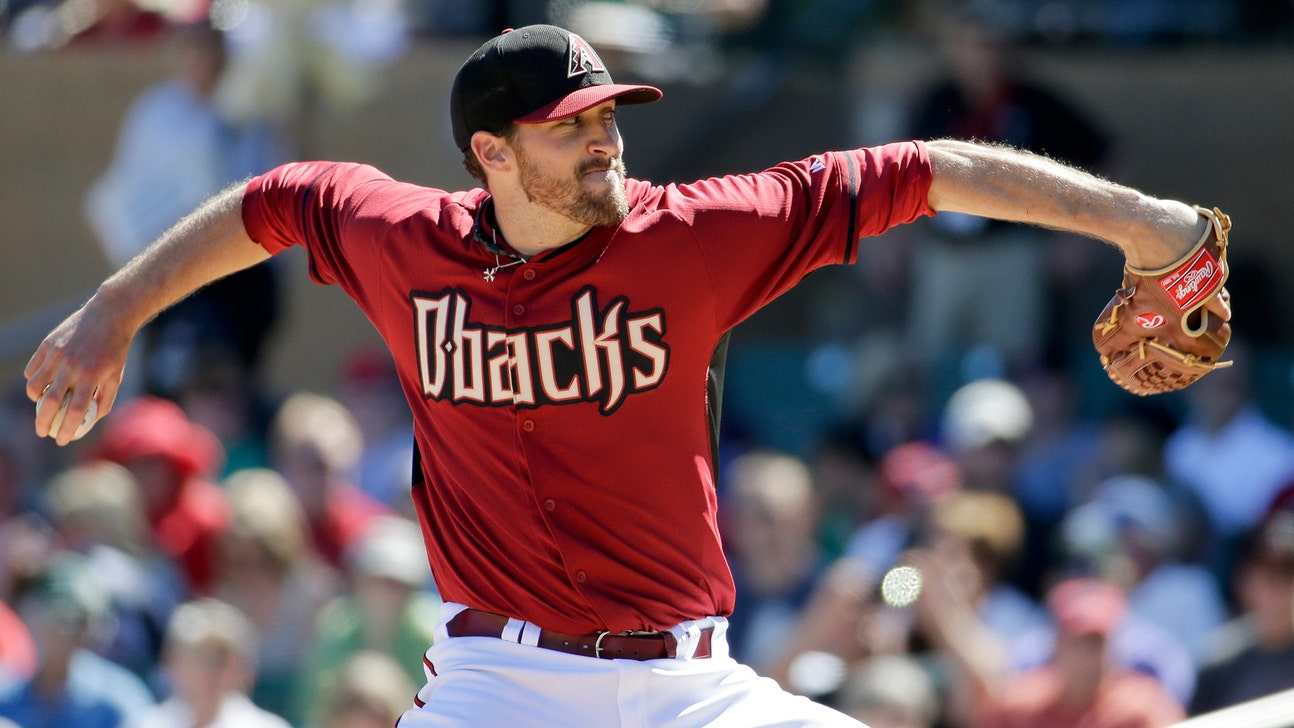 D-backs prospect Schultz nearing majors on unique track
Published
Mar. 13, 2014 7:48 p.m. ET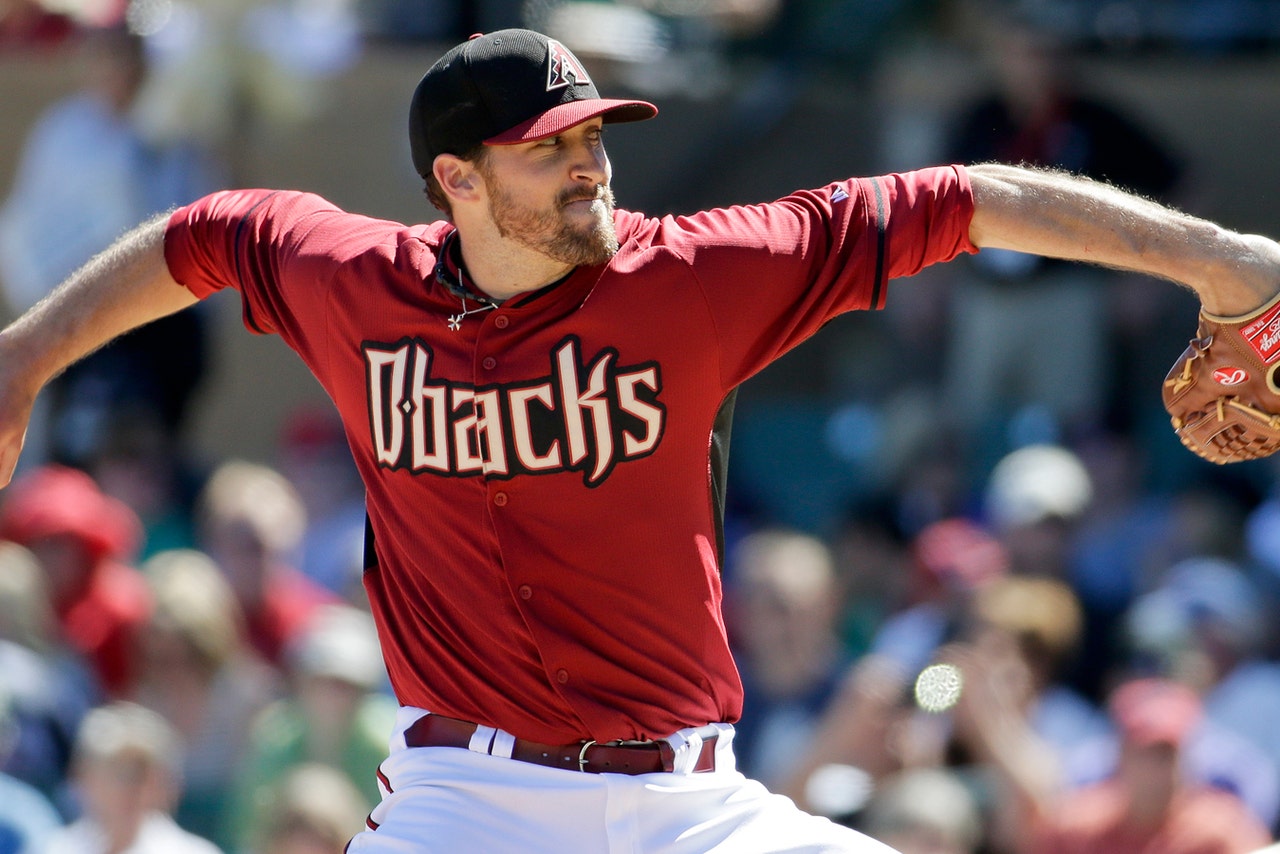 SCOTTSDALE, Ariz. -- When Bo Schultz signed with the independent league Grand Prairie AirHogs -- based just outside Dallas -- he did so with the belief it was his last hurrah as an athlete.
"I thought that was going to be the end of baseball," Schultz said.
It was 2011 and Schultz had been released by the Oakland A's after a rough start with Single-A Stockton. Schultz had a few friends playing for Grand Prairie, and they convinced him to join them. He had already planned to play baseball that summer, so he figured why not.
But Schultz was already considering how to jump-start his career in journalism, hoping to leverage a degree from Northwestern's prestigious Medill School into a copy desk job or a production assistant gig at a radio station.
Today, the 28-year-old right-hander is one of the Diamondbacks' top pitching prospects, impressing so much in major league camp this spring that he could see the majors this season.
"He's come a long ways," D-backs manager Kirk Gibson said. "It's an interesting case."
Interesting probably doesn't do Schultz's story justice. Set aside the fact he's probably one of the few professional baseball players with a journalism degree and Schultz's story is still pretty incomparable.
Schultz, a Dallas native, played baseball in high school but didn't figure he had much of a future in it, so he pursued his love of writing at Northwestern.
"Growing up and in high school, I wanted Tom Verducci's job," Schultz said. "He was the long-form journalism guy for Sports Illustrated, so it's like go to spring training with whatever team, be part of the team for a week and then write 10,000 words. I mean, how much better could it get for a high school kid playing baseball?"
In the third year of his pursuit to be baseball writing's next big thing, Schultz decided to give baseball another shot. He walked on as an outfielder at Northwestern and later took up pitching when injuries depleted Northwestern's staff.
Schultz could top 90 mph on the radar gun, and scouts took notice, but he went undrafted. Still, he signed with the A's and started out in the Arizona Rookie League. After 14 unimpressive appearances, seven of them starts, Schultz faced an early career crossroads.
"The pitching coordinator said 'Your best opportunity is going to be as a submarine pitcher,' and I just kind of said 'All right, if I'm not going to be a big league pitcher, I might as well try another way,'" Schultz recalled.
Then-A's reliever Brad Ziegler, now with the D-backs, had converted to a submarine delivery successfully and still uses it today. Schultz adopted the approach to moderate success in 2009 and 2010 as a reliever for two of Oakland's Single-A affiliates.
A 14.85 ERA in seven appearances earned Schultz a one-way ticket out of Stockton, and soon after it was off to Grand Prairie. The first advice Schultz got with the AirHogs was the opposite of what he'd heard from the A's.
"I threw maybe one game submarine and one game overhand," Schultz said. "Everybody said 'Scrap submarine, your opportunity to get back is by lighting up a radar gun, not by creating a tricky pitcher.' "
Schultz did just that. As he worked on converting back to overhand pitching, it became apparent his fastball velocity was up, touching the mid-90s. D-backs scout Bill Bryk was among those who took notice.
"He's had a very good track record of finding guys in independent ball that went on to have really good major league careers," Gibson said.
Bryk, a special assistant to the general manager, brought Schultz to Arizona for an invitation-only tryout at Salt River Fields, and the D-backs wound up signing him to a minor-league deal.
Schultz moved quickly through the D-backs system in 2012. He tallied 36 strikeouts in 34 innings with Single-A Visalia, then posted a 2.11 ERA over 17 appearances with Double-A Mobile. After a brief stint in Mobile in 2013, Schultz moved up to Triple-A Reno, where he struck out 23 in 19 2/3 innings. Then came the next big change.
The D-backs told Schultz to go back to Mobile and become a starting pitcher. He obliged, of course, but was unsure what the move meant for his future.
"The organization as a whole -- not only the big league level, but throughout the minor leagues -- is so pitcher heavy and so starting pitching-heavy that my thought was 'OK, my only opportunity is going to be if somebody gets hurt in the bullpen or someone throws like six days in a row and they need somebody to fill a hole,'" Schultz said.
Like his switch to overhand throwing, though, the move to starting paid off. Schultz went 4-4 with a 2.96 ERA as a starter and held opposing hitters to a .208 batting average. He went 2-0 with a 0.66 ERA in two postseason starts with Mobile.
"He really kind of started finding his way when they put him in the rotation last year down in Mobile," D-backs general manager Kevin Towers said. "I think he's probably at a point now where he's feeling like he belongs."
Schultz was added to the 40-man roster in November after impressing in the Arizona Fall League and has certainly looked like he belongs this spring. In two big league appearances (one start), Schultz has thrown five strong innings, allowing one unearned run on three hits.
"I've been working hard to make sure that I showed up more prepared and more confident than last year," Schultz said. "Last year was my first big league camp and coming in I was thinking 'Holy crap, I've only been in Double-A, these guys are so much better.' I'm trying to put that aside and do the same thing I did last year with a little bit more of an air of confidence and try to go from there."
Schultz has positioned himself to possibly get a big league start as early as the first week of the season. If Bronson Arroyo (bulging disc) isn't ready when the season begins, the D-backs may need a spot starter, and Schultz is a candidate.
Further, Schultz is perhaps the D-backs most major league-ready prospect after only 21-year-old Archie Bradley. It wouldn't be hard to imagine him reaching the majors this season.
"I think it's a good foundation for Bo Schultz, what he went through," Gibson said. "He's a very humble young kid. And I think you just think here's a kid that was in independent ball and now he's actually pitching in big league games."
While Schultz pursues his big league dream, his journalistic ambitions are on hold. And now more than ever, it looks like Schultz has a fairly clear path to the majors, be it this year or later.
"I believe that I'm a big-league pitcher," Schultz said. "It's just a matter of time before I get an opportunity, so that's kind of the approach I'm taking right now. I know I can do this, I know I can succeed here."
Follow Tyler Lockman on Twitter
---