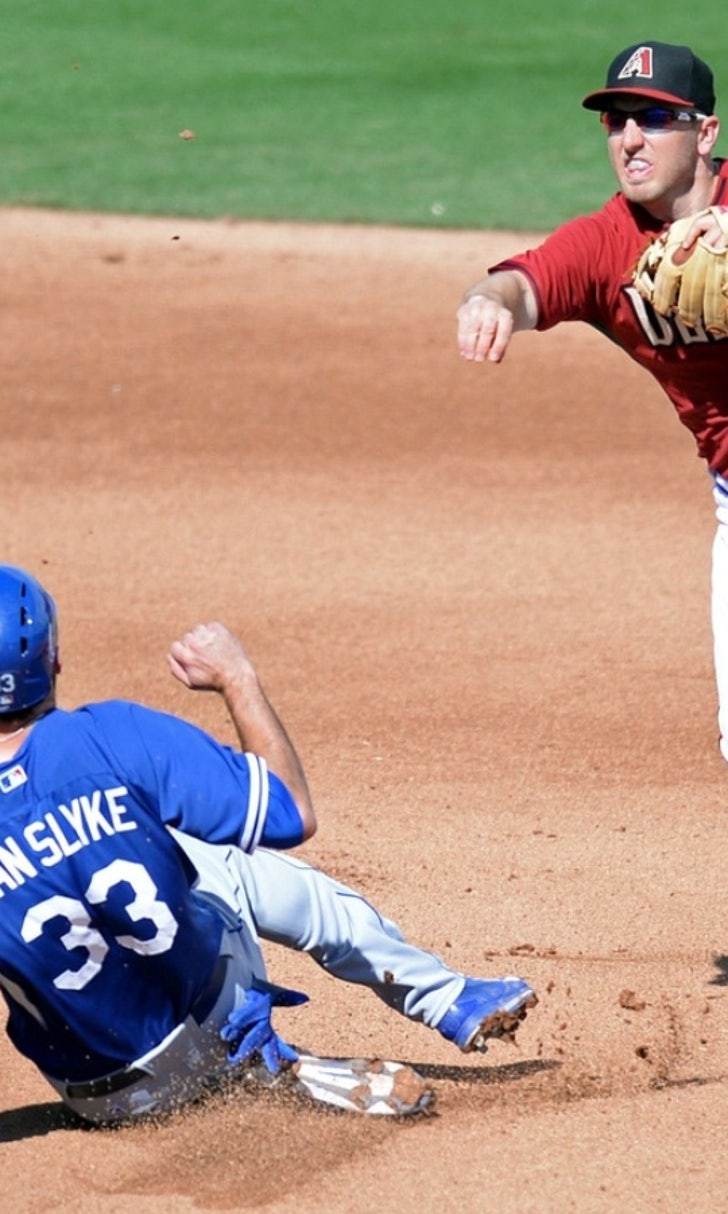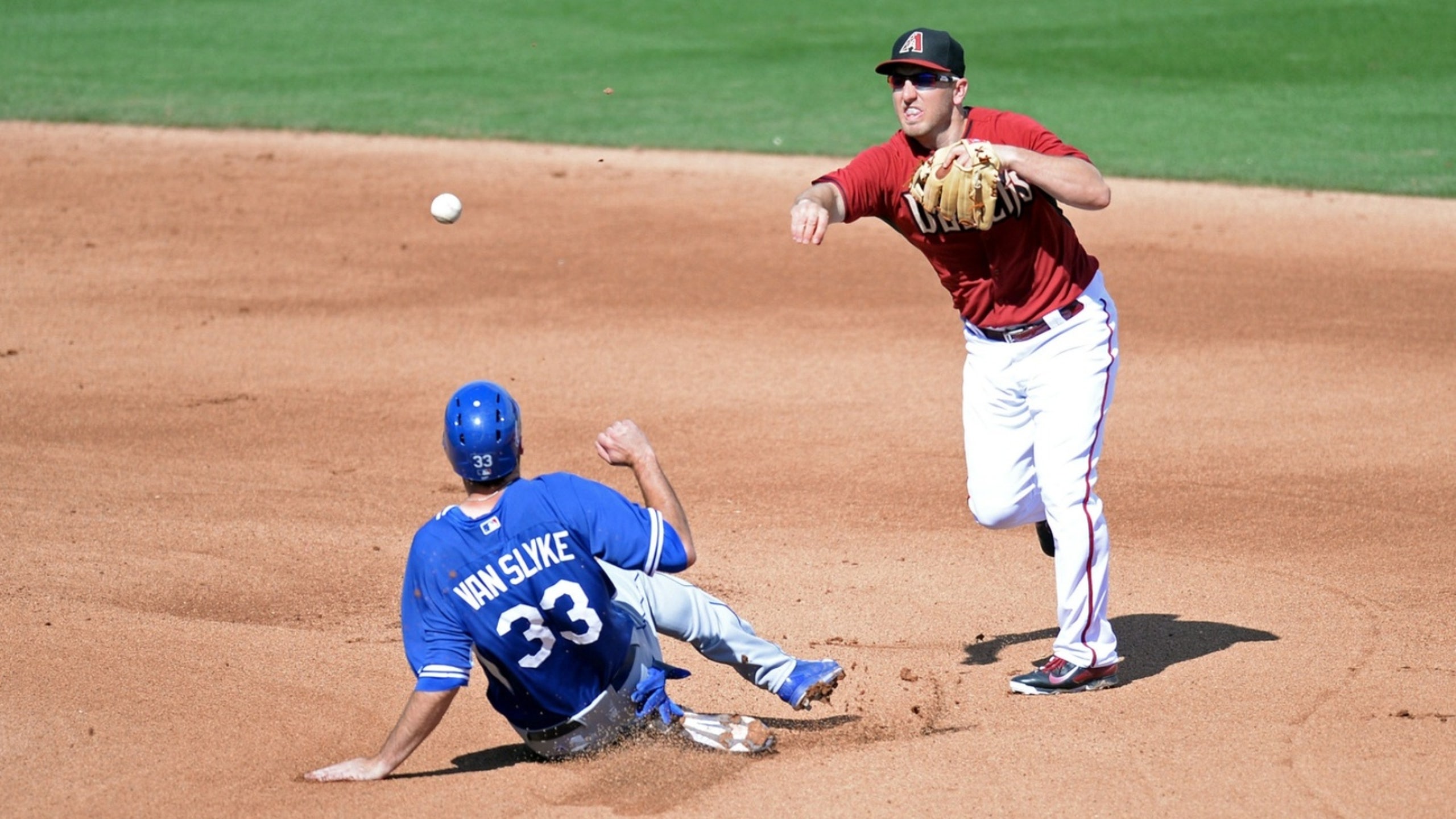 D-backs game report: Wednesday, March 12
BY foxsports • March 12, 2014
Game recap: Cliff Pennington had three hits and was a home run short of the cycle when the D-backs handled the Los Angeles Dodgers in their last meeting before they open the regular season in Sydney, Australia, with a two-game series March 22-23. Pennington drove in two runs, one with a sacrifice fly. Didi Gregorius had three singles and an RBI as the D-backs had their way with Dodgers starter Zack Greinke, who gave up six hits and three runs in his two innings.
Hitting notes: Andy Marte hit a homer off Greinke leading off the second inning, his first spring home run. Third baseman Marte, a non-roster invitee, is hitting .316 in 12 games. ... Tony Campana stole second base in the second and sixth innings, making him 5-for-5  in stolen base attempts this spring. ... Matt Tuiasosopo was robbed of a single on a lunging catch by Dodgers' second baseman Dee Gordon in the third inning. Tuiasosopo is 3-for-31 with six RBIs this spring.
Pitching notes: Minor league Rule 5 draftee Michael Lee gave up two runs in the first inning before finishing with two scoreless innings. His calling card? Control. He walked 18 in 128⅔ innings at Class AA Mississippi in the Atlanta organization last season. ... Cesar Carrillo, San Diego's first-round pick in the 2005 draft, pitched three scoreless innings following Lee. Carrillo spent last season with independent Sugar Land of the Atlantic League. ... Joe Paterson pitched a scoreless eighth inning, walking one and striking out one.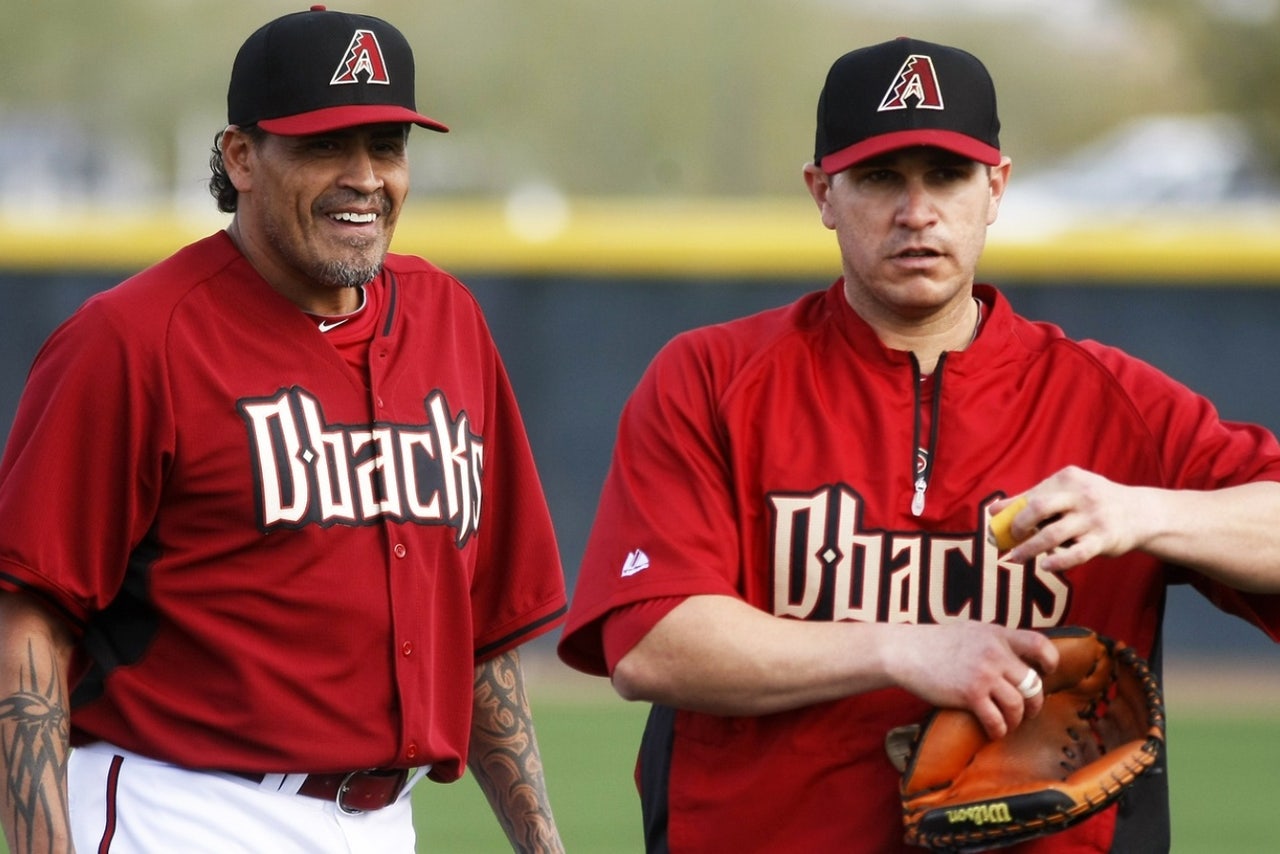 At 42, Henry Balnco (left) is looking to be Miguel Montero's backup this season. FULL STORY >>
Game recap: Colorado shortstop Troy Tulowitzki is expected to miss a couple of days Arizona starter Wade Miley hit him with a fastball with two outs in the fourth. He limped to first before leaving the game. X-rays were negative, but it was a scary moment for the Rockies, who have seen their three-time All-Star suffer numerous injuries.
Hitting notes: Aaron Hill had three hits, including a solo homer off Rockies starter Pedro Hernandez. ... Miguel Montero had a two-run homer for Arizona and Paul Janish hit a solo shot for Colorado.
Pitching notes: Miley went five innings, allowing one run on four hits, including Michael McKenry's RBI double. He struck out five. ... Miley likes the extended work he's been getting with Arizona on a fast track to open the season March 22 in Australia. "I think you get more out of it going four or five innings rather than two," Miley said. "I feel great."
Short hops: Archie Bradley is to make his third spring start Thursday, going against Seattle, while Brandon McCarthy will pitch in a minor league game against San Francisco's Class AAA Fresno team. The D-backs want to expose Bradley, as much as possible, to the major league atmosphere, as part of his learning process. Bradley has not given up a run and has nine strikeouts in 6 1-3 innings. McCarthy is 1-0 with a 1.93 ERA in a team-high 14 innings in his first three starts. ... Greinke pitched for the first time since being removed from his first start Feb. 27 with a right calf strain. Greinke, who caused a stir when he said there was " no excitement" about playing the D-backs in a two-game series in Australia, was scratched from that trip shortly after his injury. Left-handers Clayton Kershaw and Hyun-Jin Ryu are to start for the Dodgers against Patrick Corbin and Trevor Cahill. ... Oliver Perez is scheduled to make his D-backs debut against Seattle on Thursday. ... Dodgers center fielder Matt Kemp played in a camp game Wednesday, playing center for the first time this spring after undergoing left ankle surgery last fall. Kemp is expected to open the season on the disabled list. ... Bronson Arroyo (back) played catch on Wednesday.
End quote: "We're not changing anything at this point. We think he should be OK." D-backs manager Kirk Gibson, on Trevor Cahill's availability to make his start on Sunday.
Thursday's game: Diamondbacks (9-7-3) vs. Seattle (12-4), Salt River Fields, 1:10 pm.
Probable pitchers: Archie Bradley (2-0, 0.00) vs. Erasmo Ramirez (2-0, 1.04).
---