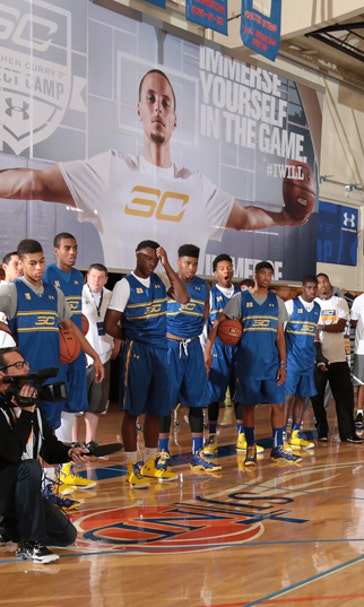 Curry runs camp, has message for high school players
BY foxsports • July 3, 2014
When Stephen Curry was in high school, he wasn't recognized as a top tier talent. In fact, he wasn't ranked among the top 100 players in the 2006 class and was widely thought of as a mid-major type recruit.
Obviously, Curry improved, having a terrific career at Davidson before developing into a NBA All-Star with the Golden State Warriors.
The past week, Curry put on the first Stephen Curry Select Camp, inviting 18 of the top gaurds in the country to Alemada (Calif.) to participate in an intense four day camp.
"When I first signed with Under Armour it was important to have this as an opportunity to bring in the high school talent and be able to give back," Curry told Scout.com.
"When I got to college I was able to go to these kind of camps, but I wasn't in their position out of high school. So I want to share what I know about the game. Hopefully this being the first year, we'll grow it to different talent levels across the country."
Curry put the 18 players through drills, ranging from how to use screens to making moves off the catch and dribble. Curry even went over film with the players before the sessions.
Curry has great perspective and a different outlook, which leads to a message that some of the players need to hear.
"I tell them it's nice to have the notoriety they have and they do have a head start on guys like me," Curry said. "From what they've done and the skill sets they have, everything resets in college. You can't live off your high school name once you get to the next level.
"There's only a few one and done prospects," he added. "They still work and hopefully they'll take some of the skill stuff they learn here and work on them. Just have the mentality that you have to keep grinding because guys like me when I was coming out of high school are right behind them."
Among the top performers at his camp were Derryck Thornton, Tyus Battle, Mustapha Heron, Mitchell Ballock, Troy Brown, Malik Newman and Terrance Ferguson. Thornton won the camps Most Outstanding Player award and was the player Curry was most impressed with.
"Derryck's competitiveness and his will to win, you just see it in all the drills we've done," Curry said. "He's pretty explosive for a guy his size. He showed obviously in this session he can shoot the ball. He competes on both ends. He's a guy that I think has stood out in camp in all aspects of what we are trying to do." 
---