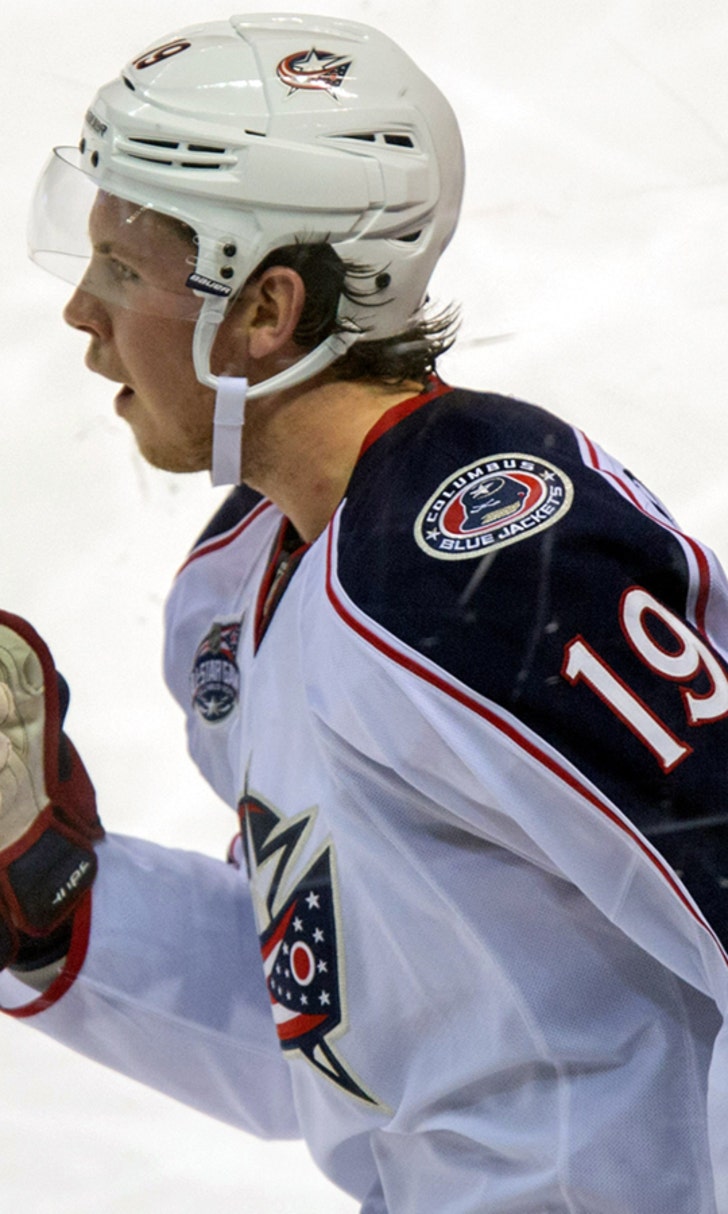 Crashing the Net: Will Blue Jackets be without Johansen Tuesday?
BY foxsports • November 17, 2014
COLUMBUS, Ohio - After a day off, the team got back to work on the main ice, sans center Ryan Johansen. Forward Artem Anisimov slid into Johansen's spot in the lineup for drills.
Johansen was "banged up," according to head coach Todd Richards after sliding into the San Jose goalpost towards the end of the game. Richards said he's "questionable" to play on Tuesday against the visiting Detroit Red Wings, although he stressed that this was not a long-term issue.
The Blue Jackets can ill afford to lose Johansen, 6-14-20 after 17 games, for any amount of time with the injuries that have befallen the club since training camp. He ranks 6th for assists and 8th for points in the league and is on pace for 28-67-95.
"We'll see how he feels tomorrow morning," said Richards. "This is just the way that it's going. We get a couple guys back, get Arty (Anisimov) and Bob (Bobrovsky) back, and now it's possible, possible, to lose Joey. But, we'll know more tomorrow."
Unlike one week ago, the team had some pace to the drills they performed this Monday. Richards did not have to use any extra motivation on the guys.
"I think coming into practice," said defenseman Dalton Prout, "everybody knows that you have to come to work and prepare to win. We have to put the work in to win games. I think that we got so frustrated (during losing streak) that we forgot the day-to-day essentials to get better."
After winning their last two games and playing well for the majority of their last three games, they can reflect on what was happening during the losing streak. There are still no excuses made for the run of poor play, especially the injuries.
"Frustration does set in after a few losses," Prout said. "But today was a good day and it's a lot easier after winning a couple of games."
Skille and Calvert possible
Forwards Jack Skill and Matt Calvert had a full practice with the team Monday, participating in all of the drills with seemingly no ill-effects.
"There's a good possibility, if everybody's ready to go tomorrow," said Todd Richards. "Obviously, I have to talk to Mike (Vogt) and see where these guys are at. It was a full practice for both of them today."
Richards did say that if all 12 forwards are good to go from Saturday's win over the Sharks, he would likely go with that same lineup.
Leopold putting in the miles
After being traded to the Blue Jackets from St. Louis on Saturday, Jordan Leopold left Columbus after the game Saturday night and drove back to St. Louis to see his son's 8 a.m. (Sunday) hockey game. He spent time with his family and then drove back to Columbus for Sunday night for today's practice.
He comes into a young roster as the "old guy," but the players do look up to him. His 12 years in the NHL, along with seeing success along the way, earned him respect from almost the minute he arrived in Columbus.
"Getting somebody of his quality and experience is helpful for our team," said Richards. "I think the players see that and we all know that. I think he can provide a lot of things for our young team."
David Savard was paired with Leopold on Saturday and had nothing but good things to say about how well he communicated on the ice, despite not having even one practice with the team. Dalton Prout occupies the stall right next to the new defenseman and you can see the camaraderie forming already.
"It's huge for our team," said Prout of acquiring Leopold. "Having an older guy come in that has that kind of experience is invaluable. He's been around for 12 years. He's seen and done a lot of things in this league. It's comforting. It's almost like you have a parent to say 'everything's going to be alright,' you know?"
The Blue Jackets host the visiting Detroit Red Wings Tuesday night at 7 p.m. be sure to catch all of the action on FOX Sports Ohio beginning at 6:30 p.m. with the pregame show "Blue Jackets Live."
---