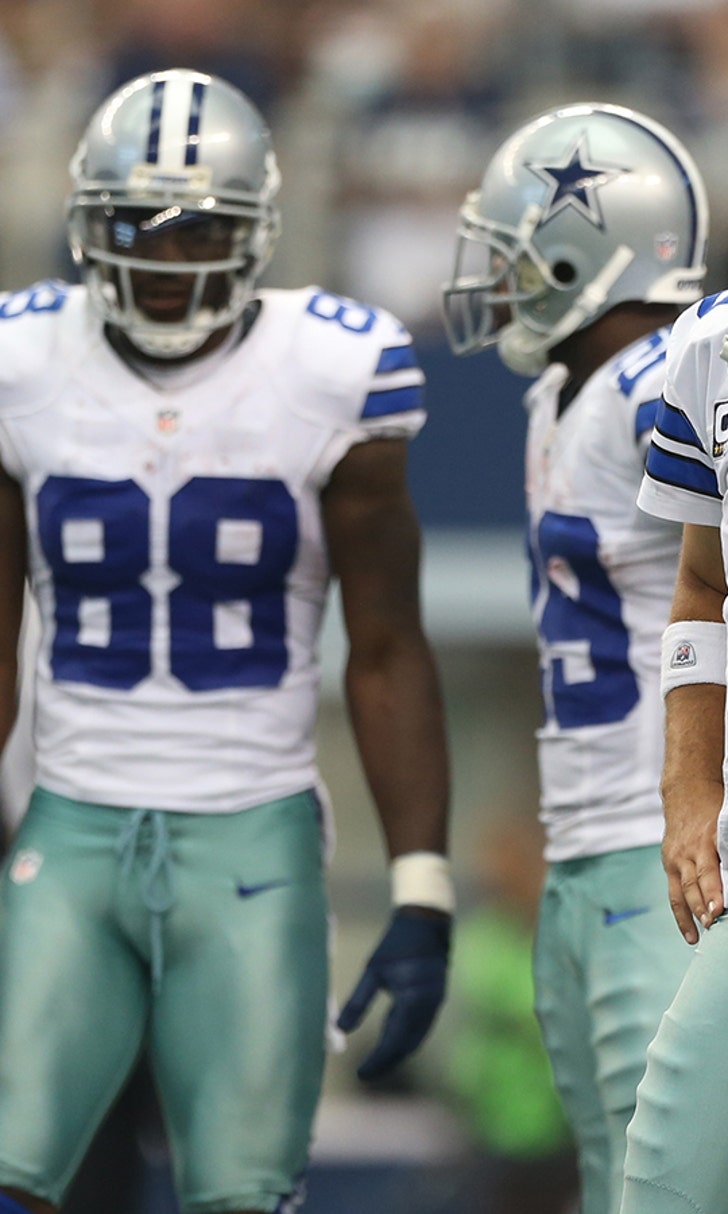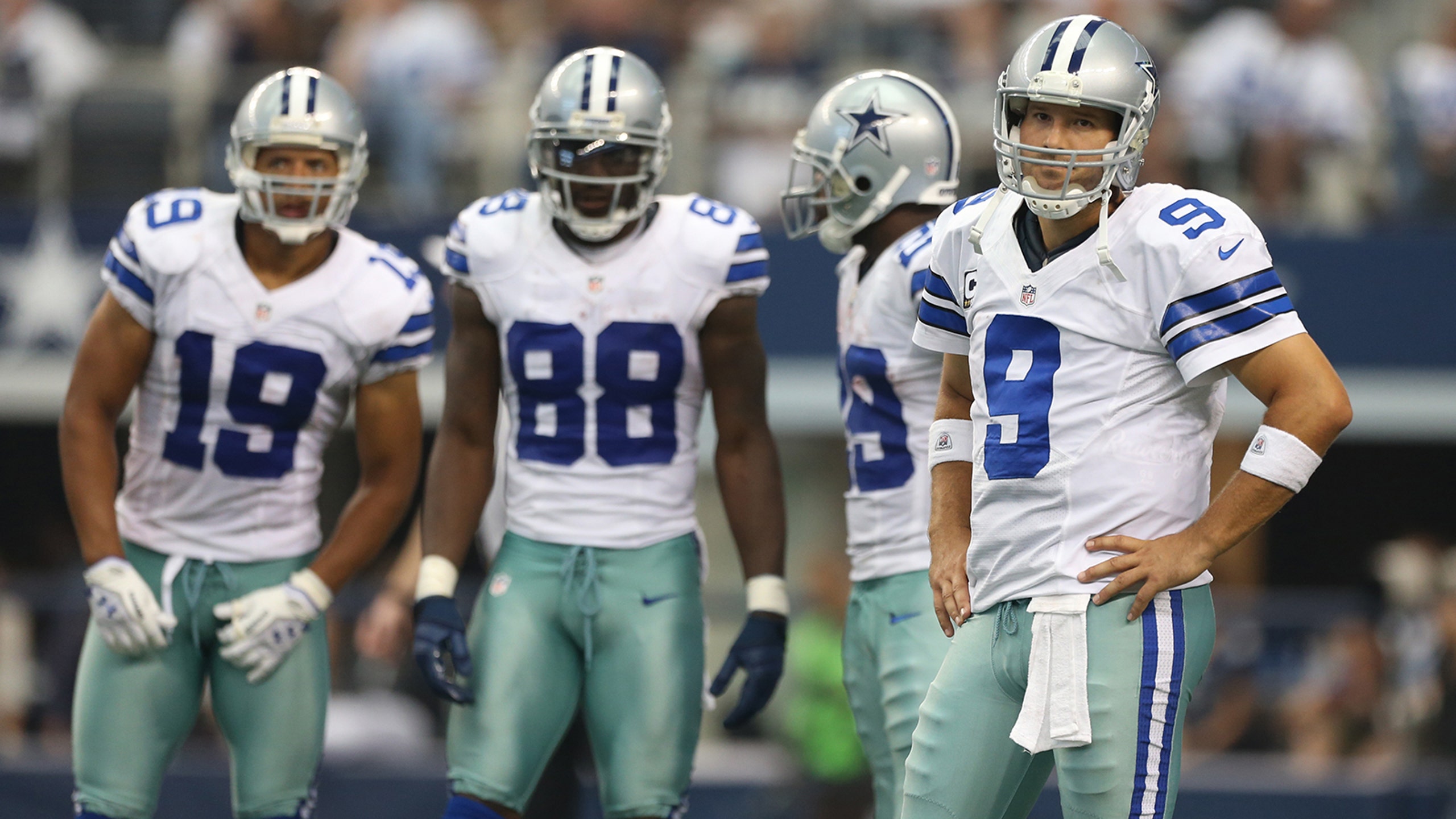 Cowboys Mailbag: On Ware, The Cap, and Romo
BY foxsports • February 28, 2014
It seems that the reports from Wednesday that the Cowboys had failed to reach an agreement with DeMarcus Ware and therefore were forced to terminate their relationship were premature and unfounded. That said, I am fully prepared to recognize these facts as true soon enough as finally the conveyor belt of cap negligence comes home to roost.
There are some in the local media who are acting like the Cowboys are fine as it pertains to the cap and although they are technically able to defend their position - that the Cowboys are not REALLY that far over the cap because a quick adjustment here and here to Tony Romo, Jason Witten, and Brandon Carr and presto, they are fine - it still is symptomatic of a franchise that has been winding up a ticking time bomb. Yes, they can function and yes, they can continue to put off the inevitable, but do not dare argue that this is all a figment of the media's imagination and some anti-Cowboys bias in the national press. That is disingenuous on every level and the Cowboys are trying to function without a major avenue of improvement at their disposal (free agency) because of this negligence.
Is free agency a sole and proper way to fix your franchise? Of course, not. But, to argue that they wouldn't want so sign Henry Melton or TJ Ward anyway is just stupid. This team is over the cap worse than anyone in the entire league and for the media to advocate on the behalf of this poor strategy smacks of homerism of the highest order. Let's at least recognize that the Cowboys bet hard on this group of vets as the nucleus for a contender and after 4 years of 8 wins or less in a row, it is very difficult to say that this strategy has been anything short of failure.
They put big extensions on Tony Romo (6/$108m), Jason Witten (5/$37m), Miles Austin (7/$54m), Jay Ratliff (7/$48m), and DeMarcus Ware (7/$78m) over the last several years and if you were honest with yourself, you would have to conclude that it was not close to the return on the investment to the point that Ratliff has been dismissed, Austin will never play another down here, and the clock on the other 3 is expiring rather quickly, it would seem.
Witten and Romo will certainly be back in 2014, at least, and Romo seems secured every opportunity to still have several years left with his back pending, but the Ware run looks like we are at the end of the road now. With a cap number of $16m or just half of that in dead money if they say goodbye (which can then be teased into 2 years of $4m each as a June 1 cut), it now looks like the Cowboys have very little reason to keep going since his productivity has been less than elite recently.
The one argument for the two sides agreeing on rolling this problem over yet again is that this is what Jerry always does. Think about it; name the last beloved Cowboy that was shown the door. If Jerry is guilty of anything, it is loyalty and falling in love with his most decorated soldiers. He seldom ever does the 49ers tradition of saying goodbye a year too soon rather than a year too late. Jerry always says goodbye a year too late and rides his investment all the way down to zero. Last year, in this space, I proposed the shopping of Ware because we knew this day would come - if he ever had even one significant injury, he would be damaged goods and then with that cap number there would be no way to trade him. Instead, you would have to cut him loose and watch someone else snag him for nothing.
But, go down the list. As one Cowboys official told me, we never are able to say goodbye to our favorites before it is too late. That is why he thought ultimately, Jerry would take the easier way out and redo DeMarcus yet again and delay the inevitable for one more year. But, it appears, finally, that Stephen and Jerry have realized that with Sean Lee's new deal done and with Tyron Smith, Dez Bryant, and DeMarco Murray due, it is time to make sure we don't lose a young asset because we couldn't say goodbye to an aging player. I don't like the idea that Ware could return to 12 sacks next season in this league and it will be somewhere else, but at some point, it is best to argue that the current mix wasn't working and that they were given enough time. Ware is a hall of famer and a ring of honor recipient, but that group of Cowboys were just not successful enough and it might be time to turn the page on the era.
This could have been avoided if the team would have been in a better spot last year and not extended Tony Romo. To give him that amount of guaranteed money when they didn't have to seems crazy now, but they decided to do so. As I suggested at the time, I sure didn't see the harm in letting him play out his deal and with the ability to slap the franchise tag on him, you were never going to lose him. Instead, they tried to appease him with over $100 million dollars and a ton guaranteed and now he has significant health concerns. Could you imagine this offseason if his deal expired last month? Would they franchise him needing back surgery? His leverage would have been completely gone and the Cowboys could have walked away. Instead, they would have $41million plus in dead money if he were to be done in 2014 and therefore cannot even imagine what happens if he is seriously at risk with these back problems. The Romo deal is costing them Ware and it didn't need to happen.
But, it did happen and now I believe Ware is gone. He can stay with a significant pay cut, but why should he agree to that? If anyone has earned their money over the last 9 seasons it is him and I would have to side with him and it is certainly not his problem that the Cowboys over spent on a QB that has been treated like an elite NFL QB without ever having to produce those elite results. Perhaps the eulogy of this generation is that they bet hard that they had an elite level QB and lost.
Now, if they do let Ware go, they can fix much of this by not redoing other deals besides Romo. Resist the urge to redo the Carr and Witten deals and therefore take your medicine in 2014 and be out of the woods for the most part right here. Spend the money on your in-house extensions and now your team is spending money on players in their prime and you continue to dig out of this mess. Your next big winner may not have Ware, Witten, or even Romo on it, but that is life in the NFL. You have windows and they don't stay open forever. Ware will be remembered fondly around here, but the absolute right move is to say goodbye and turn this page to the next wave of talent. The group from the Parcells/Phillips era did not get it done. Cut the cord.
=====
Now on to your tweets this week:
Mitch, as far as I can tell, the answer to both of those would be "yes". It is a rare treat when the Cowboys actually get out ahead of a salary cap issue and have what is known around the league as "cheap labor". The going rate for a starter on the offensive line is well above what the Cowboys have been paying their 2 guards and now, even though Bernadeau is due a raise to $4 million (thanks partially to restructuring him last spring) they will still have both starting guards for under $5m dollars in 2014 and will have them both under contract for 2015 at a similar rate (although they will have to qualify Ron Leary next spring).
So, now that we have established that they are cheap, let's visit about whether they are good enough. I honestly must tell you that while I would not call them a power of this team, I also seldom pointed to them and called them a weakness. Bernadeau, in particular, raised the level of the offensive line to some extent when Brian Waters left after the Detroit game. I don't know if it was all him (and I suspect it wasn't), but the zone running really took off in November and December. As for Leary, when you take an undrafted free agent with health concerns and get over 1,000 snaps and pay him next to nothing you have to be pleased. Now, does that mean that everything is fine and there is no need to watch his progress carefully? Of course not. But, Leary is a young player who has limitations for sure - pass rush is a battle at all times - and yet there were very few moments this season when something went horribly wrong and it was Ron Leary's fault.
So, in conclusion, if you had to head into next season with these 2 as your starters, you would survive. However, if you find a great guard prospect, you should take him at the right price. And, you cannot forget that Leary's medicals indicate that his career will not last too long, most likely.
=====
Not as good as we had hoped at this particular juncture. Think about it: Mo Claiborne has disappointed prettydeeply (although can still salvage it), Tyrone Crawford has yet to make his first play of substance as a Dallas Cowboy, Kyle Wilber has been a decent depth body, Matt Johnson has barely had a healthy practice in 2 years, Danny Coale and Caleb McSurdy are no longer with the organization, and James Hanna has been relegated to tight end #3. So, that is a pretty big disappointment across the board.
It started with the ill-advised trade up which looked bad when they did it (at least to those of us who said it at the time) and looks worse now as Claiborne is showing no signs of being Deion Sanders. Then, in a draft where they needed 3-4 starters, it appears at this point that they have 1 mediocre starter to show for it. Now, that could all change this season if Crawford is a starter, Johnson has a career revival, and Wilber adds to his role, but that is extremely optimistic.
In fairness, let's also remember that the 2012 draft season did add Ron Leary and Cole Beasley as undrafted free agents who certainly have out-performed what was anticipated, and from that standpoint the spring of 2012 adds a bit to its overall grade.
But, still. This team did not need another rather empty draft. Let's hope it improves.
=====
T C‏

@

tctexas8

@SportsSturm pros and cons of building a team from the inside out or the outside in.....that could apply to management also



Well, I assume we are speaking of the topic about drafting and investing in bigs or littles. The Cowboys have a well-known obsession with littles (players at the edge of the offense and defense who generally weigh 200 pounds or so) rather than the bigs (players on the offensive and defensive line who often weigh 300 pounds or so).
Now, there is no proven way to win with one but not the other in the NFL. In fact, this team game is awesome because you better have both at all times. But, since we are talking about the Dallas Cowboys and the way they do things, it is worthnoting that they routinely invest in skill position players and try to find the big guys in the discount bins.
Since 2008, their Top 2 round picks have gone to the following positions:
RB, CB, TE, WR, LB, T, LB, CB, C, TE
That is a lot of small guys around Tyron Smith and Travis Frederick and no DL investment at all in years - since 2005 with Marcus Spears.
Not only that, but they traded up to take Mike Jenkins, Dez Bryant, and Mo Claiborne, so not only did they use the pick, but they also traded others to get littles.
It is a bad habit, especially when you see that your team gets bullied in December every year because they can't consistently win in the trenches. You would think the Cowboys would pick up on this pattern after allowing 8 sacks at Giants Stadium, but they never seem to grasp the concept. Anyway, I believe that this team should build from the inside-out, if only because they have refused to do so since Bill Parcells worked here.
=====
Brian‏

@

bkMFFL

@SportsSturm could Claiborne be moved to safety if his cornerback play doesn't improve? Would he have more success as a safety?



=====
Again, this all goes back to the curious and highly risky ideas of extending Romo for 7 years when there was no reason to do so and at precisely the same time that Romo needed his first back procedure in the spring of 2013 is the ticking time bomb of this franchise. He may never be the same, but given that his dead money right now is north of $40 million, the Cowboys have no choice but to bravely sail ahead.
Orton out? Well, at his cap number, they likely were going that direction anyway (although they also insanely restructured his deal in 2013!). The backup is on the list of things to address and yes, QB is a real target in this draft. I expect that they also will get a vet in here, post haste as well. Just not at the $3m range.
=====
So, yes, 1st Round is in play. Beyond that, I am thinking QB at every pick, because right now, QB might be my thinnest spot.
=====
I will circle back to the never-ending discussion of drafting "best available" versus for need at a later date, but if you want a refresher on my position, here is what I wrote a few years back on the very topic: not to give it away, but the title is: Best Player Available? Absolutely Not.
Do the Cowboys need to take defensive line help with every pick? Of course not. They need help there, but if they have George Selvie, Tyrone Crawford, and either Jason Hatcher, DeMarcus Ware, and or Anthony Spencer retained (I imagine 1 of those 3 will be back, 2 is a possibility, and 3 is not at all likely), that leaves one starter to find in the draft. You also have Nick Hayden returning, Ben Bass back healthy, and Kyle Wilber to be a pass-rush backup defensive end. Not exactly the Steel Curtain, but also not remarkably worse than last year if you add Aaron Donald and one more piece to the mix, or Scott Crichton/Chris Smith and another inside player.
So, I think 2 defensive linemen in the first 4 rounds would be doable, unless they find a linebacker they like more (many conversations inside the Ranch that this is actually where they are looking) and keeping an eye on offensive line, quarterback, and safety to boot.
The point is that there are enough issues that need addressing to go around. And once again, it will be up to the organization to figure out how to spend their limited resources to address them.
Onward! See you next week.
---