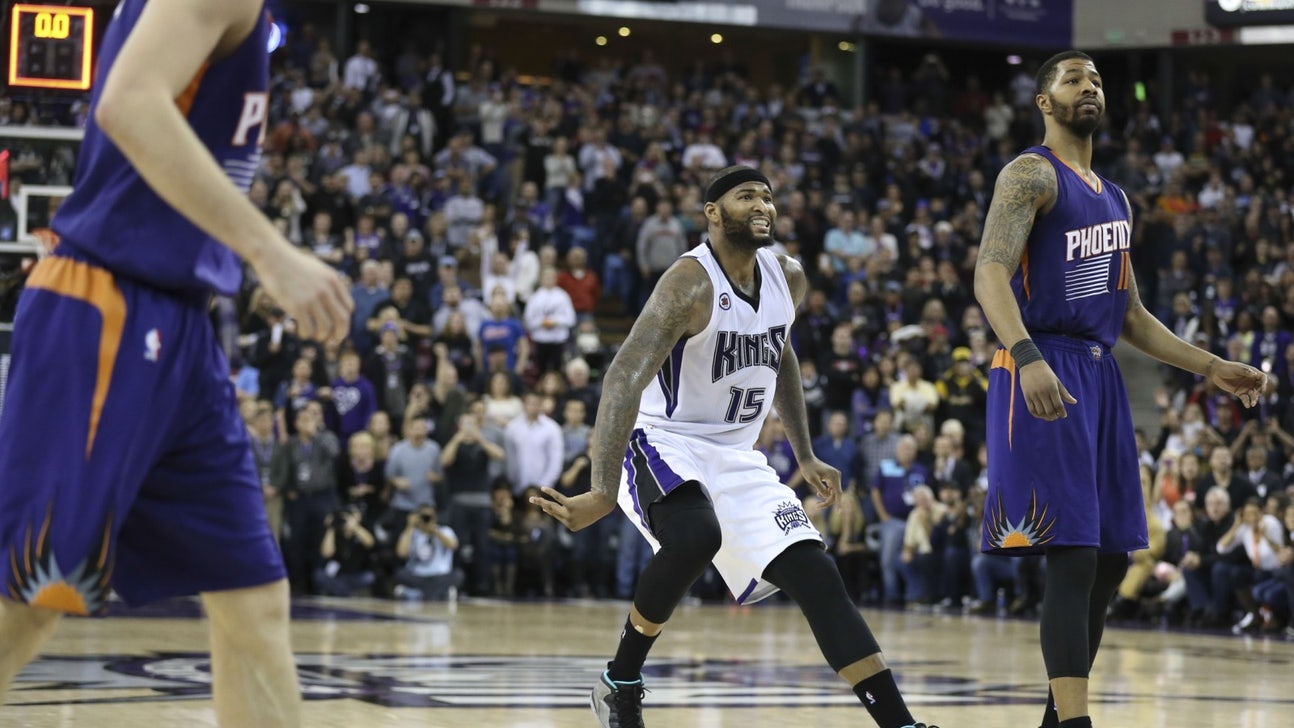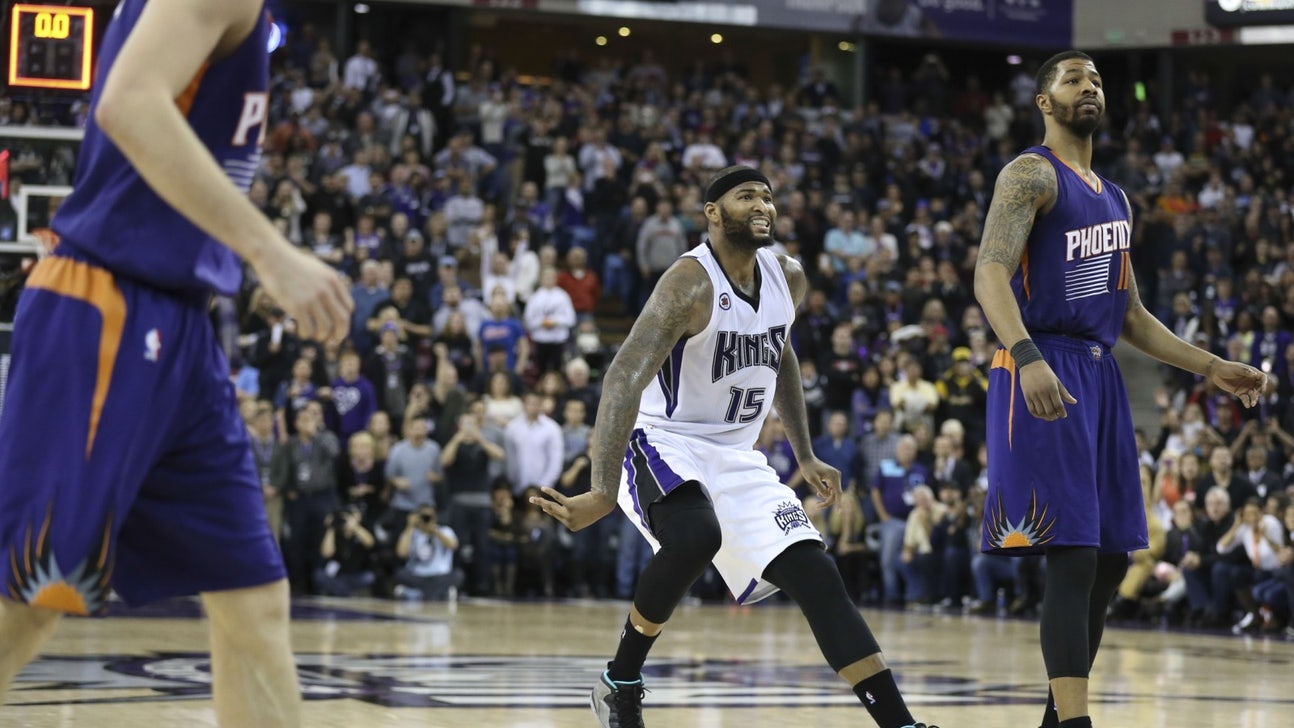 Cousins, Kings beat Suns at buzzer
Published
Feb. 9, 2015 12:09 a.m. ET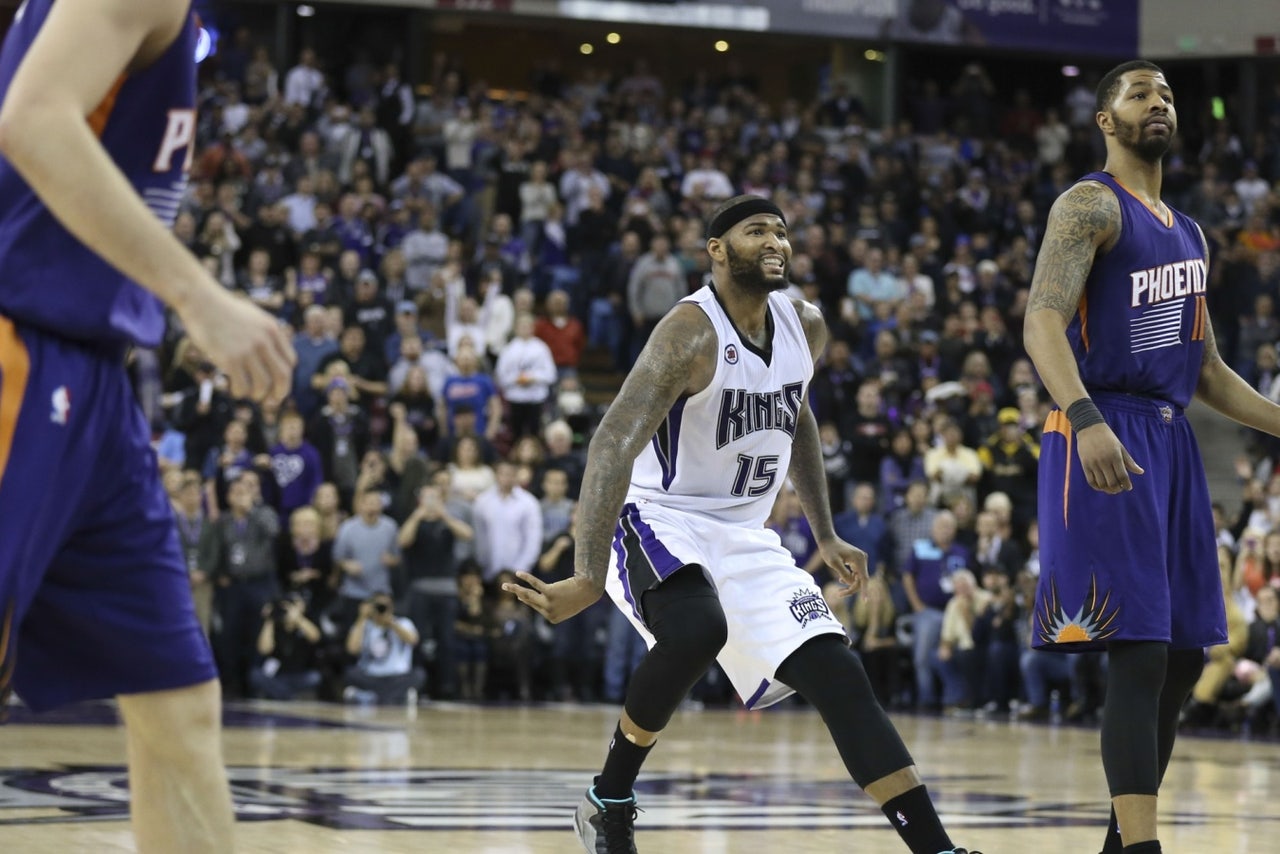 SACRAMENTO, Calif. -- Once DeMarcus Cousins' shot bounced on the rim a couple of times, the Phoenix Suns should've known which way it would fall.
They've already seen this ending before.
Cousins made a jumper as time expired and finished with 28 points and 12 rebounds, giving the Sacramento Kings an 85-83 victory over the Suns on Sunday night.
Cousins pump faked once, then launched a 19-footer from the key over Markieff Morris that hit the rim four times before settling into the basket, setting off a huge celebration at midcourt by the struggling Kings.
It was the fourth loss on the final shot for the Suns, and like ones by the Clippers' Blake Griffin and Milwaukee's Khris Middleton that hit rim or backboard first, it wasn't a pretty one.
"It's something we have to fix. We've lost about three games like that at the buzzer," Isaiah Thomas said. "I have to give it to him. He knocked it down."
Cousins rescued the Kings from a fourth straight loss and helped snap a six-game home losing streak. Sacramento squandered a 14-point lead in the final quarter when it was outscored 24-12.
The winning shot was designed for Cousins and came after a pair of timeouts with 2.5 seconds.
"The first play was kind of defended pretty well, and (assistant coach) Micah (Nori) drew up another one, we executed it well, were able to get the big fella in his range, and he made a big shot," guard Ramon Sessions said.
Former Kings guard Thomas had 12 of his 26 points in the fourth quarter and Goran Dragic added 13 for the Suns, who are trying to hold onto a playoff spot in the West. Phoenix, which has dropped four of five games, shot 36 percent and missed 23 of 28 3-point attempts.
"We have to move the ball better and get back to what we do, which is run," Brandon Wright said. "We have one game before the (All-Star) break. So we have to try to get a win against Houston."
The Suns are averaging 95.4 points in their last eight games, 12 off their average during the first 45 games. They have been held under 100 points in four of the last six games.
Ben McLemore had 13 points and Sessions had 10 points, seven rebounds and six assists for the Kings. Sacramento had dropped 11 of its previous12 games and has played like a team in turmoil.
The Kings were without second-leading scorer Rudy Gay (sore left foot) and point guard Darren Collison, who missed his second straight game with an abdominal strain.
Thomas started in the backcourt for the absent Eric Bledsoe, who was home with his wife, who is expecting the couple's first child.
Thomas scored nine straight points to tie the game and Morris made a 16-footer to give the Suns an 83-81 lead with 1:21 left. Cousins tied the game on a drive to the basket with just under a minute to play.
Sacramento had a 9-5 record the first month of season, but has gone 9-27 since and lost its previous two homes games by 25 to Golden State and 23 point to Dallas.
Sacramento is 7-19 under coach Tyrone Corbin, whose job may be in jeopardy. There are rumors that George Karl will be hired at the All-Star break. Corbin began the season as an assistant and replaced the fired Michael Malone after 24 games.
An angry Cousins, upset at reports that he may be against Karl's hiring, wouldn't talk about the game-winner, storming away after twice saying "How you gonna stop God's plan?"
"It's been a combination of different things that have been going on over the last few weeks," Corbin said. "Our guys have been on edge.
"I told these guys that the only thing you can control is your play on the floor. Speculation will be around as long as you're in this league."
Suns: Thomas turned 26 Saturday and received a Bentley automobile as a birthday gift from his buddy, boxing champion Floyd Mayweather.
Kings: Cousins picked up his fifth technical foul of the season in the second quarter. ... Sacramento shot 52.8 percent in the opening half and led 48-42.
Suns: Host Houston on Tuesday.
Kings: Visit Chicago on Tuesday.
---