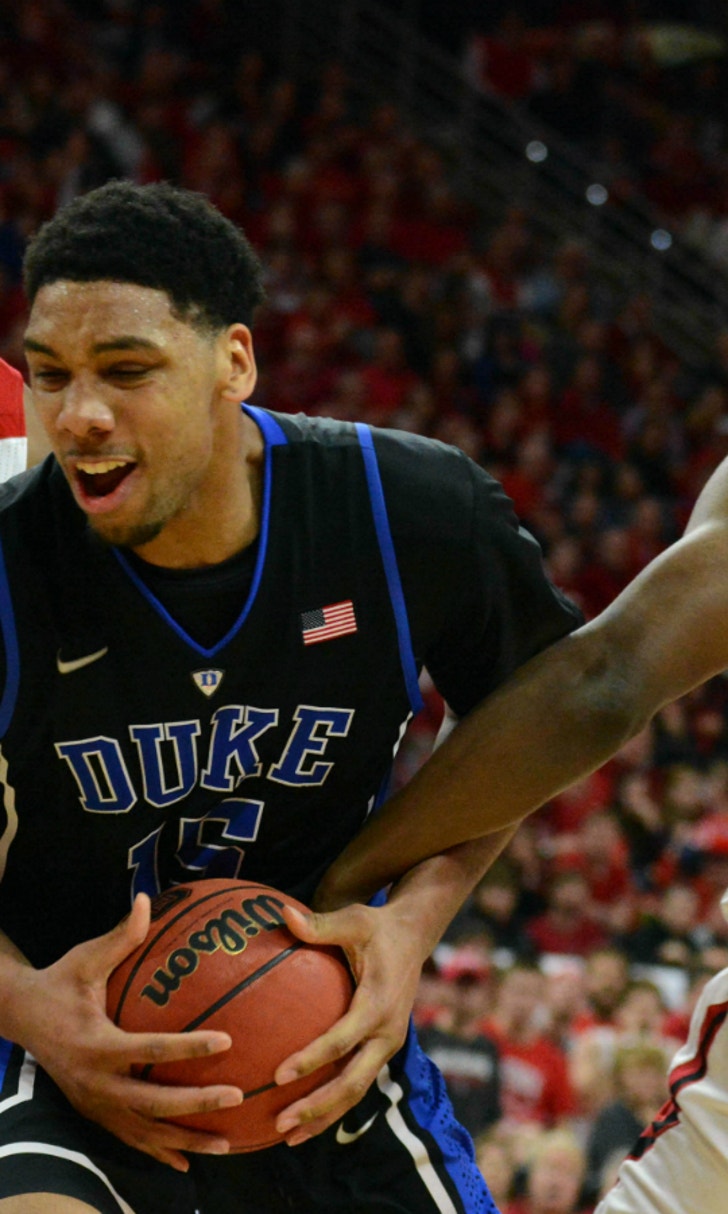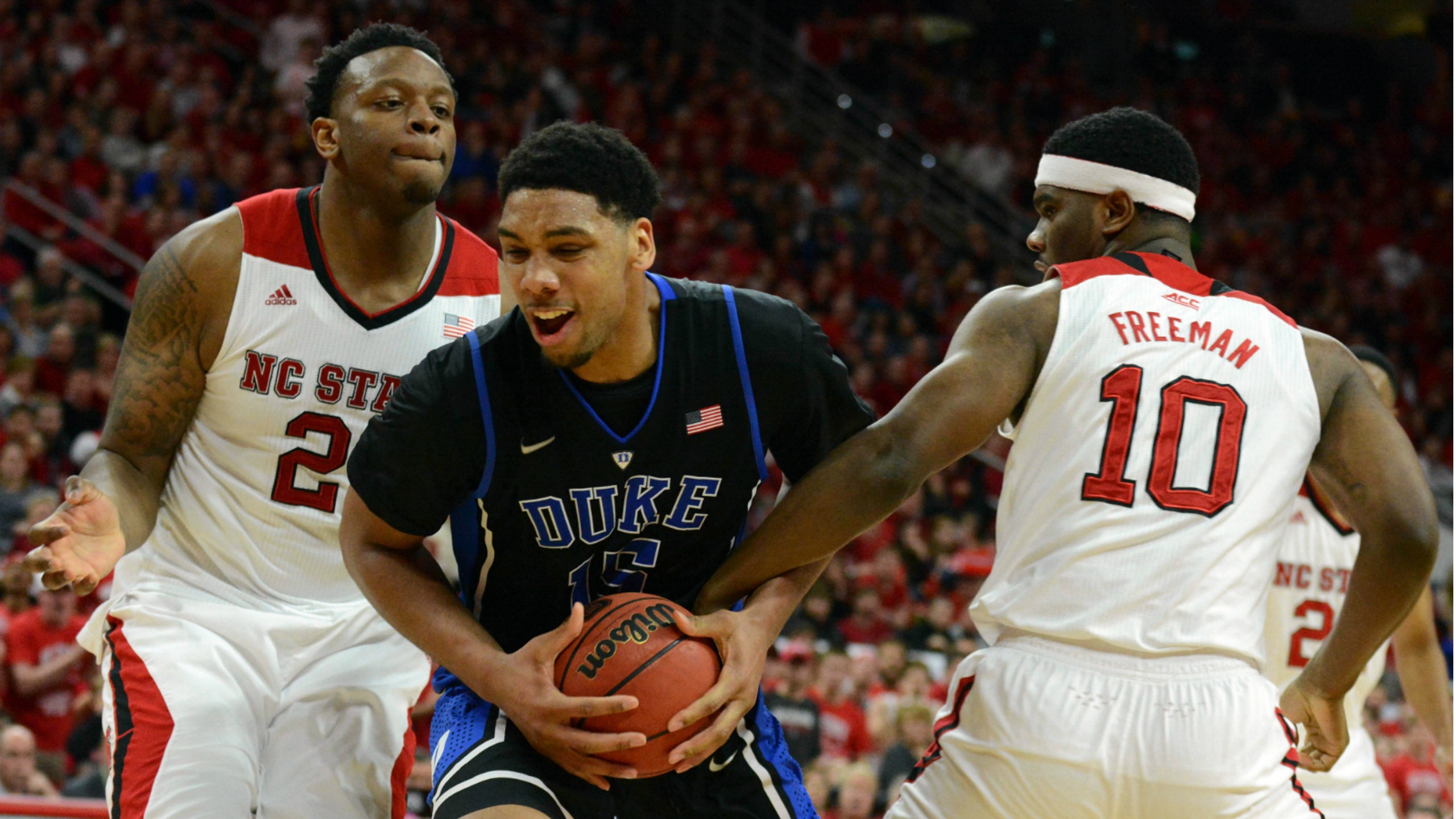 Court Vision: NC State hands No. 2 Duke its first loss
BY foxsports • January 11, 2015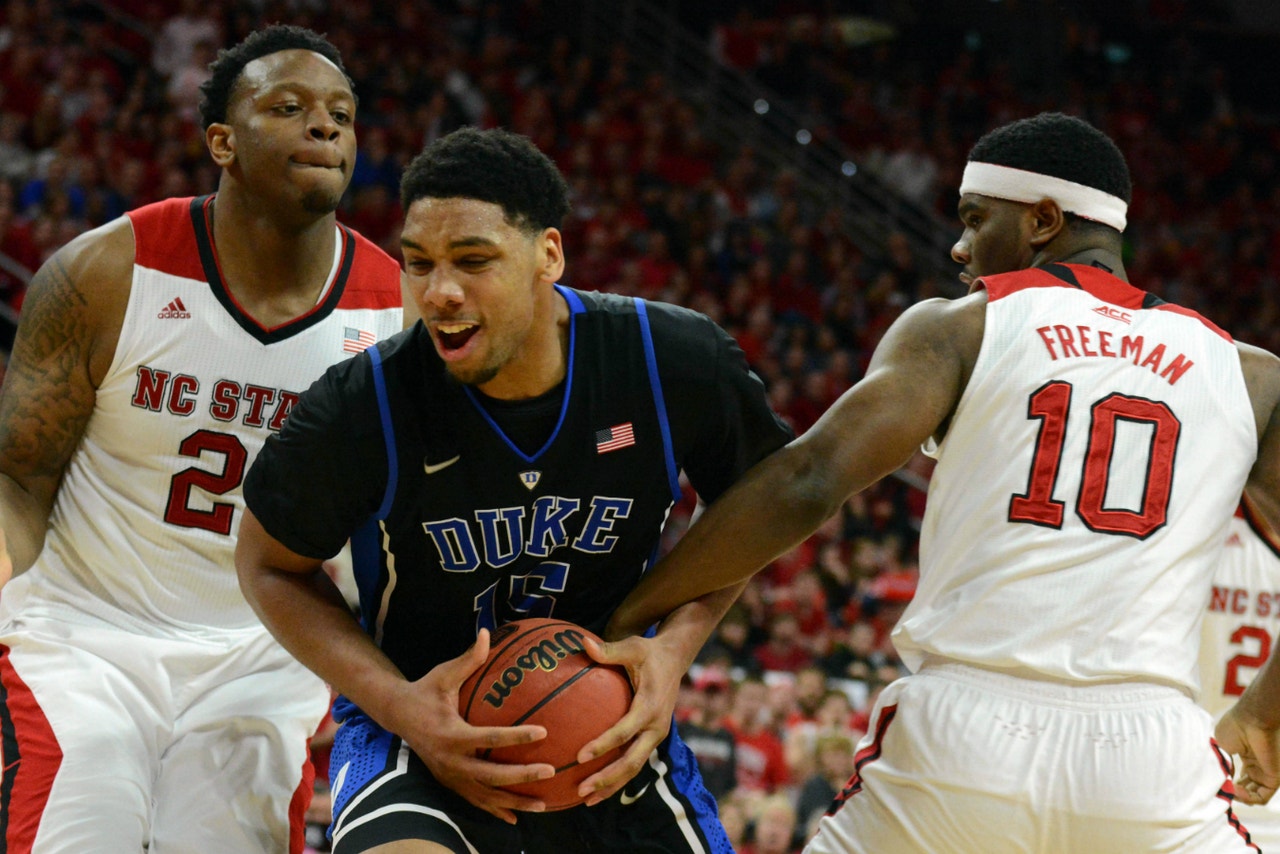 RALEIGH, N.C. -- No. 2 Duke dropped to 14-1 on the season on Sunday, leaving just two undefeated teams left in the country: No. 1 Kentucky and No. 3 Virginia. But it wasn't an overtime thriller or a fluke -- the Blue Devils were dominated by NC State (12-5, 3-1 ACC) in a game that wasn't even as close as the final score of 87-75.
It was a win the Wolfpack desperately needed in the midst of their toughest stretch of the season, and their fans rushed the court in jubilation to celebrate their biggest home win in the last two years (which, also, was against Duke). And Duke was bound to lose at some point. So what does it all mean?
1. Jahlil Okafor had a big game, but NC State executed its defense against him -- and Duke -- flawlessly
When it comes to Duke and its offense, the presence of dominant freshman center Jahlil Okafor has always meant that it's a bit of a pick-your-poison as an opposing defense. Let Okafor get his in the post while not leaving Duke's 3-point shooters, or double-team him, don't give him easy looks and take your chances with the shooters, who Okafor -- an excellent passer -- has found often this season?
NC State decided it would just do both.
"The key objective was to really make his passing angles tough. The bigs had to double with high hands. When he dribbled away, then we would match back up. So it would be really a 1-on-1, but he's at the 3-point line and we felt like our bigs could do a good job on him that far out," NC State's Trevor Lacey said. "But when he got it on the block where he's really effective, we just had to make his passing angles difficult and make sure when he skipped it, it was enough time for us to recover and contest a 3. They made some, they missed some but that's just how we had to play it.
"When he's playing his best and getting 20 and 20, they're a hard team to beat. We just tried to slow him down and make those other guys make contested shots."
Okafor ended up with 23 points on 8 of 11 shooting -- mostly because he's a great player -- but the Wolfpack gave him absolutely nothing easy. And he also didn't finish with an assist.
NC State used both Kyle Washington and BeeJay Anya on him primarily. Anya knew Okafor's game pretty well, having grown up playing against him and playing with him for a time on Team USA.
"I know his game. I've played against him so many times. He knows my game. We're really good friends," Anya said. "I know one thing he likes to do is really bury you deep. If he gets defenders who aren't his size, he does a great job with that. Even people who are his size, he wears them down.
"I just tried to go out there as much as possible and battle with him and wear him down as he wore me down. We got to a point in the game where he tapped me on my leg and I tapped him back on the leg, just like, you know ... respect. We weren't going to back down, neither one of us were, because we're so competitive."
NC State worked to deny Okafor, and when he got it, double-team him. They threw different looks at him defensively, and different bodies. But they wanted to try to avoid letting him get post position too deep, and just limit his touches, period. Close out on shooters and make them drive.
Not much margin for error with a strategy like that -- one breakdown can ruin an entire possession -- but that was what NC State expected.
"That's all the good teams. Duke is a championship team," Lacey said. "We just have to -- not just him, but just against anybody, our defensive intensity had to stay at that same level."
2. NC State came up big -- pun absolutely intended
Trevor Lacey led the Wolfpack with 21 points, and both he and fellow guard Ralston Turner hit a number of contested jumpers because they're just that good. But the play of NC State's perimeter has never really been the question.
The question all season long for NC State has revolved around its big men. Or mainly, whether their lack of consistency would be a long-term problem.
In wins, the bigs have showed up just enough. The last five games before Duke were a perfect indictor: two wins, the four primary big men (BeeJay Anya, Abdul-Malik Abu, Lennard Freeman and Kyle Washington) combined for 43 points on 18 of 35 shooting to go with 42 rebounds, three assists, six steals, 14 blocks, 18 fouls and seven turnovers.
But in three losses, they combined for 57 points (17 of 38 shooting) to go with 39 rebounds, three assists, two steals, six blocks, 29 fouls and 15 turnovers.
In wins, they're a positive factor. In losses, they've been a negative one or non-factors altogether.
But against Duke, they stepped it up several more notches, and all of them contributed: the foursome combined for 37 points on 16 of 28 shooting, adding 20 rebounds, seven assists, eight blocks, 11 fouls and just three turnovers. They logged six assists in the five games combined leading up to the Duke game.
Anya singlehandedly saved the day in the second half for the Wolfpack, scoring 10 of his 14 points in that half, including a thunderous putback dunk after Duke had cut a 19-point deficit down to eight with 2:25 to go. He said that head coach Mark Gottfried challenged the big men this week in practice.
"He was telling us he knows what we're capable of doing and he wants us to go out there and prove it," Anya said. "A lot of people were talking about our post isn't strong and everything, but he has confidence in us and he wants us to go out there and prove it to everybody and just do what we know that we can do."
Washington was the first-half catalyst, scoring seven of his nine in that half (along with three assists, by far his most this season). Abu finished with eight points and eight rebounds, while Freeman had four and four in 16 minutes.
If this version of each of NC State's big men shows up the rest of the year, and the perimeter guys continue to play that well, watch out.
3. Applicable to both teams: Was this a one-off performance, or does it mean something more?
It was a year ago to the day that the 2013-14 Blue Devils took their fourth loss overall and second in ACC play, this one at Clemson. The previous losses -- to Kansas, Arizona and a hot-shooting Notre Dame team -- were somewhat easily explained. The Clemson one wasn't. And it was the first sign something might be wrong with the Blue Devils.
Duke would go on to win 11 of its next 13 games before losing to Wake Forest. But the Clemson game lingered in the back of people's minds, and it was still unclear whether or not it would mean anything for the Blue Devils long-term.
Defense in particular remained an issue for Duke all of last season, as did an at times over-reliance on one player on offense (Jabari Parker).
This Duke team is different, of course -- Justise Winslow, in spite of a bad performance against NC State, and point guard Tyus Jones are more dynamic complements to Okafor than anyone else Duke had last year, save Rodney Hood -- but defense might be a familiar problem.
It was hard to justify for Duke in the postgame, too.
In a game where Duke shot just 36.9 percent, defense is what stuck out in senior Quinn Cook's mind.
"Defense is what's really in my mind right now, the things that we messed up on," Cook said. "I don't think we played selfishly (on offense). We hit 3s, we hit shots. Defense is what really stuck out. I think our defense probably led to bad offense."
Duke has looked a little bit more vulnerable in past weeks than it did at the beginning of the season. But it's also looked tougher in spots, too. The Wake Forest game last week might not have been one that last year's team could pull out.
The rest of the ACC is better, too, as Cook aptly noticed.
"This is ACC basketball. No night off, as you know," Cook said. "With great players and great shooters like that, great scorers, they did a good job. A team with confidence at home, it's very, very tough. We've got to get ready for a confident Miami team on Tuesday."
As for NC State, the Wolfpack will have a performance or two -- or more -- like this in a season sometimes, only to go on and fail to capitalize on the positive momentum it generated. In 2013, NC State beat Duke at home, lost two of its next three, then beat North Carolina only to lose three in a row after that.
But that NC State team was its own entity, and this one appears to be, too.
Coming off of a close-ish loss at No. 3 Virginia on Wednesday, Lacey said the Wolfpack didn't get discouraged going into the Duke game. The attitude, he said, was that they had to be mentally tough, particularly at home, to get wins -- even against good teams.
"For the most part besides the Cincinnati game, we played pretty much everybody well (at home), and close," Lacey said. "Cincinnati was a prime example of us not having any energy and playing with each other and feeding off each other. So if we come out with this energy at home or away, we have a good shot of beating anybody."
Can the Wolfpack muster up that kind of energy not only against No. 18 North Carolina on Wednesday, but also against everyone else the rest of the season? They've certainly shown they're capable of it through ACC play so far.
17-15: Duke is typically a team that makes opponents pay for miscues, while not committing many itself. Duke only turned it over 10 times, but NC State turned those into 17 points, and six of those came during NC State's decisive 22-5 run in the second half. Duke had 15 points off of 10 NC State turnovers, but all seven second-half points off turnovers came after NC State got out to a 19-point lead with 5:43 to go.
29: That's what Duke's "other" players scored in the second half -- made eight of 29 field goals (4 of 15 from three, 4-of-14 from two) and scored 29 points. Six other Blue Devils besides Okafor saw time int he second half. He was 4 of 6 from the floor and 5-of-9 from the line for 13 points in that half.
"Ralston (Turner) just shot it and then I saw Jahlil (Okafor) went and blocked someone else out and the lane was wide open. I know Ralston's a good shooter but I was praying he missed it so I could go get it, and he missed it and I went and got it." -- Anya on his essentially game-clinching putback dunk with 2:21 to go that put NC State back up 10
"That was the first time I've ever been a part of a court-storming, so it was crazy. The fans were out there hugging us, congratulating us, taking pictures with us on the court. It was fun until you realize that heat -- it was really hot in there and some of us couldn't breathe, so we tried to get out of there as quickly as possible after we celebrated and everything. .... I was just hoping I didn't fall or anything like that. If I fell, it was game over. I was going to be done for." -- Anya on how he and his teammates coped with the court-storming afterwards
---