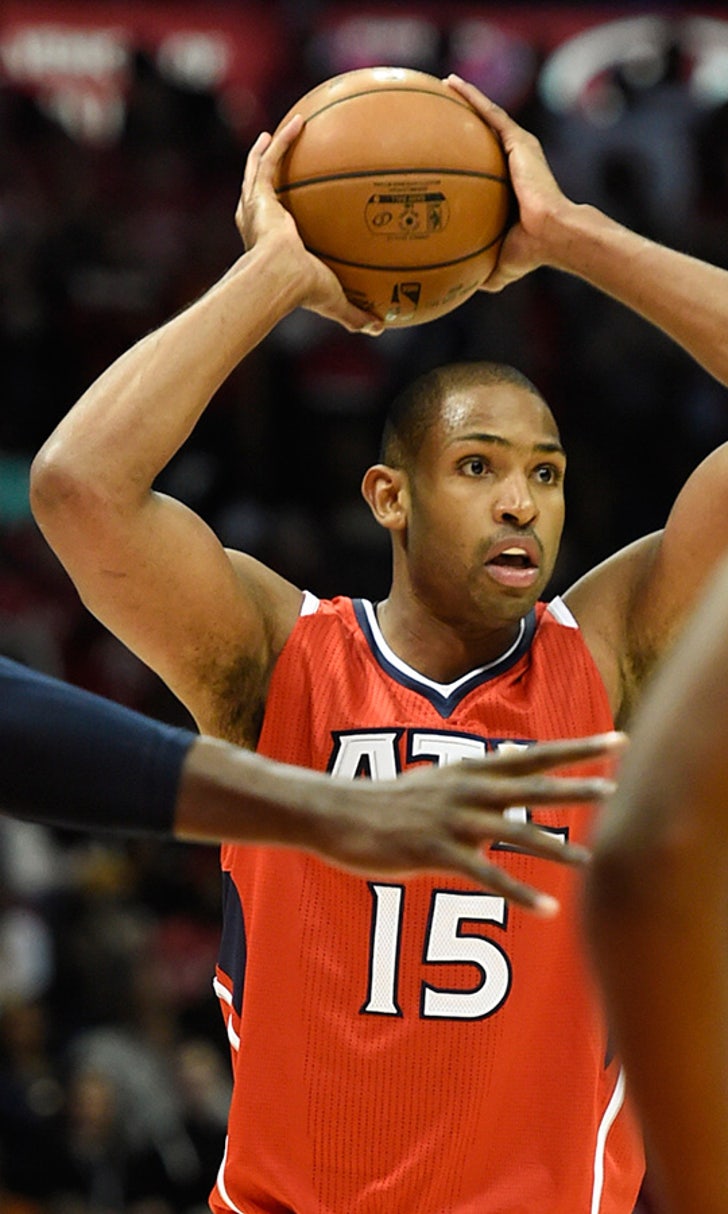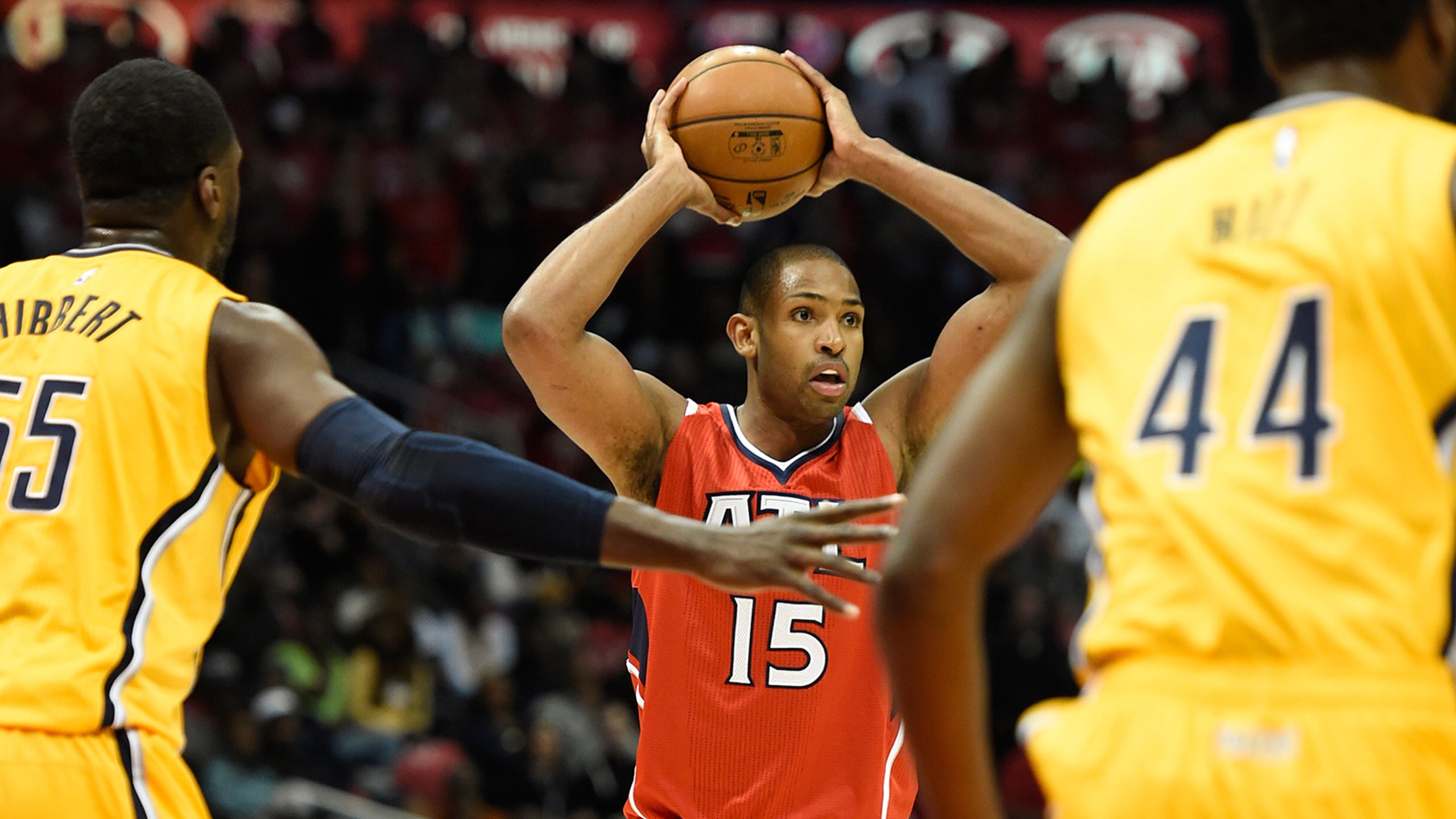 Court Vision: Hawks hold off depleted Pacers in home opener
BY Zach Dillard • November 1, 2014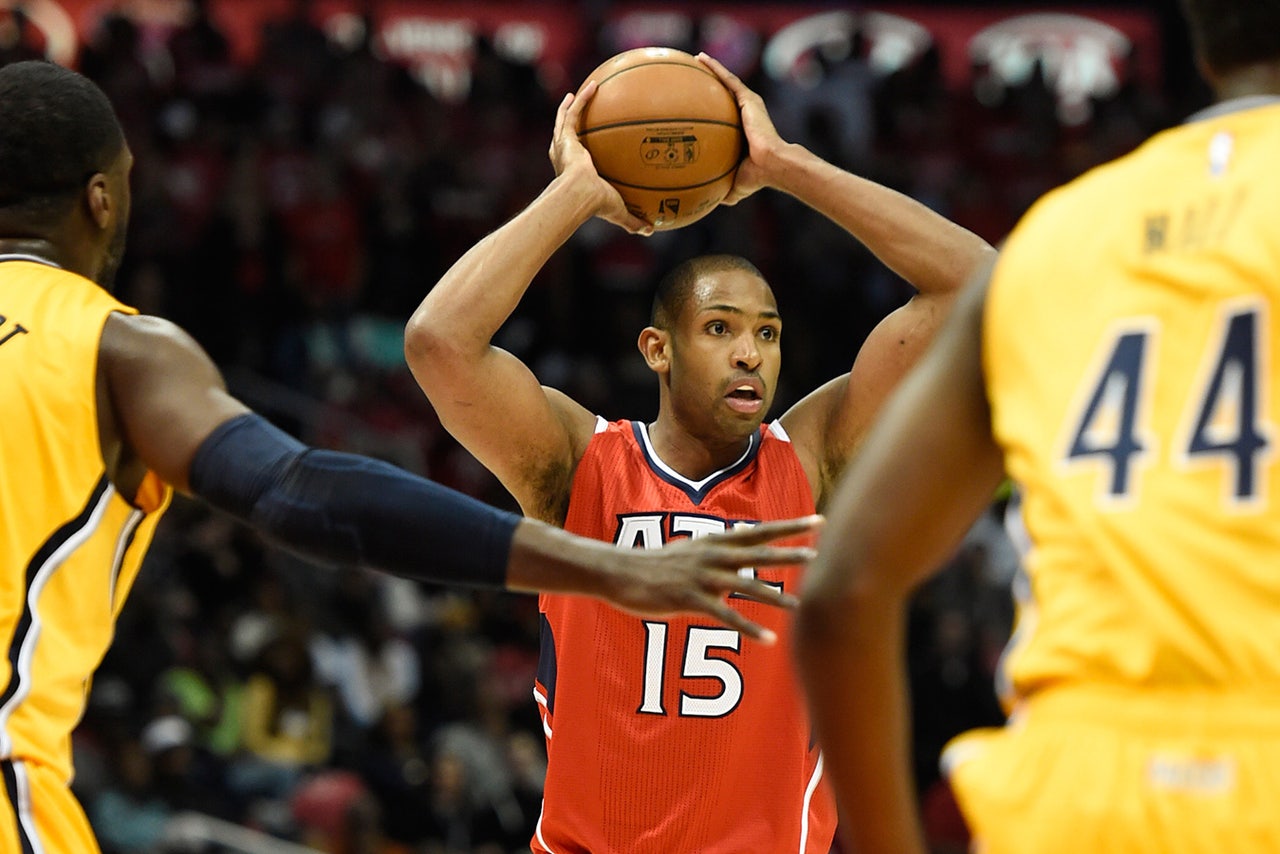 ATLANTA -- Going inside the Hawks' 102-92 win over the Indiana Pacers on Saturday night.
1. Is this becoming Jeff Teague's team? It's a valid question after the Atlanta Hawks' sixth-year point guard has pieced together two consecutive strong performances to start the campaign, keeping his foot on the gas and staying aggressive. He was the engine as Atlanta (1-1) jumped out to a 27-18 lead after the first 12 minutes and he was the go-to option down the stretch, scoring six straight points when Indiana (1-2) cut the lead to four points with two minutes remaining. Teague responded by knocking down two mid-range jumpers and two free throws to put the game out of reach.
Hawks coach Mike Budenholzer did not go so far as to credit Teague with being Option No. 1 down the stretch, saying the Pacers' dictated who was the go-to threat, but it's readily apparent that Teague improved since the former Spurs assistant arrived in Atlanta. After posting a career-high PER (17.16) and usage rate (27.5 percent of possessions), Teague looks even better in the pace-and-space system now, particularly in his decision-making on the pick-and-roll. That torched the Pacers on Saturday night. Teague finished with a game-high 25 points and six assists.
"I think the league, at the end of games, there's a lot of pick-and-rolls, and to a certain degree we have to take what the defense gives us and Jeff had some opportunities to make some shots," Budenholzer said. If they take him away, we feel like we've got Paul (Millsap) or Al (Horford) and we've got the court spaced."
2. Al Horford continued rounding into form with a 20-point effort in 28 minutes of play. This was expected, as the Hawks' big man did not get the full benefit of preseason play while recovering from the pectoral injury that ended his 2013-14 season: constant improvement while working into game shape.
In the season-opening loss against the Raptors, Horford contributed all over the floor but could not quite find his shot, finishing just 6 of 15 from the field while failing to get to the free throw line. Horford's shooting woes, coupled with an off night from fellow frontcourt starter Paul Millsap, could not offset the fact that the two combined for 23 rebounds (nine offensive), eight assists and three blocks. Horford bounced back in Game 2 by shooting 9 of 14 from the field to go along with four rebounds and two assists. When Horford went down last season, the Hawks were just starting to hit their stride offensively, scoring 100 or more points in 11 of their 12 games pre-injury. He's a big piece and he looked like he got stronger as the game went on.
For his part, Horford said he felt more comfortable on the court in Game No. 2.
"Getting him back and getting him healthy and on the court makes a big difference for us," Budenholzer said. "He's getting more a rhythm. Even though he didn't have a lot of boards tonight, he goes up and gets some big ones, some important ones, with his length. And then I think he's getting more comfortable on the offensive end and finding ways where he can contribute."
3. No rematch here. This matchup was dubbed as a grudge match of last season's first-round playoff meeting, but looking at the Pacers season-opening roster they do not even look similar to the Eastern Conference's No. 1 seed that knocked Atlanta out.
Star guard Paul George, one of the league's best players, is out indefinitely after suffering a gruesome leg injury while playing for the national team. Lance Stephenson signed a big free agent deal with the Hornets in the offseason. Point guard George Hill and forward David West are sidelined by injuries at the moment. In total, only three Pacers players that logged minutes in the two teams' Game 7 in May played against the Hawks on Saturday: Roy Hibbert, Chris Copeland and Ian Mahinmi. The Pacers team that the Hawks beat in the "rematch" is far from a playoff-caliber team, so the non-competitive result was not surprising.
If the Hawks jumped out to an 0-2 start with these Pacers on the schedule, it would have been cause for concern.
38.3: The Hawks held the Pacers to 38.3 percent shooting from the field, a smothering performance particularly against Indiana's guards. Last season, the Hawks held opponents under 40 percent shooting just six times. Not surprisingly, they were 6-0 in those games.
27: The Hawks have allowed 27 offensive rebounds through their first two games. Defensive rebounding and limiting possessions was a big point of emphasis for Budenholzer during the offseason, and though Indiana's offense never got rolling after shooting such a poor percentage, that will likely be addressed during film session.
"In the third (quarter), I was looking at the bench. It got to me a little bit. But yeah, in the fourth I kinda got my second wind and started feeling better." -- Al Horford on returning to game shape
---