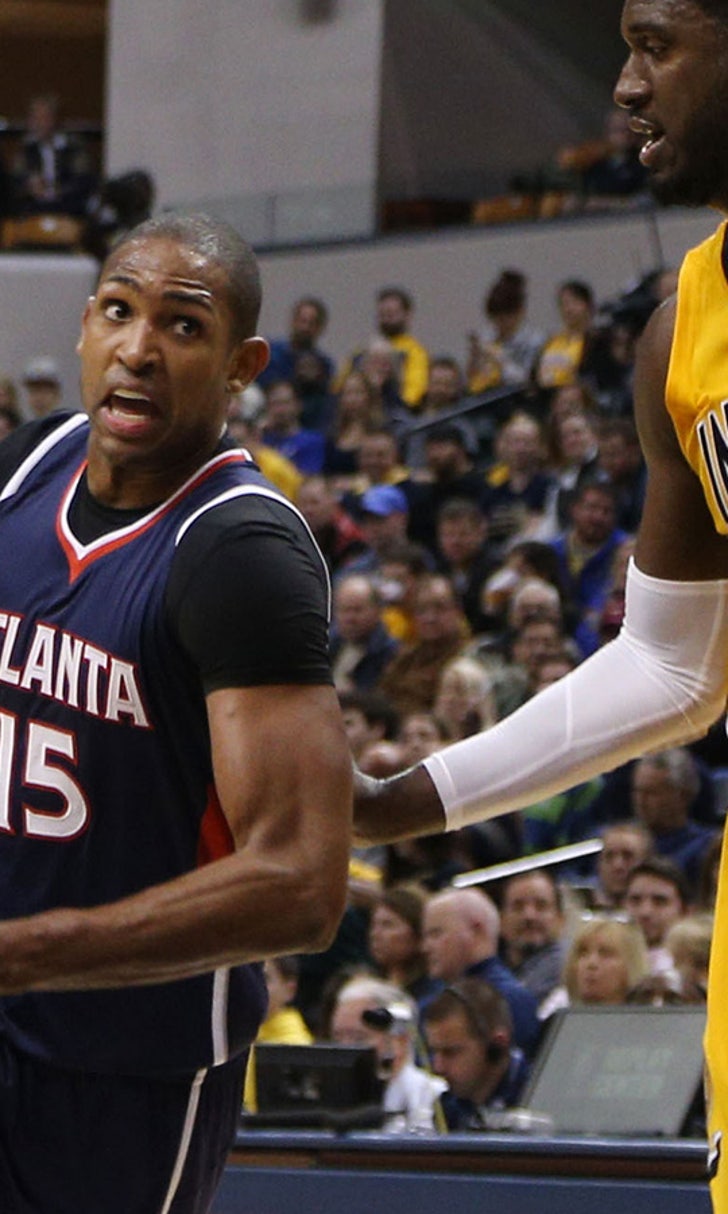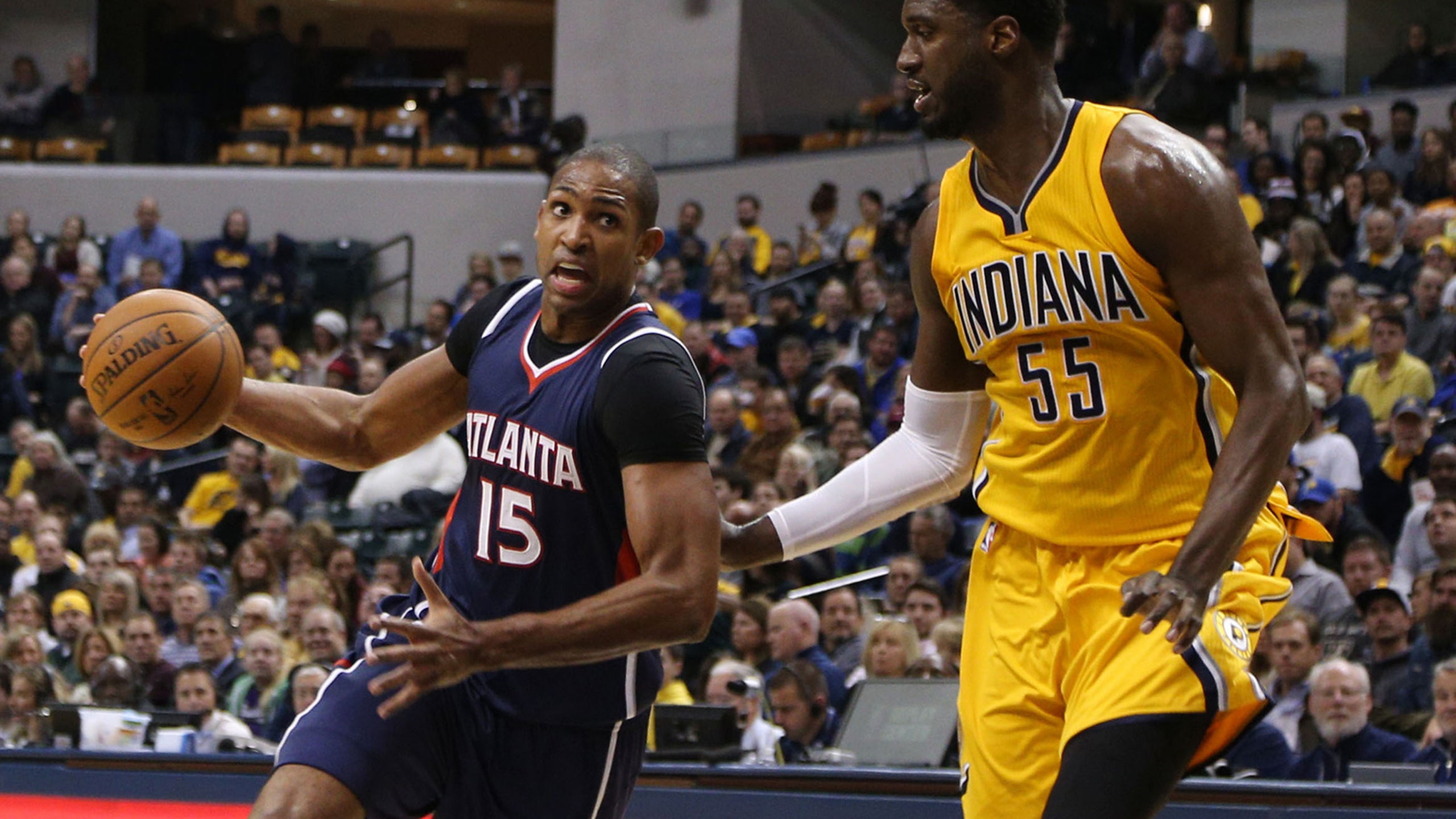 Court Vision: Hawks dump Pacers to run streak to seven; Horford has his groove back
BY Cory McCartney • December 8, 2014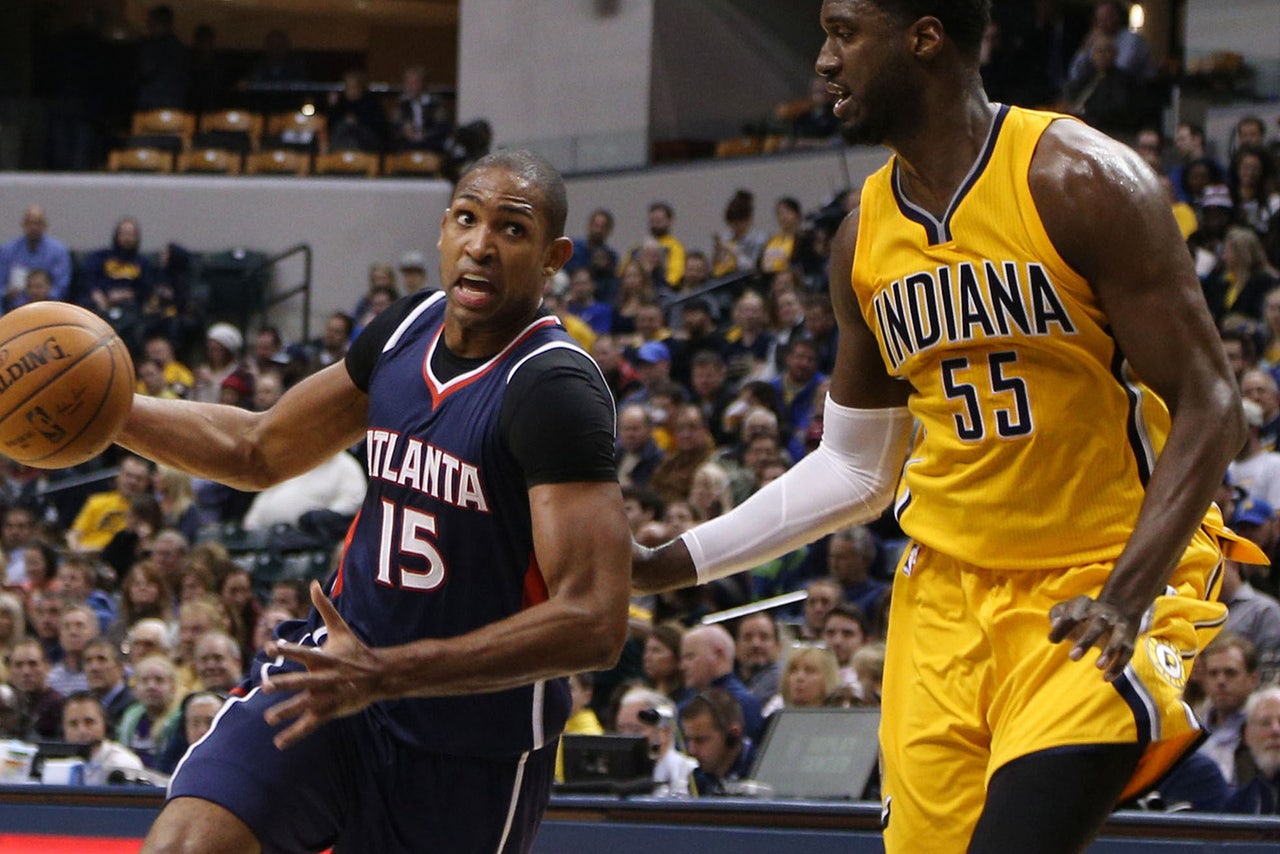 Going inside the Hawks' 108-92 win over the Pacers on Monday night in Indianapolis.
With their seventh straight win, the Hawks have their longest winning streak since Nov. 7-20, 2009 and like the rest of that run, the latest came against an opponent with a losing record.
Atlanta has most certainly made the most of an advantageous schedule in claiming the second spot in the Eastern Conference -- and it could get longer. Wednesday, they face the Sixers (2-18) before back-to-backs against the 9-14 Magic at Philips Arena on Friday before heading to Orlando the following day.
None of that is to discount the progress the Hawks have made in Year 2 under Mike Budenholzer.
They're scoring at a higher clip (103.5, which is seventh overall) compared to last year (14th at 101) and the defense has been vastly superior, allowing 99.4 after giving up 101.5 in 2013-14.
Even if this run does hit double figures and if they claim the top spot in the East, where they're currently 1 1/2 games back, we're not going to truly learn anything about this team until next week.
The Hawks face a brutal stretch beginning Monday as they host the Bulls before opening a road trip that includes Cleveland -- where they already lost by 33 on Nov. 15 -- the Rockets and Mavericks. Those games have a combined record of 55-25.
But should Atlanta get into that gauntlet with this streak intact, they could return home matching the franchise-record run of 14 straight set from Nov. 16-Dec. 14, 1993.
Just under a month ago, Al Horford admitted that he was still getting back into rhythm, "I just have to keep playing games," he said. "It's a matter of time."
It would appear we've reached the point where the center has gotten his groove back.
He had 25 points, eight rebounds, three assists and three blocks against the Pacers and did his part to limit Roy Hibbert to a just eight points on 4 of 9 shooting.
The points were a season-high and were the first time Horford had at least 25 since Dec. 26, 2013, when he suffered the torn pectoral that ended his season.
If there's an underrated part of Horford's game this season, it's been his ability to stay out of trouble. He committed two fouls on Monday and is averaging a career-low 1.8 this season while playing nearly 30 minutes a game.
Only the Suns' Anthony Tolliver (0.8), the Nets' Jerome Jordan (1.1), the Lakers' Robert Sacre (1.3), Magic's Dewayne Dedmon (1.7) and Grizzlies' Kosta Koufos (1.7) have committed fewer fouls per game while qualifying for the minutes played leaderboard.
It's smart, clean basketball and with Paul Millsap playing at an All-Star level once again, Horford at full strength is a strong sign for the Hawks going forward.
Atlanta had 27 assists against the Pacers, which came on the heels of 26 in Sunday's win over the Nuggets, and in all, the Hawks now have 13 games of at least 25.
That figure leads the league, giving they one more than the Spurs and Warriors, who are second with 12 such games apiece.
With Monday's game getting the Hawks to the quarter-mark of the season, they're on pace for 48, which is seven more than they had a year ago and would be the most in the league since the Jazz had 57 such games in 2009-10.
Jeff Teague, who is averaging 7.1 assists (0.1 below his career-high) and has been on a tear over the last eight games, dishing out 7.8 per, including games of 12 (vs. the Raptors) and 10 (against the Hornets).
Monday's total had to be a little big sweeter for Teague, the Indianapolis native who made his assists part of another strong performance in a homecoming.
The last time the Hawks were in Indianapolis in the regular season, Teague had 25 points on 9 of 17 shooting (52.9) and this time he had 21 at a blistering 72.7 percent clip.
23 of 23 -- Monday marked the 12-year anniversary of Hawks Hall of Famer Dominique Wilkins etching his name in history as he set a record for free throws made in a single game with a miss as he went 23 of 23 on Dec. 8, 1992 against Michael Jordan and the Bulls.
1 -- Number of times the Pacers led. They went up 8-7 at 7:31 in the first quarter, then Atlanta went on to lead by as many as 21.
---