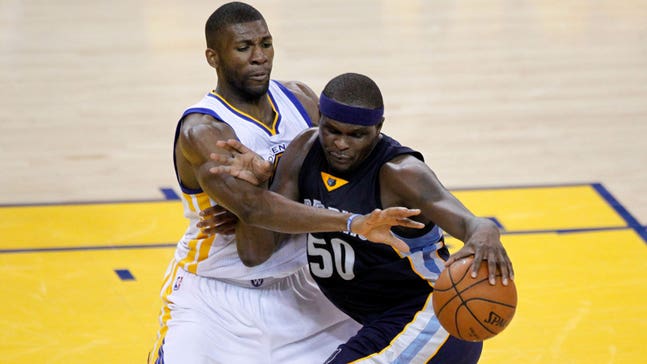 Court Vision: Conley's absence glares in Game 1 loss at Golden State
Published
May. 3, 2015 8:17 p.m. ET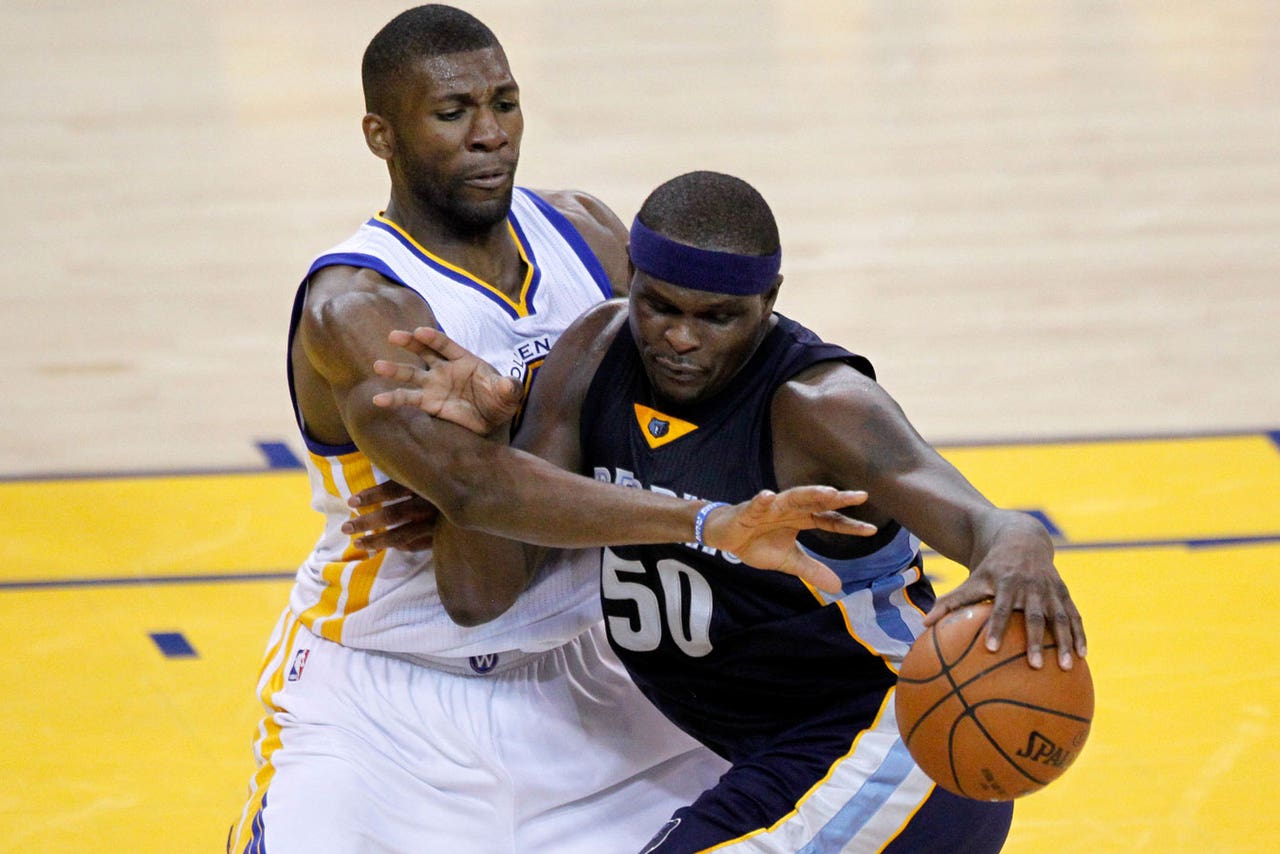 OAKLAND -- The Warriors don't lose in yellow-soaked Oracle. Mike Conley's value to the Grizzlies can't be oversold. Both remained true Sunday as Golden State took Game 1 of the Western Conference semifinals series 101-86. Game 2 is scheduled for Tuesday at 7 p.m.
1. GAME 1 GOES AS EXPECTED
Draymond Green made momma happy. With Momma Draymond in the stands, Green got the Warriors party started early, burying 3-of-4 3-pointers in the first quarter.
Green made one of the seven 3-pointers he attempted in three regular-season games against the Grizzlies. Sunday, he shot seven and made four of Golden State's 13 -- his four were one more than Memphis made. The Grizzlies never got over Green's onslaught. With Steph Curry and Klay Thompson combining for only eight points in the first half, Golden State still took a nine-point lead to the locker room. Had the Grizzlies made even two of the three missed first-quarter layups, who knows? Eight bunnies hopped off overall.
Green wasn't the only thing that went predictably wrong for Memphis. The perimeter was a problem. When Memphis whittled what was a 16-point lead to six, Curry decided to make a back-to-back couple of his own, holding up Green's early daggers.
When Curry shook Beno Udrih and stepped back on Zach Randolph for his third 3-pointer, Golden State led 80-60 to all but end it.
Also not surprising, Memphis' familiar problem reared up and it's as much an issue as it is not letting Green get that loose.
"We've got to get a third scorer, especially from the perimeter," Grizzlies coach Dave Joerger said, "to try to find a way to get Courtney Lee free to get some more looks."
Lee finished with nine points on 4-of-9 shooting after averaging more than 17 in five games against Portland.
No surprise Curry finished with a game-high 22 and the efficient Warriors shot 50.6 percent. Grizzlies fans would like to be surprised by Conley's return Tuesday, but at this rate, it will be a surprise to get back to Memphis with a split.
2. MISSING MIKE: CALATHES WITH ZERO-POINT START
Warriors coach Steve Kerr took a question that Spurs coach Gregg Popovich would have annihilated and he answered it as honestly as he could.
Asked if the Grizzlies' guard play without Conley was a big advantage for the Warriors: "Yeah, he's a great player," Kerr said.
Conley, out since leaving Game 3 in Portland with a fractured face that has now been surgically-repaired, was masked up, warmed up and ready to go for Game 1 against the Warriors. If he could have. But Conley and Joerger made a mutual decision to sit the Grizzlies starting point guard for the series opener, leaving his Game 2 status wide open.
The unofficial timetable for Conley's return: as fast as possible. From the point guard position -- Nick Calathes starting in Conley's place -- Memphis got a combined seven points, none from Calathes -- who missed all four shots he took. He also missed a pair of free throws. He had three steals but also three turnovers. Beno Udrih, who played nearly two fewer minutes (18:56), hit 3 of 7 shots.
"He's a real pick-and-roll threat. He's a threat in transition to go end-to-end," Joerger said of Conley, then was asked about the task guarding Curry without Conley.
"It's pretty tough," he said.
Conley is one less shooter the Grizzlies can't do without against this team, needing to match as many pick-and-rolls as possible, an absence that also takes away part of Memphis' defense and also jams the lane against Gasol and power forward Randolph (20 points, 9 rebounds).
3. DEPTH IS GOOD FOR WARRIORS, BUT GREEN CAN BE BETTER, TOO
As scary as anything for Memphis, Green did what he did in foul trouble. He picked up his third foul in the final seconds of the first half fouling Tony Allen as Allen drove to the basket.
He burned Memphis during his 27 minutes, 29 seconds, 14 minutes less than he usually plays per game. If he can stay in the game more at that efficiency, look out.
"Got to kind of take the cheap ones out," Green said. "The Tony Allen drive, 11 seconds left in the second quarter, you may have to give that layup up."
He was an early behind-the-back beneficiary of one of Curry's game-high seven assists. Andrew Bogut scored four points before fouling out and Memphis couldn't take enough advantage of the foul trouble.
But even with the two in foul trouble, Golden State's depth proved too much. Forward Marreese Speights scored a bench-high 10 points, Andre Iguodala eight, Leandro Barbosa six and center Festus Ezeli four, a combined 11-for-20 for the four off the bench. Green would love to keep his teammates on the bench a little longer. Joerger would like to get him out. Green tried to help with two fouls in the first quarter.
Memphis wants him in foul trouble and Gasol, with an extra four inches on him, can do that. But Gasol has to get the ball to do that and without Conley, that isn't easy.
"Yeah, that would be ideal," said Gasol (a team-high 21 points, nine rebounds and 11-of-12 makes from the line). "That's what I thought going into this game, that that would be something that we as a team would look for."
More from the line needs to come at the expense of Green, who averaged four fouls a game in the sweep of New Orleans.
126 -- The Warriors have sold out 126 consecutive games and all but twice this season, delivered the faithful a win.
34 -- The Grizzlies held Golden State to 40 points in the second half, but were held to 34.
---