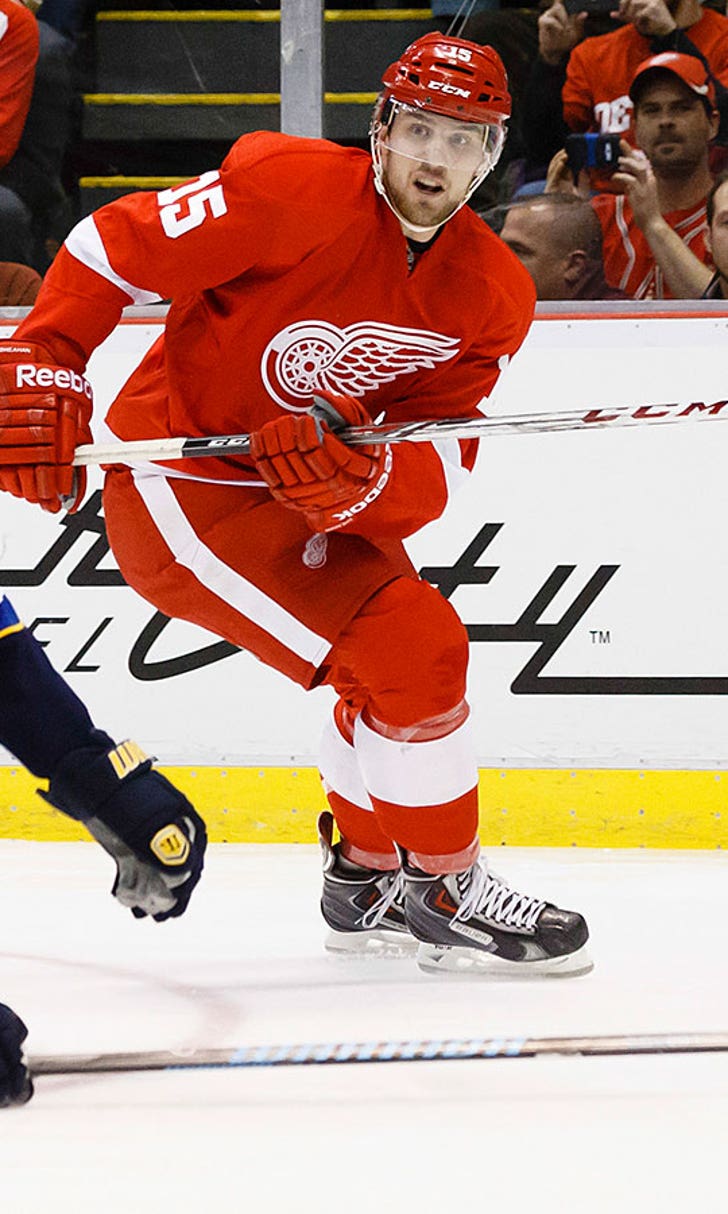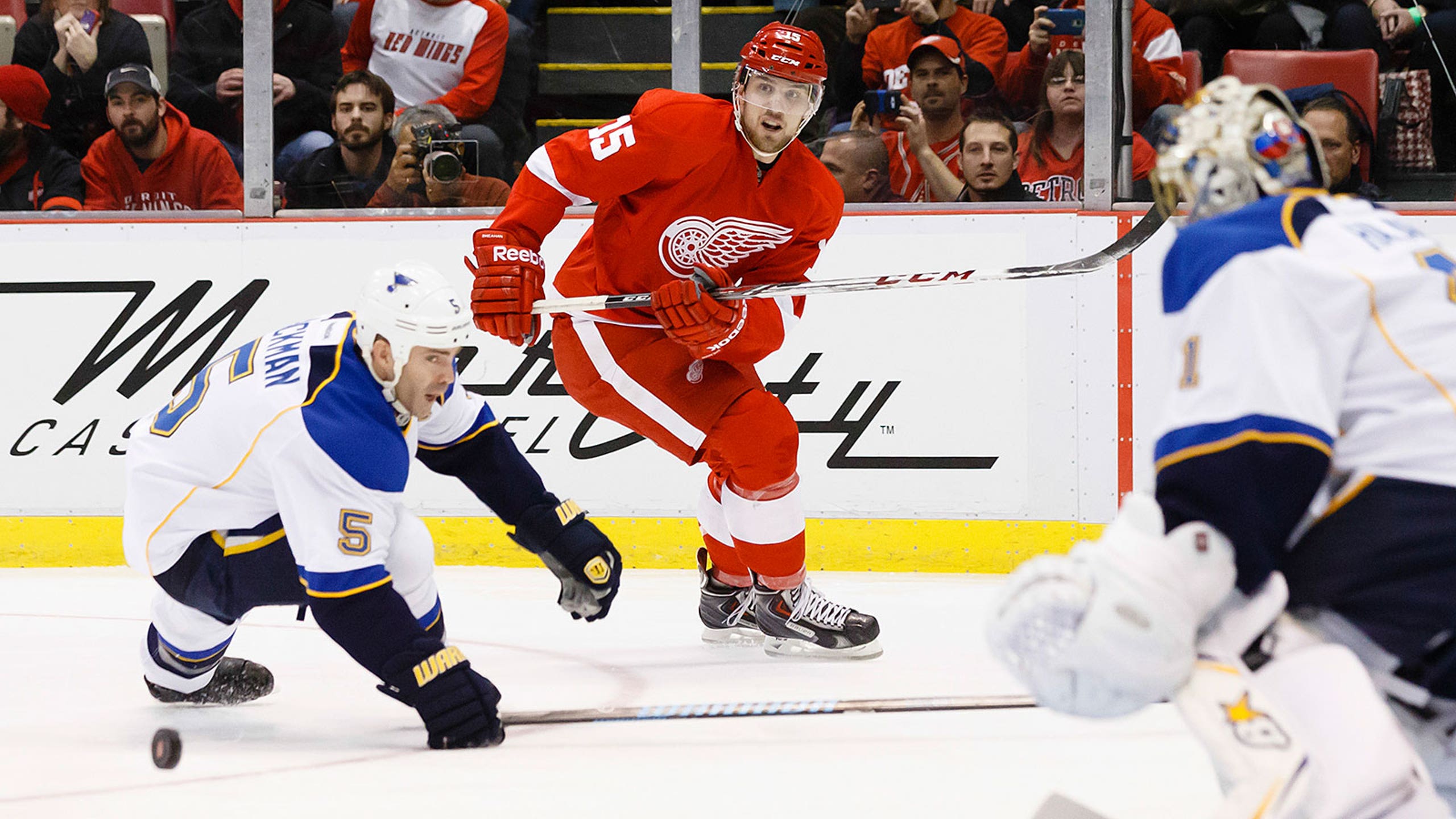 Confidence-building moment for Red Wings' Sheahan
BY foxsports • January 28, 2014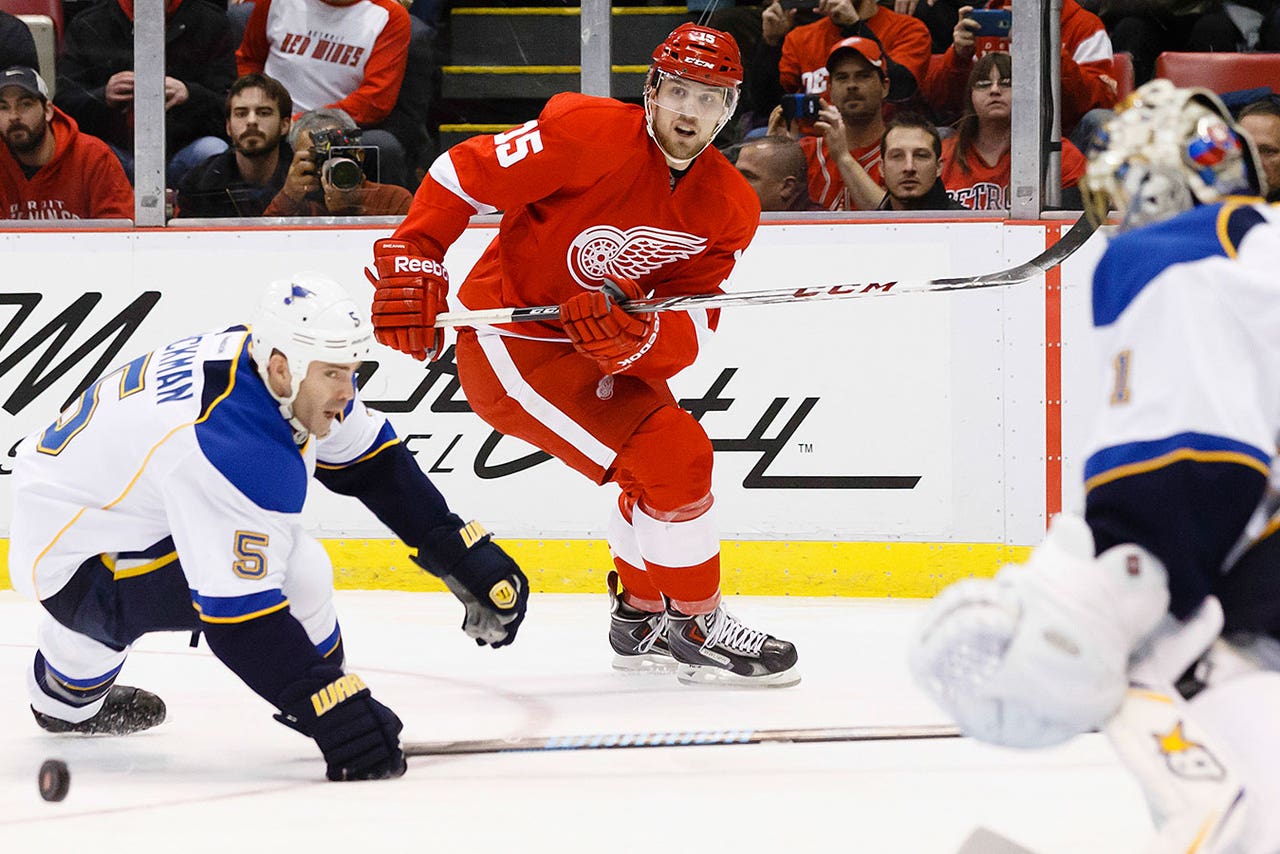 During his freshman season at Notre Dame, in 2009-10, current Red Wings center Riley Sheahan was a hot prospect who had turned downed the Erie Otters of the Ontario Hockey League to play for the Fighting Irish.
Notre Dame hockey had become a national power in a relatively short period of time under head coach Jeff Jackson, a Detroit native who took over the program in 2005.
For years, I was the host and rink-side reporter for Comcast's coverage of the now-defunct Central Collegiate Hockey Association. I had traveled to South Bend, Ind., many times to telecast Notre Dame games and was well aware that hockey had become relevant there with Jackson at the helm.
But the 2009-10 season was a struggle for the Irish. After winning a total of 90 games the previous three seasons, injuries took their toll on Notre Dame, especially on its defensive corps.
The Irish were a young team, counting on underclassmen such as Sheahan to continue the team's recent success.
Although that didn't happen -- Notre Dame finished 13-17-8 -- something occurred during a weekend series against Michigan that made me a Sheahan fan.
Like football, the rivalry between Michigan and Notre Dame on the ice is intense, exciting and extremely competitive. Each game between them is a statement game.
In 2009, the Wolverines were an established national powerhouse. The Irish, despite their recent success, were still considered up-and-comers.
Unfortunately for the Irish, they were missing their three best defensemen because of injuries in December 2009, and Coach Jackson needed to do something with a home-and-home series looming against the Wolverines.
Jackson adopted the European system called the Torpedo, which is a five-man unit made up of four forwards and one defenseman. One of the forwards Jackson chose to put back on the blue-line corps was the 17-year-old Sheahan -- the only freshman asked to play defense.
"Riley is just one of those special players," Jackson said this week. "I always knew he had great offensive upside, but he had a penchant to be more protective, more defensive.
"As a matter of fact, there were many times when I had to talk to him about taking more risks because he played so defensive-minded."
With the confidence of his coach and his teammates behind him, an unsure Sheahan stepped onto the Yost Arena ice for the first time ever, playing an unfamiliar position.
"It was something new and a little different," Sheahan said Tuesday. "I remember my first shift -- Louie Caporusso, who's known to be pretty fast, came at me full speed and I tripped him, just straight to the ankles.
"I got a two-minute penalty for tripping on my first shift. That was a bit of an eye-opener.
"It took me the first five to ten minutes to adjust, but then I figured it out pretty well from there."
Notre Dame would lose the first game to Michigan, 4-1, with Sheahan scoring the lone Irish goal. In the second game, he had an assist in a 2-0 Irish victory.
Even today, my recollection of that series between the Irish and the Wolverines is Sheahan's play. He was big, skated well, had a terrific shot and didn't look out of place on the blue line.
When the Red Wings drafted him during the first round (21st overall) in 2010, I remember telling (former Detroit assistant GM) Jim Nill that the Wings had drafted a very good player.
Nill smirked at me and said, "I know."
Sheahan, 6-foot-2 and 212 pounds, didn't put up astounding numbers during his Notre Dame career. He had just 20 goals and 44 assists in 114 games, but he stood out.
Watching him play in college, you could tell that he possessed intangibles that didn't translate to the score sheet.
"I have always been proud of Riley with his ability to defend, but I am glad that he's starting to score some goals (in Detroit)," Jackson said. "He has the offensive instincts, and with time and hopefully confidence, he starts producing offensively."
Since being recalled from Grand Rapids, Sheahan has played in 12 games for the Wings and has three goals, five assists and is a plus-3. He's averaging 13 minutes and 11 seconds of ice time.
"For me, the biggest thing is just confidence," said Sheahan, who signed a three-year, entry-level contract with the Wings in April 2012. "It's more of a mental game than it is physical. It's a skill-set game.
"I know that I have some skill. It's just putting it out onto the ice and thinking that I can play at the level that I'm playing.
"My confidence is coming. I am starting to feel more comfortable out there, and I'm starting to make more plays by holding onto the puck longer."
Confidence is a funny thing -- you never know when it's going to kick in.
Sheahan recognizes that his stint as a defenseman in college gave him the confidence that he could compete.
He never wants to play defense again, but he's thankful that he did -- even if it lasted only two games.
---