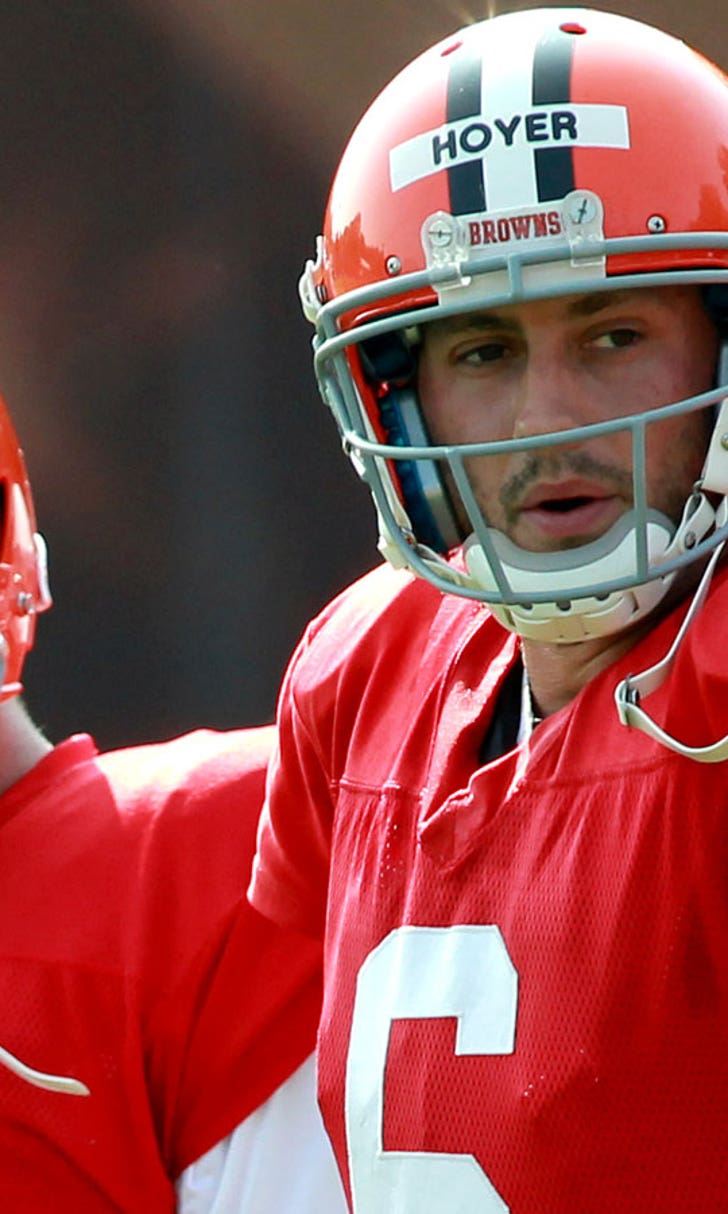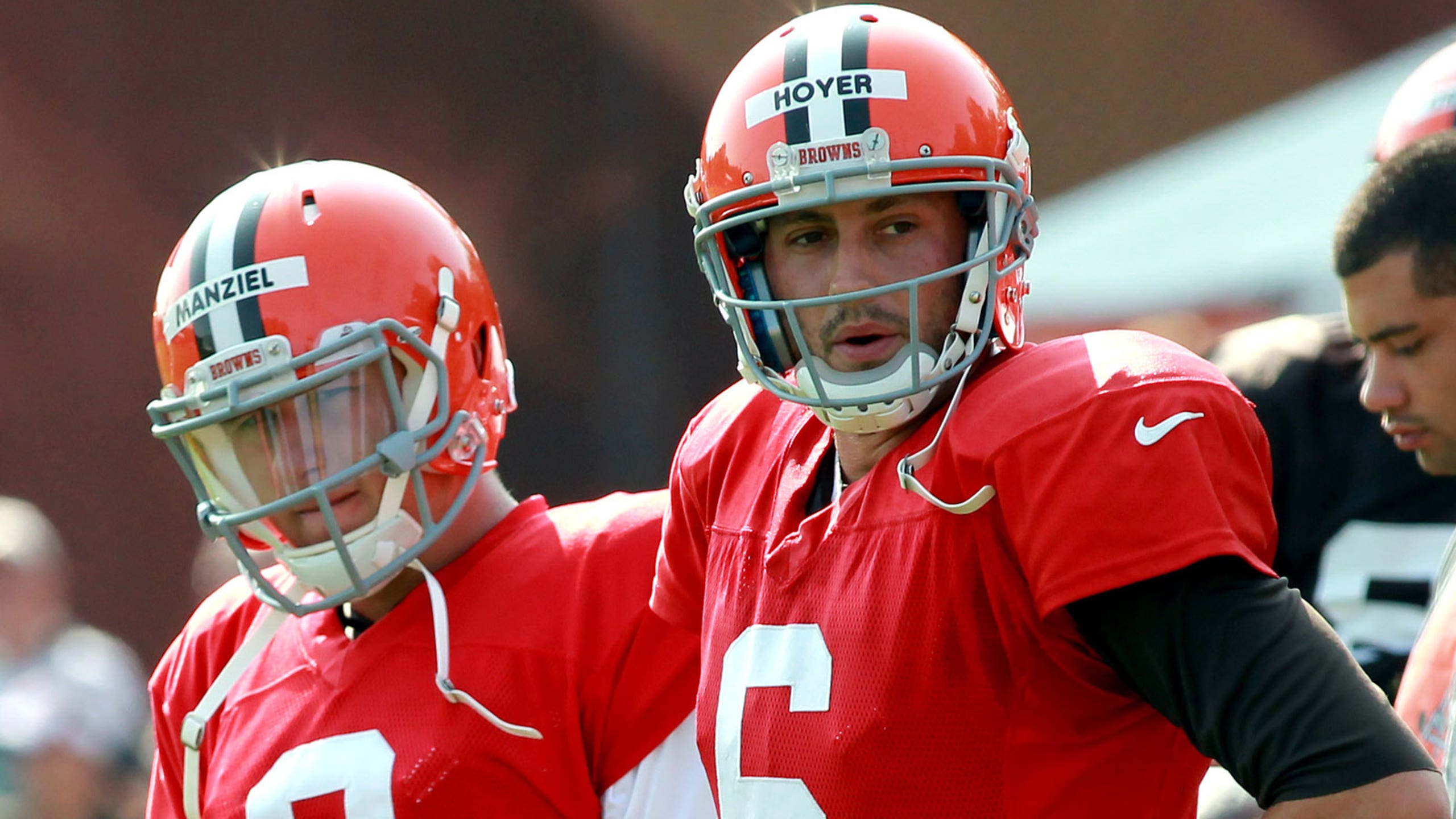 Cleveland quarterbacks splitting reps, neither standing out
BY foxsports • August 12, 2014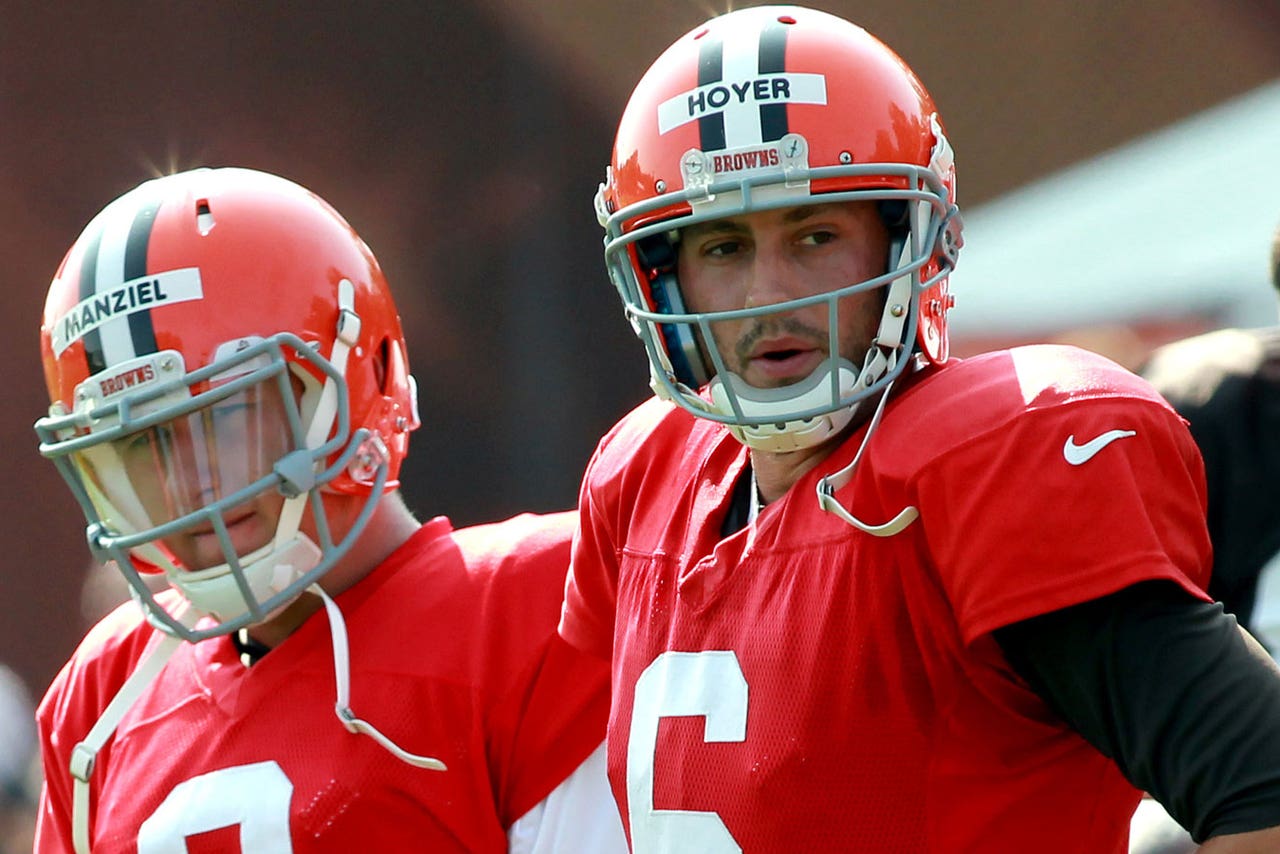 BEREA, Ohio - Tuesday brought new insight into the Cleveland Browns ongoing quarterback competition from quarterbacks coach Dowell Loggains, who spoke to the media for the first time.
It didn't bring any new answers.
"It's day-to-day," Loggains said of the Brian Hoyer-Johnny Manziel competition. "I'm not going to comment on who's ahead because it's not time to make that decision yet. We have a long process until we do, but they're both getting better every day and they're both doing really good things."
Later, Loggains said there's no leader.
That echoes what Browns coach Mike Pettine has said all along. Pettine said he'll meet with his coaching staff Thursday, an off day for the players, to finalize a plan for distributing reps and picking a starter for next Monday's preseason game at Washington.
Pettine said the Browns will likely give both quarterbacks the chance to play with the No. 1 offense in that game. Hoyer has been primarily with the starters since camp started and started the preseason opener. Tuesday marked just the third chance for Manziel to play with the starters in practice, and nothing especially remarkable or memorable came from that.
Manziel's night life has been well documented, but Loggains said he's been all business in the Browns building.
"He's a pro," Loggains said. "He's been phenomenal as far as being on top of the details. He understands he has a long way to go and work like every other rookie in this league does. He's been really good in the (meeting) room. He's right there in the playbook and studying."
A look back at Tuesday's practice and where the competition stands...
Hoyer: Hoyer threw some strong passes while operating the No. 2 offense Tuesday, another day dominated by the defense. Hoyer had the day's best completion on a deep out to Andrew Hawkins and had maybe his strongest pass of the day, a deep bomb to speedster Travis Benjamin down the middle, just miss Benjamin's fingertips.
Hoyer never strung together three or four impressive completions during the team period.
Neither quarterback was made available to the media Tuesday.
"I think that there's always room in everyone's game to grow," Hoyer said Monday. "For me, I'm always trying to improve and I think that's what drives me. I'm competing with myself day in and day out to be the best I can. I don't think that you look and say that someone has a ceiling because I think that no one is perfect.
"I think the one thing that I've learned from (Patriots quarterback) Tom (Brady) in New England, who's probably as close to the ceiling as you can get, is he's always constantly trying to get better. He's always working on something, and I think that's the only approach you can take."
Manziel: He operated with the starters Tuesday, but the first group struggled to move the ball consistently. Overall, Manziel had more misses than hits.
He made many of his throws from the pocket, and that's admittedly the area where he needs to make his biggest strides. The strength of his game remains creating plays leaving the pocket and using his feet to create big-play opportunities.
"I think I need to just continue to learn, continue to absorb everything I can in this short amount of time, and then go out and at the end of the day, just play football," Manziel said Monday. "Go out and go through your reads, and execute, and move the ball down the field, and score points. I think whoever does that the best, obviously, is going to have a better chance at the end of the day."
Pettine: "We want to make sure they're both getting reps (in the Washington game). We haven't decided on how to do it. I think there are a lot of options on the table and I have to get that sorted out, how we want to do it."
Where's Johnny: He's clearly in the thinking, based both on the practice reps and Pettine's post-practice comments. But he did little to really to help his cause in just his third chance piloting the first-team offense, especially given that Pettine said Monday the job would be earned, not given.
---