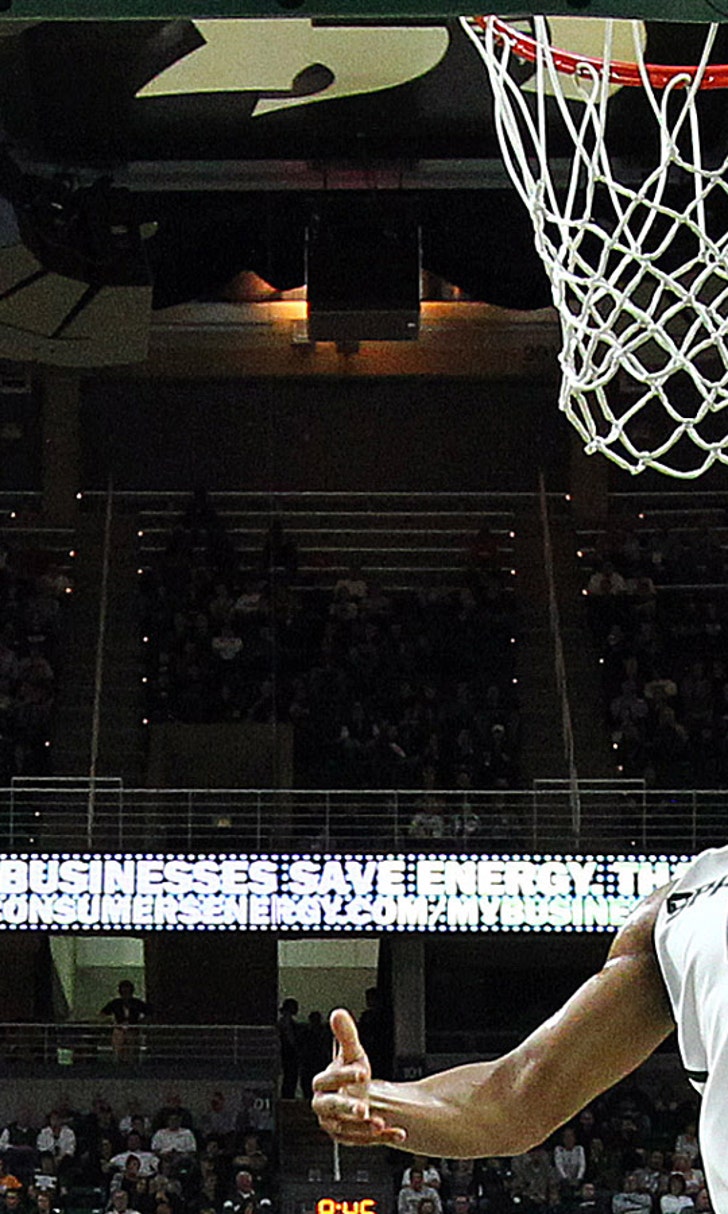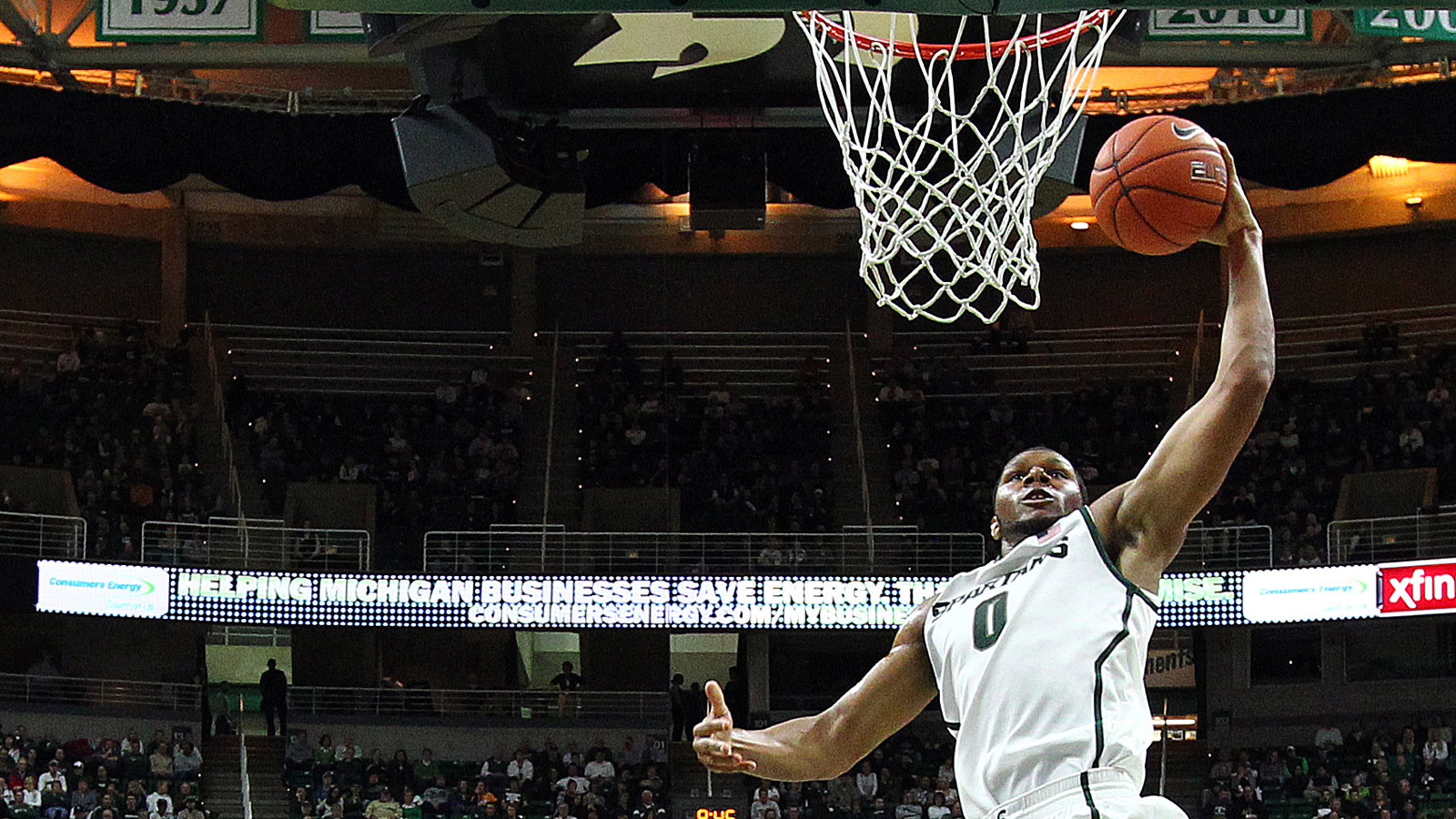 Clark, Spartans coast past Santa Clara
BY foxsports • November 24, 2014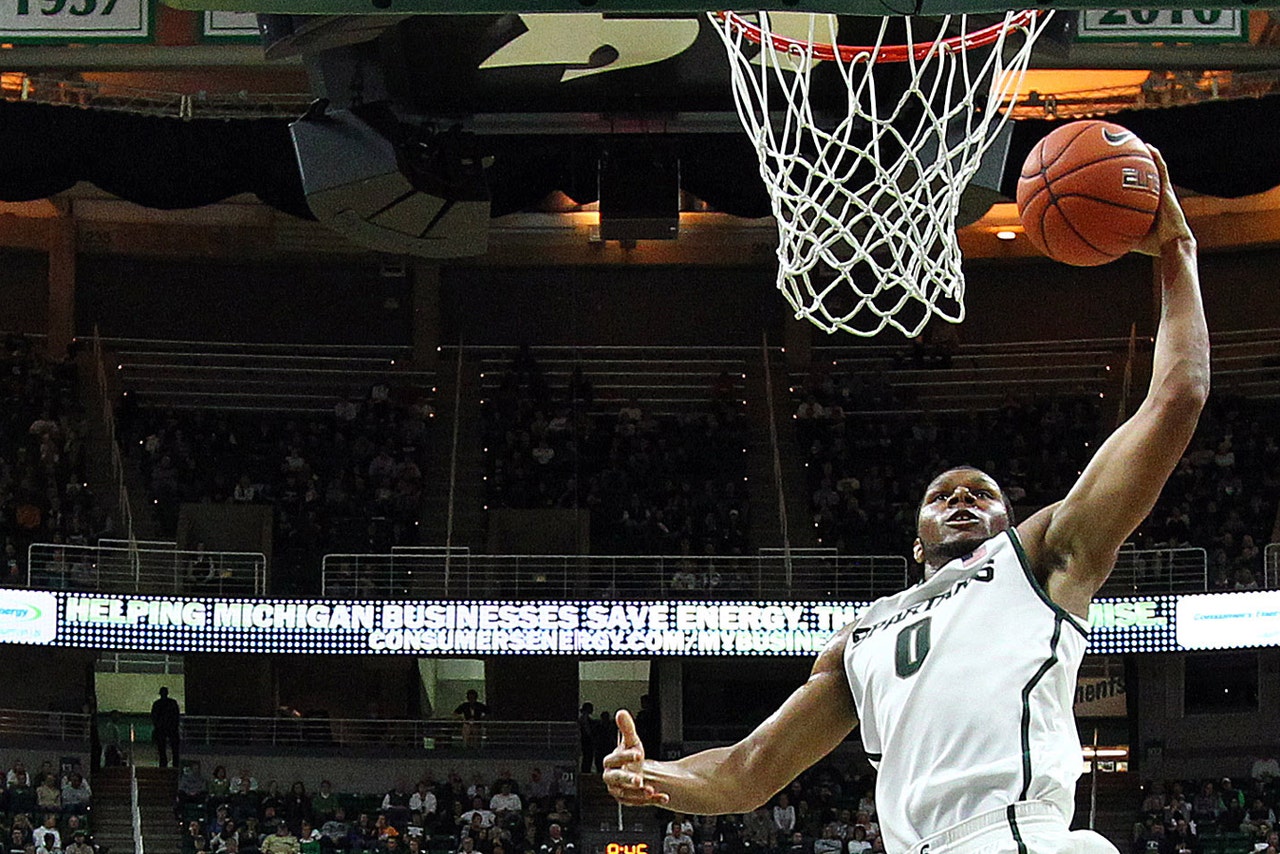 EAST LANSING, Mich. -- No Branden Dawson? No problem. At least that was the case for Michigan State against Santa Clara Monday night.
Freshman Marvin Clark Jr. replaced Dawson -- who was out with the flu -- in MSU's lineup, and put together strong performances on both ends of the court to help the Spartans earn a 79-52 victory over the Broncos.
Clark's first career start came one game after his emotional outburst against Loyola, during which he received a technical foul that prompted an earful from Dawson and a smile from coach Tom Izzo.
"He's an emotional guy, so he's going to have some trouble with me for a while because he's gotta change that," Izzo said.
Clark did a better job of holding his emotions in check against Santa Clara, though, putting up 15 points, four rebounds and four blocks. He also had two slam dunks that brought the entire Breslin Center to its feet.
"It just shows that we can rely on him and that he's ready to play, and he's not scared," said Denzel Valentine. "If somebody gets hurt or somebody goes down and a freshman like him comes in and plays like that, that's big time."
Clark got the game started when he hit a three-pointer on a feed from Bryn Forbes, and his first slam of the game just minutes later helped the Spartans jump out to an early 17-2 lead.
The Spartans had a commanding 40-14 advantage heading into halftime, but allowed 38 second-half points in a sloppy 20 minutes that left Izzo puzzled after the game.
"I just hate when we end a game the way that we ended it," Izzo said.
That's especially true when the pregame pep talk not only came from one of MSU's greatest players of all-time, but also focused on finishing strong. Magic Johnson was on hand  and told the Spartans before the game that, "Whenever you get a team down, you gotta take care of your business."
"It's ironic that he comes here tonight and says something that we don't do in the game," Izzo said.
Izzo wasn't pleased with MSU's number of turnovers, and missed field goals and free throws -- errors that could cost them a big game later in the season.
Despite a sluggish second half, there were plenty of positives to take away from Monday's game. The Spartans continued their unselfish ways, as five players recorded double-digit points, and they earned 22 assists on 29 baskets.
Izzo believes this team is one of the best he's had as far as sharing and moving the ball, a bright spot just four games into the season.
"The ball is swinging around, the ball is moving, they're making a lot of passes, they're looking for people," Izzo said.
They'll have to continue to do so in a difficult stretch of upcoming games. MSU plays six games in 13 days, a grueling schedule during which the Spartans will need to both start and end on time in order to continue their winning ways.
EXTRA POINTS
--  Sophomore Gavin Schilling came off the bench for a career high in points (14) and rebounds (11) to earn his first career double-double.
--  With 13 points and 11 rebounds, Denzel Valentine recorded his fifth career double-double. Valentine also had eight assists.
-- The Spartans shot just 9 of 17 from the free throw line in Monday's victory. They entered the game shooting 54.5 percent from the line, which could be problematic further into the season.
"Tomorrow if anyone wants to join us for breakfast, we'll be here shooting free throws. Anytime you want to get here," Izzo said.
-- MSU led Santa Clara 40-14 at halftime, marking the second straight game the team held its opponent to 14 first-half points.
---