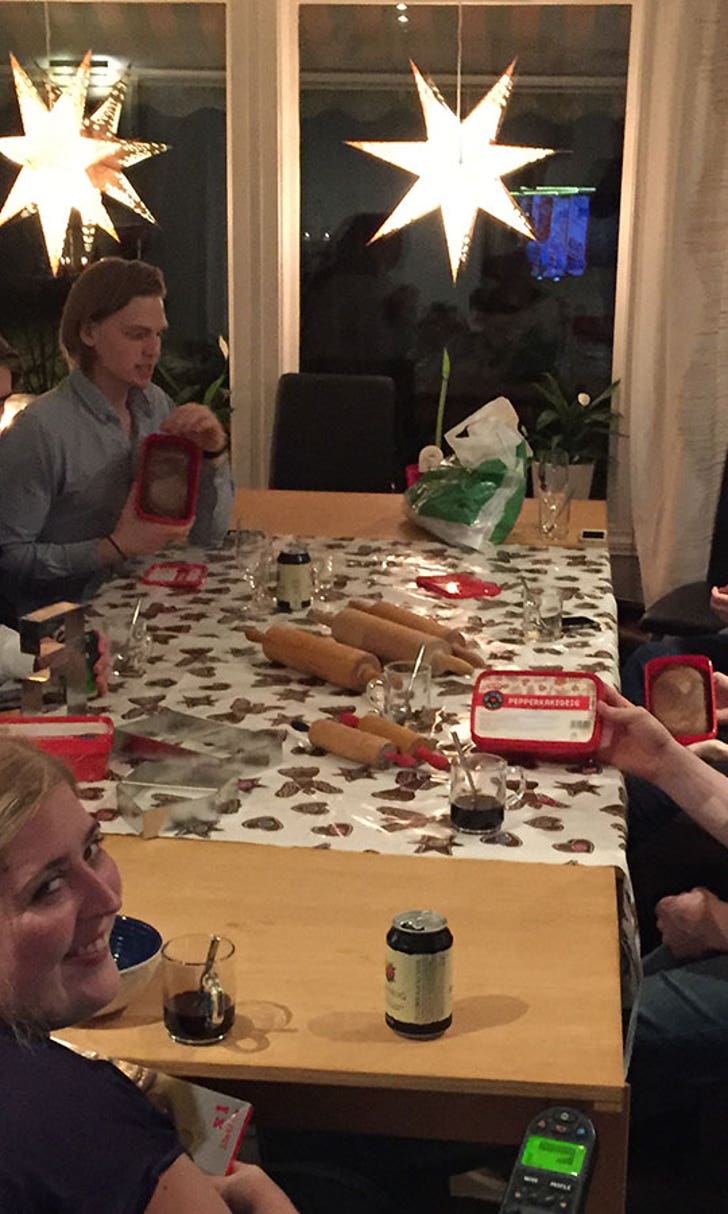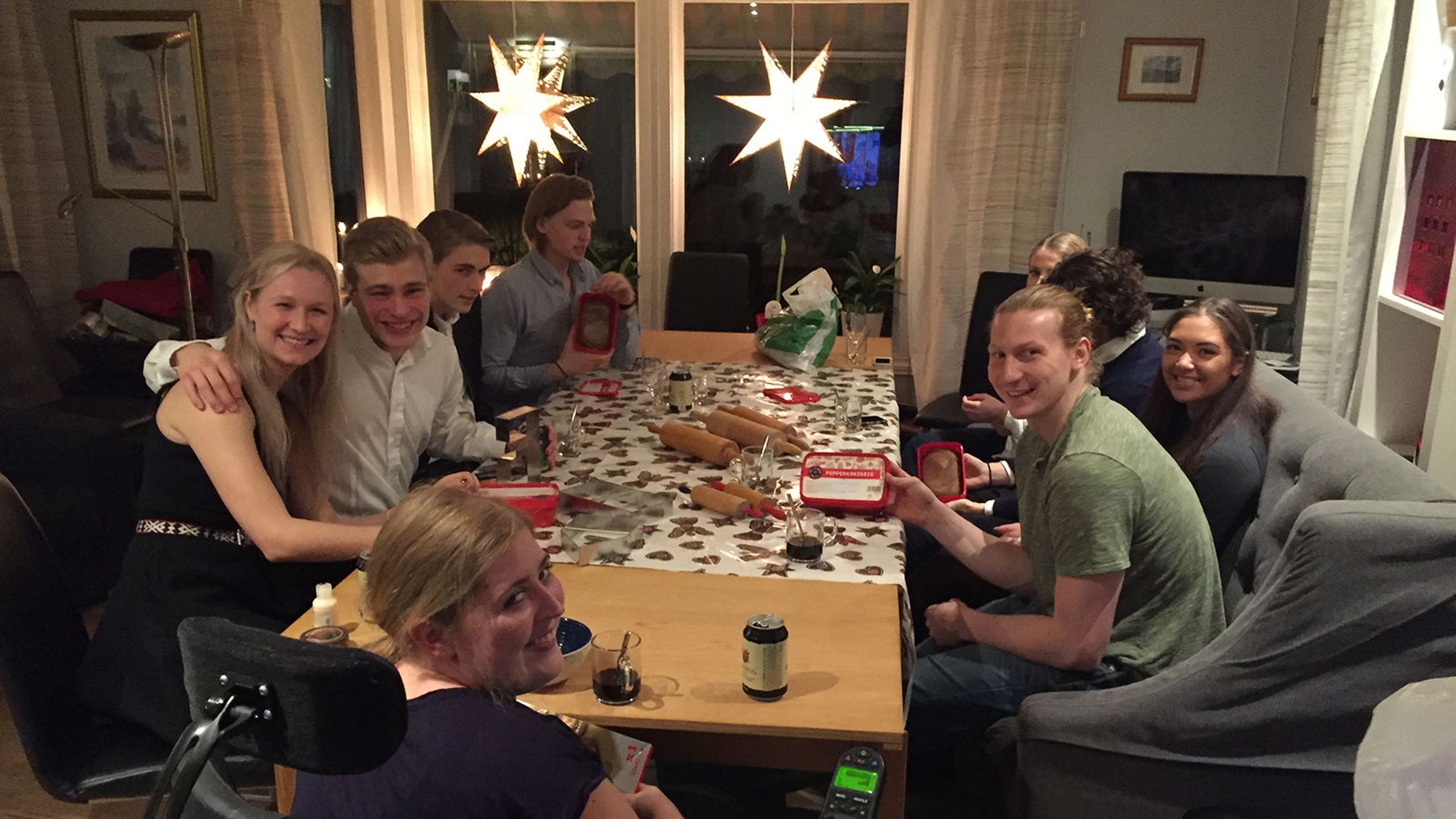 Christmas Norwegian Style
BY foxsports • January 13, 2016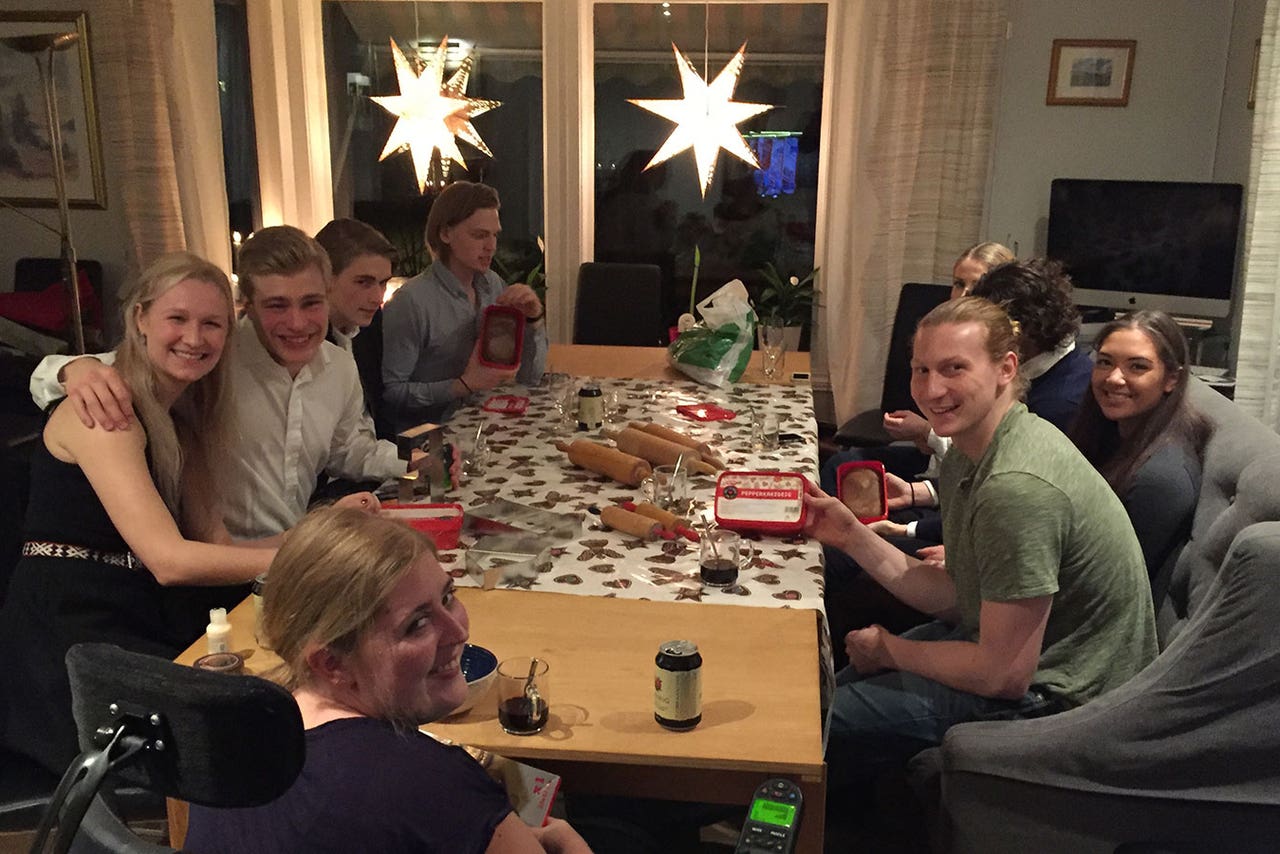 Merry Christmahannukwanzadan from my family to yours, on whatever continent, country, state or city you are in currently. I know it is a couple weeks past the holidays, but hopefully anyone reading this was able to spend it with those you love or at could mildly tolerate and share some holiday spirit.
The holidays have not been so traditional for me since my sophomore year in high school. I have spent Christmas in apartments, hotel rooms and in foreign lands with and without my family around. Despite being away from my family, I always loved our traditions: brisket and twice baked potatoes dinner, getting a book on Christmas Eve, waking up early Christmas morning, taking the obligatory "has Santa been here" picture on the stairs before heading down to open presents, special morning coffee cake and spending the rest of the day being lazy eating brisket leftovers.
Despite all these great memories, I chose to spend this holiday season 4,000 miles away from home. I have done the holidays in the states and felt it was time to broaden my horizons and learn how Scandinavians do Christmas. Also, an international flight, the stress of trying to see people in such a short time and fighting jetlag did not sound like the most fun to me.
The holiday spirit begins at the end of November, as Christmas markets pop up all over and the smell of candied almonds and grilled reindeer meat fills the air. The first of December signals the start of Advent calendars, julebord (parties), which only the cool kids get invited to.  Christmas markets and Advent calendars are in the states but in Norway and most of Europe they are really highlighted and an important part of the holiday traditions.
The julebord I attended was in the home of my teammates. We made gingerbread houses (pepperkakehus) and enjoyed a lovely meal of lamb stick meat (pinnekjutt), Christmas sausage (julepolse), potatoes and rice pudding for dessert. To wash this traditional meal down was plenty of adult beverages that included Christmas beers, mulled wine and the national liquor of Norway, Aquavit. Aquavit is a type of schnapps, and has the distinct and awful taste of dark licorice. Translated, Aquavit means "water of life" but I think it causes the feeling of death after consumption.
This feeling of death would soon be upon me, as it should be noted that Norwegians enjoy drinking, especially during Julebord and my teammate's father is no exception to the rule. I left the party with a very warm feeling after having about four "one for the road" shots and enjoyed an evening out on the town at '80s tribute bar in Oslo.  After leaving the party I found out some of my teammates enjoyed themselves a little too much and eventually prayed to the porcelain god.
The weeks leading up to Christmas Eve are filled with lights, candy and many julebord hangovers. On the morning of the 24th, families gather and prepare the holiday meal and do last-minute gift wrapping. The afternoon starts with a church service and then straight back home to eat and enjoy time with family and close friends. The attire is suit and tie and thankfully a friend brought my suit just a few weeks earlier.  A traditional Christmas meal depends on what part of the country you are in, but it will usually be ribbe (pork rib with a crispy top), turkey or cod. Also, potatoes, bread, sauerkraut and a few flavors of pickled fish that I chose not to partake in.
After the meal, Christmas coffee, cookies, cakes and candies are all set out on the table to nibble on while presents are being passed out. I was raised on opening  presents Christmas morning presents, so this was a little strange to me. Instead of acting like excited little kids, ripping open gifts as quickly as possible, the tradition is to take your time and have everyone enjoy each gift that is given. One gift is passed out and each gift is then presented to everyone, as if to be back in grade school and it is show and tell. This slow pace of receiving gifts and showing each one off was my favorite part of the whole night as it reminds everyone to not only enjoy the materialistic, but also enjoy the happiness that each gift brings to one another.
With no more gifts under the tree, everyone changes into comfortable clothes and enjoys time with their new gifts or heads off to bed, as the gift giving takes a couple of hours and the time is now late.
Christmas morning is another day to relax with lots of food, drink and family around.  I helped make brunch and then made my way over to my team president's house for another party, for which I came severely underdressed.
Christmas in Norway was amazing and I am really glad I chose to stay and learn the traditions of my current home. I know that I will borrow a few of the things I learned for my own holidays whenever I settle down and have a family of my own.
The holidays were very enjoyable and I was grateful to be welcomed by the families who invited me to share their rich traditions.
On my next blog I will backtrack a little bit and talk about just how beautiful this country is and the epic five-day road trip I took with one of my best friends through western Norway.
---