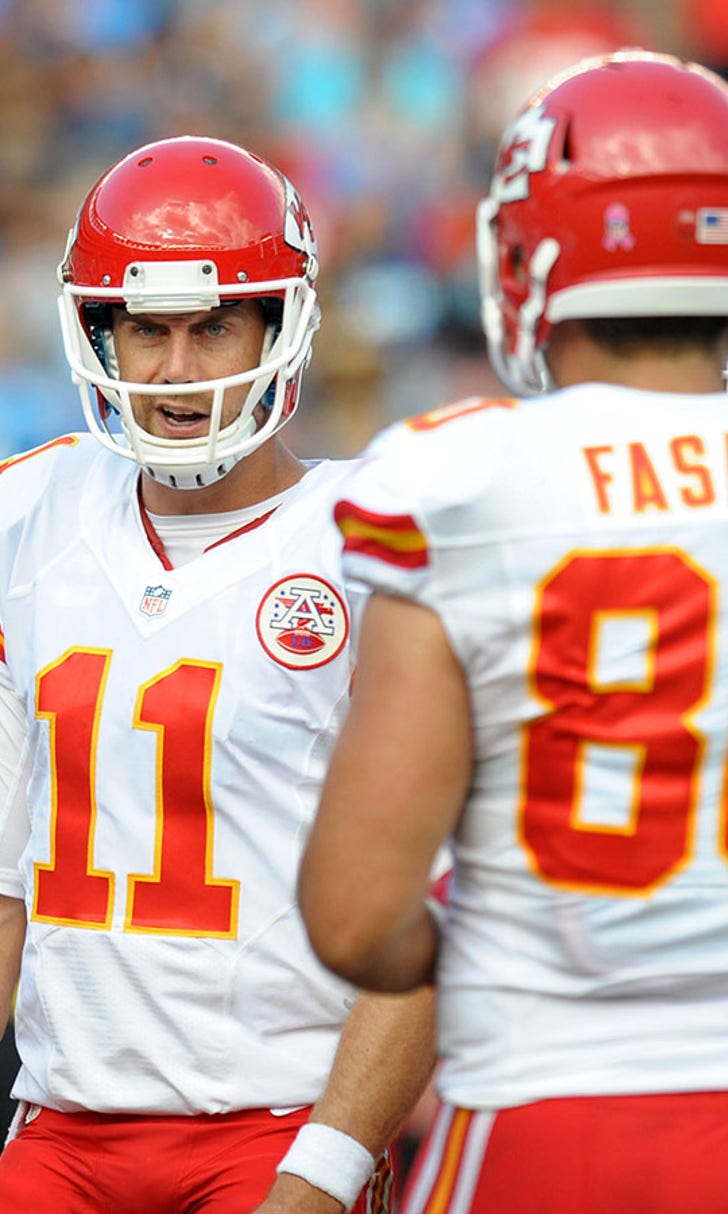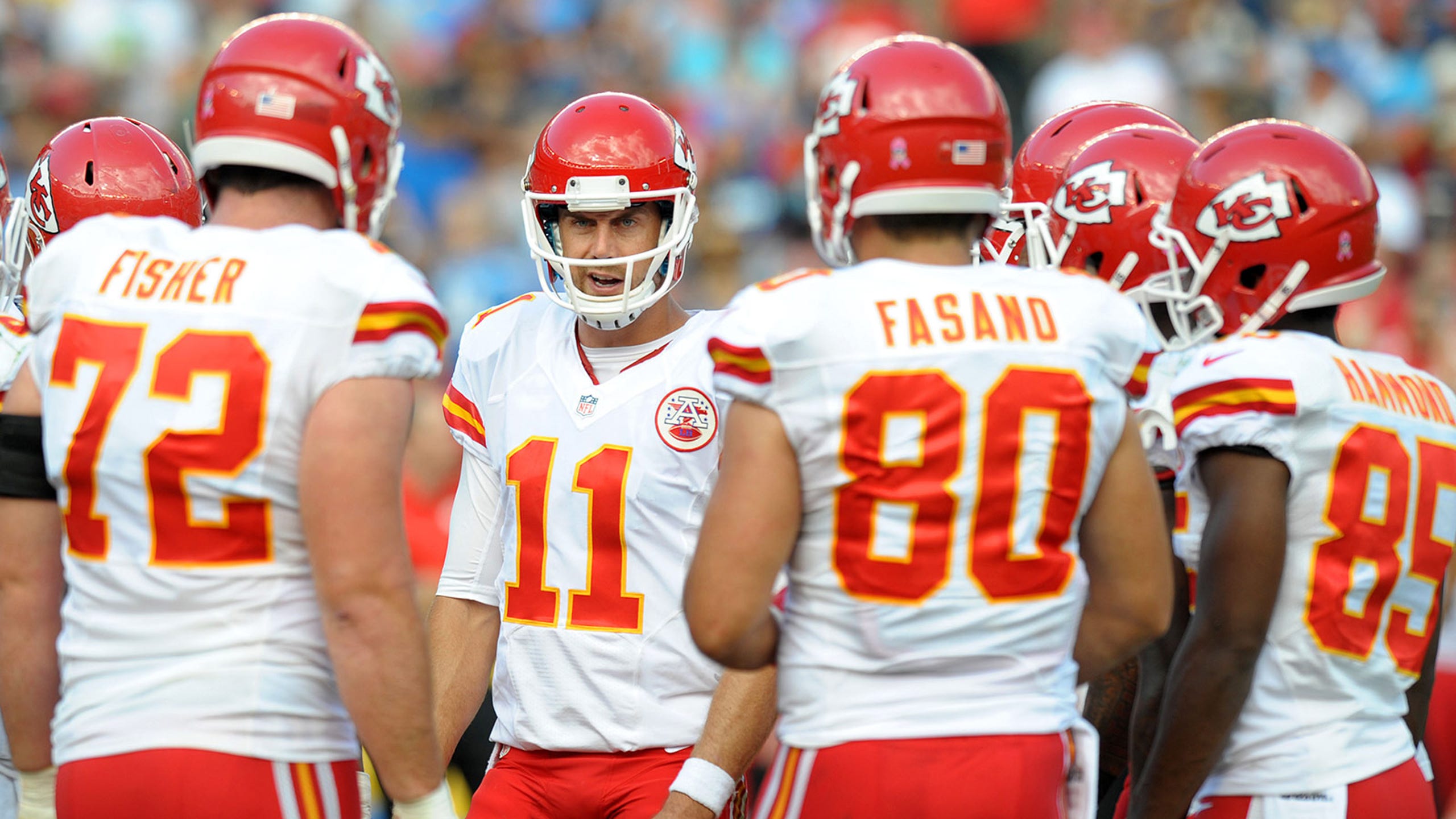 Chiefs' visit to Pittsburgh might as well be considered a playoff game
BY foxsports • December 18, 2014
The Pittsburgh Steelers and Kansas City Chiefs are in the hunt for playoff spots, but one will have a much more challenging path after this weekend.
Following a pair of wins over other teams vying for postseason berths, the Steelers attempt to continue riding the NFL's best offense while trying to solve the Chiefs' stingy defense Sunday at Heinz Field.
Pittsburgh (9-5) enters Week 16 in a wild-card spot, and tied with Baltimore for second in the AFC Central, one-half game behind first-place Cincinnati.
While the Ravens visit Houston on Sunday, the Bengals aren't in action until Monday against Denver, which has already clinched the AFC West.
The Steelers host the Bengals in next week's regular-season finale, while Baltimore faces Cleveland.
Pittsburgh beat Cincinnati 42-21 in Week 14 and followed that up with a 27-20 win at Atlanta last weekend.
"The last couple of games have been playoff games for us," quarterback Ben Roethlisberger said. "We've had to take that approach and that mindset because of how important every game was where we were record wise, seed-wise whatever you want to call it. We've kind of had that mentality for the last couple of weeks that it's time to get hot and play our best football.
"So we're just going to continue to try to do that."
Flip through our photo album of NFL cheerleaders.
The Chiefs (8-6) share that sentiment after ending a three-game losing streak with last Sunday's 31-13 win over lowly Oakland, reviving their hopes of eventually claiming a wild-card spot.
Kansas City wraps up the regular season at home versus San Diego, one of eight other teams vying for one of the two wild-card berths.
"Every game is playoff-mode," running back Jamaal Charles said. "Every game, you've got to come with it."
The Steelers are certainly doing it behind the league's top offense, gaining 424.9 yards per game and scoring 33.1 points while winning six of eight.
"We're trying to stack wins," cornerback William Gay said. "Playing against good opponents and just putting everything on the line."
Much of the focus is on their Big Three of Roethlisberger, wide receiver Antonio Brown and running back Le'Veon Bell, who are setting records along the way.
Roethlisberger's 4,415 passing yards are already a franchise record, while his 67.2 completion percentage is a career high. He's also tossed 29 touchdowns, three off his 2007 personal best.
Brown's 115 receptions lead the league, and are already a single-season team record. He set the franchise mark of 1,499 receiving yards last year, and needs just two yards to pass it. He's also one TD catch short of becoming the fourth Steelers wide receiver to grab a dozen, potentially joining Hines Ward (2002), Louis Lipps (1985) and Buddy Dial (1961).
Bell's 76 receptions are the most by a Steelers running back, 25 more than the previous record set by John L. Williams in 1994. He's also amassed a team-record 2,043 yards from scrimmage.
Another big game through the air won't come easy Sunday, with the Chiefs owning the second-best pass defense in the NFL at 199.2 yards per game.
"It's a good defense. We have to look at a lot more film because they get after the passer (and are) good in the secondary," Roethlisberger said. "This is going to be one of our toughest tasks of the year."
Kansas City relies heavily on Charles and Knile Davis, putting pressure on Pittsburgh's run defense, which has allowed 183 yards and one touchdown over the last two games.
The tandem has combined for 1,388 rushing yards and accounted for 21 of the team's 36 touchdowns.
Davis was key again last weekend after Charles underwent a concussion test following a hit. The second-year running back scored twice, including a 70-yard catch.
"Like Jamaal said, every game from here forward is a playoff game. We're taking that mindset into every game," Davis said. "For me, it's just a dream to be in the NFL. To make the big plays and help this team win is just huge all around."
The Chiefs could use some production from their wide receivers, who haven't scored a touchdown in 17 games to tie Cleveland (2008-09) and Denver (1971-72) for the longest such streak since the merger.
Alex Smith has thrown for 18 TDs this season, with Charles and tight end Travis Kelce grabbing five apiece.
"The fact that they're still winning games and haven't been able to have passing touchdowns like that, it shows that they're a very resourceful team," Steelers linebacker Arthur Moats said.
Pittsburgh has won four straight at home against Kansas City since a loss on Dec. 21, 1986.
---