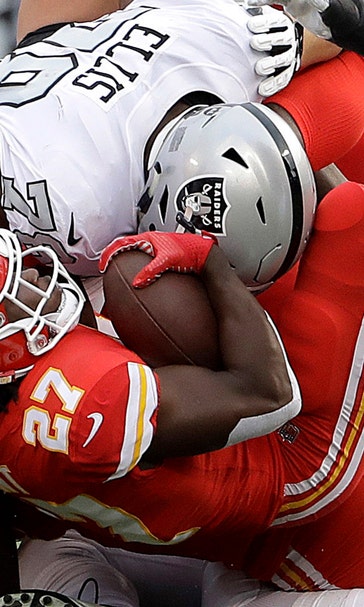 Chiefs monitoring Hunt's heavy workload to keep him fresh and healthy
October 23, 2017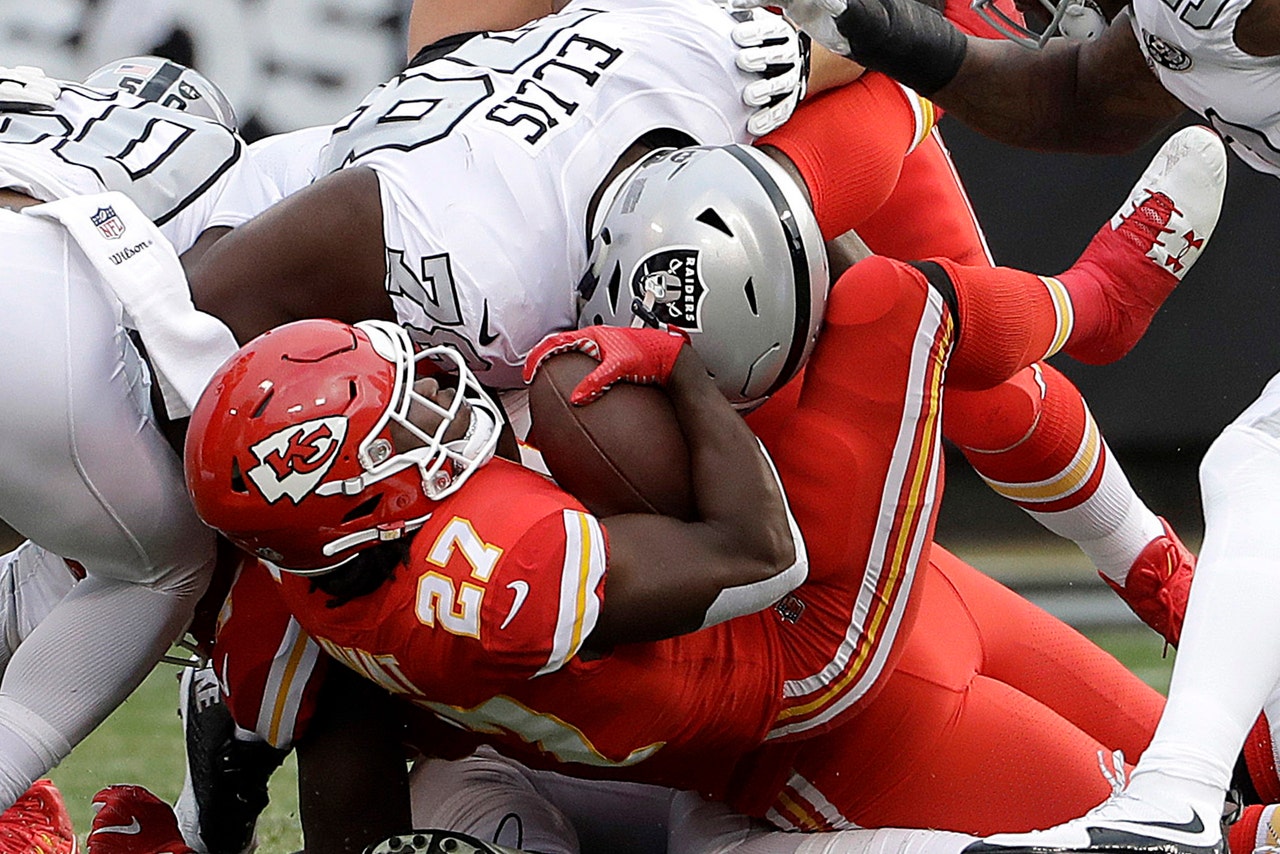 KANSAS CITY, Mo. -- The Oakland Raiders had seven games to prepare for Kareem Hunt, the Kansas City Chiefs' rookie who has taken the league by storm, and still couldn't stop him.

Slow him, yes. Stop him, no.

So while the Chiefs spent the weekend ruing a last-play loss to the Raiders on Thursday night, they could at least take solace in another dazzling performance from their running back.

He carried 18 times for 87 yards. He caught four passes for 30 yards. He topped 100 yards from scrimmage for the seventh consecutive game, stretching his own rookie record.

"The Raiders knew what we were doing. We had run those plays a couple times and had success with them with the same look," Chiefs coach Andy Reid said. "So we have a lot of trust in him."

So much trust, they're willing to give him a hefty workload.

Hunt is on pace to finish with 284 carries, which would have ranked fifth in the league last season. He is also on pace to catch 57 passes, giving him well over 300 touches.

That would surpass any kind of workload he had during his four years at Toledo.

"I'm not telling you he's waking up after games wanting to go run a marathon. That's not what he's doing," Reid said. "That's part of his position and how you feel. I think he's doing a heck of a job. He was strong again in the fourth quarter and we have a lot of trust in him."

Trust to tell his coaches when they're overusing him, too.



Remember, the third-round pick was supposed to share reps this season, part of a crowded backfield that was supposed to be the Chiefs' strength. But veteran Spencer Ware tore knee ligaments and was lost for the year in a preseason game, and backup Charcandrick West sustained a concussion a couple of weeks ago against Pittsburgh, leaving Hunt and journeyman C.J. Spiller to start against Oakland.

The Chiefs hope to have West for their game Monday night against Denver, but that probably doesn't mean Hunt's workload will ease much.

"Unfortunately for us, we've had some injuries this year," Chiefs offensive coordinator Matt Nagy said, "but that's every team in the NFL right now and we understand that. Our guys get it, and that's why it's just so important for the guys that aren't getting the physical reps each day in practice to stay mentally prepared so when they do get their opportunity, we don't skip a beat."

Hunt acknowledged that learning to take care of his body has been just as important as learning the playbook this season. He's been spending time in a room inside the Chiefs' facility dedicated to recovery from practices -- cold tubs, sure, but also compression boots and other high-tech gadgetry.

Nutrition, stretching and a multitude of other factors have also helped keep him fresh.

"Yeah, it starts now just taking care of your body every day," Hunt said. "Even when you're not that sore, you just got to keep working to get your body all the way back together."

Reid certainly sounds confident his young horse can hold up through 11 more regular-season games, not to mention the playoffs, leaning on running backs coach Eric Bieniemy to monitor his work.

"I don't think he's not fresh. I think he is where he is in the season," Reid said. "He's strong and, obviously, we're aware of that. We look at it -- he is a rookie, so Eric, I think, does a phenomenal job with that stuff, along with the trainers and Barry (Rubin), our strength coach. That's where we're at. We rotate enough that he gets a breather with rotation. He'll be all right."
---
---