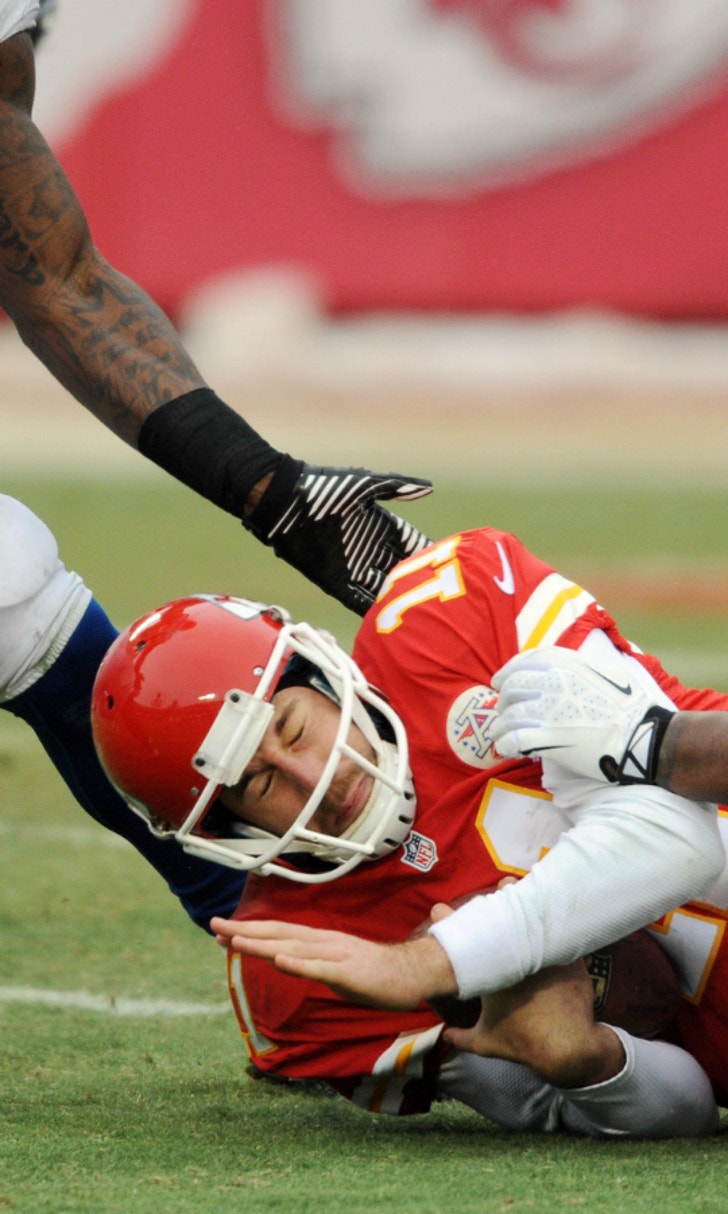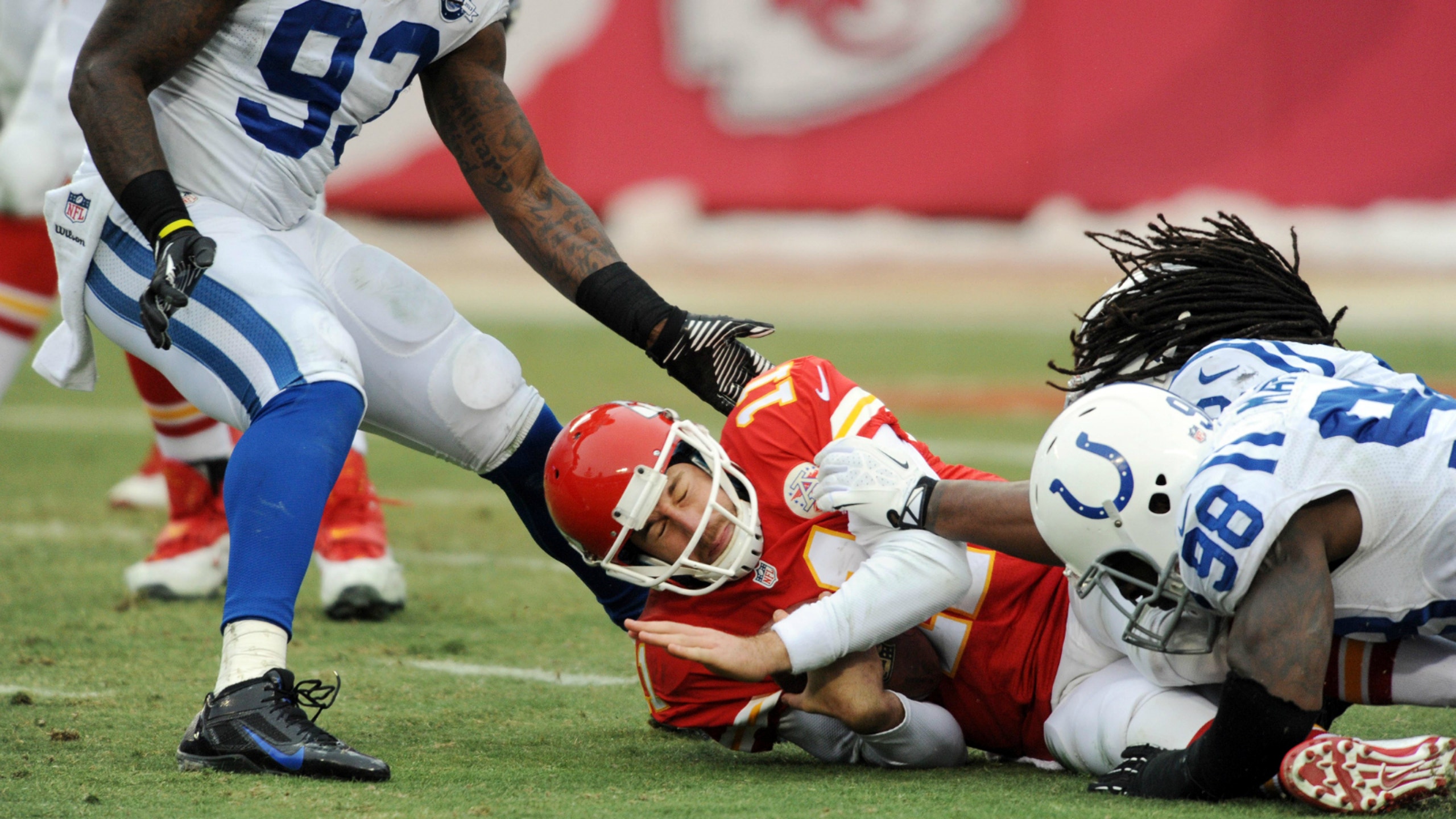 Chiefs laid egg against Colts and raised a very big question: Can they hang with the big boys?
BY foxsports • December 22, 2013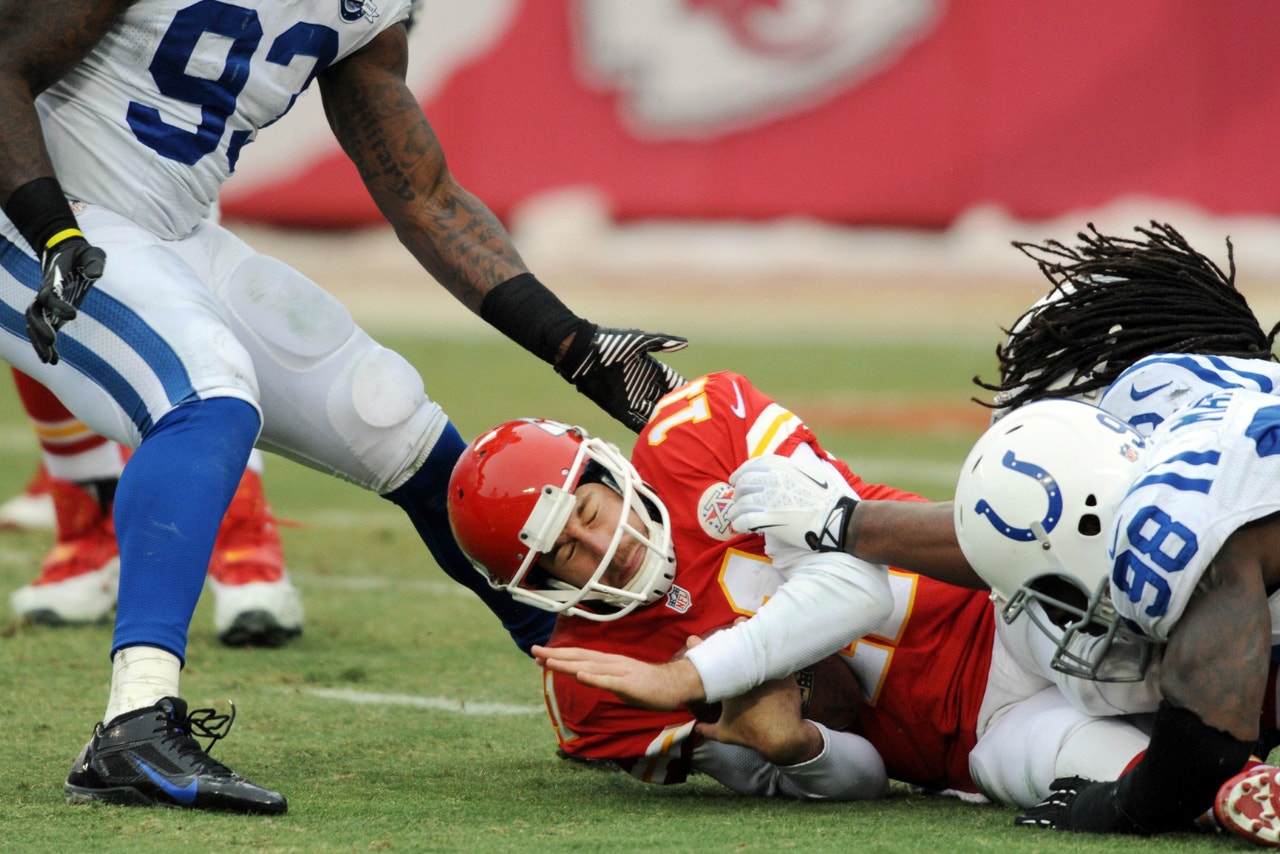 KANSAS CITY, Mo. -- Hey, hey, heyyyyy, why the long faces? Everybody knows the Chiefs are a dome team.
 
Oh.
"If we're going to go all the way -- which we plan to -- we can't ever play like this," linebacker Derrick Johnson said after his Kansas City bunch dropped a stink bomb in its regular-season home finale, a 23-7 loss to Indianapolis. "I mean, this ... (there's) no excuse for it.
"We've got to get it locked down. When you take a step back, a team kicks your butt like they did today."
 
The Chiefs (11-4) fumbled the ball away twice, something they hadn't done all season. They committed four turnovers, another unfortunate first, while failing to snatch a single takeaway of their own. They converted just one of eight third-down tries. They threw for 132 yards. They committed seven penalties that cost them 65 yards.
 
Sunday was "Turn Back The Clock Day" at Arrowhead Stadium. Only it was turned back to 2012, a place no Chiefs fan in their sane mind wants to visit ever again.
"It's one of those moments where you have to look in the mirror in all three phases," defensive back Dunta Robinson said. "They came in (Sunday) and kicked our ass, and we deserved everything we got. No excuses.
 
"You have to look in the mirror, and we have to decide what kind of team we want to be moving forward. OK, you dominate Oakland -- yeah, you dominate the Redskins. But what are we going to do when we face other powerhouses? We're a much better team than we showed today, and we have to play like it."
 
They didn't. Week 16 was curious in just how very un-Chiefs it turned out to be. It was slow. It was sloppy. It was discombobulated. The Andy Gang began a cold, snowy day mathematically alive for a No. 1 berth in the AFC playoffs and a division crown, then went out and seemed to play as if it had already been decided beforehand.
 
Well, it's decided now, kids. Next weekend's excursion to San Diego means nothing, at least as far as Kansas City's playoff slot is concerned (No. 5 in the AFC bracket, book it), and the postseason journey will assuredly begin on the road in two weeks, most likely in Indianapolis or Cincinnati.
 
"I know we'll have some motivation, definitely," guard Geoff Schwartz said of a possible Colts rematch early next month. "They might think we're one team, but we'll be back in a couple weeks."
 
Of course, the Chiefs are 6-1 away from Kansas City this season as opposed to 5-3 at Arrowhead. Maybe a little junket is a good thing.
 
"We didn't follow up on the 23 unanswered points," said coach Andy Reid, whose men stormed to a 7-0 lead, then shifted to neutral. "I mean, that's a bad day."
 
Yes. Yes, it was. On several levels.
 
After allowing just two touchdowns of 25 yards or longer over the previous three weeks (both at home to Denver), the Andy Gang gave up two to Colts tailback Donald Brown -- a 33-yarder on a dump pass on which he was curiously uncovered, and 51-yard run on which he was curiously un-tackled.
"He willed himself," Robinson said. "We missed tackles and he ended up in the end zone. Moving forward, we've got to see what kind of team we want to be. We can't miss tackles. We can't wait for the next guy to make the tackle. If we get the opportunity, we've got to make it."
The Chiefs' safeties played like they were speaking a different language. (Or not speaking to one another at all. Take your pick.) Nose tackle Dontari Poe, arguably the quietest man in the metro, was called for a taunting penalty on third down, extending a third-quarter Indy drive that ended with a field goal.
"I was talking," Poe explained later, "and they made a call ... I was wrong. It won't happen again."
 
Dwayne Bowe played through a bad neck, but not well -- 10 targets amounted to five grabs for 46 yards. Chiefs receivers were targeted 28 times and came away with 16 catches (57 percent); their Colts counterparts caught 26 balls on 37 targets (70 percent).
 
"I feel like it was a team effort (and) not in a very good way," Reid said, summing things up fairly neatly. "You can't pull your foot off the accelerator for sure when you go up that quick. You have to keep pounding, and that could've helped."
 
"You know, over a 16-game season, it happens," Schwartz said. "And (Sunday) was a bad day for it to happen."
 
And they happen, even to the elite. But Sunday was one of those performances that raises questions about cogency, potency, legitimacy -- hell, even identity.
The only thing worse than Robinson's earlier point -- what kind of team are we? -- is that it has serious validity. The Chiefs have faced six teams, to date, either in, or near to, a playoff spot. They're 2-4 in those contests, and have dropped four of those matchups in a row, being outscored 26-22 -- close, but no cigar -- against other postseason contenders.
Against the also-rans? Nine victories in nine games, wins that came by an average margin of 30-13.
 
When the Andy Gang saw a cupcake, they feasted. But when they've drawn a quarterback with a pulse, kids, it's been a coin-flip.
"We don't even care," safety Eric Berry said of the Chiefs-can't-hang-with-the-big-boys assertion.
"We don't even care, to be honest with you. Nobody really cares about us. So we just know it's all about what's in this locker room, and we try to focus on that. So whatever it takes, we're going to handle it."
 
It's going to take another level. It's going to take something different than ... well, that.
"Everybody needs to play on all cylinders," tailback Jamaal Charles said. "Everybody needs to play harder. Everybody needs to give more effort. Everybody needs to stay more focused. It doesn't matter who scored first, man. We just need to play harder."
 
They need outside linebacker Justin Houston, who missed all or part of a fourth straight contest. They need Branden Albert, healthy, at left tackle.
 
More than that, they need a stinking pulse.
 
"That," Johnson said, "is not us."
 
But it was. For the first time all season, the Chiefs went like a holiday card and mailed it in. That was new. Given the stakes, the opponent, and what's waiting just around the corner, it was scary, too.
 
You can follow Sean Keeler on Twitter (@seankeeler) or email him at seanmkeeler@gmail.com.
---