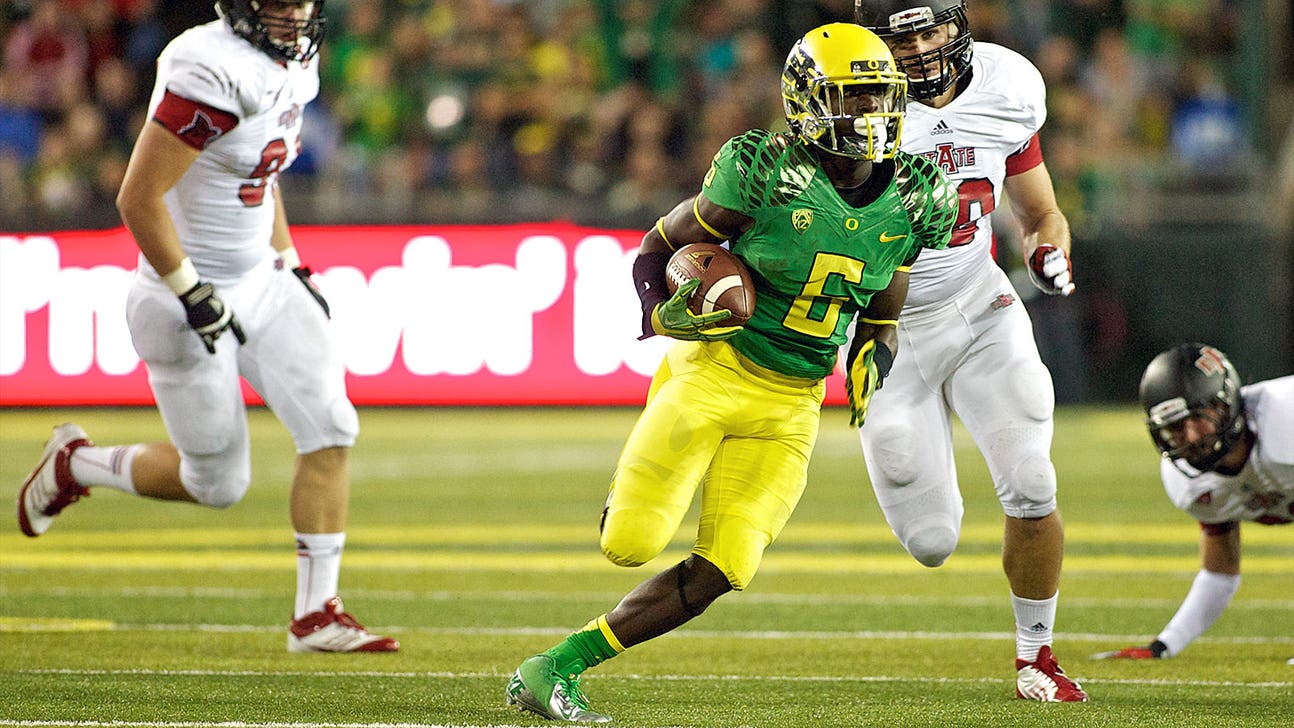 Chiefs' De'Anthony Thomas making big statement
Published
Aug. 2, 2014 10:34 p.m. ET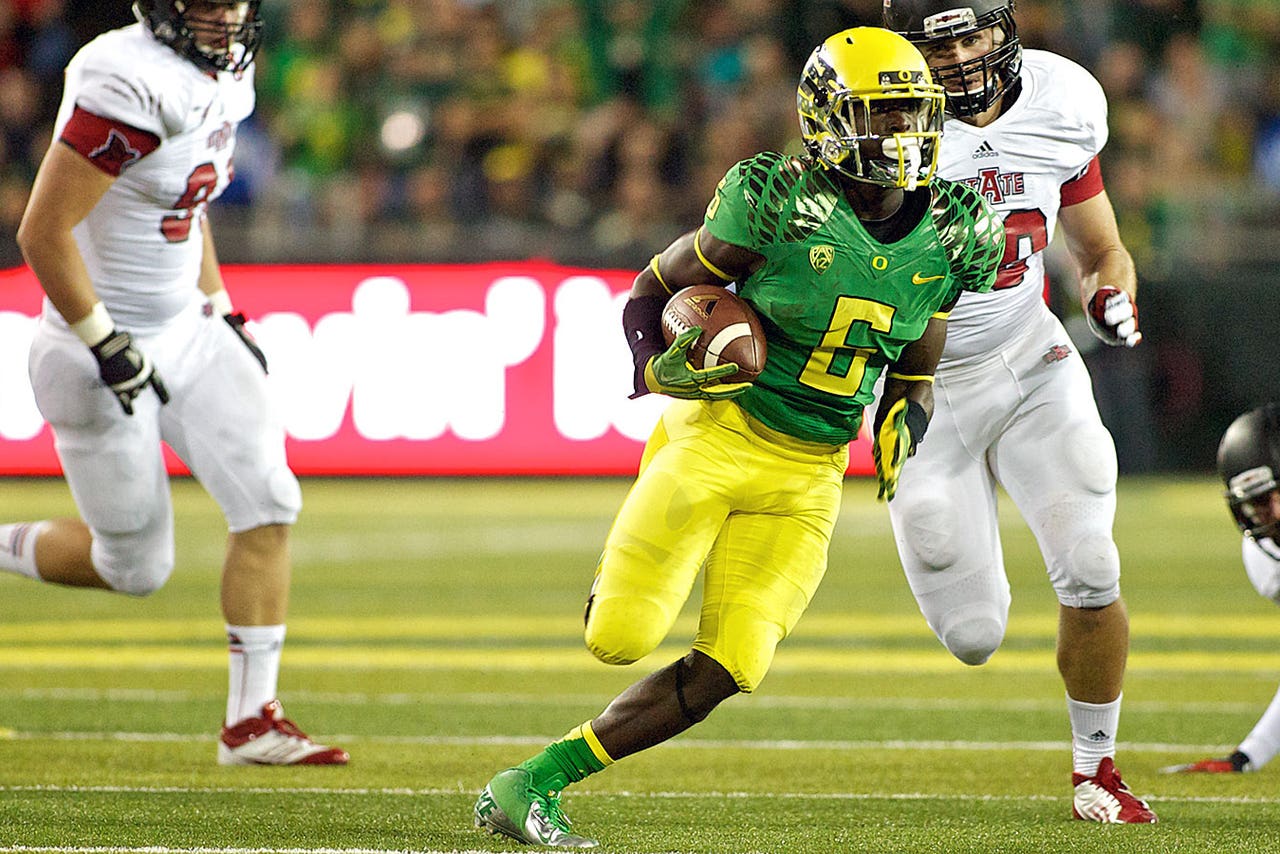 ST. JOSEPH, Mo. -- The diminutive dude wearing the No. 1 jersey took the swing pass near the far sideline.
He made the first defender miss, turned up field and made a couple more miss, and then wound his way all the way to the end zone.
It was just like De'Anthony Thomas used to do in college.
Now he's doing it in the NFL.
The quick, multi-talented running back was taken by the Kansas City Chiefs in the fourth round of May's draft, and already the former Oregon standout has been making 31 other teams look foolish for passing on him.
He's quickly moved up the depth chart in his first camp, and has been lining up at a variety of positions in a variety of sets in coach Andy Reid's offense.
And those zigzagging, ankle-breaking runs like that one earlier this week? Well, they're a big reason why thousands of fans have already become fans of him.
"I feel like I'm doing something right, you know?" Thomas said after spending nearly half an hour signing autographs. "Just competing, having fun. Coming to practice ready to work."
The biggest knock on Thomas coming out of the draft was something he couldn't control: His size. He's listed at 5-foot-9, 174 pounds, which makes him shorter than every position player but wide receiver Weston Dressler and lighter than anybody else in training camp.
But unlike Pro Bowl punt returner Dexter McCluster, who filled a similar role with the Chiefs before departing in free agency, Thomas relishes contact.
Despite his smallish stature, it takes a bit more than a stiff breeze to knock him from his feet -- assuming, of course, that some poor guy is able to track him down and put a solid hit on him.
"It's all about heart," he said. "Just competing and having confidence."
There certainly was no disputing the production Thomas had with the Ducks. He ran for nearly 2,000 yards and caught more than 1,200 yards worth of passes during his three-year career, even though he missed time his junior season with an ankle injury. He also led the nation in yards per carry as a sophomore, and proved to be an effective punt returner.
So when McCluster parlayed his big year on special teams into a big contract with Tennessee, the Chiefs jumped at the opportunity to plug in Thomas as a replacement.
"He truly enjoys playing the game," Chiefs general manager John Dorsey said. "I'm sure it's a dream he's chased all his life. He wants to be good. He has a degree of pride. And I think the coaching staff we have, that does nothing but refine his skills to take it to another level."
Thomas said he tries to model himself after LeBron James - "He's a great team player," he said - but never gravitated toward basketball growing up, even on the playgrounds of south-central Los Angeles.
In fact, his first love was track and field because he liked the individual nature of the sport.
But he was playing around with friends when he was about 5 years old when a coach drove by and asked whether he had ever played football. Thomas never looked back.
He became a star in the Pop Warner leagues in Southern California. And by the time he arrived at Oregon, Thomas was already known for his speed and silky smooth moves.
Now, he's trying to get up to speed with the Chiefs.
Since Oregon is on the quarter system academically, Thomas missed virtually the entire offseason program, putting him a bit behind in learning the offense. But he's shown several times in training camp that he's getting a grasp of it - and leaving defenders grasping for air.
"We're not going to throw the whole book at him," Chiefs offensive coordinator Doug Pederson said, "but use his skill set, use his talent and let him go play football."
Already, he's proven pretty good at that.
"You get nervous when you've got him in the game," linebacker Derrick Johnson said. "I had the running back today man-to-man and you look up and it's number one in the backfield, that's not a running back to me, so it's one of those things that you've got to be on your toes. And in this offense he's doing great. He's going to help us this year."
NOTES: CB Marcus Cooper tweaked his hamstring early in Thursday's workout. Sean Smith took his place. ... Pro Bowl S Eric Berry (right heel) should be back soon, Reid said, but it remains unclear whether he will play in the Chiefs' first preseason game.
---