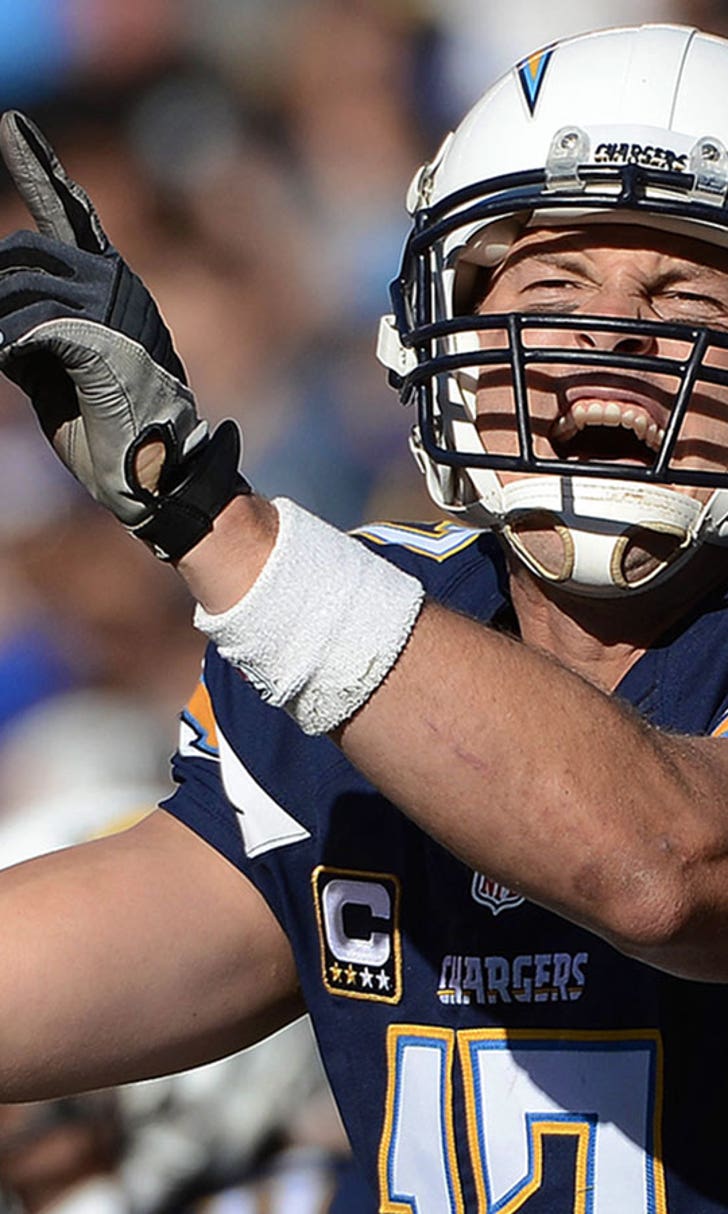 Chargers-Ravens Preview
BY foxsports • November 26, 2014
If the San Diego Chargers make the playoffs, they're going to be able to look back on the final five weeks of the season and boast some impressive victories.
That stretch begins Sunday in Baltimore, where the Ravens have won four straight and made things incredibly difficult on opposing offenses.
The Chargers (7-4) and Ravens (7-4) have aspirations for division titles, but Baltimore's might be the more realistic despite being in an AFC North with all four teams at least three games over .500. That's because San Diego's remaining schedule includes the Ravens, visits from New England and AFC West-leading Denver, and trips to San Francisco and Kansas City.
Emerging with an AFC West title might trump last season's four-game winning streak to squeak into the playoffs, and cornerback Brandon Flowers is remaining optimistic.
"We feel like we're in playoff mode right now because every team we're going to be playing the rest of the season feels they can't lose a game the rest of the season just to try to keep their playoff hopes alive," Flowers said.
"I guess it's good in a sense. We don't have any so-called trap games. Every team is coming in trying to win a game, so we're going to feel like we have to give every team our best shot and we're going to get everybody's best shot."
A trip to Baltimore may appear to be one of the more winnable games, but the Ravens have won four straight at home while limiting opponents to 7.5 points and 270.0 yards per game of total offense.
That's bad news for a San Diego offense that's often struggled to move the ball on the road. The Chargers are 2-3 away and have been held to averages of 18.2 points and 306.0 yards.
They could, however, have found something to build on in Sunday's 27-24 home win over St. Louis, which has emerged as a bit of a defensive pest. The Chargers put up 410 yards after averaging 258.8 in the preceding 1-3 stretch.
Philip Rivers was 29 of 35 for 291 yards, but it was the rushing attack that experienced the greatest awakening. In his second game back after a seven-game absence due to a sprained knee, Ryan Mathews gained 105 yards on 12 carries.
A repeat effort could be difficult against a fifth-rated rush defense (88.3 yards per game) that hasn't allowed a 100-yard rusher in 21 straight games - tied with Arizona for the longest active streak. Still, there's room for optimism after the team's 5.82 per carry average against the Rams, which was easily San Diego's best of the season after entering with an AFC-worst 3.15 mark.
That's about the number the Ravens grew familiar with a season ago (3.14), but they've blown past it this year and find themselves ranked seventh in the NFL (4.62).
Even that number is an insult to Justin Forsett, who ran for a career-high 182 yards in Monday's 34-27 win in New Orleans. The first-year starter leads all running backs with 5.83 yards per carry.
"It's crazy, man. You think about where I was this time last year, mostly doing a lot of scout team work and coming in (to play) every once in a while," said Forsett, who had six carries with Jacksonville a season ago. "To just get the opportunity when I thought I would never get it again, it's a blessing."
The running game has allowed Joe Flacco to pick his spots and settle into what's thus far been his highest-rated season (92.6) since 2010 after dipping to a career-worst 73.1 mark a season ago. His current number is particularly significant because Baltimore is 43-7 when his rating is at least 90.0.
It was 120.7 against the Saints, and Flacco went 18 of 24 for 243 yards and a touchdown while going a second straight game without throwing an interception. Dating to last season, the Ravens have won the last seven games in which he hasn't thrown an INT.
He'd be wise to let the running game dictate things again versus the Chargers, who boast the sixth-rated pass defense in the league (221.3 ypg), while their run defense comes in at 15th (108.8). San Diego is 1-4 when it allows 109 yards or more.
San Diego has won the last eight games in which Rivers hasn't thrown in INT, and if he can protect the ball and handle the road environment, he might have a shot at a big day. The Ravens' defense ranks 29th against the pass (264.6).
The teams have split the last four meetings, but they've all been played in San Diego. The Chargers have lost both of their trips to Baltimore.
---