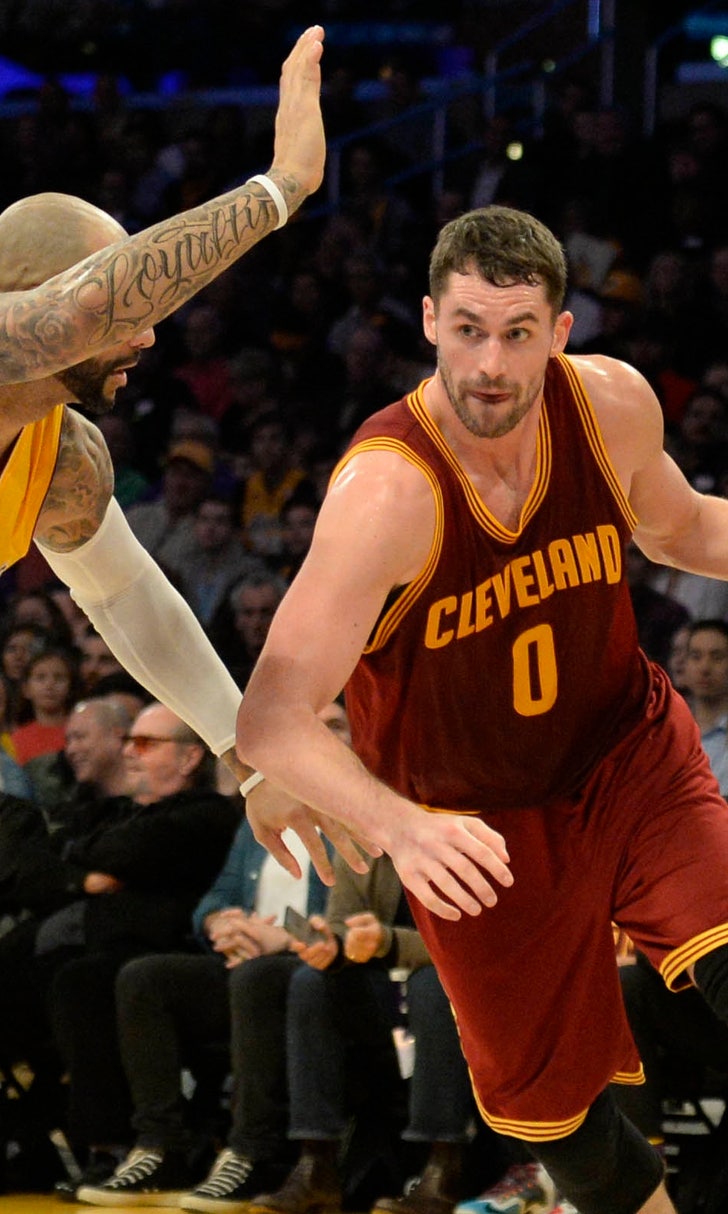 Cavs looking to start new winning streak against Lakers
BY foxsports • February 8, 2015
The Cleveland Cavaliers' long winning streak may be over, but the surge seems to have finally established them as one of the NBA's true contenders.
The Cavaliers will look to start another streak Sunday when they host a Los Angeles Lakers team hoping to avoid matching a franchise worst for consecutive road losses.
Cleveland (31-21) had dropped nine of 10 from Dec. 28 through Jan. 13 - playing eight of those 10 games without an injured LeBron James - before reeling off a 12-game run that began with a 109-102 win over the Lakers (13-37) at Staples Center on Jan. 15.
The streak, which ended Friday with a 102-99 loss at Indiana, put the Cavaliers neck-and-neck alongside Chicago in the battle for first place in the Central Division.
James led the charge with an average of 27.9 points during the streak and scored 25 Friday, but he committed seven turnovers and was 0 for 4 from behind the arc.
He also went to the bench toward the end with ankle and wrist injuries he appeared to sustain at some point in the second half.
"(James) got hit quite a few times tonight," coach David Blatt said. "He took a couple fouls that were not easy. He is a little banged-up as it is. We're going to see how he feels tonight and tomorrow. Hopefully he'll play (Sunday) ... if he can't, then he won't."
The Cavaliers are 2-8 this season without James and would again be forced to rely on Kyrie Irving and Kevin Love should their star forward be unable to play.
Irving had little problem stepping in during James' most recent absence and scored a career-high 55 points in a win over Portland on Jan. 28. He has averaged 24.8 points on 50.6 percent shooting since Jan. 15.
Love also showed some improvement during the streak, but struggled again Friday with just five points and eight rebounds in more than 33 minutes. He had scored 24 in a 105-94 win over the Los Angeles Clippers on Thursday.
"Last game, I got the ball in the post a lot and I was able to get myself going early," Love said. "Tonight I wasn't asked to score the ball. But LeBron and Kyrie had it going."
Most notable for the Cavaliers has been their improved defense, which now ranks in the top half of the NBA with 99.1 points allowed per game. Prior to Friday, Cleveland had held opponents under 100 points in 10 consecutive games - a feat it had accomplished only 17 times through the first 41 games.
That defensive prowess should provide a significant challenge for the Lakers, who have managed 95.6 per game since Kobe Bryant was lost for the season Jan. 21.
Los Angeles has dropped three in a row and 12 of 13 after a 103-97 overtime loss at Orlando on Friday put it on the verge of tying a franchise-record 10-game road losing streak originally set in the 1957-58 season and matched in '63-64.
"They aren't having a party because we lost the game and it'll help us get a better draft pick," coach Byron Scott said. "They're in there right now upset because we let a game get away. That's how I want them to be. If I have guys in there that are partying, they won't be here next year anyway."
The Lakers had lost three straight in Cleveland before winning 119-108 last Feb. 5 in their most recent visit to Quicken Loans Arena.
---