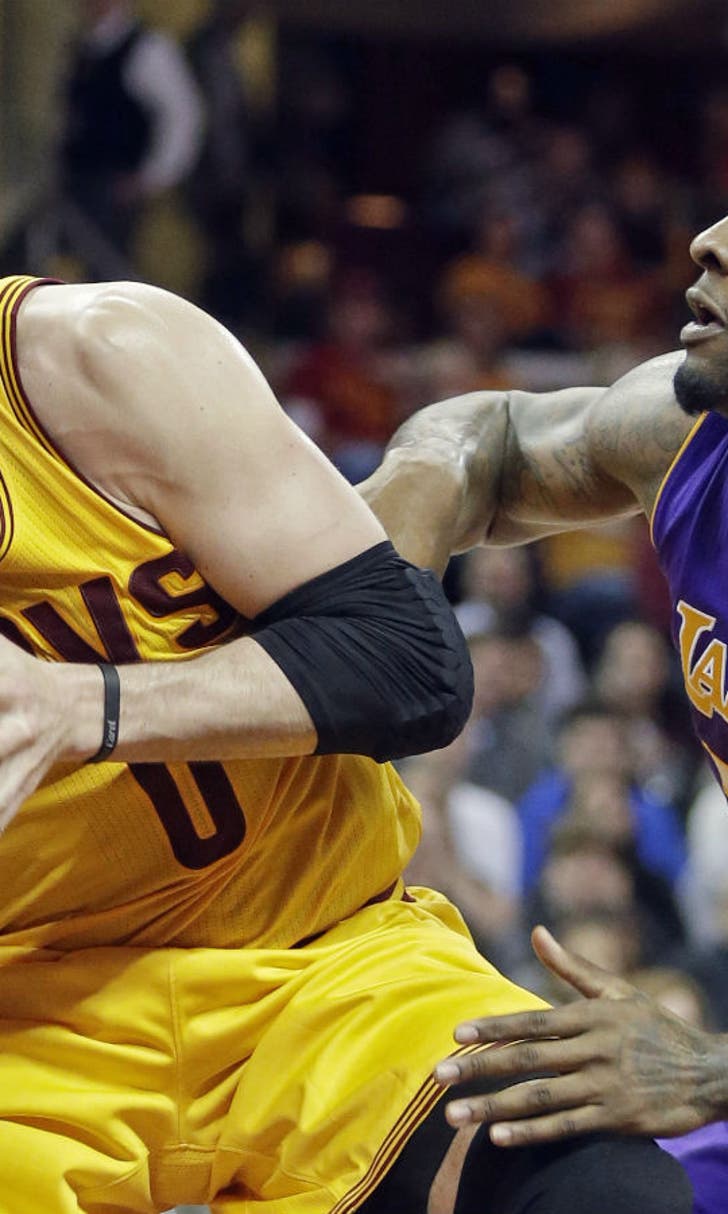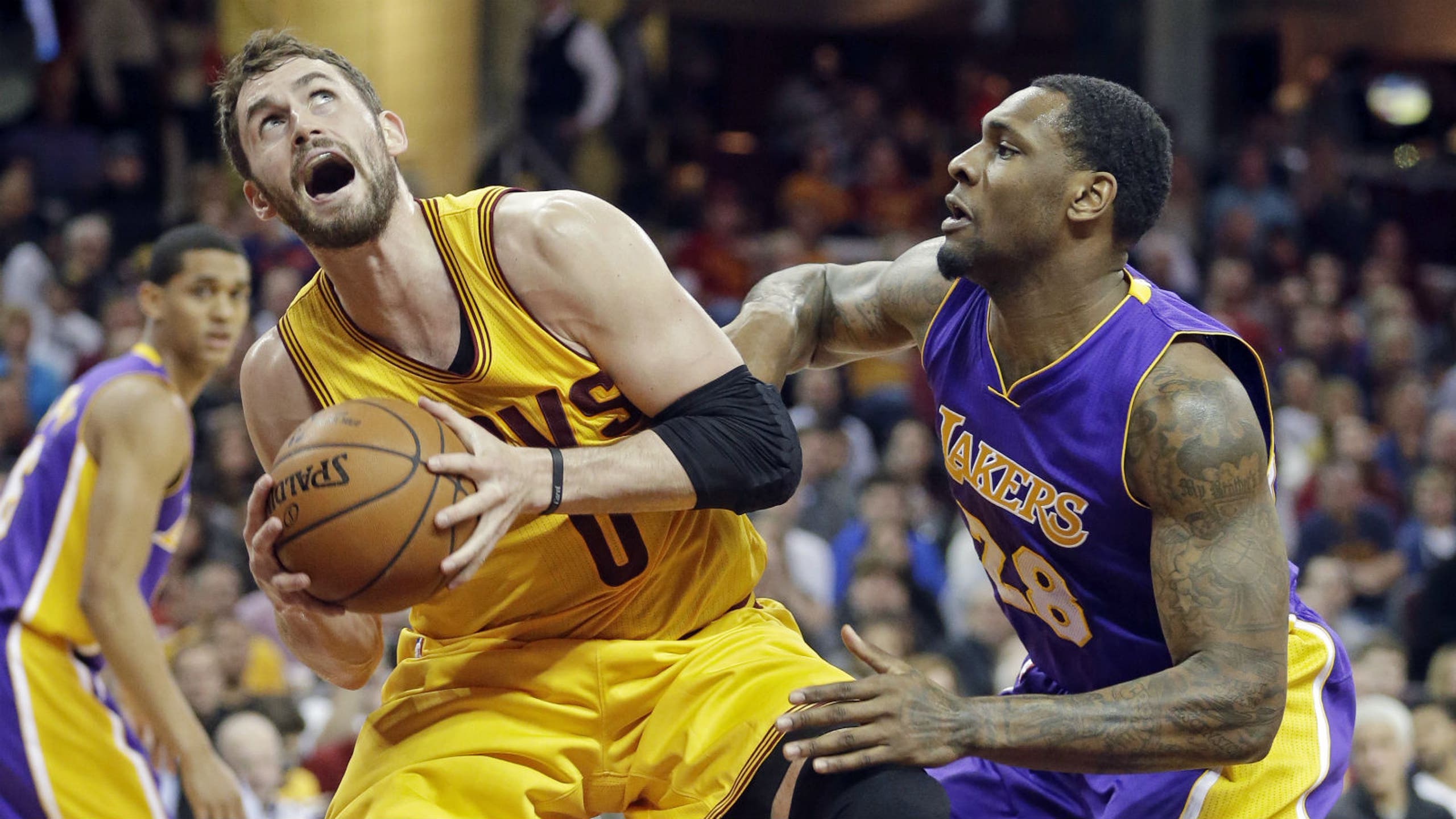 Cavaliers' big three hit on all cylinders
BY foxsports • February 8, 2015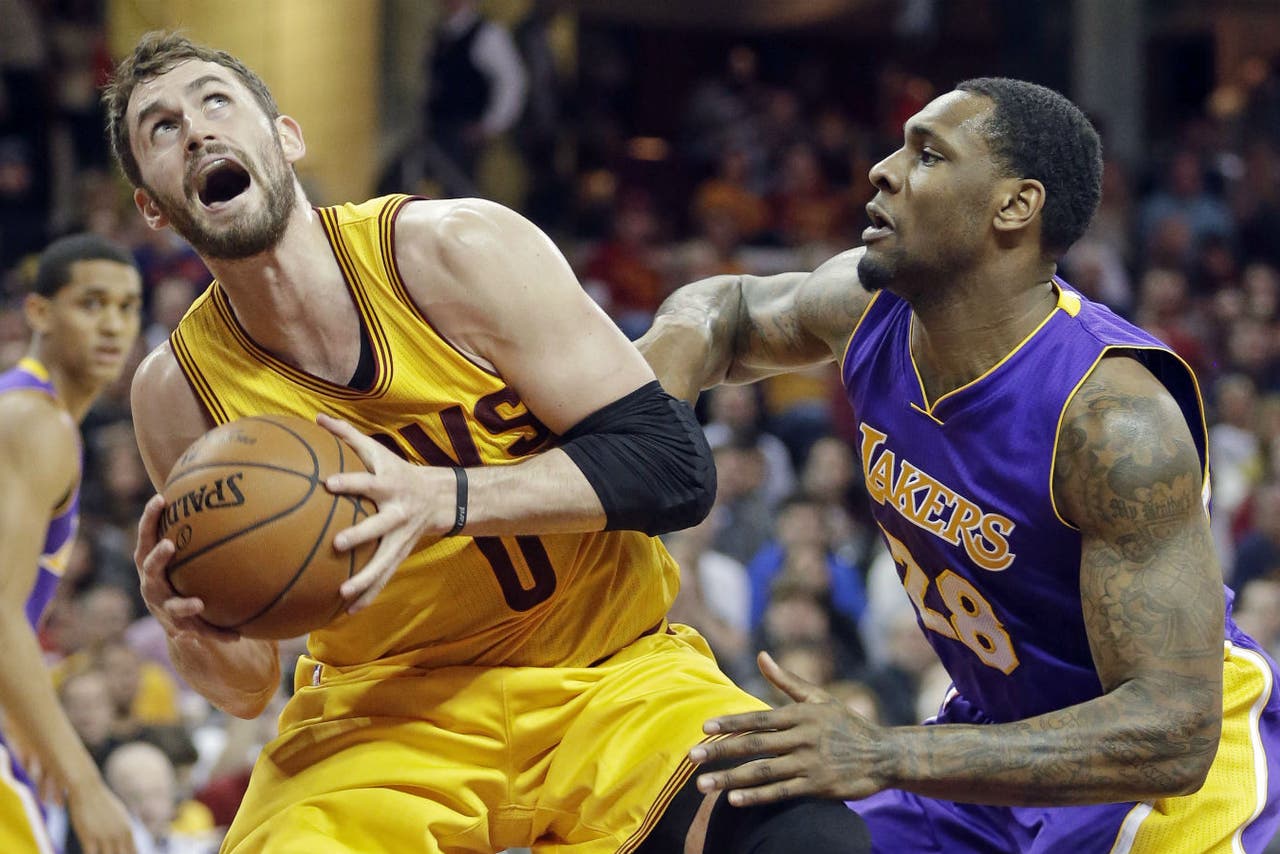 CLEVELAND -- The Cavaliers' biggest three stars aligned for one of their most impressive games as a trio.
Lebron James, Kyrie Irving and Kevin Love combined for 82 points, 24 rebounds and 21 assists as the Cavs blew out the Los Angeles Lakers  120-105 in front of a sellout crowd at Quicken Loans Arena. It really wasn't as close as the score indicated, as the Cavs led by as many as 26 with just more than 7:00 to play.
It was the Cavs' 13th win in 14 games.
All three players finished with double-doubles and James was on the verge of his 38th triple-double as he had 10 rebounds and eight assists to go with his 22 points. Irving scored 28 points and added 10 assists. He scored 13 in the first quarter.
In addition, two other players had near double-doubles, as Tristan Thompson compiled 10 points and eight rebounds and Timofey Mozgov eight points and 10 rebounds. 
Irving, Love and James became the first trio to record double-double with at least 20 points in over 10 years with the last time being on Dec. 5, 2004 against the Raptors with James, Zydrunas Ilgauskas and Drew Gooden.
It was the fifth time this season that three players have had double-doubles.Overall, Love paced the Cavs with 32 points and 10 rebounds. He was on fire from 3-point range, hitting 7-of-8 from outside the arc and was 11-of-18 overall.
Love scored 17 points in the second quarter and was 5-of-6 from 3-point territory for 22 points at halftime. Love hit four straight threes in a two-minute span from 3:41 to 1:34 in the second quarter to put the Cavs up 62-43.
Love started the second half quickly, hitting a jump shot and then two free throws for 26 points with 10:33 to play in the third quarter.
"I thought he was outstanding," Cavaliers coach David Blatt said. "I was really happy with his activity level. I thought he moved really well to spots and got himself prepared for the opportunities that came his way.
"He really played good basketball at both ends of the court. That's reflected in his numbers, and more importantly, he was very, very active tonight and seemed to be fresh and that was good."
Love downplayed his game after scoring just five points against the Pacers on Friday.
"Nothing really (different)," Love said. "Same approach to the game. Just happened to knock down the looks that I got tonight. The team got me going and it was a good win for us."
Love emphasized that he had a lot of help.
"It wasn't just me," he said. "Kyrie had a great first quarter, LeBron in the third was great and I had my second quarter where I shot it well. It was a team effort today."
Overall, the Cavaliers  shot .549 from the field and .545 on 3-pointers. Irving knows the Cavs are extremely dangerous while moving the ball, especially with Love in the mix.
"Very (dangerous)," Irving said. "Especially if we're all clicking on all cylinders like that. Me, LeBron and Kevin and everyone was contributing. It just makes the game so much easier for everyone around us.
"It was great to see (Love's) shot falling like that tonight. All the hard work he puts in behind the scenes is coming to fruition. He was just shooting the same shots and they went in tonight and I was just thankful for that."
TIP INS
Culture Change: James talked after the game about the importance of changing the culture back to a winning one.
"There's no time to wait," James said. "When I decided to come back, I wanted to change the culture back to where it was when I left—get back to the winning ways, but also just get back to being professionals. The teams that I played on when I was here, we were professionals.
"We got to the finals once, got to the Eastern Conference Finals a few times, put some banners up in the arena," he said. "More than anything, we were professionals. You never heard anything about us off the court. We all took care of business, came to practice every day, came to work every day as professionals. More than anything, you come and be professional. That' all you can ask. It's a game, you're going to win, you're going to lose, but how you carry yourself off the floor is what matters most."
Return of Scott: Byron Scott, who was coach of the Cavaliers post-Lebron the first time returned to face the Cavs as Lakers coach Sunday. He was the coach from 2010-13 before being replaced by Mike Brown.
Scott was 64-166 (.278) during his time with the Cavs.
Prior to Sunday's game, Scott was asked about reflecting on his time in Cleveland.
"It reminds me of how cold it was when this is a heat wave, right now," Scott said. "But, it's nice. I enjoyed the time I had when I was in Cleveland. The people were great when I was out anywhere I would go at restaurants and be out (in the city)."
Scott was hired after Brown was fired, with James' free-agency status still undecided. Scott was hired in hopes of keeping James in Cleveland.
Scott was asked if he regrets the way things happened with his hiring.  
"I wouldn't appreciate where I'm at right now," Scott said. "I never look back. I try to focus on the present and future. The past I cannot do anything about. Right now, when you talk about a couple of years ago, I cannot do anything about that."
Scott was asked if thought he'd be fired when he was tasked with building for the future.
"By December, if we didn't get it done, I thought I should be fired," Scott said. "I think all of us as coaches are disappointed when we get fired, but I don't think we got a fair shake."
Scott is tasked once again, with trying to rebuild the Lakers, who are now 13-38 and have tied a franchise record for 10 straight losses on the road.
"It's the same process," Scott said. "We're just trying to get through the season and trying to build."
Harmonica Man: Iman Shumpert had his best game since coming over in a trade with J.R. Smith from the Knicks. Shumpert finished with 12 points on 5-of-13 from the field (2-of-5 on threes), four steals, two rebounds, two block shots and two assists in 29 minutes.
"I think he's solidly in his groove with the team and he knows well what's expected," Blatt said. "Offensively, he's taking the opportunities that are coming his way. He's a good basketball player and he fits very well in what we are doing."
Shumpert threw down three dunks in the first half, two off fast breaks and a beautifully timed inbounds pass that Irving threw and Shumpert dunked.
"We made eye contact and he knew," Irving said.
Blatt was asked if he drew up the play.
"(Irving) made a great play," Blatt said. "When your kids do something great, you always want to take credit for it, but sometimes they're just doing good stuff (on their own). Kyrie just made a great play and Shump also."
Shumpert played a few notes on his harmonica after the game in the locker room. He did so after the Cavs last home win against the Clippers.
Boo-zer: Former Cavs forward Carlos Boozer returned to The Q and was given a Bronx cheer when he entered the game with 5:14 to play in the first quarter. Boozer finished with nine points and six rebounds in 15:10.
He entered averaging 12.7 points per game with 6.9 rebounds. Boozer did not start, but scored his first basket with 4:35 in first quarter.
Tough Road: The Lakers lost their 10th straight road game to tie a franchise record in futility away from Los Angeles.
Moment of Silence: The Cavs cionducted a moment of silence before the game for legendary North Carolina coach Dean Smith, who died Saturday at the age of 83.
Blatt shared a story about coaching against Smith when North Carolina was playing the professional team he was coaching in Israel at the time.
Blatt told the story about how the referees kept calling a lane violation on his team that ultimately cost his team a win. Blatt said he asked Smith after the game what a lane violation was facetiously because they weren't enforced in the Israeli leagues.
"He said, 'You know now,'" Blatt said Smith told him.
Harris Back: Rookie Joe Harris returned from the Canton Charge for Sunday's game. He played three minutes and finished with three points on his only attempt from the field.
No Go: Brendan Haywood, Shawn Marion and Mike Miller did not play.
Century Mark: When scoring 100 or more points, the Cavs are 25-4 overall and 16-0 at The Q.
New Streak?: The Cavs fell one short of tying the franchise record of 13 straight wins in Friday's loss. They started their most recent 12-game winning streak against the Lakers on Jan. 15 with a 109-102 win in Los Angeles. The Cavs are 32-21, just one win short of the team's total number of wins in 2013-14.
---