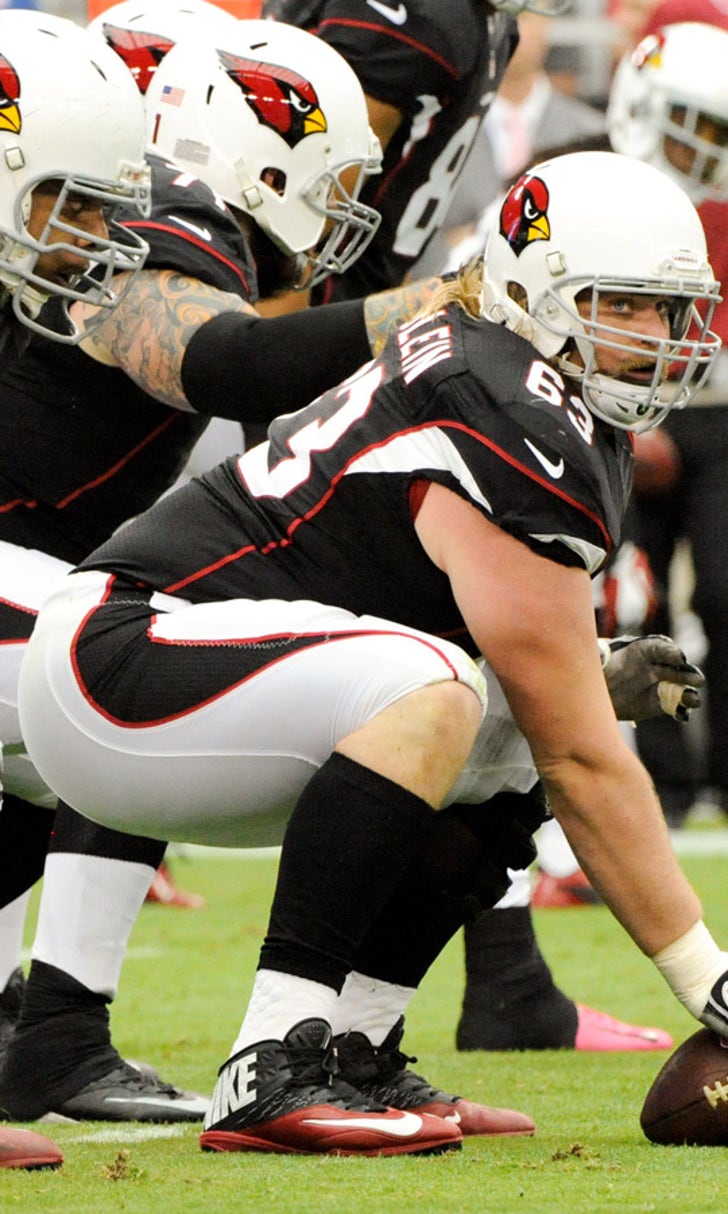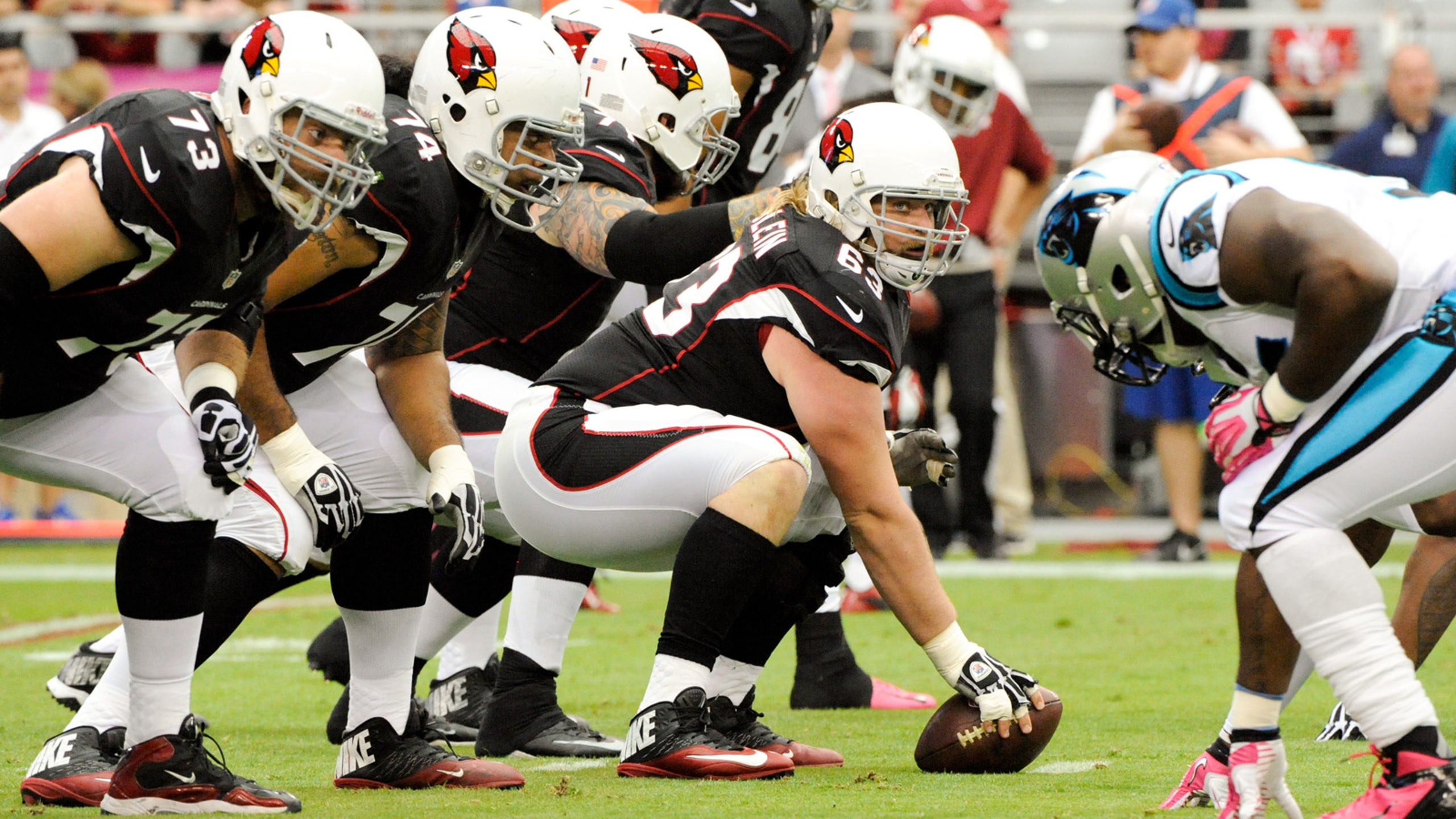 Cardinals season review: Offensive line
BY foxsports • January 28, 2014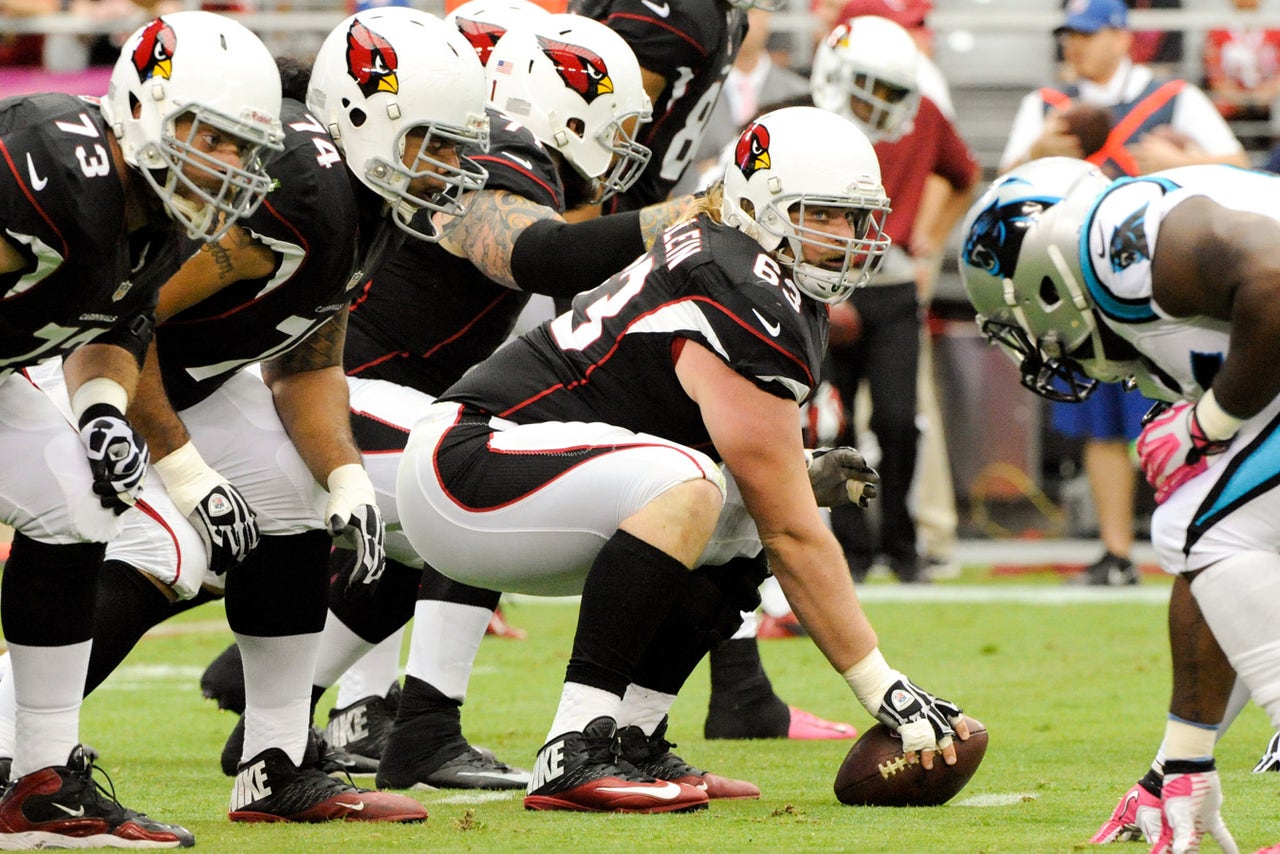 FOX Sports Arizona is conducting a position-by-position analysis of the Arizona Cardinals, examining their personnel's strengths and weaknesses, the team's free agents at that position and the team's draft or free-agent needs.
STARTERS
LT Bradley Sowell, LG Jonathan Cooper, C Lyle Sendlein, RG Daryn Colledge, RT Eric Winston
Thanks to the yeoman work of the players themselves and the Cardinals' three offensive line coaches (offensive coordinator Harold Goodwin and assistants David Diaz-Infante and Larry Zierlein), the Cardinals were able to improve dramatically after some early-season struggles. But some of that had to do with an altered game plan that saw fewer deep routes and deep drops, plus more help on the edge for Sowell. The Cardinals still need to upgrade this unit in order to remove some of the offense's shackles, and they know it. 
Change begins at left tackle, where Sowell battled hard after thrown into the fire following the release of Levi Brown. Sowell would be a good backup, but he doesn't possess the skills to be a starting left tackle in the NFL, which is why he was given so much chipping help from running backs and tight ends (which, as noted, limited the offense's passing options). Replacing Sowell in the starting lineup is priority No. 1 for the Cardinals offense this offseason.
Sendlein is the remarkable anchor of this unit, an undrafted free agent in 2007 who, despite a couple off-games and his own nitpicking, had a very good season. Sendlein is durable, too, which gives the Cardinals great security at this position.
Fanaika did not grade out that well over the entirety of the season, but the ASU product improved by leaps and bounds as it progressed. He is the quiet, hard-working type that earns Arians' praise. The Cardinals wisely signed him to a one-year extension early in the season. He's a valuable player to have, either as a 2014 starter or a depth guy. 
By his own admission, Winston had an uneven season in his first year in a new system. But like most of the line, he improved as the season progressed. Winston adds an even-handed presence in the locker room and an articulate voice in the media. He is an unrestricted free agent who wants to come back (the Cards want him back), but he could prove too costly (he required only a $2 million cap hit in 2013). Winston said Sunday that he has had preliminary talks with the Cardinals, but with free agency still a month away (March 11), he called it "way too early in the process" to expect any resolution soon. If Winston does not return, Bobby Massie, a 2012 fourth-round pick, is waiting in the wings, but are the Cardinals comfortable inserting as many as four new starters into a lineup that took half a season to jell in 2013?
BACKUPS
Nate Potter, Mike Gibson, Earl Watford, Paul Fanaika, Bobby Massie, Tom Draheim (futures contract), Philip Blake (futures contract).
Potter either regressed in 2014 or his skill-set didn't impress the current coaching staff as much as the former. He's a cheap and versatile option as a backup (one with starter's experience), so he has value moving forward.
Gibson is a free agent who could be replaced with a cheaper option.
Watford, a 2013 fourth-round pick, has enviable size for his position (6-4, 295). He had an entire year to learn the craft, but is he ready to step into a starter's role if Colledge departs, or would he be better served as Fanaika's backup when the season begins?
Massie has been a bit of an enigma. Winston won the battle for the starter's position in training camp, and Massie never proved he was ready to take it back despite Winston's early-season struggles. He may have to take that leap if Winston leaves in free agency. The Cardinals could use his big frame (6-6, 316) to spark the run game. 
FREE AGENTS
Eric Winston (unrestricted), Mike Gibson (unrestricted). 
FREE-AGENT NEEDS
As with virtually every other position, this depends on what happens with the current roster. The Cardinals are expected to pursue free-agent left tackle Branden Albert (Kansas City) aggressively in free agency. If they land him, their needs could become more about filling backup roles, unless Colledge is released or Winston departs in free agency. They may also have to replace Gibson if he leaves in free agency or they want a cheaper option, but existing players could also take over. 
DRAFT NEEDS 
Even if the Cardinals land Albert or another free-agent left tackle, they still might want to groom a young one. Sowell made great progress and worked as hard as any player on the team, but that's not good enough at one of the offense's two most important positions. The Cards need better options. 
TOP POTENTIAL DRAFT PICKS 
Tackles: Jake Matthews, Texas A&M; Greg Robinson, Auburn; Taylor Lewan, Michigan, Zack Martin, Notre Dame; Cyrus Kouandjio, Alabama, Morgan Moses, Virginia; Antonio Richardson, Tennessee; Jack Mewhort, Ohio State; Joel Bitonio, Nevada; Billy Turner, North Dakota State; JaWuan James, Tennessee; James Hurst, North Carolina; Seantrel Henderson, Miami; Michael Schofield, Michigan; Justin Britt, Missouri; Wesley Johnson, Vanderbilt; Cameron Fleming, Stanford; Cornelius Lucas, Kansas State; Matt Patchan, Boston College; Donald Hawkins, Texas.
Guards: David Yankey, Stanford; Xavier Su'a-Filo, UCLA; Cyril Richardson, Baylor; Gabe Jackson, Mississippi State; Dakota Dozier, Furman; Anthony Steen, Alabama; Brandon Thomas, Clemson; Chris Watt, Notre Dame; Jon Halapio, Florida; Brandon Linder, Miami; Russell Bodine, North Carolina; Kadeem Edwards, Tennessee State; John Urschel, Penn State; Spencer Long, Nebraska; Ryan Groy, Wisconsin.
Centers: Travis Swanson, Arkansas; Weston Richburg, Colorado State; Bryan Stork, Florida State; Tyler Larsen, Utah State; Marcus Martin, USC; Gabe Ikard, Oklahoma.
Follow Craig Morgan on Twitter
---