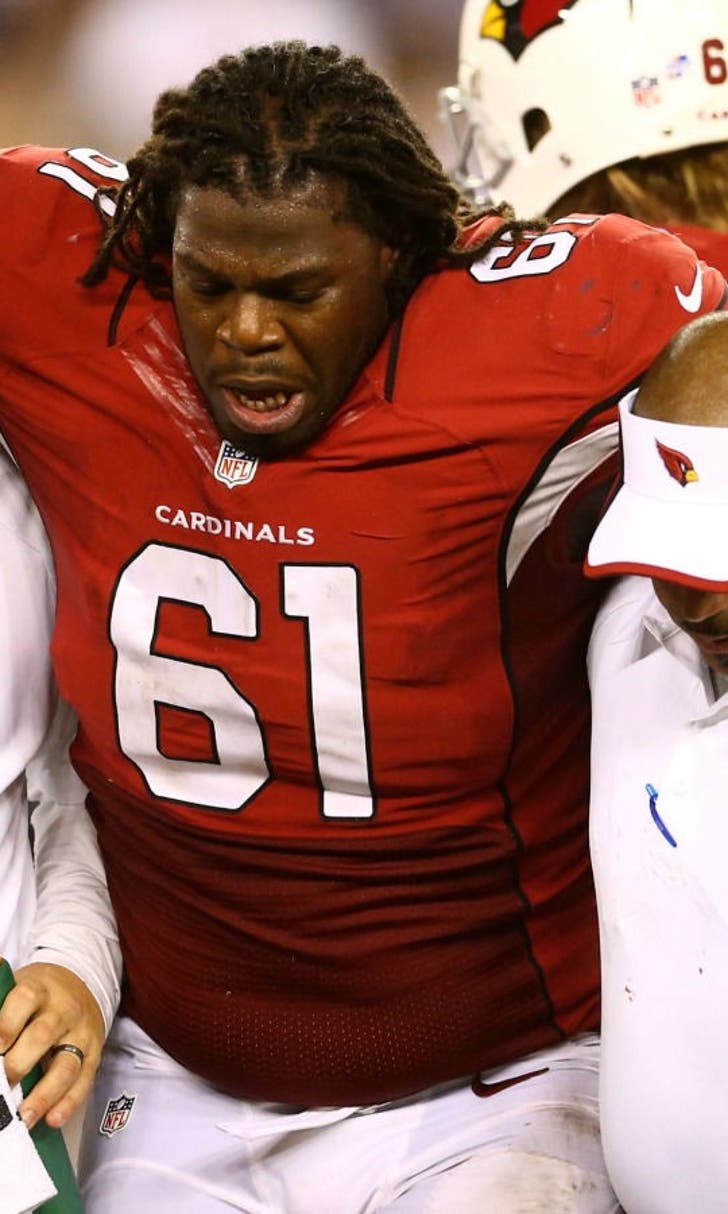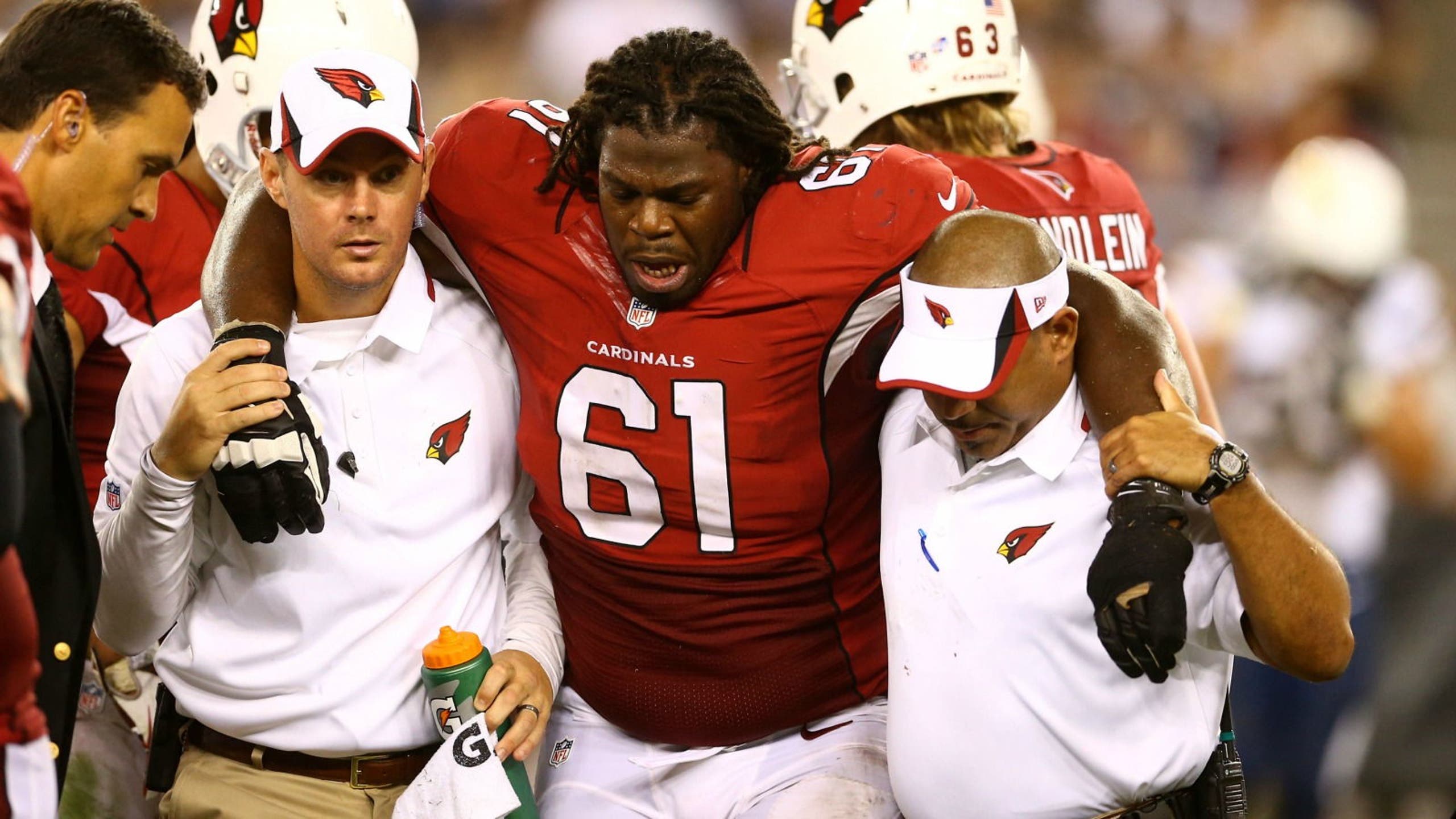 Cardinals notebook: Cooper off to slow start
BY foxsports • August 2, 2014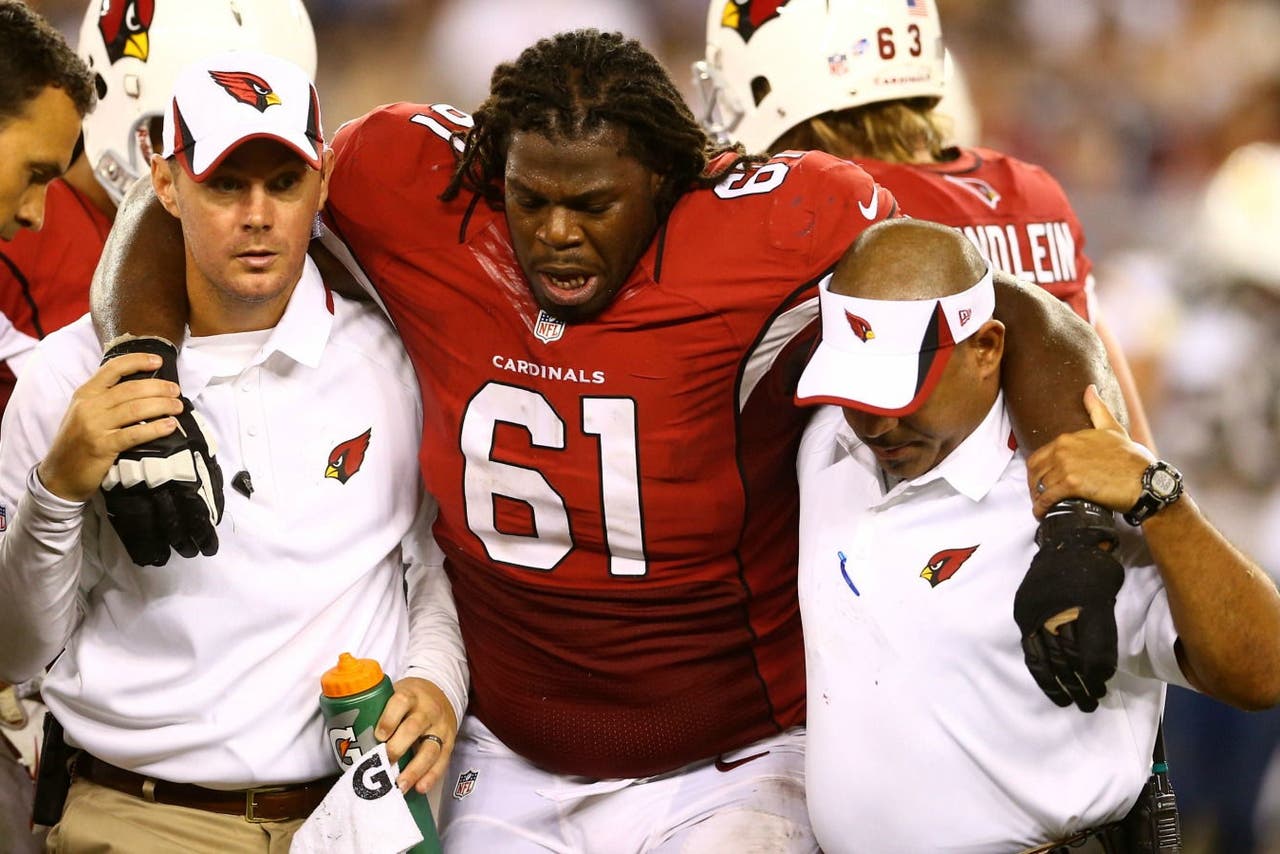 GLENDALE, Ariz. -- With Jared Veldheer arriving to provide an anchor at tackle, the left side of the Cardinals' offensive line figured to be secure for years to come.
And that's still what the team is expecting.
But the other half of Arizona's prized tandem, Jonathan Cooper, is not progressing as quickly as coach Bruce Arians anticipated.
"I'm a little disappointed in where Coop's at right now," Arians said of his left guard. "I had hoped he'd come a little faster to get back into the speed of the game."
Cooper was the seventh overall selection in the 2013 NFL Draft and had been considered a potential Pro Bowl player, based on performance during training camp a year ago.
Then the former North Carolina star suffered a broken leg while making a downfield block in a preseason game against the San Diego Chargers.
Cooper was lost for a season of personal development and understanding of the Cardinals' offense.
"It's rust," Arians said. "He didn't play for a year and he got 15 practices, in this offense, before he got hurt.
"Obviously going against Calais (Campbell) each day is different. He needs to pick it up. We need to see that special player that we drafted that we had last year."
Veldheer, who knows an outstanding offensive guard when he sees one, expects Cooper to be just that.
"He's a great player," Veldheer said. "He's got everything you look for in a guard. I'm excited to be playing next to him."
Thanks to a sore hamstring, rookie receiver John Brown was held out of Saturday's workouts.
Brown, a third-round pick out of Pittsburg (Kan.) State, also missed Friday practices after tweaking the leg muscle late in Wednesday afternoon's practice.
"He's disappointed," Arians said during an interview session that preceded FanFest. "The crowd may be disappointed, too, because he's fun to watch."
According to quarterback Carson Palmer, Brown -- the unofficial sensation of training camp -- arrived in Arizona already having a nickname in tow.
"Smokey," Palmer said. "He burns up the ground. I like it."
Walt Powell, a fourth-round pick from Murray State, is the latest rookie receiver to impress the coaching staff.
"He's got great hands," Arians said. "He's playing much faster, now that he knows what to do."
But the coach cautioned that mastering one skill typically isn't enough, especially for a rookie.
"That fifth receiving job is going to come down to who's dressing on Sunday because of special teams," Arians said.
In addition to having a terrific pair of receivers in the starting lineup, Arizona has a veteran addition to its pass-catching corps who's making it tough on the kids, too.
Let's reintroduce Ted Ginn Jr., whose first official appearance at University of Phoenix Stadium happened on January 8, 2007, and ended rather quickly.
Ginn, a big deal for Ohio State at the time, took Florida's opening kickoff in the BCS National Championship 93 yards to the south end zone.
Unfortunately, he was injured by overzealous teammates during the celebration of this touchdown and was lost for the game ... and so was the Buckeyes' only speed-related chance to hang with the Gators.
The ninth overall pick (Miami Dolphins) in the 2007 NFL Draft, Ginn's receiving chops seemed to be forgotten -- he caught only 33 passes in three seasons as a San Francisco 49er -- until he latched onto 36 balls for the Carolina Panthers last season.
He's attempting to demonstrate he's more than a fast guy (4.2 40 coming out of college) who can return kicks.
"He had a great offseason, he's having a good camp," Arians said of Ginn. "You wonder why the guy hasn't played more at receiver, other than last year at Carolina.
"I'm really glad we have him. He's a heck of a kid and he's having a fantastic camp. He's really catching the ball well."
Second-year safety Tyrann Mathieu remains on the Physically Unable to Perform list, but that hasn't prevented the erstwhile Honey Badger from earning his keep.
Mathieu, whose personal resurrection was one of the NFL's best stories a year ago, now has to rally from the tearing of two ligaments in his left knee during Week 13 last season.
Although Mathieu reportedly is moving around quite well these days, he probably won't suit up for a real game until early October.
In his spare time, Mathieu is assisting the development of prized rookie Deone Bucannon.
"He's begging me to come off PUP," Arians said of Mathieu. "He's doing a great job of coaching Deone out there and keeping himself mentally in it.
"You can't be prouder of a guy that asks for a chance and delivers on it. I'm always looking to give guys second chances."
According to Arians, the place-kicking showdown starring veteran Jay Feely and rookie Chandler Cantazaro is on.
"It's been outstanding," he said.
Cantazaro made 67 of 82 career attempts while kicking for the Clemson Tigers, including 24 of at least 40 yards.
Feely, who has kicked in the NFL for 14 seasons, made 29 of 37 for the Cardinals last season, with a long of 55 yards.
Arians said this duel may not be settled until deep into the preseason schedule ... if then.
"It's going to come down to the games," he said.
---