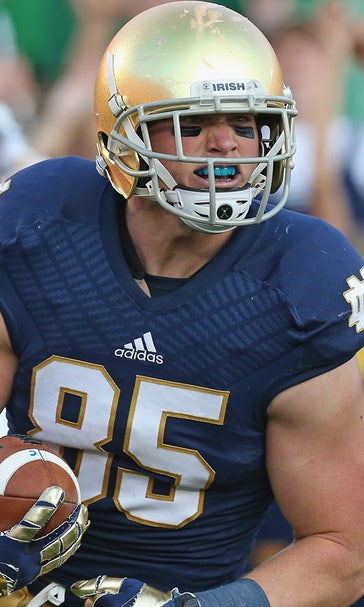 Cardinals address needs on Day 2 with TE, DE, WR
BY foxsports • May 10, 2014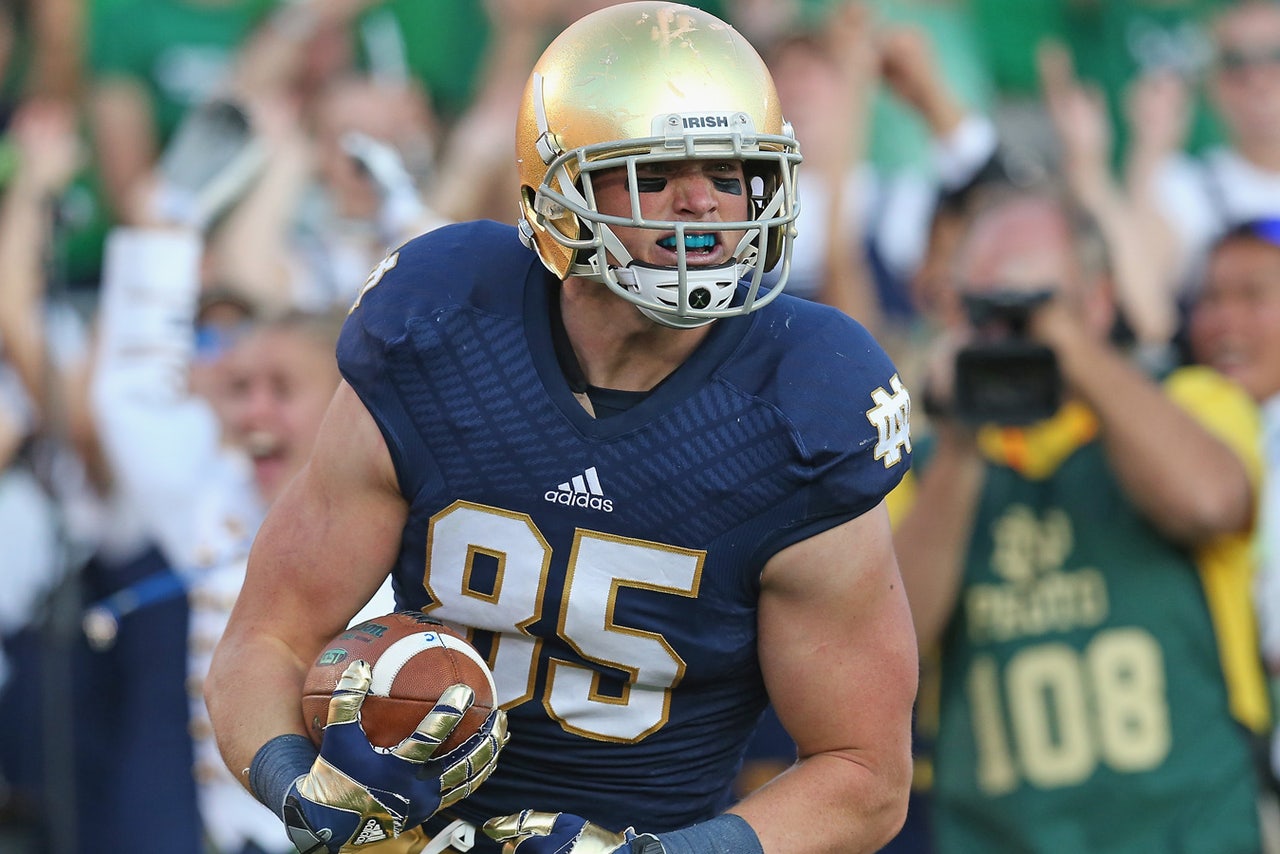 TEMPE, Ariz. -- Cardinals coach Bruce Arians loves him some tight ends. And if Troy Niklas' ascension continues, so will that of Cardinals nation.
While the fan base was waiting for a quarterback, an outside linebacker or maybe an offensive tackle in the second round of the NFL Draft, the Cardinals addressed a less-discussed need when they chose the 6-foot-6, 270-pound junior tight end on Friday.
"He can handle the line of scrimmage," Arians said of Niklas' blocking ability. "He is the leanest 270 I have ever seen, but he also is a threat down the field as a pass receiver. To me, he is an all-around tight end (for whom) the sky is the limit."
It became clear last season that Arians loves to employ multiple tight-end formations, often at the expense of his third receiver. But the Cardinals lost one of their key contributors when Jim Dray signed a three-year, $5.62 million contract with the Browns in March. That loss is no longer a concern.
"Totally upgraded for what we wanted to do," Arians said. "We feel like the position is really, really solid right now. Obviously we like tight ends. We use a lot of them. This is a great fit for us."
Niklas has NFL bloodlines. His uncle is Hall of Fame offensive lineman Bruce Matthews and his cousin is Falcons' first-round pick Jake Matthews. Niklas is still a little raw in the receiving aspect of the game, but that's understandable since he only played the position for two years at Notre Dame. He was recruited as an outside linebacker and played there his first season.
"I really felt like tight end was my natural position, so when coach (Brian) Kelly came to me and asked if I'd switch, I was all for it," Niklas said. "I've still got a lot to learn, and that's something I didn't hide from teams. But I think, in a sense, it can be an asset. I think it will help coach be able to mold me into the tight end that he wants me to be instead of having to change me from something I've already become." 
Arizona State fans will remember that Niklas had three catches for 49 yards and a touchdown in a 37-34 Notre Dame win over the Sun Devils at Cowboys Stadium on Oct. 5. But ASU coach Todd Graham gushed at the time about how effective Niklas was in the blocking side of the game, manhandling the Sun Devils' defensive front and blitzers.
Overall, Niklas caught 32 passes for 498 yards and five TDs last year. While a blocking tight end might not be a sexy pick, the Cards do not have a great fit there on the roster. Rob Housler and free-agent signee John Carlson are receiving tight ends, and Jake Ballard is somewhere in between. Andre Hardy, Brett Brackett and Darren Fells are raw. 
When asked how Niklas' selection impacted the future of the thus-far-underperforming Housler, Arians insisted it had no effect because the two are such different players. But with time, Niklas could become a bigger part of the passing game, and if Housler doesn'€™t shed his inconsistency, that could change.   
Niklas elected not to run the 40-yard dash at the NFL Scouting Combine and did not work out at his pro day because of double-hernia surgery performed on March 11. He was a teammate of Michael Floyd's at Notre Dame and also is looking forward to meeting Carlson, a former Fighting Irish standout.
With their remaining two picks on Day 2, the Cardinals got the edge rusher most analysts expected them to take when they drafted North Carolina defensive end Kareem Martin, then grabbed a long-standing Arians preference in Pittsburg State speed receiver John Brown.
"He fits the mold that B.A. was looking for," Keim said of Brown. "He's a fast, explosive, T.Y. Hilton type of player. A guy who can take the top off the defense."
The Cardinals took Martin with the first of their two third-round selections (84th overall). They took Brown with the third-round pick they acquired from the Saints in their first-round swap (91st).
Martin, a former teammate of Cardinals left guard Jonathan Cooper, posted 11.5 sacks last season in the Tar Heels' 4-2-5 defense. He'll have to adapt to Arizona's 3-4 and could play either end or outside linebacker, but the Cardinals love his height (6-foot-6) and the idea of him and 6-foot-8 Calais Campbell bookending the defensive line.
"I feel like in their defense I can play in a couple different areas," Martin said. "This past season, I got a lot of snaps from the 3-technique in the defense at UNC. I'm a pretty good rusher from either the edge or up the middle. It just depends on the scheme."
In addition to filling the team's desire for more speed at wide receiver, Brown also could help in the return game. Although Arizona signed Ted Ginn Jr. last month, Arians seemingly can't get enough speed, and Brown ran a 4.34 40 at the combine, the third-fastest time at that event behind Oregon State wide receiver Brandin Cooks and Kent State running back Dri Archer.
The 5-foot-10, 179-pound Brown was a three-time NCAA Division II All-American with 185 career catches for 3,300 yards and 32 touchdowns. He originally went to Mars Hill (North Carolina) and then had a stop at Coffeyville Community College before attending Pittsburg State, where he helped the Gorillas win the Division II title in 2011. 
His performance at the combine put him on the NFL radar.
"It put me on big-time," he said. "It just showed guys that I can do the same thing that the Division I guys can do -- run routes and things like that."
By passing on a quarterback for the second straight day, it is becoming increasingly likely that the Cardinals will not select Carson Palmer's heir in this draft. When asked about this, Arians was almost defiant. 
"I've been doing this for a long time, rating quarterbacks," he said. "I like ours better."
The Cardinals have one selection each in the fourth (120), fifth (160) and sixth (196) rounds on Saturday.
Follow Craig Morgan on Twitter
Troy Niklas
2103 Stats: 32 catches, 498 yards, five TDs. 
Notable: "He can become the best blocking tight end in pro football if he wants to. He's very good on short and intermediate pass routes, but he's not a 4.5 (40-yard dash) guy. Notre Dame's history of tight ends has been phenomenal." -- Mike Mayock, NFL.com
2103 Stats: 11.5 sacks, 82 tackles (46 solos, 21.5 for loss, three forced fumbles)
Notable: Martin was a team captain. Of his 122 tackles since the start of the 2012 season, 45 came behind the line of scrimmage. 
John Brown
2103 Stats: 61 catches, 1,198 yards, 14 TDs; 12 KR, 389 yards, TD.
Notable: Redshirted in his only season at Coffeyville Community College in 2010 and did not play football in 2009. 
---