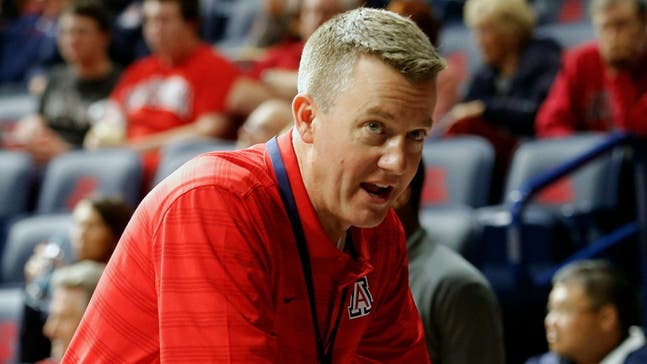 Byrne reflects on successful year at Arizona, with room for improvement
Published
May. 28, 2015 6:40 p.m. ET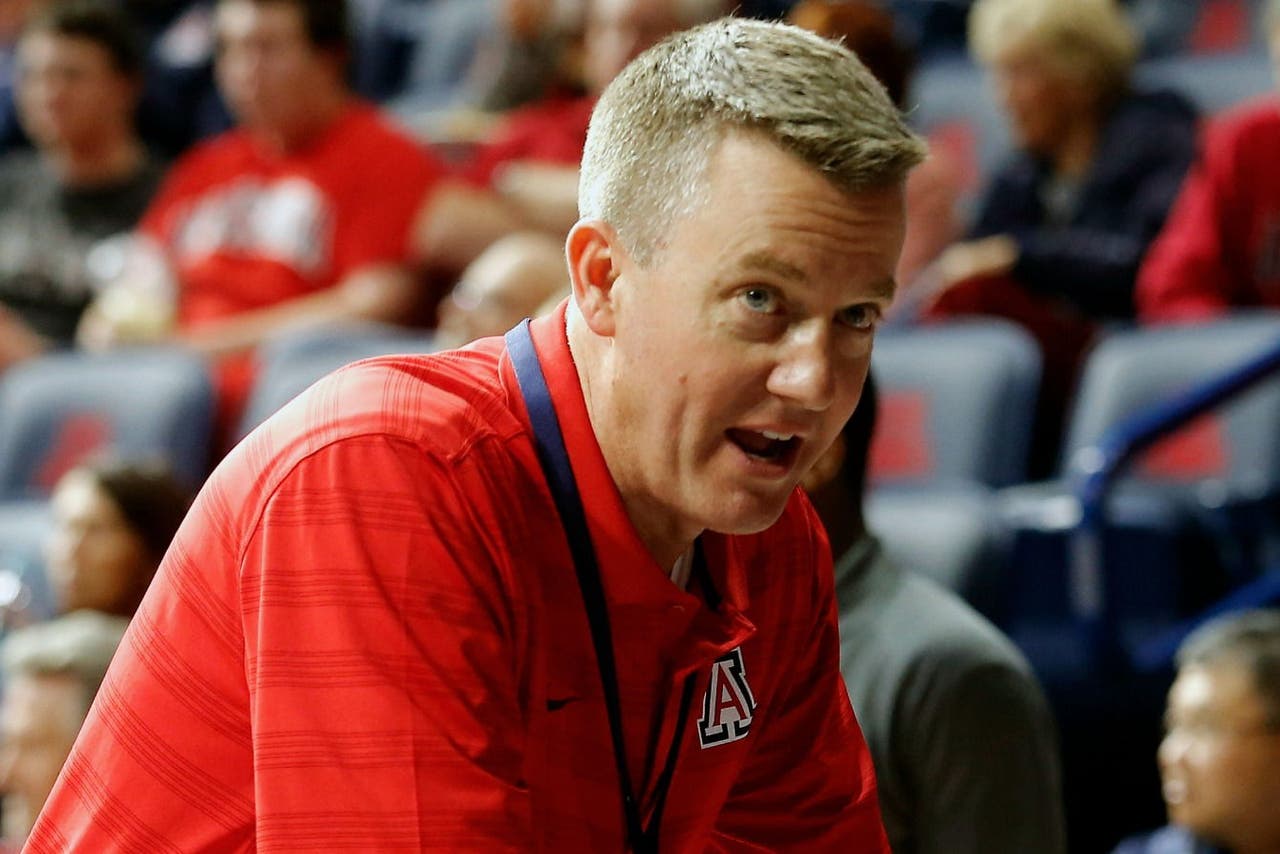 TUCSON, Ariz. -- Arizona athletics director Greg Byrne got up on Thursday morning early -- as he always does -- worked out, read and headed to visit UA's swim team at McKale Center. It wasn't even 8 a.m.
Full days have been common for Byrne, who is in the middle of his fifth year on the job, with news this week that he'll have to find a new baseball coach in the coming days -- or weeks.
"It'll take as long as it takes me to find the right guy," Bryne said when asked about the time frame to find Andy Lopez's replacement."Ninety percent of my time is spent on that."
He'll be gone on the road this weekend in search of one. That is what's ahead. What's behind him is a nine-month mixed bag of favorable results from a university that saw its two top sports -- football and men's basketball -- excel, but some of the others register but a blip.
"I like what's happening, but I don't think there isn't an athletic department in the country that won't say there's room for improvement," said Byrne. "We certainly fall into that category."
One measure would be the point total for the annual Learfield Sports Director's Cup, a program that honors institutions for their success in men's and women's sports. In the most recent results, released on Thursday with just one more series of sports to be tallied, Arizona sits at No. 39, the lowest it's been in years and far from the 11th spot it held in 2006. UA has ranged anywhere from 30 to 11 in the last decade, finishing in the 20s on most years.
"We want to be better than that," Byrne said, surprised it was that low. "We had gotten back into the top 20, and that's a place where we should be. That's going to have ebbs and flows every year."
Still, it was a successful year, Bryne said, thanks to football playing in a major bowl game (Fiesta Bowl) and men's basketball getting as far as the Elite Eight.
"From a football and men's basketball standpoint, we're going at a very high level," Byrne said. "We've invested in those sports significantly because we have to be strong in those to be able to have opportunities to have success in our other sports."
Therein lies the rub. Some sports did well (volleyball, soccer, women's golf, softball, sand volleyball) and others were not up to usual standards (women's basketball, cross country, swimming and diving).
"The softball team didn't make it (to the Women's College World Series), but I feel we've made strides both off and on the field," Byrne said of a program that formerly dominated nationally but was eliminated last week in the Round of 16. "I'm confident we will be back in Oklahoma City soon."
He continued: "Baseball didn't perform at the level we had hoped. I'm confident we are not far off for the team to get back to Omaha."
Volleyball reached the second round of the NCAA tournament, falling to eventual Final Four participant Brigham Young, and soccer made it to the second round of the NCAAs.
"Our progress in soccer is outstanding," he said. "And in women's golf we were right there (getting eliminated this week in the national quarterfinals). We're knocking on the door for a national championship and should be good next year."
That's also true for football and basketball -- which continue to shine under football's Rich Rodriguez and basketball's Sean Miller.
"I love Sean Miller and love working with him," Byrne said. "I love the passion he brings whether it's academics, coaching and recruiting. When he gets in front of groups, he's incredible at it. We're very fortunate he's our coach."
Same could be said for Rodriguez, who in three seasons has won 26 games and has been in three bowl games (winning two).
"We did exceed expectations," Byrne said of the football program where it 10-4 overall after being picked to finish in the middle of the Pac-12 South. "Coach Rodriguez is one of the best college football coaches out there. He's made really good progress. He's got the kids to buy in. He's an old-school coach, but a player's coach. His batting average with player satisfaction is pretty high.
"Rich has got the team believing and the community believing in the success."
It's also clear is he still believes in women's basketball coach Niya Butts, whose team was just 10-20 last season and 3-15 in the Pac-12. The previous season it was 5-25 and 1-17.
"We need to get better," he said. "I really like Niya. If I had a daughter, I'd have her play for Niya. I'm a believer you change coaches when it's the right thing for the long-term success of the program and not based off one year or two years. She'll be the first to tell you we need to be better. too."
Boosters and fans have bought into UA for the most part. Department revenues ranked No. 21 among Division I schools, according to a recent USA Today database. In figures from 2013-14 (most recent), Arizona's revenues were $99.9 million, up from $68 million. The major jump was from donors giving to McKale Center's renovations, which, of course, added expenses to UA's bottom line. The numbers will change this season, with Byrne expecting revenues to be approximately $74 million.
"Our donors have been incredible," he said.
Follow Steve Rivera on Twitter
---