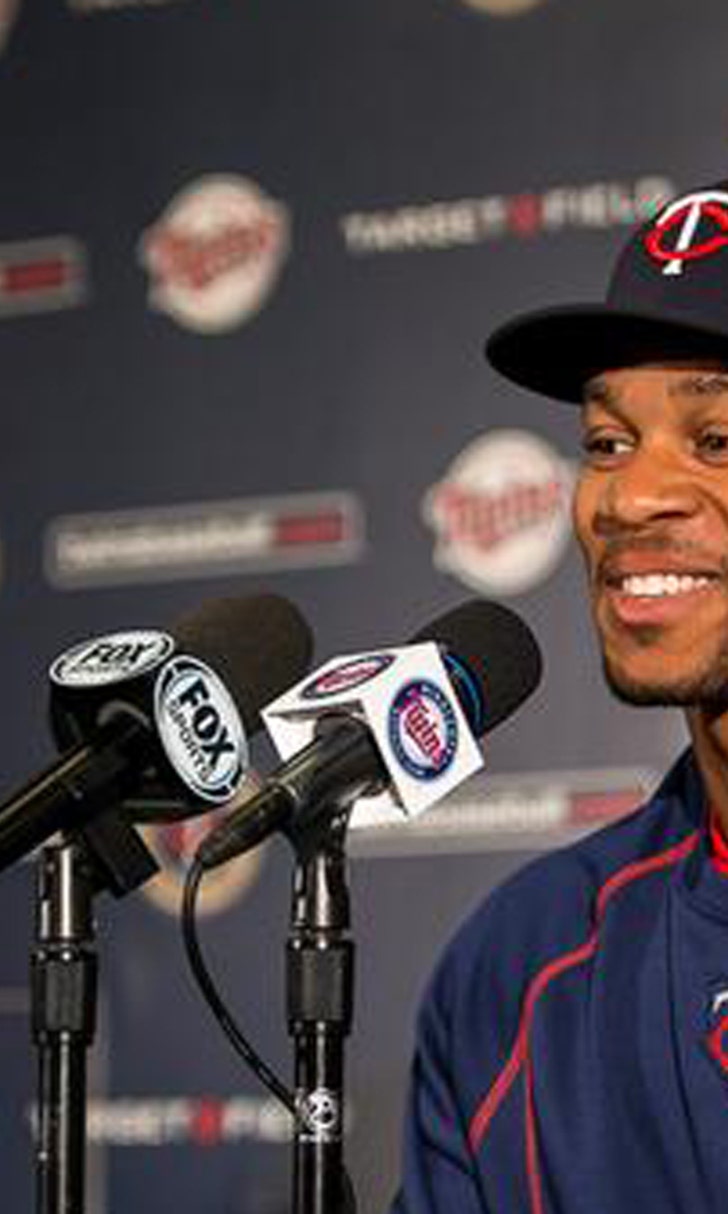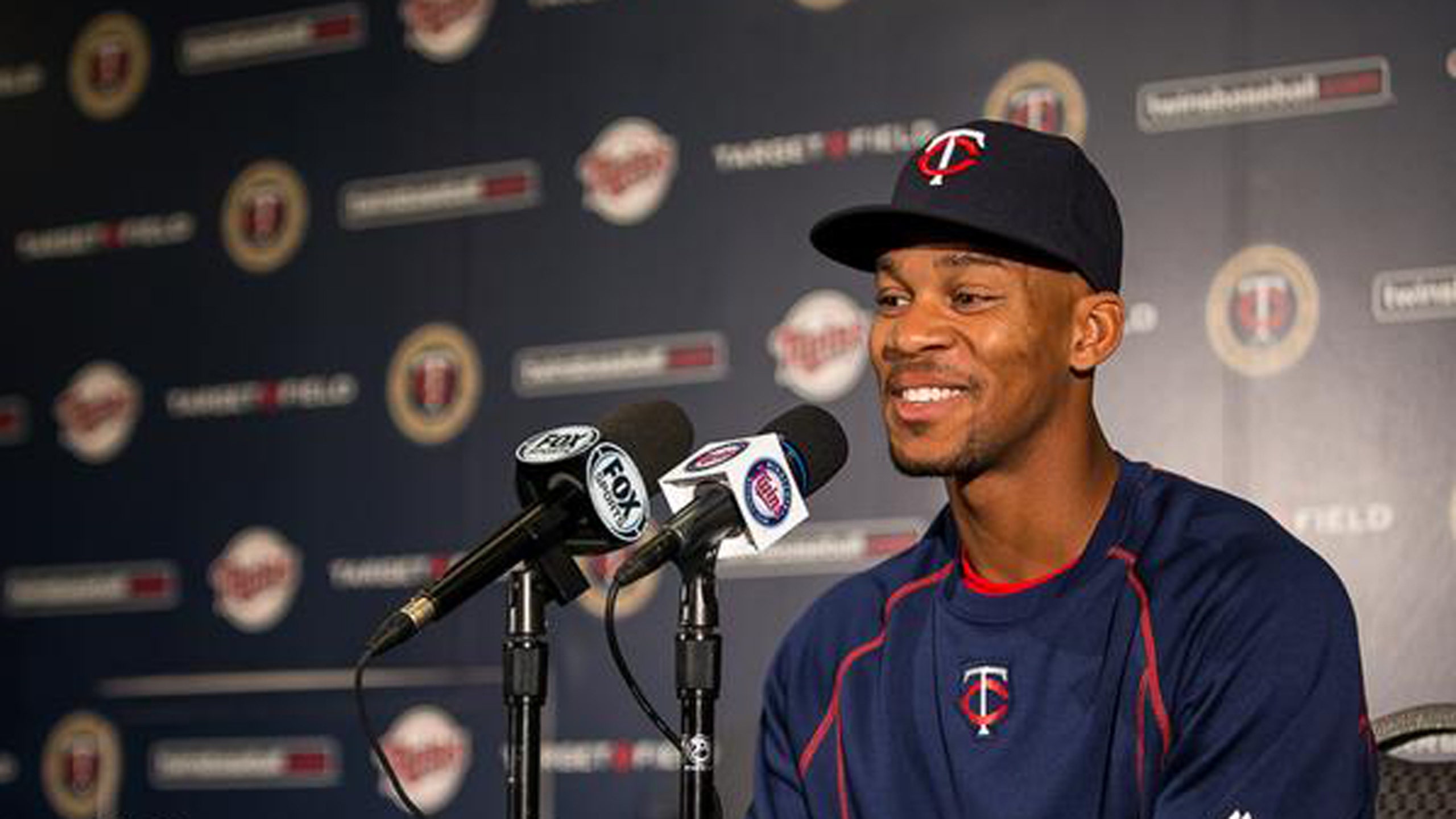 Buxton ready to be in the spotlight at Target Field
BY foxsports • June 17, 2015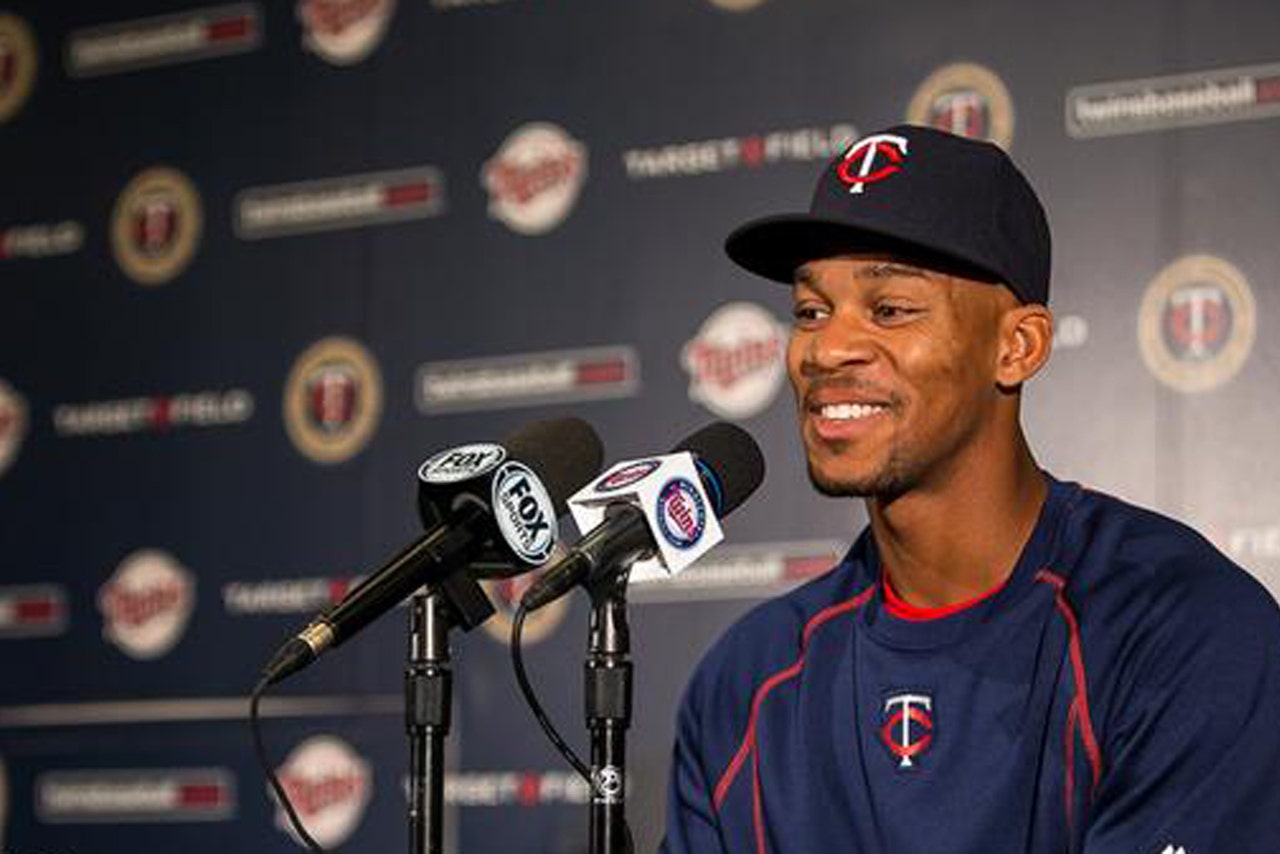 MINNEAPOLIS -- The mania surrounding Minnesota top prospect Byron Buxton had a few days to dissipate a bit before the 21-year-old center fielder made his debut Wednesday at Target Field.
Still, Buxton couldn't help but escape the cameras and the throng of media before his first start in front of the hometown Twins fans. The increased attention and higher volume of eyeballs following his every move has been just one of many adjustments Buxton has had to make in his first few days in the majors since his call-up from Double-A Chattanooga, but he's adapted well.
Gone are the short answers comprised of just a few words that Buxton uttered back in June of 2012 shortly after the Twins took him No. 2 overall. He's now more confident in the spotlight -- which is a good thing since he'll be in it plenty.
"I got a good bit of it in Chattanooga, but it's a little bit different, a lot more stuff you've got to do," Buxton said before Wednesday's game against St. Louis. "I'm just trying to get used to it and relaxed to it."
Buxton's major-league career is just three games old, and he has only two hits to show for it so far. His first career hit -- fittingly, a triple -- came Monday in St. Louis. He also had an infield single in Tuesday's loss to the Cardinals at Busch Stadium but was thrown out trying to steal second base.
Monday's game in St. Louis was played in front of a paid crowd of 43,174 fans, easily the biggest audience Buxton has ever taken the field in front of. He said some of the crowds in Chattanooga reached 5,000-6,000, but nothing like what he experienced Monday -- or what he'll encounter Wednesday, as the Twins are anticipating a sellout of Target Field.
"I'm pretty sure it's going to be loud," Buxton said. "I'm just going to try to tune it out as much as I can and focus on getting in there and trying to get on base for my teammates to drive me in."
It's still uncertain whether Buxton will stay in the majors for the long haul this season or if he may need more seasoning in the minors at some point. Of course, that's largely up to Buxton and how he produces at this level. If he hits, he'll likely stick. If he struggles, it could be back to Chattanooga or Triple-A Rochester.
Buxton was asked Wednesday if he views this as the start of his big-league career or more of a trial run for what lies ahead. He's hoping his time in Minnesota lasts a while.
"I look at this as a start," Buxton said. "I'm not really trying to come up here to get sent back down. I'm trying to come up here to stay and try to help us win. Any way I can help us produce runs and get wins, that's what I'm going to do."
Twins manager Paul Molitor wasn't quite as adamant that Buxton is here to stay. Though the highly touted prospect tore it up in Double-A last year, the big leagues are a different animal.
"I imagine that could happen, and a lot of people hope that's going to happen," Molitor said. "You're hoping a kid with that kind of skill level can take it and run with it, but like a lot of people that have come up here that are talented, it doesn't always go exactly the way you might hope it does. I'm not going to get too far ahead of that because I'm just watching the kid day-to-day and trying to find ways to win games."
Wednesday marked the first time Buxton had taken the field in Minneapolis since he was introduced after the 2012 draft. He took some extra work early in center field with coach Butch Davis to learn how balls bounce off the walls.
During an early batting practice session, Buxton absorbed as much information as he could from 39-year-old outfielder Torii Hunter. The duo -- one the former everyday Twins center fielder, the other the future -- formed a bond in spring training as Hunter served as Buxton's mentor. Hunter's voice lit up Wednesday when talking about the young Buxton.
"I don't know if you saw the triple, but he almost tripped twice and he still was faster than anybody in the major leagues," Hunter said. "He's an exciting player, and I'm happy to have him here. If you're not excited to have him here, I think you don't have a soul."
During his press conference, Buxton admitted he had yet to pick a walk-up song for his home debut, but he eventually chose "Flashlight" by Parliament. As for his jersey number of 25, Buxton said it was assigned to him by the Twins after his call-up. He wore No. 7 throughout the minor leagues, but Joe Mauer has had that number locked up for more than a decade.
At Target Field, Buxton's No. 25 jerseys and T-shirts were already on sale for fans who will likely be snatching it up for years to come.
Said Buxton: "I'm going to stick with that number."
Follow Tyler Mason on Twitter
---